Alli Weight Loss Aid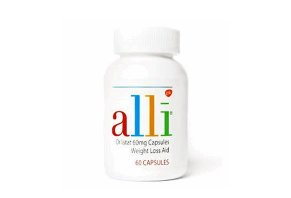 Summary
Alli is an over the counter medication that is alleged to offer weight loss benefits. Our review takes an in-depth look at its effectiveness to help you decide if this is the right option for you.
Alli Weight Loss Aid Review: Does It Work and Is It Right for You?
Alli is an over the counter (OTC) medication that aims to help you lose weight.
Your Body Mass Index (BMI) uses your height and weight to estimate your overall health. However, it is not a perfect measure.
Based on BMI, more than 70% of US adults are classified as overweight or obese (BMI greater than 25 and 30, respectively).
As carrying excess weight has been linked to risk for chronic medical conditions like diabetes and cardiovascular disease, many need methods for lasting weight loss.
While diet and exercise are vital for success, alli claims to offer another option. While four prescription medications are currently approved for use, alli is the only OTC weight loss aid that is FDA approved.
They allege that daily use will help you lose weight and keep it off. But is there any merit to these claims?
In this article, we'll discuss the available scientific support to help you determine if alli can help you lose weight.
Active Ingredient: How Does It Work and Is There Scientific Support?
The proposed weight loss benefits are thought to be made possible due to a sole active ingredient: orlistat.
Orlistat works by inhibiting an enzyme responsible for breaking down the fat content from your diet. According to alli's site, this results in about 25% of the fat you consume passing through your digestive system unabsorbed.
Your body does not use this unabsorbed food, thus, drastically reducing the number of calories that you consume. Weight loss occurs when you burn more calories than you take in, so alli recommends use in conjunction with a reduced-calorie, low-fat diet and exercise program.
Alli is intended for adults only, and the directions are pretty simple:
Take 1 capsule with each meal
Do not take more than 3 capsules daily
Take a multivitamin with fat-soluble vitamins (D, E, A, K) once daily at bedtime
As alli works to limit the absorption of fat calories, it will be ineffective in diets that do not utilize this macronutrient. Also, because of orlistat's mechanism of action, replacing fat-soluble vitamins is important as their absorption may be limited.
While this seems logical enough, is there any research to back up alli's claims? Up next, we'll dive deeper into studies examining the proposed weight loss benefits of this medication.
Orlistat - 60mg
The weight loss effects of both the prescription (120mg 3x daily) and OTC orlistat dosing have been well-studied.
Weight loss with the prescription orlistat dose over 4-years was superior to lifestyle changes alone but only amounted to about 3kg over this time. Keep in mind, these patients engaged in daily physical activity and opted for a reduced-calorie meal plan.
Both alli and the prescription dose of orlistat lead to more weight loss in obese subjects over 1-year when compared to placebo. While the prescription dose was superior to alli, those who received 60mg three times daily lost about 7kg when combined with diet and exercise.
A review of 16 studies concluded that orlistat reduced weight by around 3kg and increased the number of subjects achieving 5% and 10% weight loss. Over 2-years, both orlistat and placebo demonstrated similar amounts of weight regain, however.
In general, weight loss with orlistat seems to range from 2 kg to 10 kg. This weight is typically regained after discontinuing use.
Is Alli Safe?
Adverse effects are generally mild with alli. You are most likely to experience gastrointestinal symptoms like loose and oily stools or abdominal pain. Nausea, vomiting, and indigestion were less frequent.
Alli's site mentions the need to replace fat-soluble vitamins, though the available research did not describe deficiency associated with the use of this medication.
Orlistat can interfere with the absorption of many drugs and negatively impact their effectiveness. Alli provides an extensive list here.
While the side effects seem to be mild with the OTC formulation, there are several concerns mentioned on alli's website.
Also, adding a supplement that alters the absorption of macronutrients can be challenging. For these reasons, it is best to speak with your doctor before use, even though this medication can be obtained over the counter.
Cost and Where to Buy
While purchasing alli directly from their site is not possible, you can provide your area code to see the closest retailer to you. They also offer $5 and $10 coupons for 60 and 120 count bottles, respectively.
Alli is available online and in-stores from major retailers like Walmart, Target, Walgreens, and Amazon.
Check out the chart below for cost comparisons:
| | Price (120ct) | Shipping |
| --- | --- | --- |
| Amazon | $39.94 | Free |
| Walmart | $39.94 | Free |
| Target | $49.99 | Free |
| Walgreens | $71.99 | Free |
Alli does not back your purchase with a guarantee, so returns will need to be handled with the retailer that sold you the product.
Are There Any Alternatives?
You won't find many options that offer weight loss through the actions of orlistat.
Xenical is another brand that offers orlistat for weight loss. It differs from alli in that it offers double the dose and is prescription-only. This would obviously require a trip to your doctor.
If you haven't tried adopting a healthy meal plan or engaging in regular physical activity, these lifestyle changes are likely a better starting point.
The Bottom Line
Alli offers an effective, but modest, ability to reduce weight. While their website raises the concern for serious side effects and interactions, you're most likely to experience diarrhea and stomach pain.
At Amazon, almost 4,000 customers rate alli at 3.9-stars. Over 60% were 5-star reviews. While many are pleased with their results, even more customers report gas bloating, diarrhea, and stomach pain.
While the upside of alli may be losing a modest amount of weight, adopting a healthy meal plan and regular physical activity should be tried first.
If you are unsuccessful in this first step, speak with your physician before using diet-altering medications.
Customer Reviews