Alli Weight Loss Pill Reviews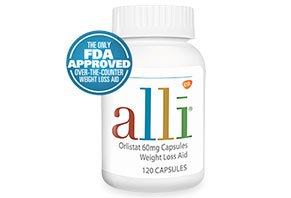 Alli Weight Loss Pill's active ingredient known as orlistat can prevent about 25% of the fat you eat from being absorbed by your body, helping you lose weight.
About Alli Weight Loss Pill
Trying to lose weight can seem like an uphill battle, as you slowly learn which foods and exercise habits your body responds to best. For this reason, it's common to experience difficulty losing weight—and even if you started out with great results, you could find that your body quickly stalls and stops shedding pounds.
To help boost your efforts, the active ingredient in Alli Weight Loss Pill, 60mg of orlistat (what the company calls the "most extensively studied weight loss ingredient in the world"), can help block 25% of the fat you eat from being absorbed.
In turn, for every 2 pounds you lose through diet and exercise, Alli promises to help you lose one more—50% more than dieting alone! This is part of the reason why Alli is the only approved FDA approved over-the-counter weight loss aid, and why it's been used by more than 12 million people in the US and Europe.
You're here because you want to know if Alli's Weight Loss Pill will help you lose weight. We'll tell you what we learned during our research so you can make an informed decision.
What Causes Weight Gain?
There are literally hundreds of different reasons why your body might begin putting on weight, from diet to medical conditions.
Related to our topic at hand though, most people gain weight because they eat more calories than their body expends. This causes you to begin storing excess energy inside specialized fat cells in the form of glucose. In turn, if this glucose isn't used up, the fat cells will continue to grow larger.
With this in mind, how does Alli claim to prevent this from occurring?
How Does Alli Weight Loss Pill​ Work?
Orlistat, also known as tetrahydrolipstatin and the brand name xenical, is available in prescription and non-prescription formats. It's a lipase inhibitor, as it prevents gastric and pancreatic lipases from breaking down fat into smaller particles, and therefore from being absorbed by your body.
In layman's terms, Alli attaches to enzymes responsible for fat digestion and prevents them from doing their job.
As we mentioned above, the orlistat in Alli promises to reduce fat absorption by about 25%. Since each gram of fat contains 9 calories, Alli claims to help save you approximately 2 ¼ calories for each gram of fat consumed. Here's how the Alli website describes it:
"For example, if you eat a meal with 20 grams of fat, (9 calories X 20 grams =180 calories of fat), alli® will prevent the absorption of 5 grams of fat (9 calories X 5 grams =45 calories from fat); you will still absorb 15 grams of fat (9 calories X 15 grams =135 calories from fat)."
What Kind of Weight Loss Results Can You Expect with Alli?
In clinical studies (more about this soon), most participants lost 5-10 pounds over the course of 6 months. Or, about 5% to 10% of their total weight.
The company claims you should start seeing results within the first two weeks, with most of the weight loss occurring over a six-month period.
However, it's important to note that you probably won't use Alli Weight Loss Pill under strict clinical circumstances, so this doesn't mean you'll necessarily experience the same. Why?
For one thing, the Alli website notes that orlistat doesn't absorb calories from protein or carbohydrates. As such, if you replace fat calories with ones from these other sources, you won't experience Alli's full benefits.
Another consideration is that Alli Weight Loss Pill​ works on a meal-by-meal basis. However, not at meals are digested at the same rate (something known as bowel transit time), which can be affected by the type of food, how much you drink, and more. In turn, Alli might be more effective for some meals than for others.
Last, but certainly not least, Alli isn't some kind of magical weight loss pill. The company is very clear that you'll still need to follow a restricted calorie diet and exercise regularly in order to maximize your results. Without this, you might not experience any weight loss results at all with Alli Weight Loss Pill​.
The positive news is that the Alli website features an extensive list of recipes and meal plans, which can be browsed by target, meal (breakfast, lunch, etc.), or meat type (vegetarian too!). You'll even have access to a meal target calculator for daily fat/calorie counts.
What clinical support does the company provide to back up these claims?
Is There Any Clinical Evidence for Alli Weight Loss Pill​?
Although the manufacturer doesn't provide a whole lot of evidence for Alli specifically, they do mention, "Scientists have studied orlistat for over 25 years in 100 clinical studies involving more than 30 thousand patients," and that it's been used by more than 50 million people to date.
To this extent, you can browse through many of these trials by searching online for the following terms:
Alli clinical trials
Orlistat clinical trials
Tetrahydrolipstatin clinical trials
Xenical clinical trials
The exact details of these trials might bore you to tears, but suffice it to say that there are reams of evidence supporting the efficacy of this fat blocker (whichever name you choose to call it).
Is There Any Significance Regarding Alli's FDA Approval?
Although the FDA doesn't test drugs, the agency is tasked with making sure they're safe and effective before being released to the public. To do this, a manufacturer must test their drug and submit evidence to the FDA through a new drug application (NDA).
Unlike nutritional supplements, the FDA must approve all new drugs sold in the US. So, while it's certainly positive that Alli comes with extensive clinical evidence and is FDA approved, the company's only following the letter of the law.
FDA approved or not, are there any downsides to using Alli Weight Loss Pill​?
Will Alli Pills Cause Any Side Effects?
The company recommends that Alli should only be used by people who have a BMI of 25 or more. You should also be dedicated to losing 5% to 10% of your body weight, as well as sticking to a well-balanced diet.
Alli Weight Loss Pill​ should be compatible with most other diet programs like NutriSystem, but not "with diets that are low in carbohydrates and high in fat (greater than 30% of calories from fat)."
Although Alli interacts with your body, very little of it (< 2%) is absorbed into the bloodstream and metabolized by the kidneys, so it doesn't have any cumulative effect. Alli also won't result in any direct effects on the cardiovascular or central nervous system, so you won't have to worry about a racing pulse or moodiness.
Here's who the company claims should not use Alli:
if you are taking cyclosporine
if you had an organ transplant
if you have been diagnosed with problems absorbing food
if you are allergic to any of the ingredients in alli® capsules
if you are not overweight
if you are pregnant or breastfeeding
While Alli Weight Loss Pill might be OK, you should still talk with your doctor if you are:
taking warfarin (blood thinning medicine). Your medication may need to be adjusted.
taking medicine for diabetes or thyroid disease. Your medication may need to be adjusted.
taking medicine for seizures.
or taking other weight-loss products
Even if you meet all of the above qualifications, the manufacturer recommends stopping use if:
If you develop itching, yellow eyes of skin, dark urine, or loss of appetite. There have been rare reports of liver injury in people taking orlistat.
Severe or continuous abdominal pain occurs. This may be a sign of a serious medical condition.
If you are taking medicine for seizures and your seizures happen more often or get worse.
Orlistat may also interact with certain seizure medications and/or minimally reduce the absorption of fat soluble vitamins, such as Vitamins D.
Lastly, the company notes that there have been "rare instances of severe liver injury reported in people taking orlistat." However, they go on to note: "The FDA completed a safety review of orlistat in May 2010 based on reports that were received over a 10-year period. The FDA concluded that a cause and effect relationship has not been established."
How Much Does Alli Weight Loss Pill​​​ Cost?
Alli is available through a wide variety of online and brick-and-mortar retailers, including CVS, Amazon, Walgreens, Walmart, Target, and more. In general, one package (120 count) seems to cost anywhere between about $50 and $74, depending on the retailer.
Which retailer you choose will also have an impact on your return policy.
Money saving tip: At the time of our research, you could sign up for the manufacturer's email list and receive a $10 off coupon for Alli Weight Loss Pill​.
Does Alli Weight Loss Pill​​​ Come with Positive Customer Reviews?
Alli was originally released in 2007, so it's had plenty of time to garner a lot of online customer feedback. We'll outline a few of the more popular sites here.
On Amazon, Alli had a 3.9-star average rating, based on nearly 2,000 reviews. Among these, positive feedback generally revolved around effective weight loss when combined with diet and exercise, as well as fast results.
Negative feedback seemed to focus on oily orange discharge from the anus (literally the fat leaving from your body—many claimed that there's no warning or physical sensation associated with it, so it can potentially lead to some embarrassing situations), as well as a weaker formulation after being re-released in 2012.
Many of these same compliments and complaints were mirrored in reviews on other sites like Drugs.com and Walmart.com.
From a company perspective, Alli Weight Loss Pills are manufactured by GlaxoSmithKline, an industry giant that also manufactures a variety of prescription medicines and vaccines.
We've given you a lot of information to digest (pun intended) here, so let's bring it all together.
Has the Alli Weight Loss Pill Rewritten the Rules of Weight Loss?
Although Alli seems to be a popular choice among those looking to lose weight—and to come with mostly positive reviews, it's not the only product that can prevent fat absorption.
The basic "rules" of weight loss are that you need to 1) eat fewer calories than you consume, and 2) exercise regularly. You'll still need to do both of these things when taking Alli, so it hasn't necessarily "rewritten" the rules, so much as it's perhaps given them a boost.
Pro tip: If you're just getting back into exercise, learn how walking can kickstart your health. Alternately, are you ready to take things to the next level? Learn how to pick the best gym membership for you.
Finally, consider that Alli Weight Loss Pill​ will only help you lose 5% to 10% of your total weight over time, or about 5-10 pounds over the course of six months. Comparatively, under ideal circumstances, many people lose 1-2 pounds per week, or about 24-48 pounds over this same period of time. So, while Alli Pills might give you a boost, you shouldn't expect anything revolutionary.