Slimvance Reviews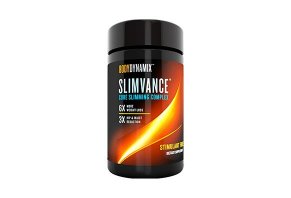 Brought to you by BodyDynamix, Slimvance is a new dietary supplement that claims to help you shed pounds and inches, without relying on stimulants like caffeine.
About Slimvance
Advertised as a natural, jitter-free way to shed pounds, the Slimvance program combines a patented blend of botanicals with a diet and exercise plan that claims to help trigger your body's natural ability to lose weight, without resorting to caffeine.
In fact, the website indicates the supplement has been shown to help individuals lose six times the weight and three times the inches from their waist and hips, compared to diet and exercise alone. Just take two capsules per day, and we're told you could begin seeing results in as little as two weeks.
Since stimulants can often cause side effects like shakiness, nervousness, upset stomach, and difficulty sleeping, it's positive that Slimvance doesn't contain any. But can you realistically expect it to boost your weight loss efforts? Will it deliver value? Are there competitors you might want to consider?
We'll walk you through everything we learned during our research so you can find your own answers to these important questions.
How Do Thermogenic Supplements Work?
The Mayo Clinic defines metabolism as "the process by which your body converts what you eat and drink into energy. During this complex biochemical process, calories in food and beverages are combined with oxygen to release the energy [in the form of heat] your body needs to function."
If you consume more calories than your body needs for energy, it stores this excess in the form of fat inside specialized cells called adipocytes. And if this energy excess continues for long enough, it can cause weight gain.
As such, professionals recommend that losing and maintaining a healthy weight involves a combination of consuming the ideal number of calories to properly fuel your body, combined with regular exercise.
But to potentially help boost this process, thermogenic supplements promise to increase the body's temperature while at rest, thereby increasing a person's metabolic rate, the number of calories they burn, and the amount of fat their body must use to sustain this increased energy output.
Which ingredients does Slimvance use to increase the body's temperature?
Taking a Closer Look at Slimvance's Ingredients
According to the supplement facts label, Slimvance contains the following ingredients:
Slimvance Patented Blend 450 mg: Moringa oleifera Leaf Extract, Murraya koenigii Leaf Extract, Curcuma longa Root Extract [Standardized to Curcuminoids = 31.5 mg]
It's important to point out that the HighYa staff isn't medical professionals. As such, when determining whether or not an ingredient is 'effective' for a specific claim, we rely on the cumulative summaries of the available clinical evidence presented by sites like the Natural Medicines Database, WebMD, and Examine.com.
With this caveat in mind, according to these sources, there's insufficient evidence supporting the manufacturer's claims regarding Slimvance's ingredients.
Next, let's find out if the clinical study frequently referenced on the supplement's website provides some additional insight.
What About Slimvance's Clinical Study?
This patented proprietary blend is manufactured by PLT Health Solutions and appears to be sold as a standalone ingredient to third-party supplements manufacturers. On their website, PLT references two studies to support their claims:
A 2012 eight-week study (randomized, double-blind, placebo-controlled) involving 50 subjects. Those who received the herbal formulation "showed significant net reductions in body weight and Body Mass Index (BMI)," "reduced fasting blood glucose, LDL, LDL/HDL ratio, and triglyceride" levels, and a "21.26% (p = 0.012) increase in serum adiponectin levels."
They also mention a 2016 clinical study, which appears to have involved 140 participants who adhered to a 1,800-calorie daily diet, along with a walking plan. Half of the participants took Slimvance, while the other half took a placebo.
After 16 weeks, we're told "those on Slimvance lost almost 10 more pounds (-11.81 pounds versus -1.91 pounds), lost over an inch more around the hips (-1.76 inches vs. -0.48 inches), lost over an inch more around the waist (-2.12 inches versus -0.68 inches) and lost more percent body fat (-1.05% versus 0.71%) than the placebo group."
Unfortunately, PLT Health listed this study's status as "manuscript in preparation." We emailed for a copy but hadn't received a response as of publishing.
Could Slimvance's Ingredients Cause Side Effects?
According to the FAQ on the supplement's website, "food allergies to Turmeric, Moringa, and Curry Leaves are rare. If you think that you may be having a reaction, stop using Slimvance, consult your doctor, and call the phone number on the package to report the reaction to us."
WebMD, the Natural Medicines Database, and Examine.com indicate that for some people (no specifics or dosages listed), turmeric can cause stomach upset, nausea, dizziness, or diarrhea. It can also have a moderate interaction with blood clotting (anticoagulant and antiplatelet) medications.
To help minimize the potential for side effects and medication interactions, be sure to speak with your doctor before taking any dietary supplement, Slimvance or otherwise.
How Much Does Slimvance Cost & Where Can You Buy?
If purchased directly through the Slimvance URL, the only way to get your hands on a full-size bottle (60 capsules) at the time of our research was through a 14-day trial, after paying a $7.95 upfront S&H fee (or, $17.90 for priority shipping).
Once 14 days have passed, you'll be charged the full retail price of $53.99. You'll also continue receiving a new bottle once per month and charged $53.99 plus shipping and handling costs each time. In order to cancel, you'll need to reach out to customer support at 866-665-6307.
We also found full-size bottles of Slimvance sold on GNC.com and Amazon for $59.99. GNC offered free shipping, and Amazon Prime members could receive the same.
Outside of the initial 14 days, it doesn't appear refunds are available for trial-bought Slimvance, while third-party refund details will vary by retailer.
Are There Any Online Customer Reviews For Slimvance?
Between Amazon and GNC.com, we encountered more than 100 customer reviews for the Slimvance dietary supplement, who had collectively given it an average rating of about 2.5 stars.
Common compliments referenced ease of use and effective results (boosted weight loss, increased energy, decreased appetite, etc.), while complaints frequently revolved around no results and mild, temporary side effects like nausea.
From a company perspective, Slimvance is brought to us by BodyDynamix, although we didn't encounter any third-party information about the company. The supplement is distributed by General Nutrition Centers, Inc.
Are There Other Weight Loss Supplements Like Slimvance?
There are literally tens of thousands of weight loss supplements competing for many of the same customers as Slimvance—most of which are priced between $20 and $50, putting the product in question near the top. How can you figure out if its price will deliver meaningfully more value for the money?
As we outline in Do You Need to Take Vitamins or Dietary Supplements, organizations like the National Institutes of Health and Nutrition.gov indicate that, unless you're deficient in some of the ingredients they contain, you probably don't need to take a supplement.
But to help you discern if you are deficient and therefore in need of supplementation, you should speak with your doctor. If they decide that your diagnosis might benefit, they could recommend different options that might deliver the most bang-for-the-buck.
Related: Forget Diet Pills—Lose Weight by Changing Your Habits
Another important factor is to keep your expectations realistic. For example, the Centers for Disease Control report that 'healthy' weight loss is defined as about one to two pounds per week. Also, maximizing your weight loss and keeping the pounds off for the long-term involves a combination of eating healthy and getting appropriate amounts of exercise, so be sure to start implementing health habits alongside your supplementation (if recommended).
Finally, based on our years of research into dietary supplements, we typically only recommend doing business with companies who:
Don't only offer their supplements through a free trial or autoship program
Support their claims with clinical evidence
Price their supplements competitively
Offer at least 30-day refund policies, with no restocking fees
Don't use extensive proprietary blends (since no ingredient dosages are listed)
How does all of this line up for Slimvance?
Our Final Thoughts About the Slimvance Weight Loss Supplement
The bottom line is that WebMD, Examine.com, and the Natural Medicines Database report there isn't enough clinical evidence to support the manufacturer's claims for each of Slimvance's ingredients.
However, the company offers a free, in-depth workout guide (basic, beginner, intermediate, and advanced) and four-week meal plans (1,500 - 2,200 calories per day), which could certainly help move you one step closer to achieve weight loss success. Just be sure to talk with your doctor first.
And if you purchase from Amazon or GNC.com, your Slimvance order could come with at least a 30-day refund policy. This way, you might not have much more to lose than a bit of your time if you give it a try and end up dissatisfied.
0 out 1 people found this review helpful

Stomach pain

By Wei Q.

,

Singapore

,

Dec 9, 2019
Verified Reviewer

I have been using Slimvance almost a month (3 weeks+). I'm using the caffeine one. Initially, it was working great. I was completely ok with that. Usually I take 2 capsules in the morning before my workout. It gives me super energy to hit the gym for a continuous 3 hours (I do regular workouts since the last 3 years). Definitely my appetite suppressed. But nowadays I feel stomach pain when I take my meals. I take only 2 capsules in the morning on an empty stomach, after that I do my workout for around 3 hours then I take my meals and after the meal - I feel the pain inside my stomach.

Bottom Line: No, I would not recommend this to a friend

---

I love this pill!

By Melissa E.

,

Florida

,

Nov 7, 2019
Verified Reviewer

I used to weight 214lbs, now I weight 182lbs. It took me about 4 months, I've been drinking 2 pills a day and oh boy do I love the results! I feel better and greater day by day, and I love the energy it gives me!

Bottom Line: Yes, I would recommend this to a friend

---

Advertisement

---

2 out 4 people found this review helpful

I'm awake

By Curita H.

,

Indianapolis, IN

,

Apr 29, 2019
Verified Reviewer

I've been taking the product for the past three days. At first I didn't notice anything different. When getting dressed today I noticed that I had gained weight in my stomach area. I was shocked because thought I would lose belly fat. I am also noticing an increase in my breast size. With lots of exercise and diet, I have lost a total of 17 pounds and went from a 36D to a 36C. Today I put on a bra I had purchased that was too big and placed in my drawer, which was a 36DD. I am taking the pills which include a stimulant. I am a coffee drinker so I decided not to drink coffee while I was taking the pills. I decided not to take any pills after 6 PM. This evening I have been up all night long. When I did finally fall asleep I had the worst dream of my life. I was eventually able to fall back to sleep, only to have another GOD awful nightmare. I don't want to take any more of these pills. The stimulant-free may work better than the pills that included the caffeine. I just pray for the next person who tries to use it that they don't have the same results. I really don't want to stop taking the pills because I hate to give up on something that may work. I just cannot continue to lose sleep, or have another nightmare. The dream was so vivid and horrific, I had to get out of bed to check on my children.

Bottom Line: No, I would not recommend this to a friend

---

25 out 25 people found this review helpful

Slim

By Sharon W.

,

South River, NJ

,

Oct 10, 2018
Verified Reviewer

I started Slimvance a few months ago, with taking at directed, eating sensible and doing everyday life things, work, social events, shopping, light exercise - I've lost 40 lbs. I love the product.

Bottom Line: Yes, I would recommend this to a friend

---

Advertisement

---

11 out 12 people found this review helpful

Review

By Mary C.

,

Iowa

,

Sep 21, 2018
Verified Reviewer

I have way more energy and a loss of appetite, but my stomach hurts every time I take the capsules, but I am going to keep at it. I am not hungry as I was throughout the day before I started these dietary supplements.

Bottom Line: Yes, I would recommend this to a friend

---

6 out 11 people found this review helpful

Reaction

By Brittany S.

,

West Virginia

,

Sep 16, 2018
Verified Reviewer

I took this for about three days. On the third day, within 20 minutes of taking it, my face turned flush and tingly, then spread to my arms, making my elbows tingly/burn, then last but not least, my knees. My upper or lower part of my legs were strangely not affected. But this reaction went on for the rest of the day, only being severe for the first 1.5 hours.

Bottom Line: No, I would not recommend this to a friend

---

5 out 15 people found this review helpful

It made me gain more belly fat

By Charleen W.

,

La Palma, Spain

,

Aug 28, 2018
Verified Reviewer

Horrible product. I had the opposite effect, gained weight and left with a deformed shape as if I had an inner tube around my waist. Now I have a difficult time losing a few pounds after I stopped taking Slimvance. I am having a difficult time losing weight even with more exercise and low-calorie diet.

Bottom Line: No, I would not recommend this to a friend

---

12 out 16 people found this review helpful

Peculiar personal body reactions

By Kimberly C.

,

Salt Lake City, UT

,

Jun 23, 2018
Verified Reviewer

I purchased my bottle of Slimvance from a local GNC in West Jordan, Utah. I was promised, "Amazing belly fat burning results once this thermogenic was added to my daily regimen."

I personally was not that impressed! I've actually gained belly fat, which is the opposite of what this product is supposed to do right? Then again, I gained cup sizes in my breasts also! A peculiar and weird side effect! I understand everyone's experience is different and I don't think what happened to me will happen to anyone else necessarily.

When I started, I wasn't exactly overweight either! I was weighing at 125 lbs, wanting to get back down to 110 lbs because I gained a little belly due to work stress! I started Slimvance thinking okay, this plus diet and exercise will help shed the 15 lbs of unwanted belly fat! Instead, I gained fat in my belly and breasts! For a short while it felt like a pregnancy, but that is impossible since my tubal ligation in 2013. Slimvance was the only new thing introduced to my diet! I did complete the full 30 days by the way!

Within 15 days I had gotten to 140 lbs and stayed there until finishing the bottle. I held out thinking maybe results would change and I hate not finishing what I start! So I held out and luckily the belly fat gained was completely overshadowed by the newfound cleavage by breasts obtained, by taking Slimvance. I have a 5'3", average build body. I am now a full 34C, and before Slimvance, I was a small 34B! Luckily I lost 10 lbs in my belly after I stopped using the product. That took seven days on its own!

I now have started a new product but I do hope that I don't lose the boobs I gained! All in all, I am confused by my bodies reaction to the product. I never got the jitters and it says not to add caffeine or niacin drinks like Redbull, but I had tried it to see if my body would feel any kind of energy or react in any way like it was supposed to, but I didn't feel a thing! Keep in mind I am the type of person who has been drinking coffee for years! So there you go. I felt my peculiar reaction to the product really needed to get out there.

Bottom Line: No, I would not recommend this to a friend

---

15 out 41 people found this review helpful

Slim chance it's working

By Drisana Kane

,

Northampton, MA

,

Apr 5, 2018
Verified Reviewer

I started taking last week and haven't noticed any improvement energy wise or in the mood, but it's still early to give a full assessment. However, if you're looking for a boost pre-workout, this ain't going to cut it.

Bottom Line: Yes, I would recommend this to a friend

---