Slimvance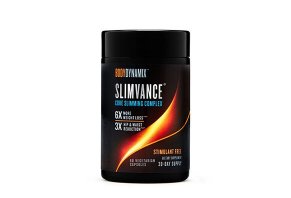 Slimvance is a stimulant-free blend of all-natural herbal botanicals from BodyDynamix that is designed to promote weight loss.
Slimvance Review: Does It Work for Weight Loss?
HighYa is supported by our readers. When you buy something through a link on this page, we may earn an affiliate commission. Learn more.
BodyDynamix claims that the all-natural blend of herbal ingredients offered in Slimvance will support healthy weight loss.
According to the product page, by taking one capsule twice daily, Slimvance will also help slim your midsection.
BodyDynamix claims that the proposed benefits are made possible through the combined actions of just 3 ingredients, though they do suggest using Slimvance in conjunction with a healthy diet and regular exercise.
As their Core Slimming Complex is stimulant-free, you'll also avoid unwanted side effects like anxiousness or troubled sleep.
Pretty lofty claims for a 3-ingredient blend – but can it actually help you lose weight? According to BodyDynamix, they have the science to back it up.
In this article, we'll review each ingredient and highlight the available weight-loss related research.
First, lets quickly discuss the recommended use for Slimvance.
The Slimvance Plan
For best use, you should take one Slimvance capsule 30-minutes before breakfast and one 30-minutes before dinner. BodyDynamix warns against consuming more than the recommended use.
Your weight loss results may be even greater when Slimvance is used in conjunction with a healthy diet and regular exercise.
Their plan involves 3 steps:
1. Eat Smart
BodyDynamix offers 8 different 4-week meal plans ranging from 1500 to 2200-calorie options. Each plan breaks down breakfast, lunch, snacks, and dinner for each day, and also includes vegetarian options.
2. Get Moving
BodyDynamix suggests 30-minutes of exercise 5 days each week.
Like their meal plan recommendations, they also offer guidance for physical activity. Their exercise plan contains structured workouts for beginner, intermediate, and advanced skill levels.
3. Track Your Weight Loss Success
According to BodyDynamix, monitoring your success over time can keep you engaged and motivated.
They suggest weighing-in regularly, taking progress photos, and tracking measurements for your waistline.
A comprehensive weight loss program that includes the components described above are vital, but will the addition of Slimvance really increase the likelihood of success? We'll discuss this next.
The Slimvance Blend of Ingredients: Do They Work?
BodyDynamix claims that the waist-slimming and weight loss actions of Slimvance are made possible by their blend of natural ingredients. According to the product page, these actions are backed by science.
Every capsule is packed with a 450mg blend turmeric (curcuma longa), moringa (moringa oleifera), and curry leaves (murraya koenigii).
We'll review the available research for each:
Turmeric (curcuma longa) – 31.5mg
This spice has been used for centuries in both the preparation of food, as well as medicinal purposes. In addition to its suspected antioxidant and anti-inflammatory roles, turmeric may also offer weight loss benefits.
Curcumin, a molecule produced by turmeric plants, is likely responsible for this extract's proposed benefits.
A review of 8 trials found curcumin supplementation ranging from 70 to 3,000mg daily over a 2 to 3-month span decreased BMI.
More recently, a review of 21 studies examined curcumin's weight loss effects. They concluded that doses ranging from 250 to 2,400mg daily significantly reduced BMI and body weight, in individuals with metabolic syndrome, obesity, heart disease, and diabetes.
Moringa (moringa oleifera)
This extract is obtained from trees that are native to India. Like turmeric, it has been in use for thousands of years and may offer a wide variety of health benefits.
In mice, 66mg/kg body weight daily provided anti-obesity and anti-diabetic effects.
In human subjects, 200mg of moringa daily improved body composition, reduced fat mass, and quality of life. It's important to note, however, that the blend used in this study also contained other ingredients known to offer weight loss benefits.
Curry Leaves (murraya koenigii)
Yet another important dietary and medicinal component in many cultures all over the world, curry may offer effects similar to the other extracts found in Slimvance.
Curry at 6 or 12g doses suppressed the appetite of healthy men.
While other metabolic effects of curry have been demonstrated, much of the findings were in animal models. For example, mice that consumed curry lowered the absorption of dietary fat, allowing for it to be excreted rather than stored.
Trial of Slimvance as a Stand-Alone Product
According to the product page, Slimvance has also been studied as a stand-alone product in a randomized trial.
In 140 healthy overweight individuals, the combination of Slimvance, an 1800 calorie diet, and daily exercise was compared to placebo with the same diet and exercise protocol over 4-months.
Researchers found that those randomized to Slimvance lost more body weight, inches at their waist and hips, and body fat when compared to placebo.
While this study was completed by a third party, it has yet to be published in a peer-reviewed medical journal.
Summary
Turmeric has the strongest support for effects related to weight loss. The other ingredients offer promising results, though much of the work has been in laboratory and animal models.
Slimvance, calorie restriction, and exercise were superior to diet and exercise alone. These study results, while impressive, must be taken with a grain of salt.
Independent testing may not undergo the rigorous standards necessary for publication in a medical journal.
More work is needed to determine the long term effects of this blend in human subjects.
Is Slimvance Safe?
This blend of ingredients is likely safe for regular use.
Turmeric toxicity is rare. Even doses ranging from 3600–8000mg daily over 4-months were safe with only mild nausea and diarrhea reported. Borth moringa and curry were safely tested at larger doses than those likely offered in the Slimvance blend.
The blend itself was not associated with any adverse events over the course of 4-months, but again, these findings have not been published in a medical journal.
Diet and exercise are important components of any weight loss program. Nonetheless, drastically altering your meal plan or physical activity level can be dangerous, especially if you have diabetes or heart disease.
Weight loss can offer a number of health benefits. Be sure to include your physician in your plan.
Pricing and Satisfaction Guarantee
You can pick up Slimvance online or in-stores at GNC.
The 1-month supply is currently $59.99; orders over $49 ship free. Additional savings are available as GNC is currently running a buy one, get one 50% off promotion.
You can save even more by opting for the auto-delivery plan. You'll earn an extra 10% off and you can set the frequency of delivery to 30, 45, 60, 90, 120, or 180 increments. This plan allows you to adjust the frequency or cancel at any time.
Lastly, GNC offers a 30-day satisfaction guarantee.
Here's how it works:
Print your digital packing slip and attach it to your return package.
Ship to GNC 5215 Albert S White Blvd. Whitestown, IN 46075 Attn: Return Dept.
Speak with an expert in the solutions center to discuss any issues.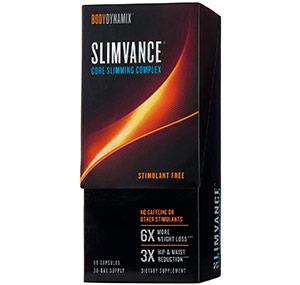 Buy Slimvance from Amazon:
A 30-day supply of Slimvance is currently available on Amazon for $45.00 for a 60-count bottle (25% off). Shipping is free.
Alternative Stimulant-Free Weight Loss Supplements
There are a number of supplements that claim to offer similar benefits to Slimvance. Stimulant-free formulations allow users to skip the unwanted side effects that can be associated with these products.
Fat Burner Stim-Free from Physiqueseries offers ingredients like vitamin B12 and cayenne pepper extract. A 1-month supply of this supplement is $49.99 at Transparent Labs.
Walmart offers another option. No-Stim offers ingredients like prickly pear and saffron bulb extracts. A 1-month supply is currently $29.99.
As Slimvance contains just 3 ingredients, purchasing them individually is yet another option.
While these options are cost-effective, the promotion at GNC may be worth taking advantage of, especially as Slimvance has been studied as a stand-alone product.
The Bottom Line
Slimvance offers a blend of natural ingredients that may have the potential to help you lose weight, especially when added to a more comprehensive plan that includes a healthy diet and regular exercise.
Though BodyDynamix provides only the quantity of the total blend, the available human studies involved doses that are likely comparable to those offered in Slimvance
At Amazon, more than 300 customers rate Slimvance an average of 3.9-stars. Those happy with the product report weight loss results even when taking less than recommended.
Unhappy users mentioned a lack of results and at least one instance of developing hives with use.
Nonetheless, serious side effects with this blend of ingredients are uncommon. Slimvance may support a comprehensive weight loss plan, though your physician should be included to monitor safety and track progress.
---
Consumer

By Amanda B.

,

New York

,

Mar 25, 2020
Verified Reviewer

Overall Experience:

Love it, lost 10 lbs in 2 weeks, able to digest red meat, no smelly poop, decreased bloat. No significant side effect, speed up weight loss with just running on a treadmill 30 minutes per day.

Bottom Line: Yes, I would recommend this to a friend

---

239 pounds to 234 in 5 days

By Kimberly C.

,

California

,

Mar 3, 2020
Verified Reviewer

Overall Experience:

I started at 239 pounds and in 5 days I'm at 234 pounds. I am doing an 1800 a day calorie diet with it. I do not exercise. Just the moving around doing errands and cleaning house. I can't believe how it takes my mind off of eating all day. I love that. And when I do eat I don't want anymore after a small amount. I do not believe in miracle pills but so far this is the craziest neat diet starter I've tried and the only one I think is actually gonna get me back to the hundreds! My first week I've lost 6 pounds quickly, I'm expecting it to slow down a bit. If not that would be great! But even if I lose 10 or more a month I will be happy, in 3 months I could be down 30 pounds, I'm good with that! Lol, hopefully the fat will continue to keep coming off quickly like it has been this first week. The energy I get from it is crazy. But not jittery. Can't wait to see where I am in a month. Thanks Slimvance.

Bottom Line: Yes, I would recommend this to a friend

---

Advertisement

---

Stomach pain

By Wei Q.

,

Singapore

,

Dec 9, 2019
Verified Reviewer

Overall Experience:

I have been using Slimvance almost a month (3 weeks+). I'm using the caffeine one. Initially, it was working great. I was completely ok with that. Usually I take 2 capsules in the morning before my workout. It gives me super energy to hit the gym for a continuous 3 hours (I do regular workouts since the last 3 years). Definitely my appetite suppressed. But nowadays I feel stomach pain when I take my meals. I take only 2 capsules in the morning on an empty stomach, after that I do my workout for around 3 hours then I take my meals and after the meal - I feel the pain inside my stomach.

Bottom Line: No, I would not recommend this to a friend

---

I love this pill!

By Melissa E.

,

Florida

,

Nov 7, 2019
Verified Reviewer

Overall Experience:

I used to weight 214lbs, now I weight 182lbs. It took me about 4 months, I've been drinking 2 pills a day and oh boy do I love the results! I feel better and greater day by day, and I love the energy it gives me!

Bottom Line: Yes, I would recommend this to a friend

---

Advertisement

---

I'm awake

By Curita H.

,

Indianapolis, IN

,

Apr 29, 2019
Verified Reviewer

Overall Experience:

I've been taking the product for the past three days. At first I didn't notice anything different. When getting dressed today I noticed that I had gained weight in my stomach area. I was shocked because thought I would lose belly fat. I am also noticing an increase in my breast size. With lots of exercise and diet, I have lost a total of 17 pounds and went from a 36D to a 36C. Today I put on a bra I had purchased that was too big and placed in my drawer, which was a 36DD. I am taking the pills which include a stimulant. I am a coffee drinker so I decided not to drink coffee while I was taking the pills. I decided not to take any pills after 6 PM. This evening I have been up all night long. When I did finally fall asleep I had the worst dream of my life. I was eventually able to fall back to sleep, only to have another GOD awful nightmare. I don't want to take any more of these pills. The stimulant-free may work better than the pills that included the caffeine. I just pray for the next person who tries to use it that they don't have the same results. I really don't want to stop taking the pills because I hate to give up on something that may work. I just cannot continue to lose sleep, or have another nightmare. The dream was so vivid and horrific, I had to get out of bed to check on my children.

Bottom Line: No, I would not recommend this to a friend

---

Slim

By Sharon W.

,

South River, NJ

,

Oct 10, 2018
Verified Reviewer

Overall Experience:

I started Slimvance a few months ago, with taking at directed, eating sensible and doing everyday life things, work, social events, shopping, light exercise - I've lost 40 lbs. I love the product.

Bottom Line: Yes, I would recommend this to a friend

---

Review

By Mary C.

,

Iowa

,

Sep 21, 2018
Verified Reviewer

Overall Experience:

I have way more energy and a loss of appetite, but my stomach hurts every time I take the capsules, but I am going to keep at it. I am not hungry as I was throughout the day before I started these dietary supplements.

Bottom Line: Yes, I would recommend this to a friend

---

Reaction

By Brittany S.

,

West Virginia

,

Sep 16, 2018
Verified Reviewer

Overall Experience:

I took this for about three days. On the third day, within 20 minutes of taking it, my face turned flush and tingly, then spread to my arms, making my elbows tingly/burn, then last but not least, my knees. My upper or lower part of my legs were strangely not affected. But this reaction went on for the rest of the day, only being severe for the first 1.5 hours.

Bottom Line: No, I would not recommend this to a friend

---

It made me gain more belly fat

By Charleen W.

,

La Palma, Spain

,

Aug 28, 2018
Verified Reviewer

Overall Experience:

Horrible product. I had the opposite effect, gained weight and left with a deformed shape as if I had an inner tube around my waist. Now I have a difficult time losing a few pounds after I stopped taking Slimvance. I am having a difficult time losing weight even with more exercise and low-calorie diet.

Bottom Line: No, I would not recommend this to a friend

---

Peculiar personal body reactions

By Kimberly C.

,

Salt Lake City, UT

,

Jun 23, 2018
Verified Reviewer

Overall Experience:

I purchased my bottle of Slimvance from a local GNC in West Jordan, Utah. I was promised, "Amazing belly fat burning results once this thermogenic was added to my daily regimen."

I personally was not that impressed! I've actually gained belly fat, which is the opposite of what this product is supposed to do right? Then again, I gained cup sizes in my breasts also! A peculiar and weird side effect! I understand everyone's experience is different and I don't think what happened to me will happen to anyone else necessarily.

When I started, I wasn't exactly overweight either! I was weighing at 125 lbs, wanting to get back down to 110 lbs because I gained a little belly due to work stress! I started Slimvance thinking okay, this plus diet and exercise will help shed the 15 lbs of unwanted belly fat! Instead, I gained fat in my belly and breasts! For a short while it felt like a pregnancy, but that is impossible since my tubal ligation in 2013. Slimvance was the only new thing introduced to my diet! I did complete the full 30 days by the way!

Within 15 days I had gotten to 140 lbs and stayed there until finishing the bottle. I held out thinking maybe results would change and I hate not finishing what I start! So I held out and luckily the belly fat gained was completely overshadowed by the newfound cleavage by breasts obtained, by taking Slimvance. I have a 5'3", average build body. I am now a full 34C, and before Slimvance, I was a small 34B! Luckily I lost 10 lbs in my belly after I stopped using the product. That took seven days on its own!

I now have started a new product but I do hope that I don't lose the boobs I gained! All in all, I am confused by my bodies reaction to the product. I never got the jitters and it says not to add caffeine or niacin drinks like Redbull, but I had tried it to see if my body would feel any kind of energy or react in any way like it was supposed to, but I didn't feel a thing! Keep in mind I am the type of person who has been drinking coffee for years! So there you go. I felt my peculiar reaction to the product really needed to get out there.

Bottom Line: No, I would not recommend this to a friend

---

Slim chance it's working

By Drisana Kane

,

Northampton, MA

,

Apr 5, 2018
Verified Reviewer

Overall Experience:

I started taking last week and haven't noticed any improvement energy wise or in the mood, but it's still early to give a full assessment. However, if you're looking for a boost pre-workout, this ain't going to cut it.

Bottom Line: Yes, I would recommend this to a friend

---