Super Beta Prostate P3 Advanced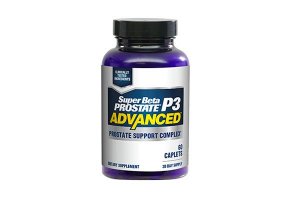 Summary
Super Beta Prostate P3 Advanced is a nutritional supplement that allegedly supports better prostate health, reduces frequent urges to urinate, improve urine stream.
Super Beta Prostate P3 Advanced Review - Does It Work?
What Is Super Beta Prostate P3 Advanced?
Super Beta Prostate P3 Advanced is a dietary supplement from New Vitality that allegedly supports prostate health.
In the US, around 70% of men aged 60-69 are affected by an enlarged prostate or benign prostatic hyperplasia (BPH). This condition is associated with many unwanted effects that revolve around urinary symptoms like frequent urination or inability to completely empty the bladder.
While a number of medications are available that can effectively reduce symptoms, New Vitality claims to offer a drug-free remedy.
More specifically, they state that by taking two capsules daily Super Beta Prostate P3 Advanced will:
Decrease Frequent Urges to Urinate
Reduce Waking at Night to Urinate
Promote Better Bladder Emptying
Support Healthy Prostate Function
While this sounds appealing, especially for those that wish to avoid medical treatment, it may be too good to be true.
We'll help you figure out if this is the case by reviewing the available research regarding the alleged actions of Super Beta Prostate P3 Advanced key ingredients.
Super Beta Prostate P3 Advanced Ingredients: Scientific Efficacy
While each serving of Super Beta Prostate P3 Advanced contains a blend of vitamins and minerals, it utilizes three key ingredients that allegedly offer the most support for your prostate.
New Vitality claims that rather than using a "kitchen sink" approach like their competitors, they have included only researched ingredients. In this section, we'll determine if there's merit to these claims.
Vitamin D - 1600IU
As vitamin D deficiency is common, supplementation may be an essential factor in supporting strong bones and teeth. It has also been linked to prostate health.
Vitamin D deficiency was associated with a larger prostate volume, higher scores in a blood test used to screen for prostate issues, and lower urinary flow.
In addition to being used as an indicator of prostate health, vitamin D may also offer relief. A review found that doses at 6000 IU/day can decrease the prostate volume in those with BPH.
Zinc - 40mg
Zinc is an essential mineral that may have effects related to growth and development, wound healing, and protein synthesis, among others.
Additionally, 50% of those older than 65 may have low zinc levels. Men in this age group are also commonly affected by BPH - those with lower zinc levels may have an even greater risk.
Selenium - 15mg
Selenium is an essential mineral found in soil, water, and foods like eggs and nuts.
According to a recent review of nearly 70 studies, high selenium levels may reduce the risk of prostate cancer. They did not find that supplementation of this mineral was beneficial, however.
Copper - 70mcg
This mineral is found naturally in foods like beef, fruits, broccoli, and whole-wheat products.
While much more work is needed, some early animal studies have demonstrated the potential role of copper in treating prostate cancer.
Manganese - 2mg
You can get this mineral from foods like seeds, beans, nuts, and green leafy vegetables.
Like some of the other ingredients, a laboratory model demonstrated an ability for manganese to limit the viability of prostate cancer cells.
Chromium - 120mcg
Chromium is a mineral you can obtain from foods like beef, fruits, broccoli, and whole-wheat products.
Chromium was used to target prostate cancer cells in a laboratory setting.
Molybdenum - 75mcg
This mineral is available in foods like beans, grains, and liver. Molybdenum may play a role in imaging prostate cancer cells.
Boron - 3mg
Boron is a trace mineral that may benefit bone growth, improve wound healing, reduce inflammation, and support antioxidant.
In mice, this mineral has demonstrated an ability to reduce the growth of prostate cancer cells.
Silica - 20mg
This natural compound is abundant in foods like leafy greens, brown rice, oats, and beets. Like a few of the other ingredients, silica may play a role in targeting prostate cancer, though much more work is needed.
Phytosterols - 600mg
Like some other brands, New Vitality believes sterols are responsible for the proposed benefits of their supplement. These plant-based fats have been well studied regarding their ability to offer relief for prostate-related symptoms.
A 1995 study found that 20mg of β-sitosterol 3x daily improved urinary symptoms in men with BPH when compared to placebo, though treatment did not reduce the size of their prostates.
Super Beta Prostate P3 Advanced offers more than 10x this dose.
Another randomized study found that men with BPH treated with 130mg of B-sitosterol daily improved their flow rate, ability to empty their bladder, and their quality of life.
In 2000, a review of 4 randomized studies concluded that B-sitosterol was a safe and effective treatment for urinary symptoms associated with mild to moderate BPH.
In 2012, researches expanded on the 2000 study by providing an overview of BPH treatment with dietary supplements. They confirmed the previous findings and concluded that B-sitosterol was effective with little risk for adverse events.
While a handful of studies have found sterols to be safe and effective in improving urinary symptoms associated with BPH at doses much smaller than those offered in Super Beta Prostate P3 Advanced, much of the support is over 20 years old.
Reishi mushroom extract - 6mg
This fungus is rich in antioxidants and grows mainly in Asia. It has been incorporated in natural medicine for its proposed health benefits.
In a laboratory model, reishi extract inhibited 5α-reductase, an enzyme responsible for converting testosterone to dihydrotestosterone (DHT). The latter is responsible for driving both normal and abnormal prostate growth.
In humans, reishi extract did not effectively reduce lab tests used to indicate prostate health. The researchers concluded that the extract is likely not a valid treatment option for prostate cancer.
While there does appear to be a relationship between reishi mushroom and prostate health, the role of this supplement in human studies remains unclear.
Lycopene - 15mg
This antioxidant is found in watermelons, tomatoes, and grapefruit. Its role in prostate health has been well-studied.
In a laboratory setting, lycopene slowed the growth of prostate cancer cells. In humans, regular consumption of foods rich in lycopene over 23-years was linked to a reduced risk for prostate cancer.
More recently, a review of 26 studies concluded that lycopene consumption at 9 to 21 mg daily reduced the risk of prostate cancer.
The lycopene dose offered in Super Beta Prostate P3 Advanced falls within this range.
While lycopene consumption has been linked to a lower risk for prostate cancer, the ability of this antioxidant in relieving urinary symptoms in those with BPH is unclear.
Side Effects
As with most nutraceuticals, a favorable safety profile can be valuable as medication for BPH is not without risk. For example, treatment with alpha-blockers can result in drowsiness, dizziness, or unsafe drops in blood pressure.
While the ingredients offered in Super Beta Prostate P3 Advanced are generally safe, there are some safety concerns to mention.
Though beta-sitosterol is rarely associated with side effects, the doses included in this supplement are much larger than those used in the studies we reviewed. Therefore, mild digestive symptoms like diarrhea, nausea, indigestion may be more likely.
Toxicity from consuming excess molybdenum is rare but serious. An individual that consumed 300-800 micrograms daily over 18-days (13.5mg in total) experienced hallucinations and seizures.
Additionally, though BPH is common, keep in mind that your urinary symptoms may be caused by more serious medical conditions that warrant medical management.
Before you start a new supplement, discuss your symptoms with a physician to determine the best plan of action.
Cost and Buying Options
You can pick up Prostate P3 directly from the New Vitality website.
Your 60-capsule bottle will last 1-month and the available purchasing options are:
1 Bottle for $42.95 + $6.99 shipping
3 Bottles for $119.85, shipping is free
6 Bottles for $215.70, shipping is free
New Vitality also backs your purchase with a 45-day satisfaction guarantee.
This means that you can try this supplement risk-free, and if you're not happy, simply contact support at customercare@newvitality.com or call 1-800-943-6465 to process your refund.
According to their site, this guarantee is not available for unauthorized sellers. However, other vendors do offer Super Beta Prostate P3 Advanced for lower prices.
1 Bottle is priced at $34.48 on Amazon, while the 3-pack is $102.99
1 Bottle is priced the same at Walmart, though a 3-pack is just $74.87
The Bottom Line
Though there is some strong support for the ability of sterols to improve BPH-related urinary symptoms, most of the research involving the other active ingredients remain unclear.
Offering doses that are larger than those found to be successful in research studies means that both the benefits and side effects may be more likely. Fortunately, most of the ingredients have been safely tested in human subjects.
This can be favorable for those with BPH that wish to avoid managing their symptoms with medication or surgery.
However, your urinary symptoms may be caused by a more serious condition. Be sure to avoid attempting to manage symptoms without first identifying the cause without your doctor.
Customer Reviews
Posted on Oct 9, 2019
I got no relief
I called and got my free bottle, it was $4.99 plus tax. AND yes, the lady tried to sell me 4 or 5 other products totaling well over $100, what a sales SCAM! Took as prescribed for 30 days, noticed ABSOLUTELY no relief. Luckily, I used a prepaid Visa card with a very low balance so just in case they tried to make reoccurring charges there wouldn't be enough balance on the card to complete the order. I went to my doctor and he looked at the ingredients and said, "where's the SAW PALMETTO." He said, "Ed, you're wasting your money." He prescribed Finasteride 5mg once daily and now I have RELIEF. AND a 90-day supply was only $15.10 compared to Beta at $140.85 for 3 months with shipping. You make the choice as to the better value!
Bottom Line: No, I would not recommend this to a friend
Posted on Sep 8, 2019
Bait and switch
I wanted to try this product and I heard an advertisement for a free 30-day sample for only shipping and handling on $4.00 with no recurring shipments. I called them and tried to order the $4.00 30-day sample and after I gave them my credit card they tried to upgrade me to a complete order and I told the lady I just wanted the $4.00 30-day sample to see if it worked for me. I could not get a word in so I hung up the phone only to find my credit card was billed for over $100 the next day. This company is a fraud! I filed a complaint with the FCC and my credit card department. I now question if the product is any good and if it's just not a marketing scam...
Bottom Line: No, I would not recommend this to a friend
Posted on Jan 9, 2019
Super Beta Prostate
I have taken Super Beta Prostate daily for over two months and it does absolutely nothing. I have never had a problem during the day time, but at night, I am still waking up every 1 and a 1/2 to 2 hours a night to go to the bathroom just a very small amount.
Bottom Line: No, I would not recommend this to a friend
Posted on Dec 4, 2018
Another scam
I have used five bottles of Super Beta taking twice a day for five months at $30.00 a bottle thinking it may take some time to work. It has NO results, very disappointed and it was a waste of money.
Bottom Line: No, I would not recommend this to a friend
Posted on Oct 15, 2018
Free bottle
This is a scam. I sent "Shipping and Handling" charges for a "Free" bottle a few years ago. I never received a bottle! This just takes the money you send and sends you nothing! I couldn't believe I saw the same scam again!
Bottom Line: No, I would not recommend this to a friend
Posted on May 27, 2016
It did nothing for me!
I took this twice daily as suggested and noticed absolutely zero effect. Bought it at Rite aid, and although the label implies a 100% satisfaction guarantee, there is no provision to place a claim on the product website for retail purchases.
I decided to cut my losses rather than waste my time chasing ghosts. I would NOT recommend experimenting with this product.
Bottom Line: No, I would not recommend this to a friend
Our Promise to You
In order to safeguard you and ensure helpfulness and relevance, our compliance team manually assess every customer review before it goes live.
We have a zero-tolerance policy for fake reviews, and companies cannot control or alter any reviews at any time.