Prosvent
This company has claimed this profile, is getting alerted on any new customer reviews entering this page, and may engage in dialogue with its customers to address their matters.

Companies cannot pay money or provide goods in order to remove or alter customer reviews.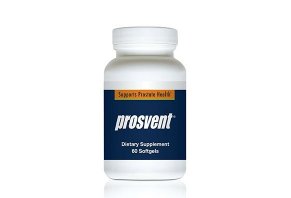 Summary
Using a natural formula of herbs and nutrients, Prosvent claims to help address symptoms associated with an aging prostate, without harmful side effects.
Prosvent Review: Effectiveness, Side Effects, Alternatives, and More
Thera Botanics claims that Prosvent will relieve urinary symptoms related to an aging prostate through a natural blend of ingredients.
Benign prostatic hyperplasia (BPH), or an enlarged prostate, affects about 70% of men in their 60s. Those that suffer from this condition often experience symptoms like frequent urination or inability to empty their bladder.
Treatment can include medications or even surgery, though Thera Botanics claims that Prosvent can offer a drug-free remedy.
They state that by taking two capsules with a meal daily, Prosvent will:
Reduce the frequency of urination
Reduce the urgency to urinate
Improve weak flow
Improve the emptying of your bladder
Improve your sleep
This certainly sounds beneficial to those interested in avoiding traditional medical treatment for this condition, but is it too good to be true?
We'll help you answer this question by reviewing the available scientific support for the proposed actions of Prosvent's blend of ingredients.
Prosvent's Active Ingredients: Do They Work?
Though Thera Botanics includes some supportive ingredients, it is the proprietary blend offered in Prosvent that is behind the ability of this supplement to relieve urinary symptoms.
Each serving contains the following:
The Supportive Ingredients:
Vitamin D – 100IU
Vitamin D deficiency has been linked to an enlarged prostate and weak urinary flow. Additionally, doses at 6000 IU/day may decrease the size of the prostate in those with BPH.
While potentially beneficial, Prosvent includes a much smaller dose than what was found to be effective in this study.
Zinc – 5mg
This essential mineral is thought to play a role in growth and development, wound healing, and protein synthesis.
Also, about half of individuals older than 65 may have low zinc levels. As men in their 60s are commonly affected by BPH, lower zinc levels may place them at an even larger risk.
Black Pepper Extract – 1mg
BPE is commonly included in weight loss supplements, though it has also been studied for its suspected anti-cancer capabilities.
In mice, BPE reduced the growth of prostate cancer cells, though much more work is needed to identify the possible effects in humans.
The Proprietary Blend – 335mg:
Phytosterols
Sterols are plant-based fats that have been well-studied for their potential to relieve prostate-related urinary symptoms.
A study from the 90s concluded that 60mg of sterols daily improved urinary symptoms in men with BPH when compared to placebo. Another randomized study found that 130mg sterols daily improved flow rate, bladder emptying, and their quality of life in men with BPH.
In 2012, an overview confirmed previous findings by concluding that sterols were effective in treating BPH with little risk for side effects.
Though there is available support for the beneficial effects of sterols even at lower doses, much of it is over two decades old.
Nettle Root
Used in natural medicine for centuries, nettle root is thought to offer anti-inflammatory benefits that can relieve arthritis.
Over 96-weeks, 120mg daily safely improved the quality of life, urinary flow rates, and bladder emptying in elderly patients with BPH.
Pygeum Africanum
Pygeum is another extract commonly found in supplements used to treat BPH.
At 100mg daily over 5-days, pygeum demonstrated an ability to raise the levels of substances that can limit prostate growth. More work is needed to clarify the potential for this extract to treat BPH.
Pumpkin Seed Oil
Often discarded when cooking or carving pumpkins, these seeds may actually support prostate health.
Pumpkin seed oil may work together with saw palmetto to offer relief of symptoms related to BPH. When both were offered at 320mg each, subjects experienced more symptom relief than with either extract alone.
As Prosvent's total blend is just 335mg, there is likely not enough of this extract to be effective.
Saw Palmetto
This plant is found in the southern US and is commonly included in formulations that allegedly support prostate health.
In a randomized trial, those treated with 320mg of saw palmetto daily improved symptoms more so than those that received a placebo.
Again, it is unlikely that Prosvent offers a dose comparable to those found to be beneficial.
Lycopene
Lycopene is an antioxidant that is obtained from fruits like watermelon, tomato, and grapefruit that may support prostate health.
In a laboratory study, it reduced the growth of prostate cancer cells. A review of 26 studies found lycopene, when consumed at 9 to 21mg daily, reduced the risk of prostate cancer.
There is some support for lycopene to combat prostate cancer, though its ability to improve urinary symptoms is unclear.
Is Prosvent Safe?
The blend of ingredients offered in Prosvent is generally safe, though some have been more extensively studied in humans than others.
There is available support for the safety of most ingredients, even at doses much larger than what is likely offered in the proprietary blend.
This may be appealing to many who suffer from BPH as traditional treatment with alpha-blockers can result in drowsiness, dizziness, or even unsafe low blood pressure. Surgery can offer additional risks.
Serious side effects in sterols are uncommon, though mild ones are possible. Digestive symptoms like diarrhea, nausea, indigestion can result from daily use.
Lastly, BPH is not the only cause of urinary symptoms. As other more serious conditions may be responsible, speak to your doctor before starting a new supplement.
Pricing and Subscription Information
You can purchase Prosvent directly from their site. In fact, like other Thera Botanics products, it is available through a special internet offer.
Pay $9.95 for shipping and receive a 2-month supply of Prosvent, as well as a 1-month supply of their male enhancement supplement, and Dr. May's Complete Guide to Prostate Health by Lawrence May MD.
While technically you're only out less than $10 if you're unsatisfied, you should be aware of the fine print:
"You will be shipped 2 bottles of Prosvent nutritional supplement, which is a 60-day supply. They are yours to try for 30 days! All you pay TODAY is the $9.95 shipping and processing. Then, unless you call to cancel, after 30 days your credit card will be charged only $39.95 per bottle! Every 60 days, we will send you a new 2-bottle, 60-day supply of Prosvent billed to your credit card at the same low price ($39.95 per bottle plus $9.95 S&P)."
If you don't want to be locked-in to automated deliveries, this may not be the product for you as there are no other purchasing options.
Thera Botanics also backs your purchase with a 30-day guarantee, though this only kicks on future shipments and not the special internet offer.
You can also find Prosvent at Amazon, where a 1-month supply is $57.
Alternatives to Prosvent
Prosvent is just one of the available non-prescription dietary supplements that allege to relieve urinary symptoms related to an aging prostate naturally.
A simple internet search will reveal many options. Though these products often have a similar blend of ingredients
ProstaGenix, for example, also offers vitamin D, zinc, sand sterols, as well as other natural ingredients. One bottle is $49.95, and 3 are available for $99.95
One of the main ingredients in Prosvent, saw palmetto, is another common ingredient that is found in similar products.
Prostate with Saw Palmetto from Nature's Way offers 320mg in addition to zinc, dandelion, and soybean extract.
This ingredient is available for purchase individually.
The Bottom Line
Prosvent includes several ingredients with available scientific support that adds some merit to Thera Botanics' claims.
Also, like other Thera Botanic products, a 2-month supply of Prosvent is available for the price of shipping. Use caution, however, as this locks you into auto-shipment if you don't cancel.
Besides being pricey, this supplement likely contains doses of the active ingredients that are much smaller than those found beneficial in research. While side effects may be less common, Prosvent may not offer the punch you need to relieve your symptoms.
At Amazon, 250 customers rate Prosvent at 3.7-stars – more than a quarter assigned a rating of 2-stars or less. Those unhappy cited issues associated with poor results or increased frequency of urination.
Nonetheless, similar products can be appealing to those with BPH who want to avoid managing their symptoms with medication or surgery.
However, keep in mind that your symptoms may be caused by something more serious. Even if you can relieve symptoms naturally, it's still best to make sure you and your doctor are on the same page.
Customer Reviews
Our Promise to You
In order to safeguard you and ensure helpfulness and relevance, our compliance team manually assess every customer review before it goes live.
We have a zero-tolerance policy for fake reviews, and companies cannot control or alter any reviews at any time.