Prosvent
Claimed This company has claimed this profile, is getting alerted on any new customer reviews entering this page, and may engage in dialogue with its customers to address their matters.

Companies cannot pay money or provide goods in order to remove or alter customer reviews.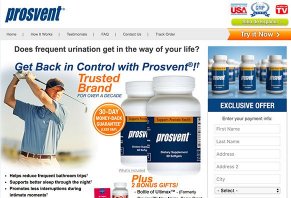 Using a natural formula of herbs and nutrients, Prosvent claims to help address symptoms associated with an aging prostate, without harmful side effects.
Prosvent Review: Effectiveness, Side Effects, Alternatives, and More
Created by Dr. Larry May, the Prosvent dietary supplement contains a comprehensive blend of rejuvenating herbs and nutrients that promise to promote normal prostate health and function. This includes supporting increased urine flow, avoiding frequent overnight urination, and even promoting fewer interruptions during sex.
Despite all these benefits, the manufacturer claims that Prosvent's natural formula won't cause any harmful side effects and can help you avoid toxic chemicals or drugs. By taking one softgel twice daily, it's even guaranteed to deliver relief within 30 days, or your money back.
Together, the website indicates that Prosvent has been a trusted brand for prostate health for over a decade and has helped hundreds of thousands of American men.
But the big question is: will it help you? In other words, can you realistically expect Prosvent's ingredients to put you back in control of your prostate? Even then, is it really the most comprehensive formula that's ever been developed, as claimed on the website?
Here, we'll help you find some answers, starting with a quick discussion about the problem that Prosvent promises to address.
What Problems Can Prostate Cause?
WebMD tells us that the prostate is a gland about the size of a walnut that rests below the bladder and in front of the rectum. It also surrounds a section of the urethra, which is a tube that runs through the penis and carries urine.
The prostate gland's only job is to secrete prostate fluid, which is one component of semen.
Although the prostate starts out the size of a walnut, by the time a man reaches 40 it can have grown to the size of an apricot, and the size of a lemon by age 60, which WebMD tells us is a normal part of aging.
However, as mentioned on the Prosvent site, this growth can squeeze the urethra and lead to increased urination frequency, difficulty starting urination, weak urine stream or dribbling at the end, and an inability to empty the bladder.
Taking a Closer Look at Prosvent's Ingredients
Based on the supplement facts label posted on the Prosvent website, the formulation contains the following ingredients:
Vitamin D3 100IU
Zinc 5mg
Lycopene 3mg
Black Pepper Extract 1mg
Proprietary Blend 345mg: Sterol Esters, Saw Palmetto Extract, Nettle Root Extract, Pumpkin Seed Oil, Pygeum Africanum Extract
According to their summaries of the available clinical evidence, sites like the Natural Medicines Database, WebMD, and Examine.com report that taking a combination of zinc, selenium, and iodide may help improve prostatitis symptoms, although no dosage information is provided.
WebMD lists two to three doses of sterol (specifically, beta-sitosterol), totaling 60-130mg daily, as possibly effective for addressing prostate-related difficulty urinating, but not for actually decreasing the size of an enlarged prostate. They also indicate 480mg daily doses of pumpkin seed oil could help prostate symptoms, as could 75-200mg of pygeum.
Much of this matches up with the four clinical studies referenced on the Prosvent website, and the company has confirmed to us that the product uses the same dosages reflected in clinical studies.
Will Prosvent's Ingredients Cause Potential Side Effects?
These same sites indicated that the most common side effects associated with Prosvent's ingredients are mild, temporary digestive upset. No specific circumstances were indicated when these might be more likely to occur.
With this said, WebMD reports that "Beta-sitosterol has also been linked to reports of erectile dysfunction (ED) and loss of interest in sex." Again, no specific circumstances were listed and the company told us that no such complaints have been received from their customers.
How Much Does Prosvent Cost?
If purchased directly through the supplement's website, you'll only pay $9.95 S&H to receive a 60-day supply (two bottles) of Prosvent. Unless you call to cancel within 30 days, you'll be charged the full price of $79.90 ($39.95 per bottle) and enrolled in the company's autoship program.
This means you'll continue receiving two bottles once every 60 days, and your credit card will be charged $79.90 plus $9.95 S&H each time.
Along with your order, you'll also receive a bottle of Ultimax (formerly Provigor) and a copy of Dr. May's Prostate Health Guide.
We also found the supplement available through Amazon at the following single-order prices (no autoship enrollment):
60 capsules: $59.95
120 capsules: $149.85
360 capsules: $269.70
All manufacturer direct Prosvent purchases come with a 30-day money back guarantee, less S&H. In order to request one, or to cancel or modify your autoship enrollment, Ideal Living's customer support department can be reached at 800-743-9854 or customerservice@prosvent.com.
How do these prices compare?
Prosvent vs. Other Prostate Supplements
The fact of the matter is that there are perhaps hundreds of other prostate supplements competing with Prosvent, which you can see for yourself after a quick online search. Most of these ranged between $20 and $40 at the time of our research, putting Prosvent squarely in the middle.
Pro tip: Several of these options were available locally, which could help you further save on S&H, as well as return charges if you end up dissatisfied.
While none of these featured the exact same formulation as Prosvent, most contained ingredients like saw palmetto, beta sitosterol, zinc, vitamin D, pumpkin seed oil, or lycopene. Which of these is best for you?
When choosing between different prostate supplements, it's important to note that these types of products aren't regulated by the FDA. As such, you'll likely want to focus on manufacturers that provide complete supplement facts labels (including dosages for each ingredient), offer no-hassle money back guarantees, and that have plenty of customer feedback.
Speaking of which, be sure to read through the supplement's consumer reviews to identify any trends that might be worth keeping in mind.
In a second, we'll wrap things up and find out how all of this applies to Prosvent. But let's first find out what customers are saying and who's behind the supplement.
What Are Prosvent Customers Saying in Their Reviews?
Since writing our original article, only two HighYa readers provided feedback about their experiences with Prosvent, giving the supplement an average rating of one star. Here, both stated it did not provide any results, while one expressed dissatisfaction with the trial program and another experienced difficulty obtaining a refund.
On the other hand, 120+ Amazon customers had given Prosvent a 3.5-star average rating at the time of our research. Most reported satisfactory results, although common complaints were that it didn't work effectively.
From a company perspective, Prosvent, LLC (a division of Ideal Living) had a D+ Better Business Bureau rating, based on 15 closed complaints, as of 8/4/17. Most seemed related to customer service issues, and the company told us that they are working with BBB to correct some outdated information. Ideal Living, on the other hand, holds an A- rating from the BBB.
Now, let's learn more about the physician behind Prosvent.
What Do We Know About Dr. Larry May?
According to his bio on the Prosvent website, Dr. Larry May is a doctor of internal medicine who graduated Magna Cum Laude from Harvard Medical School and has been working in the field since 1974.
Dr. May is also listed as co-founder and director of UCLA's Center for Health Enhancement Education Research, is on the faculty at the UCLA School of Medicine, and runs a clinical practice in Los Angeles's San Fernando Valley. In fact, we're told his practice is one of the largest in the country and specializes in "internal medicine, preventive care, integrative medicine, and nutrition."
Finally, Dr. May has authored several books, including the medical textbook Primary Care Medicine.
Our Bottom Line About Prosvent
Although about 80 percent of men eventually develop BPH (this number jumps to 90 percent for those over the age of 85), WebMD tells us that only about 30 percent will experience bothersome symptoms. If you count yourself among these numbers, aging prostate issues can have a significant impact on your quality of life.
And if you're looking for a natural potential solution, it appears that Prosvent contains several different ingredients (zinc, beta-sitosterol, pumpkin seed oil, and pygeum) that sites like the Natural Medicines Database, WebMD, and Examine.con indicate could deliver some measure of relief.
The manufacturer also seems to stand behind Prosvent with a 30-day "love it or return it" guarantee, so you might not be out much more than a few dollars in S&H if you find that it doesn't meet your needs. If you order directly from the company, though, just remember that you'll be signed up for recurring shipments if you don't cancel within 30 days ordering.
On top of this, most of the online customer feedback we encountered was positive, and the company clearly lists all the ingredients found in Prosvent.
As always, if you're looking to get the most value for your money, though, it's a good idea to make an appointment with your doctor before placing an order for any supplement.
After all, while symptoms of an aging prostate are reported to be harmless, it could point to other potentially serious conditions that you'll want to discuss. Then, they might recommend a variety of options based on your specific diagnosis.
» Recommended Reading: Natural Ways That Help Reduce the Risk of Prostate Cancer
3 out 3 people found this review helpful

Effect of product

By Bernard M.

,

Mississippi

,

Jul 14, 2019
Verified Reviewer

I took a chance and tried this product and at age 51 at the time I could tell I was going to the bathroom a lot more than I use too. After about a month, I could tell I didn't have that urge like I had been. I feel like Prosvent is helping me. Healthwise I'm in pretty good shape and exercise regularly at the YMCA. I will continue to use and order.

Bottom Line: Yes, I would recommend this to a friend

Jul 14, 2019

That's so great to hear how you are benefitting from Prosvent, Bernard. Thanks so much for sharing your experience. :-)

---

18 out 21 people found this review helpful

Prosvent

By Albert B.

,

Lithonia, GA

,

Dec 8, 2018
Verified Reviewer

I tried this supplement after using another supplement. I was hoping for similar or better results from Prosvent. Prosvent was less effective. Plus Prosvent charged me before my thirty trial was up.

I would not recommend this product. It didn't work for me. I did send the unused portions back but I have not heard anything back from the company. I tried this supplement for about three weeks. I highly recommend trying other supplements. The supplement that I am presently using is working more effectively at ten days than Prosvent did in twenty-one days. I would not recommend Prosvent because it did not help me.

Bottom Line: No, I would not recommend this to a friend

Dec 9, 2018

Hi Albert,

Thank you for the review. We are sorry that Prosvent did not meet your individual needs. We reviewed your order and show that you paid to date the $9.95 s/p for the trial and the pending charge was canceled when you contacted customer service on 11/21 and were give return instructions. We received the return on 11/28, thank you! You contacted us again on 12/6 to make sure were received the return and we advised that we did and also confirmed that the pending payment and future shipments were canceled.

---

Advertisement

---

7 out 10 people found this review helpful

Love it!

I just want to say thank you for this product! My husband was tired all the time from waking up at night to pee. He woke me up as well. Everywhere we went, we had to find a bathroom often.

After he began taking Prosvent, the problem is gone. He sleeps all night, doesn't have to find a bathroom all the time. Thumbs up to this!

Bottom Line: Yes, I would recommend this to a friend

Sep 11, 2018

Hi Elizabeth. Thank you so much for sharing this experience. It's so wonderful to hear that Prosvent helped your husband so much.

---

34 out 36 people found this review helpful

Unauthorized stealing from my bank account

I ordered two bottles for $9.95 and it does work. The big problem was stealing from my bank account $99. The company tried changing their name for transactions to the company to go through three times. I never ordered the next set of pills. Beware of using your debit card to purchase; they will try to steal money and send you more pills without authorization. My bank put a stop to it and are very wise of Prosvent. Very sneaky company. Check your account after you order.

Bottom Line: No, I would not recommend this to a friend

Jan 10, 2018

Hi Kristen,

Thank you for the comments. The trial offer is $9.95 and if you do not call to cancel and return the bottles, we will charge you for them when the trial period is over, as outlined during the order process. Again, this charge was not for the next set, but for what you already received and kept. We would not change our name on our transactions to try to get the amount to go through. We are sorry for any confusion this caused.

---

Advertisement

---

53 out 58 people found this review helpful

Ordered Prosvent for husband

Cottage Grove, Oregon

,

Apr 5, 2017
Verified Reviewer

Prosvent was advertised with a money-back guarantee, so I ordered it for my husband. I got the package on Thursday and opened it on Monday and started using it.

The 30 days was finished today. It did not help any at all. I called the number to get the RMA number and was told that I had to return it 30 days from the day I received the package, not the 30 days he used it. I found information in the package that said I needed to call for the RMA number from the day I received the package.

I feel that we have been deceived. We are in our 80's and have memory problems and don't understand the rules of scams. The product may help some, but the advertising is not honest. I would not recommend buying from a TV ad.

Bottom Line: No, I would not recommend this to a friend

Jan 16, 2018

As you purchased our Ultra version, it is $10.00 more per bottle, so your charge was $49.95 per bottle. Our records show that you contacted us on 3/28 to return the product, and advised that it was past the 30-day return time-frame. We did receive the return on 3/31, and a refund was issued for $99.80 on 4/4, which was less s/p as advertised. We certainly apologize for any inconvenience.

---