ProstaGenix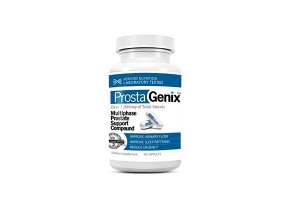 Summary
ProstaGenix is a supplement that allegedly helps improve your overall prostate health. Although the supplement can help temporarily manage some symptoms, it does not address any underlying issues.
ProstaGenix Review: Benefits, Ingredients, Side Effects and More
Medically Reviewed by Anthony Dugarte, M.D., C.S.C.S
HighYa is supported by our readers. When you buy something through a link on this page, we may earn an affiliate commission. Learn more.
What Is ProstaGenix?
ProstaGenix is a sterol-based prostate supplement that allegedly helps ease the urinary symptoms of benign prostate hyperplasia (BPH), including frequent nightly urination and dribbling.
BPH can affect up to 50% of men over the age of 50. The associated urinary symptoms develop as the prostate gland enlarges and compresses your urethra, the duct that transports urine out of the body from the bladder.
ProstaGenix says their supplement's mix of ingredients will reduce the effects of an enlarged prostate, also known as benign prostate hyperplasia.
By taking pills, the company alleges that you will:
Pee less frequently
Sleep better
See an increase in sexual performance.
ProstaGenix is based in Hollywood and is relatively well-known because of its lengthy TV commercials featuring famed interviewer Larry King.
This review examines the supplement's ingredients and safety to determine if it can work as advertised.
Ingredients
Each capsule of ProstaGenix contains eight different elements and vitamins as well as a pair of blends: one contains sterol and one contains polyphenols.
While each ingredient may provide a health benefit, the company focuses on sterols, which are plant-based fats that ProstaGenix says have the most significant impact on reducing your prostate-related symptoms.
This is because sterol, according to John Satino, the former research coordinator for Merck Pharmaceutical's 1989 of BPH drug finasteride, makes the urinary track slicker so that it's easier for urine to flow out of the bladder and past the prostate.
ProstaGenix contains four types of sterols:
Beta-sitosterol: 824 mg
Campesterol: 77.2 mg
Stigmasterol: 7.6 mg
Cholesterol: Less than 0.02 mg
ProstaGenix says that their prostate supplement contains more beta-sitosterol and more sterols, in general, than 157 other supplements on the market.
We contacted the laboratory at which ProstaGenix conducted their studies to verify the results but did not receive a response at the time of publishing.
For now, we'll provide a list of the supplement's other ingredients along with their dosages:
Polyphenol blend (grape seed and pomegranate extracts, quercetin): 300 mg
Vitamin D3 400 IU (about 10 mcg)
Zinc: 15 mg
Silicon: 10 mg
Boron: 3 mg
Copper: 2 mg
Manganese: 2 mg
Iodine: 150 mcg
Chromium: 120 mcg
Molybdenum: 75 mcg
Selenium: 70 mcg
Scientific Evidence
In addition to PostaGenix's purported actions of their sterol ingredients, there are a couple of the other ingredients that have been specifically tested in those with BPH which may also offer relief.
ConsumerLab.com notes that there are two studies from the '90s that support the notion that beta-sitosterol can improve urine flow.
One of those studies, published in The Lance in 1995, indicated that men with BPH who took 60 mg per day of beta-sitosterol saw noticeable results.
"Significant improvement in symptoms and urinary flow parameters show the effectiveness of beta-sitosterol in the treatment of benign prostatic hyperplasia," the study concluded.
Additionally, the study noted that the prostate sizes in the men taking the beta-sitosterol did not shrink.
The study was a randomized, placebo-controlled, double-blind study, which is the highest standard when it comes to research. It means the men in the study had no idea if they were taking the placebo (fake pill) or beta-sitosterol.
Another randomized, double-blind, placebo-controlled study found that men who took 130 mg of beta-sitosterol per day had better flow, less leftover urine in their bladders and overall better quality of life.
The Linus Pauling Institute referred to these two studies in their analysis of beta-sitosterol's effect on urinary symptoms of BPH. While they noted that the studies show success, they tempered their conclusions.
In 2000, a review of 4 randomized trials conclude that beta-sitosterol safely and effectively improve urinary symptoms in those with mild to moderate BPH.
They also stated that beta-sitosterol may be especially useful in those with a higher risk for adverse effects and complications related to medical or surgical management of their BPH.
In 2012, researches provided an overview of BPH treatment with dietary supplements as the 2000 study represented the last time this information was updated. They corroborated the 2000 report, finding beta-sitosterol to be effective and associated with "mild and infrequent adverse events".
"Although the results of a few clinical trials suggest that relatively low doses of phytosterols can improve lower urinary tract symptoms related to BPH, further research is needed to confirm these findings," the site says.
Based on these studies, we'd say there is evidence that beta-sitosterol could help reduce the urinary symptoms of BPH. However, keep in mind the studies to support this conclusion are minimal and, in most cases, more than 20 years old.
Vitamin D is another ProstaGenix ingredient that has been studied in relation to BPH.
In fact, in 322 men, those with vitamin D deficiency also had a larger prostate volume, higher scores in a blood test used to screen for prostate issues, and a lower urinary flow.
In addition to being used as a potential sign of BPH, vitamin D may offer relief as well. Doses at 6000 IU/day can decrease prostate volume in those with BPH, according to this review.
Lastly, the polyphenol blend ingredient, quercetin, has also been studied as a potential BPH treatment option.
In 30 men with chronic pelvic pain, those treated with quercetin 500mg twice daily experienced significant pain improvement and also noted enhanced urinary flow. This hinted at a possible benefit for those with BPH.
In 200 men with BPH, those treated with 40 drops of quercetin daily experienced improved urinary flow rates when compared to placebo at 3-months.
Side Effects
The main side effects you may see come from the supplement's beta-sitosterol. you may experience diarrhea, nausea, indigestion and other gastrointestinal issues.
A favorable safety profile can be valuable as medical treatment for BPH with alpha blockers may result in drowsiness, dizziness, or unsafe drops in blood pressure.
Though beta-sitosterol is rarely associated with side effects, the doses included in ProstaGenix are much larger than those used in the studies we reviewed.
Vitamin D was safe in doses more than 10x of what is offered in this supplement, while quercetin was safe at more than 3x the dose or ProstaGenix's total polyphenol blend dose.
Nonetheless, your urinary symptoms may be caused by an underlying medical condition that should be managed by a medical professional.
Prior to starting a new supplement, discuss your symptoms with a physician to determine the best plan of action.
Pricing and Return Policy
At the time of publishing, you could buy one, three or five bottles of Prostagenix from the company's website (free shipping):
One bottle: $49.95
Three bottles: $99.95
Five bottles: $149.95
The company offers a 100% money-back guarantee through which they'll give you a refund in the first 90 days after your purchase.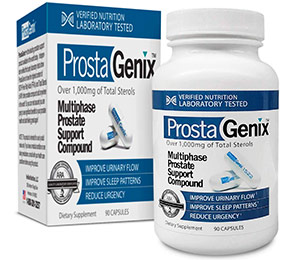 Buy ProstaGenix from Amazon:
ProstaGenix costs $44.08 for one bottle (90 capsules) and $99.98 for three bottles. Shipping is free. You take three pills a day, so one bottle will last you 30 days. It is rated 4.0-stars based on over 650 reviews.
The Bottom Line: Is Prostagenix Worth It?
Studies that employ the randomized placebo-controlled double-blind research techniques say there is some merit to ProstaGenix's claims. Namely, that it could help reduce your urgency to urinate as well as your frequency.
These effects are likely related to the large dose of beta-sitosterol, though vitamin D and quercetin may have supporting roles.
At the same time, there is one video on the site that indicates the supplement can reduce the size of your prostate. We found no research to back this up.
The downside to the supplement is that it, like any supplement, is not guaranteed to work. We saw enough negative reviews on Amazon to know that the claims ProstaGenix makes aren't promises.
Second, the supplement's price is expensive compared to other products like it. ProstaGenix says their sterols are of the highest quality, sourced from trees on the French coast.
While they could make a case their ingredients are better so their prices are higher, we found no scientific evidence that indicates sterols of certain origins are more effective.
And, finally, ProstaGenix doesn't claim to eliminate your BPH symptoms. Rather, it says it can improve them, which is backed up by only limited research.
You could consider popular prescription drugs designed to open your bladder neck to make urination easier: Flomax and its generic counterpart tamsulosin. These drugs are FDA-approved, meaning they have reliable studies to back up their efficacy.
Furthermore, Medicare Part D and Medicare Advantage members could pay between $0 and $18 for a monthly supply of tamsulosin. This is far more affordable than what ProstaGenix charges.
However, Flomax and tamsulosin carry with them the possible side effects of ejaculation issues and diminished sex drive.
For those with BPH wishing to avoid medical or surgical management, or at higher risk with these options, sterol-containing dietary supplements may offer a reasonable option.
Nonetheless, your urinary symptoms should be discussed with a physician to identify the underlying cause before you start taking any supplements. You can then work together to determine the best course of management.
Customer Reviews
Posted on Aug 10, 2023
Disappointed
ProstaGenix did not work for me. The 100% guarantee, the best guarantee in the industry, is not true. I had to pay for shipping both ways ($21) and then they credited me $80 instead of the $99.99 I paid. I had to go to the post office and make several calls. I was told they would credit me the $20 they shorted me on the initial credit they gave. As of now, that hasn't happened. I will make yet another call to customer service.
Length of Use: Less than 3 months
Bottom Line: No, I would not recommend this to a friend
Pros and Cons
No "pros" were specified in this review
Product didn't work
Getting money back was difficult
Posted on Jun 11, 2022
Significant improvement for me
I have tried a few supplements for my prostate and none of them did anything. I am a delivery driver and was having to stop all the time to use the bathroom, so I had to do something. I saw the Larry King commercial for ProstaGenix and read all the lab tests and watched all the customer testimony videos and gave this one last pill a try. I'm really happy I did because ProstaGenix really made a difference. No more urgency. I feel like a normal man again.
Length of Use: 6–12 months
Bottom Line: Yes, I would recommend this to a friend
Pros and Cons
Effectiveness
Works fast
Delivered in 3 days
Biggest bottle is 90 pills, need a bulk option
Not sold at Costco
Posted on Mar 11, 2022
ProstaGenix
I watched the Larry King TV special entitled "prostate secrets and what they don't want you to know." I watched it until the end. I used to get up 5 times a night to go to the bathroom. I placed my order instantly for ProstaGenix. I now sleep through the night completely. Fred Buckley did all of mankind a massive favor due to his prostate problem in my view. I rate it 5 stars. ProstaGenix changed my life and I'll take it for the rest of my life. Thanks for a great product that really works.
Length of Use: 1–2 years
Bottom Line: Yes, I would recommend this to a friend
Pros and Cons
The product really works
Customer service is super
No hype
No "cons" were specified in this review
Posted on Dec 3, 2021
Totally worthless
Have taken ProstaGenix for two months. The results have been non-existent. No change, no improvement.
Absolute waste of time and money.
Length of Use: Less than 3 months
Bottom Line: No, I would not recommend this to a friend
Pros and Cons
No "pros" were specified in this review
Product being sold is a scam
Posted on Jun 16, 2021
Relief at last
I've been bothered with prostate problems from the early age of 24. Nothing truly helped other than to get some temporary relief from the symptoms but not the real issue. It was no surprise as I came into my 50s that my prostate problems got worse. I was in the army for 25 years and activity and exercise were never part of my problem, neither was excess weight! Still, my prostate got steadily worse, and finally I could barely urinate much less empty my bladder fully! I went to a very well-documented successful urologist that told me I had BPH. Duh! He also performed green light procedures, which seemed to exacerbate my problems as I eventually was able to add kidney stones into the fray! My doctor told me not to waste my money on supplements as they didn't work but would drain my wallet. Eventually, I had to undergo a TURP procedure, then I lost my ability to ejaculate while still having poor urinary flow! I was prescribed Flomax, and Avodart. Not much help but occasionally a little relief. Then I discovered ProstaGenix. Now I urinate like a teenager and ejaculate once again! Finally true relief. Well worth the few bucks when compared to my urology bills!
Length of Use: 6–12 months
Bottom Line: Yes, I would recommend this to a friend
Pros and Cons
Believability
Backed with guarantee
No real pushy sales technique
No personal account options
Sales are not advertised with good customers
Posted on May 11, 2021
Tried a few, but this one is the best!
My husband has tried everything from Azo tablets, nettle tea, and other prostate tablets, but ProstaGenix is the only one that took care of "the business" so our sex life went back to "years" in quality and quantity. That may be too much for some, but the bottom line is that this product does what it says it will, just take it every day. I don't normally complete a review, but this one had to be written. Thank you for the science behind this product.
Length of Use: 3–6 months
Bottom Line: Yes, I would recommend this to a friend
Pros and Cons
They make a great product
Tell the truth
They don't try to scam anyone
This product works
No "cons" were specified in this review
Posted on May 1, 2021
Sleep through the night without interruption.
ProstaGenix has given me relief by reducing the urgency to urinate. I don't wake up and rush to the bathroom anymore. Thanks for that. In addition, it also provides a better flow of urinating. Thus allowing me to empty my bladder. Thanks!
Length of Use: 6–12 months
Bottom Line: Yes, I would recommend this to a friend
Pros and Cons
The research behind the product
The concentration of BetaRexin/sterol blend, higher than any product I've seen
The presentation of the product
Taking 3 pills per day, 2 would be better, adjust the concentrations accordingly
Include clinical reporting on the product, complete with graphs and charts
Posted on Feb 10, 2021
Worked for me
I took it for a couple of weeks and wasn't sure whether I was going to see any improvement. After about 3 weeks or so there was definitely a difference. I wasn't getting up in the middle of the night to pee anymore. I have been taking it now since October and it has definitely worked for me.
Length of Use: 6–12 months
Bottom Line: Yes, I would recommend this to a friend
Pros and Cons
I don't have to get up to pee all night
A bit expensive
Posted on Nov 30, 2020
Refund
Just understand that the ''money back'' clause is WITHIN 90 days of the PURCHASE. My husband bought 3 bottles, took it for the 90 days, it did absolutely nothing for him. After still having to get up 5 times a night, he went to the urologist and found he had bladder cancer. After being told this product was purchased at the end of July, and 90 days being the end of October, and now at the end of November, we are not eligible for the refund. So we are now out the money we spent for the 90-day supply. So buyer beware! Beware that you don't have to take the full 90-day supply before you get a refund.
Length of Use: 3–6 months
Bottom Line: No, I would not recommend this to a friend
Pros and Cons
No "pros" were specified in this review
Possible explanation about the refund, that you didn't have to take the entire 90-day supply before you requested a refund
Posted on Oct 23, 2020
Not what I was hoping for
I expected more from this product than what it does me. I am now on my sixth bottle and have not found any noticeable relief in which I have to get up 4 or 5 times a night. I have six bottles left and hope that my condition will improve.
Length of Use: 3–6 months
Bottom Line: No, I would not recommend this to a friend
Posted on Aug 11, 2020
Works to a point
Treating my enlarged prostate with Flomax and Proscar. All these supplements are just that. Change your diet to cut out dairy and fats. Go for greens and nuts with fish. Drop all sodas and juice and go just water. Start your day with 16oz of water and then breakfast. I take ProstaGenix after dinner; 3 capsules. I am not new but I feel better. You decide. Don't expect miracles. Nobody sells that yet. On my second bottle. Started to feel better after 3rd week.
Length of Use: Less than 3 months
Bottom Line: Yes, I would recommend this to a friend
Pros and Cons
No "pros" were specified in this review
Sells like a miracle and it is not. Just a supplement.
Our Promise to You
In order to safeguard you and ensure helpfulness and relevance, our compliance team manually assess every customer review before it goes live.
We have a zero-tolerance policy for fake reviews, and companies cannot control or alter any reviews at any time.