ProstaGenix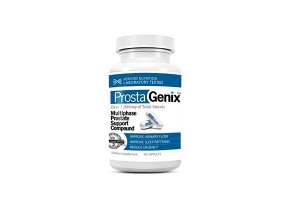 Endorsed by famed TV personality Larry King, ProstaGenix is a supplement that claims to ease the urinary troubles you experience from benign prostate hyperplasia (BPH).
ProstaGenix Review: Benefits, Ingredients, Side Effects and More
Medically Reviewed by Anthony Dugarte, M.D., C.S.C.S
HighYa is supported by our readers. When you buy something through a link on this page, we may earn an affiliate commission. Learn more.
What Is ProstaGenix?
ProstaGenix is a sterol-based prostate supplement that claims to ease the urinary symptoms of benign prostate hyperplasia (BPH), including frequent nightly urination and dribbling.
BPH can affect up to 50% of men over the age of 50. The associated urinary symptoms develop as the prostate gland enlarges and compresses your urethra, the duct that transports urine out of the body from the bladder.
Prostagenix contains a variety of ingredients but the one it pushes is sterol, as they claim that their levels of sterol are higher than competing supplements.
ProstaGenix is based in Hollywood and is relatively well-known because of its lengthy TV commercials featuring famed interviewer Larry King. In the commercials, he conducts interviews with the company's founder, a doctor who endorses it and the founder's wife.
In our review of this product, we will talk about how it works, what its ingredients are, what the evidence is for its effectiveness as well as any side effects that you might experience. Then, we'll talk about price, explore existing customer reviews of the product and conclude with a section pinpointing this supplement's pros and cons.
Dosage and Possible Benefits
Each bottle of ProstaGenix includes 90 pills. You take three pills once a day; you can choose the time when you take them. You can take the capsules on an empty or full stomach.
The company doesn't provide any guarantees about how quickly their product works. However, they say that past customers have felt relief in as little as 10 days of use. This isn't normal, though; ProstaGenix claims consistent use over three to four weeks produced "the most dramatic results."
ProstaGenix says their supplement's mix of ingredients will reduce the effects of an enlarged prostate, also known as benign prostate hyperplasia. By taking their pills, they claim you will pee less frequently, sleep better because of it and possibly see an increase in sexual performance.
A promotional video for the supplement indicates that their supplement may be able to reduce the size of your prostate. This size reduction would lead to the aforementioned benefits.
Ingredients
Each capsule of ProstaGenix contains eight different elements and vitamins as well as a pair of blends: one contains sterol and one contains polyphenols.
While each ingredient may provide a health benefit, the company focuses on sterols, which are plant-based fats that ProstaGenix says have the biggest impact on reducing your prostate-related symptoms.
This is because sterol, according to John Satino, the former research coordinator for Merck Pharmaceutical's 1989 of BPH drug finasteride, makes the urinary track slicker so that it's easier for urine to flow out of the bladder and past the prostate.
ProstaGenix contains four types of sterols:
Beta-sitosterol: 824 mg
Campesterol: 77.2 mg
Stigmasterol: 7.6 mg
Cholesterol: Less than 0.02 mg
ProstaGenix says that their prostate supplement contains more beta-sitosterol and more sterols, in general, than 157 other supplements on the market.
We contacted the laboratory at which ProstaGenix conducted their studies to verify the results but did not receive a response at the time of publishing.
For now, we'll provide a list of the supplement's other ingredients along with their dosages:
Polyphenol blend (grape seed and pomegranate extracts, quercetin): 300 mg
Vitamin D3 400 IU (about 10 mcg)
Zinc: 15 mg
Silicon: 10 mg
Boron: 3 mg
Copper: 2 mg
Manganese: 2 mg
Iodine: 150 mcg
Chromium: 120 mcg
Molybdenum: 75 mcg
Selenium: 70 mcg
Scientific Evidence
Though ProstaGenix believes relief is achievable mainly through the actions of their sterol ingredients, a couple of the other ingredients that have been specifically tested in those with BPH and may also offer relief.
We wanted to validate these claims, so we read through the existing research and analysis found on independent supplement-testing lab ConsumerLab.com and at Oregon State University's Linus Pauling Institute Micronutrient Information Center.
ConsumerLab.com notes that there are two studies from the 90's that support the notion that beta-sitosterol can improve urine flow.
One of those studies, published in The Lance in 1995, indicated that men with BPH who took 60 mg per day of beta-sitosterol saw noticeable results.
"Significant improvement in symptoms and urinary flow parameters show the effectiveness of beta-sitosterol in the treatment of benign prostatic hyperplasia," the study concluded.
Additionally, the study noted that the prostate sizes in the men taking the beta-sitosterol did not shrink.
The study was a randomized, placebo-controlled, double-blind study, which is the highest standard when it comes to research. It means the men in the study had no idea if they were taking the placebo (fake pill) or beta-sitosterol.
Another randomized, double-blind, placebo-controlled study found that men who took 130 mg of beta-sitosterol per day had better flow, less leftover urine in their bladders and overall better quality of life.
The Linus Pauling Institute referred to these two studies in their analysis of beta-sitosterol's effect on urinary symptoms of BPH. While they noted that the studies show success, they tempered their conclusions.
In 2000, a review of 4 randomized trials conclude that beta-sitosterol safely and effectively improve urinary symptoms in those with mild to moderate BPH. They also stated that beta-sitosterol may be especially useful in those with higher risk for adverse effects and complications related to medical or surgical management of their BPH.
In 2012, researches provided an overview of BPH treatment with dietary supplements as the 2000 study represented the last time this information was updated. They corroborated the 2000 report, finding beta-sitosterol to be effective and associated with "mild and infrequent adverse events".
"Although the results of a few clinical trials suggest that relatively low doses of phytosterols can improve lower urinary tract symptoms related to BPH, further research is needed to confirm these findings," the site says.
Based on these studies, we'd say there is evidence that beta-sitosterol could help reduce the urinary symptoms of BPH. However, keep in mind the studies to support this conclusion are minimal and, in most cases, more than 20 years old.
Vitamin D is another ProstaGenix ingredient that has been studied in relation to BPH.
In fact, in 322 men, those with vitamin D deficiency also had a larger prostate volume, higher scores in a blood test used to screen for prostate issues, and a lower urinary flow.
In addition to being used as a potential sign of BPH, vitamin D may offer relief as well. Doses at 6000 IU/day can decrease prostate volume in those with BPH, according to this review.
Lastly, the polyphenol blend ingredient, quercetin, has also been studied as a potential BPH treatment option.
In 30 men with chronic pelvic pain, those treated with quercetin 500mg twice daily experienced significant pain improvement and also noted enhanced urinary flow. This hinted at a possible benefit for those with BPH.
In 200 men with BPH, those treated with 40 drops of quercetin daily experienced improved urinary flow rates when compared to placebo at 3-months.
Side Effects
Our research indicates that the main side effects you may see come from the supplement's beta-sitosterol. According to ConsumerLab.com, you may experience diarrhea, nausea, indigestion and other gastrointestinal issues.
A favorable safety profile can be valuable as medical treatment for BPH with alpha blockers may result in drowsiness, dizziness, or unsafe drops in blood pressure.
Though beta-sitosterol is rarely associated with side effects, the doses included in ProstaGenix are much larger than those used in the studies we reviewed.
Vitamin D was safe in doses more than 10x of what is offered in this supplement, while quercetin was safe at more than 3x the dose or ProstaGenix's total polyphenol blend dose.
Nonetheless, your urinary symptoms may be caused by an underlying medical condition that should be managed by a medical professional. Prior to starting a new supplement, discuss your symptoms with a physician to determine the best plan of action.
Pricing and Return Policy
At the time of publishing, you could buy one, three or five bottles of Prostagenix from the company's website (free shipping):
One bottle: $49.95
Three bottles: $99.95
Five bottles: $149.95
You could buy the product for nearly the same price on Amazon, too.
The company offers a 100% money-back guarantee through which they'll give you a refund in the first 90 days after your purchase. You need to call (800) 796-0234 to start the return.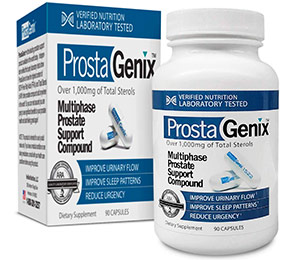 Buy ProstaGenix from Amazon:
ProstaGenix costs $44.08 for one bottle (90 capsules) and $99.98 for three bottles. Shipping is free. You take three pills a day, so one bottle will last you 30 days. It is rated 4.0-stars based on over 650 reviews.
Analysis of ProstaGenix Customer Reviews
ProstaGenix has more than 70 reviews on HighYa.com. Of those reviews, the majority are five stars and more than 70% of users would recommend ProstaGenix to a friend.
The common traits among positive reviews are that users were able to stop taking BPH medication like Flomax, that they saw results in time frames ranging from a week to 60 days and that the product increased their quality of life and decreased their urinary issues.
At the time of publishing, ProstaGenix had more than 250 reviews on Amazon for an average rating of 4.1 stars.
The positive reviews outnumber the negative reviews nearly six to one, with many reviewers saying the product reduced urgency and frequency.
Our takeaway here is that there's a good chance you'll have a positive experience with the supplement simply because it rates so well among verified reviews on HighYa and Amazon.
The Bottom Line: Is Prostagenix Worth It?
We found that there are studies that employ the randomized, placebo-controlled double-blind research techniques that say there is some merit to ProstaGenix's claims. Namely, that it could help reduce your urgency to urinate as well as your frequency.
These effects are likely related to the large dose of beta-sitosterol, though vitamin D and quercetin may have supportive roles.
At the same time, there is one video on the site that indicates the supplement can reduce the size of your prostate. We found no research to back this up.
The downside to the supplement is that it, like any supplement, is not guaranteed to work. We saw enough negative reviews on Amazon to know that the claims ProstaGenix makes aren't promises.
Second, the supplement's price is expensive compared to other products like it. ProstaGenix says their sterols are of the highest quality, sourced from trees on the French coast.
While they could make a case their ingredients are better so their prices are higher, we found no scientific evidence that indicates sterols of certain origins are more effective.
And, finally, ProstaGenix doesn't claim to eliminate your BPH symptoms. Rather, it says it can improve them, a fact that limited research backs up.
With all this in mind, we see a couple of outcomes for you. You can try ProstaGenix knowing that there is evidence for its effectiveness but no guarantees. Second, you could accept the lack of a guarantee and try another supplement that's cheaper and offers the same or nearly the same level of sterols.
Finally, you could consider popular prescription drugs designed to open your bladder neck to make urination easier: Flomax and its generic counterpart tamsulosin. These drugs are FDA-approved, meaning they have reliable studies to back up their efficacy.
Furthermore, Medicare Part D and Medicare Advantage members could pay between $0 and $18 for a monthly supply of tamsulosin. This is far more affordable than what ProstaGenix charges.
However, Flomax and tamsulosin carry with them the possible side effects of ejaculation issues and diminished sex drive.
For those with BPH wishing to avoid medical or surgical management, or at higher risk with these options, sterol-containing dietary supplements may offer a reasonable option.
Nonetheless, your urinary symptoms should be discussed with a physician to identify the underlying cause before you start taking any supplements. You can then work together to determine the best course of management.
Did not work/poor customer service

By Igbo N.

,

Orlando, FL

,

Jan 29, 2020
Verified Reviewer

I ordered 3 bottles of the product and took as directed. The only thing that changed was a constant stomach upset and lots of gas. I called the Customer Service line after finishing the second bottle to ask if this was a common problem and to ask about the "Guaranteed Return Policy". The CSR was rude...told me there was nothing in the product that would upset my system. Then in a snappy/rude manor gave me the return info. I returned the product at my expense and two months later received only a partial refund...just over half of what I paid...no explanation...

Bottom Line: No, I would not recommend this to a friend

---

Great product, lower PSA, and relief from urinary symptoms

By Joseph G.

,

Pennsylvania

,

Jan 24, 2020
Verified Reviewer

I've tried many prostate supplements but none of them worked like ProstaGenix. Since I've been using ProstaGenix, I'm emptying my bladder and have a much stronger flow. With a lot less trips to the bathroom. My PSA score has also dropped dramatically and I get tested often. I highly recommend ProstaGenix. No other supplement has the same ingredients. It works.

Bottom Line: Yes, I would recommend this to a friend

---

Hot boiler room

By Jeff R.

,

Niles, IL

,

Dec 28, 2019
Verified Reviewer

I have been taking ProstaGenix for more than 6 months.

There is no improvement whatsoever and I make at least 12-15 trips to the bathroom every night. My PSA level remains high. No improvement at all. Larry King's name is sold well.

This is a genuine review, I have spent a quite a bit of money for nothing...Will debunk with all my might. The deluded my 70 years old shamelessly.

Bottom Line: No, I would not recommend this to a friend

---

100% Iron Clad Money-Back Guarantee

By David D.

,

Bridlington, United Kingdom

,

Dec 26, 2019
Verified Reviewer

The 100% iron-clad money-back guarantee doesn't appear to work. My bottle of ProstaGenix cost 40.16 pounds but I was returned only 22.51 pounds. The prostaGenix Guarantee states:

"5. If you don't see all 4 of these results with ProstaGenix, we insist you return the unused supply for a full refund, with no headaches or hassles".

22.51 of 40.16 is NOT a FULL refund. The headaches and hassles have begun!

Bottom Line: No, I would not recommend this to a friend

---

Advertisement

---

Buyer beware

By Doniell W.

,

Bloomsburg, PA

,

Dec 11, 2019
Verified Reviewer

In my opinion, this product is absolute junk. I bought and used two bottles, never missed a day, and it did absolutely nothing. If it works for you, great, but it did nothing for me.

Bottom Line: No, I would not recommend this to a friend

---

Compare products!

By Anthony G.

,

Pennsylvania

,

Oct 24, 2019
Verified Reviewer

As a retired pharmacist, and pharmacy owner who researched what I sold, I am very particular. I also am very skeptical. Things have to have merit, be endorsed by known medical research facilities, and/or have great empirical evidence.

With this product, as with so many, and this entire arena is so poorly regulated that claims can so easily be made, and couple that with desperate patients, and those trying to self medicate, you have a very high probability of scams and overpriced products, many of which may not have any value or be entirely different than claimed. I am not familiar with this expensive product, but I would research, and think carefully before purchase.

Bottom Line: No, I would not recommend this to a friend

---

ProstaGenix does work

By David T.

,

Kingman, AZ

,

Oct 14, 2019
Verified Reviewer

I was reluctant to try another product since I had tried numerous others with no results. I ordered a sample bottle of ProstaGenix and started taking it right away. To my surprise and delight, I noticed a difference within the first week. I was getting up at night 4 to 5 times and went down to 3 times per night and had better control. Now after 3 months of taking it I am at 2 times most nights and sleeping much better. I'm impressed and very happy with the results I am getting. Thank you ProstaGenix.

Bottom Line: Yes, I would recommend this to a friend

---

ProstaGenix

By Lamorris M.

,

Pacoima, CA

,

Oct 8, 2019
Verified Reviewer

I tried ProstaGenix, it works better than any product that I had tried. I would like to try the free trial and I will continue to use the product as long as it works. I know other people that have the same problem I will tell them about the product.

Bottom Line: Yes, I would recommend this to a friend

---

Only used a short time

By Jeff R.

,

Colorado

,

Sep 3, 2019
Verified Reviewer

I was experiencing slow urine flow and starting and stopping. Also sometimes not total emptying of my bladder. After a short period of two per day use, I have better flow and complete emptying. I am 77 and have had no other symptoms of prostate problems. If my improvement continues, I may reduce daily consumption. In any case, I have experienced rapid improvement and no known side effects. If possible, I will add to this review if anything changes over time.

Bottom Line: Yes, I would recommend this to a friend

---

Shipping ripoff

By Loyd M.

,

Kingsland, TX

,

Jul 24, 2019
Verified Reviewer

They charged me $10 to ship one little bottle. And, it didn't work at all. I noticed no changes after taking the bottle. I thought I would at least see something. And, the one bottle cost me $50. I'm retired and on a fixed income, so losing that much money hurt.

Bottom Line: No, I would not recommend this to a friend

---

Updated review

Updated: Authentic and legitimate review, now after 9 months!

By Tom M.

,

Idaho

,

Jul 2, 2019
Verified Reviewer

Today marks somewhere around six to nine months. I have no issues that would make anyone even consider I have ever had prostate issues. Any evidence of slow drippy frustration is long gone and I am more of a fan than ever! I give permission to ProstaGenix to have you call me if you think I am not being truthful about this review. AMAZING! YAHOOOEEEEE!

Bottom Line: Yes, I would recommend this to a friend

Previous review
Jan 28, 2019

Authentic and legitimate review

Dear readers,

I am not a robot or someone that posts for any self-gratification except for the fact that I would enjoy for others to experience the results I experience with ProstaGenix. I am even one that questioned the legitimacy of Larry King's endorsement until I reviewed all of the products and came back to this one and took the chance that I will not regret. I am so in favor of this product I would have posted my phone number and email address to testify of how awesome it works.

How does it work exactly? I was in such bad shape I thought I would need one of those men's cup napkins in the feminine hygiene aisles, pee running down my leg and only getting worse. No matter what I did, I couldn't make it stop! Well, after 21 days, I began to notice something amazing, it was so significantly reduced, it couldn't have been anything else. In another 10-15 days, it had almost stopped altogether, I could even wear light colored pants without stains or wet spots! Today after three months, the benefits are still noticeable in that all that shaking and dancing I did to empty is no longer necessary.

I challenge anyone to take the jump that I did! I have heard all the products don't work on everyone but I was always the guy that other products never worked on so maybe it will work for you, it did me! I do still wake up once a night, but then again, I drink much more water than most people! I told ProstaGenix to contact me anytime if I can help because helping them really will help you. We are men, we need to hang together, and if I can help one other person, I'll be happy! Good job ProstaGenix! I may be your biggest fan!

(

read more

read less

...)

---