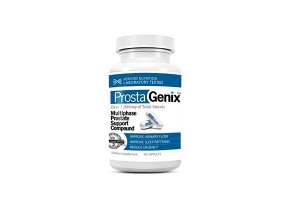 By combining beta-sitosterol and a super polyphenol blend with a mixture of 11 vitamins and minerals, the ProstaGenix supplement claims to help free your pee.
ProstaGenix Review: Uses, Ingredients, Side Effects and More
Endorsed by Larry King, ProstaGenix contains a blend of 18 natural ingredients the company claims can help most men experience relief from the urgency, staining, dribbling, and nighttime rushes to the bathroom often associated with frequent urination.
Even if you're over the age of 40, this supplement specifically claims to help men start peeing like an 18-year old again, as well as to address erection problems. How's it work?
The website tells us that ProstaGenix contains the highest, most potent dosage of beta-sitosterol in any product, which is combined with a polyphenol blend "specifically shown improve prostate health."
Together, they're said to reduce inflammatory molecules in the prostate and support prostate health.
Taking three capsules per day as directed, Verified Nutrition reports that most men feel a 'distinctive and noticeable change' in the first 10 days, with maximum results over the course of three to four weeks.
According to the University of Rochester Medical Center, 50 percent of men over the age of 50 are diagnosed with BPH, while men over 80 have a 90 percent chance.
If you count yourself among these numbers, let's see if ProstaGenix can potentially provide some relief—starting the fundamentals.
What Condition Is ProstaGenix Formulated to Address?
Normally about the size of a walnut, the prostate gland is primarily responsible for making a component of semen that helps carry sperm. Starting around the age of 25, this gland begins growing slowly and doesn't stop throughout a man's life.
Sometimes, WebMD tells us that this growth can start squeezing surrounding areas; primarily, the urethra, which can cause difficulty urinating, a weak urine stream that frequently stops and starts, and dribbling.
And since the bladder has to work overtime as a result, its muscles can weaken and lead to the sensation of having to urinate (even if you just did), urinating eight or more times per day, a sudden urge to pee, and even incontinence.
Cumulatively, this is what's known as benign prostatic hyperplasia.
And while BPH is rarely a health concern, it can certainly cause some unwanted lifestyle changes—including potential erectile dysfunction. But what does ProstaGenix contain, and can you expect it to deliver on the manufacturer's claims?
Taking a Closer Look at ProstaGenix's Ingredients
The supplement facts label shown on the ProstaGenix website listed the following ingredients:
Vitamin D3 400 IU
Iron 18 mg
Iodine 150 mcg
Zinc 15 mg
Selenium 70 mcg
Copper 2 mg
Manganese 2 mg
Chromium 120 mcg
Molybdenum 65 mcg
Silica 10 mg
Boron Amino Acid Chelate 3 mg
Proprietary Master Sterol Blend 1,200 mg: Beta-sitosterol, campesterol, stigmasterol, brassicasterol
Targeted Polyphenol Synergistic Blend 250 mg: Grape seed extract, pomegranate extract, quercetin
The bottom line is that the HighYa team isn't staffed by medical or clinical experts. This means that, when addressing whether or not an ingredient is 'effective' for a specific claim, we rely on the summarizations of the available clinical evidence provided by sites like the Natural Medicines Database, WebMD, and Examine.com.
Cumulatively, they report that taking a combination of zinc, selenium, and iodide (no dosages listed) may help reduce prostate swelling and pain while improving quality of life.
And while plant sterols, in general, aren't listed as effective for any condition, ConsumerLab indicates that 60 to 130 mg of beta-sitosterol, specifically, has been shown to "significantly improve perceived symptoms of BPH and urine rate flow. However, it hasn't been shown to actually shrink an enlarged prostate.
» Related: Diet Tips to Help Boost Prostate Health
Finally, taking 1,000 mg of quercetin daily is listed as possibly effective for reducing pain and improving quality of life in men with BPH, but doesn't seem to address related urination problems.
Of these, keep in mind that the beta-sitosterol and quercetin in ProstaGenix are part of proprietary blends, so we can't know exactly how much the supplement contains, or if it's the same dosages found in supporting studies.
Outside of this, these same authoritative sites indicated the supplement's remaining ingredients didn't have sufficient clinical evidence to list them as effective for any BPH or erection-related conditions.
Could ProstaGenix's Ingredients Cause Side Effects?
In general, the Natural Medicines Database, WebMD, and Examine.com indicated that most of these ingredients likely won't cause side effects in most users.
And if they do, it likely won't be worse than mild, temporary digestive upset (no specifics or dosages provides).
However, it's important to point out that the recommended daily allowance of iron for men age 19 and over is 8 mg, while ProstaGenix contains more than double this amount.
As such, this could increase the likelihood of experiencing more severe side effects like constipation, diarrhea, vomiting, and stomach pain.
Finally, even when taking less than 400 mcg of selenium per day, WebMD reports that long-term supplementation could increase the risk of developing diabetes.
This is why it's always a good idea to speak with a healthcare professional before purchasing any supplement, ProstaGenix or otherwise.
And since you're likely already in contact with one because of your symptoms related to a swollen prostate, this could represent an ideal time to inquire.
How Much Does ProstaGenix Cost?
ProstaGenix is priced as follows:
1 Bottle (90 capsules): $49.95
3 Bottles: $99.95 ($ per bottle)
5 Bottles: $149.95 ($ per bottle)
All orders come with a 90-day money-back guarantee, less S&H, which customers can request by calling 800-801-0294.
A note regarding arbitration: Arbitration clauses are extraordinarily common in today's marketplace; everything from credit cards to cell phone contracts.
In a nutshell, they stipulate that if you have a grievance with the company, you agree to attend an arbitration proceeding, versus going through the court system (e.g., trial by jury, class action lawsuit, etc.).
Keep this in mind, because as soon as you place your ProstaGenix order, you'll be bound by an arbitration agreement.
What Do We Know About the Company Behind ProstaGenix?
The short answer? Not a whole lot.
First, while there was an image advertising 2,300+ customer reviews on the ProstaGenix website (who gave it an average rating of 4.8 stars), none of this feedback could be browsed to get an overall idea of what everyone was saying.
Furthermore, the company—Verified Nutrition, LLC—doesn't have a standalone website and wasn't listed with the Better Business Bureau.
They also advertise that ProstaGenix was "named as the number one product in the world by several prestigious rating organizations," including The Natural Health Federation.
However, we didn't find any indication of this honor on the NHF's website, which is an organization dedicated to protecting "individuals' rights to choose to consume healthy food, take supplements and use alternative therapies without government restrictions."
How Does ProstaGenix Compare to Other Prostate Supplements?
Searching Google Shopping for the term 'prostate supplement' returned dozens of results that contained beta-sitosterol at the time of our research.
Other online marketplaces like Amazon returned more than 3,000, while Walmart.com displayed greater than 700.
From a price perspective, we found these supplements tended to range between $10 and $40, placing ProstaGenix at the upper end of the spectrum. Among all these options, how in the world can you choose the best one for your needs?
Actually, your needs are exactly where you should start. Specifically, by discussing any prostate issues you're experiencing with your doctor, who can ask the right questions, order the appropriate tests, and recommend science-backed options based on your diagnosis.
Even if they recommend proceeding with dietary supplements, though, keep in mind that these products aren't as regulated prescription medications, so you'll want to place emphasis on companies who:
Have a robust online presence (standalone website, Better Business Bureau rating, etc.), with mostly positive online customer feedback.
Offers customers at least 30 days to try their products, with reasonable S&H charges and no restocking fees.
Clearly lists all of the ingredients included in their supplements, including dosages.
Our Final Thoughts About ProstaGenix
According to WebMD, the "best-studied, most commonly used supplements to treat BPH" are beta-sitosterol, pygeum, rye pollen extract, and saw palmetto, only one of which is found in ProstaGenix.
On top of this, we found standalone supplements containing as much as 800 mg of beta-sitosterol per dose for as little as $20 during our research, which is less than half the price of the product in question.
And since ProstaGenix's beta-sitosterol is part of a proprietary blend, there's no way to know if it actually contains the highest, most potent dosage found in any product, as claimed on the website.
At any rate, this ingredient is so common that you'll almost certainly find it locally at just about any retailer with a health section, thereby saving S&H charges and potentially making the refund process super easy if you're dissatisfied.
Taking these efficacy and pricing details into consideration, and combining them with the fact that there was zero third-party online customer feedback for the supplement as of this writing, and that it comes from an almost completely anonymous manufacturer, we'd strongly recommend discussing ProstaGenix with your physician before placing an order.
» Related: Natural Ways That Help Reduce the Risk of Prostate Cancer
ProstaGenix does work

By

David T.

,

Kingman, AZ

,

Oct 14, 2019
Verified Reviewer

I was reluctant to try another product since I had tried numerous others with no results. I ordered a sample bottle of ProstaGenix and started taking it right away. To my surprise and delight, I noticed a difference within the first week. I was getting up at night 4 to 5 times and went down to 3 times per night and had better control. Now after 3 months of taking it I am at 2 times most nights and sleeping much better. I'm impressed and very happy with the results I am getting. Thank you ProstaGenix.

Bottom Line: Yes, I would recommend this to a friend

---

1 out 1 people found this review helpful

ProstaGenix

By

Lamorris M.

,

Pacoima, CA

,

Oct 8, 2019
Verified Reviewer

I tried ProstaGenix, it works better than any product that I had tried. I would like to try the free trial and I will continue to use the product as long as it works. I know other people that have the same problem I will tell them about the product.

Bottom Line: Yes, I would recommend this to a friend

---

2 out 3 people found this review helpful

Only used a short time

By

Jeff R.

,

Colorado

,

Sep 3, 2019
Verified Reviewer

I was experiencing slow urine flow and starting and stopping. Also sometimes not total emptying of my bladder. After a short period of two per day use, I have better flow and complete emptying. I am 77 and have had no other symptoms of prostate problems. If my improvement continues, I may reduce daily consumption. In any case, I have experienced rapid improvement and no known side effects. If possible, I will add to this review if anything changes over time.

Bottom Line: Yes, I would recommend this to a friend

---

12 out 14 people found this review helpful

Shipping ripoff

By

Loyd M.

,

Kingsland, TX

,

Jul 24, 2019
Verified Reviewer

They charged me $10 to ship one little bottle. And, it didn't work at all. I noticed no changes after taking the bottle. I thought I would at least see something. And, the one bottle cost me $50. I'm retired and on a fixed income, so losing that much money hurt.

Bottom Line: No, I would not recommend this to a friend

---

Advertisement

---

7 out 11 people found this review helpful

Updated review

Updated: Authentic and legitimate review, now after 9 months!

By

Tom M.

,

Idaho

,

Jul 2, 2019
Verified Reviewer

Today marks somewhere around six to nine months. I have no issues that would make anyone even consider I have ever had prostate issues. Any evidence of slow drippy frustration is long gone and I am more of a fan than ever! I give permission to ProstaGenix to have you call me if you think I am not being truthful about this review. AMAZING! YAHOOOEEEEE!

Bottom Line: Yes, I would recommend this to a friend

Previous review
Jan 28, 2019

Authentic and legitimate review

Dear readers,

I am not a robot or someone that posts for any self-gratification except for the fact that I would enjoy for others to experience the results I experience with ProstaGenix. I am even one that questioned the legitimacy of Larry King's endorsement until I reviewed all of the products and came back to this one and took the chance that I will not regret. I am so in favor of this product I would have posted my phone number and email address to testify of how awesome it works.

How does it work exactly? I was in such bad shape I thought I would need one of those men's cup napkins in the feminine hygiene aisles, pee running down my leg and only getting worse. No matter what I did, I couldn't make it stop! Well, after 21 days, I began to notice something amazing, it was so significantly reduced, it couldn't have been anything else. In another 10-15 days, it had almost stopped altogether, I could even wear light colored pants without stains or wet spots! Today after three months, the benefits are still noticeable in that all that shaking and dancing I did to empty is no longer necessary.

I challenge anyone to take the jump that I did! I have heard all the products don't work on everyone but I was always the guy that other products never worked on so maybe it will work for you, it did me! I do still wake up once a night, but then again, I drink much more water than most people! I told ProstaGenix to contact me anytime if I can help because helping them really will help you. We are men, we need to hang together, and if I can help one other person, I'll be happy! Good job ProstaGenix! I may be your biggest fan!

(

read more

read less

...)

---

3 out 4 people found this review helpful

Relief

By

Thomas W.

,

Kenai, AK

,

Jun 18, 2019
Verified Reviewer

Hello, I have been on a product called Flomax for 8 years, a prescription. My doctor said that it is life long. The Flomax caused so many different side effects, including sexual difficulties. Plus I have an unusually small prostate. I tried so many other things like saw paw metto, beta prostate, with it and no help. They had me on two capsules. I heard about ProstaGenix through a TV commercial. I thought, why not? Can't hurt to try it. In about 40 days I noticed a difference. I thought let's go off one of the Flomax. What a change, now I can go on long walks without stopping three or four times to go pee. So now I will be completely off of Flomax. I would recommend this product to anyone. Remember just like any medicine give it some time to get into your system before you make a decision. This stuff will work for you. God bless.

Bottom Line: Yes, I would recommend this to a friend

---

8 out 9 people found this review helpful

Much better sleep!

In less than 60 days much less discomfort and faster startup to pee, plus, instead of getting up almost every hour on the hour at night, I am now getting up only two times, and sometimes only once at night! What a difference. Other "name brand" products I've tried for three to four months always had totally almost no improvement in my condition. At 79 years old, I've put up with this condition a good number of years, and ProstaGenix HAS given me real relief, and continues to get better as I take it!

Bottom Line: Yes, I would recommend this to a friend

---

6 out 8 people found this review helpful

ProstaGenix

By

Ernest P.

,

Surprise, AZ

,

Jun 7, 2019
Verified Reviewer

I am a 77-year-old man and have prostate issues for a number of years. I have been to several Urologist for my condition who prescribed a number of different medications for my BPH. The side effects of these medications seemed to be worse for me than the benefits. They just did not solve the problems. I had to quit taking the medications. I watched a presentation by Larry King on TV about ProstaGenix and decided to order three bottles. BOY, what a difference ProstaGenix has made. I noticed the improvement within a week. My urine stream is great, my prostate swelling and pressure has gone down. No frequent bathroom trips at night or during the day. I am a true believer of ProstaGenix and highly recommend it. It is truly a 5-star product.

Bottom Line: Yes, I would recommend this to a friend

---

6 out 7 people found this review helpful

Finally a good night's sleep.

By

John N.

,

Mulgrave-et-Derry, Quebec, Canada

,

Jun 7, 2019
Verified Reviewer

The past few years I've been having more and more difficulty making it through the night because of my need to urinate more often than I used to. This has also been a problem when out in the deer stand, or out fishing in the boat.

I am now into my third bottle of ProstaGenix and am absolutely pleased to say that I am now sleeping through till morning most nights. It feels so good to get a decent sleep after being deprived for way too long. I just ordered three more bottles.

This stuff really works.

Bottom Line: Yes, I would recommend this to a friend

---

5 out 6 people found this review helpful

ProstaGenix does work, it is a very good product

By

Gregory S.

,

Alabama

,

Jun 7, 2019
Verified Reviewer

I saw the commercial on TV and ordered it. I started using it in June 2018, it did reduce my urge to go to the bathroom, I was going about 1 to 3 or 4 am, I am now sleeping to morning. I am 68 years old and I am a truck driver, I drive 2000 to 3500 miles a week. I drink lots of water and still stopping less for restroom stops. This is a very good product for anyone, especially for truckers. I, Greg Sexton, do testify that this is a good product.

Bottom Line: Yes, I would recommend this to a friend

---

3 out 4 people found this review helpful

Beats prescription drugs!

By

Waudell Y.

,

Collierville, TN

,

Jun 5, 2019
Verified Reviewer

I am a firm believer in natural supplements versus prescription drugs, when they perform. I was prescribed a prostate/PSA reducing drug a year or so back. The performance was acceptable, but the side effects were not. When my urologist was questioned, I was advised that prescription meds were my only viable option. He further advised that no natural supplement, that worked, was available for the reduction of prostate/PSA reduction. While researching natural supplement options, I found ProstaGenix. It was presented to be the best natural prostate supplement available. My initial order was received in late December of 2018. I took my first daily dosage on January 1, 2019. Within only a few days, my body had a slight noticeably different feeling. Within a few weeks, I began to notice better bladder control and emptying. Waking at night for the bathroom became less frequent or not at all. With these results, why use a drug?

Bottom Line: Yes, I would recommend this to a friend

---