Super Beta Prostate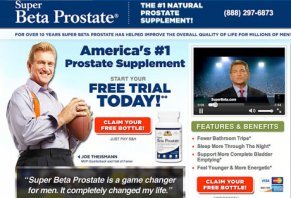 Super Beta Prostate is an all-natural dietary supplement that claims to relieve symptoms of an enlarged prostate, including improved urinary function, and increased energy.
About Super Beta Prostate
Super Beta Prostate is claimed to be the number one natural prostate supplement in the country, and to have "helped improve the overall quality of life for millions of men." The supplement in endorsed by Hall of Fame quarterback Joe Theismann, who claims that he experienced lasting relief from the use of Super Beta Prostate.
Super Beta Prostate is manufactured by New Vitality The company holds an A- rating with the Better Business Bureau, with more than 230 closed complaints over the past three years, most of which appear to be related to difficulty un-enrolling from the autoship program. Regarding Super Beta Prostate specifically, online customer reviews appear to be mixed, with the most common complaints citing failure to work and high price.
How Super Beta Prostate Works
According to the product's website, 50% of men over 50, and 80% of men over 80, experience prostate issues. Fortunately, the company claims that Super Beta Prostate can help these men experience fewer trips to the bathroom, better sleep throughout the night, more complete bladder emptying, stronger urinary flow, and increased energy, using some of the best all-natural ingredients. These include (note: these had to be obtained via third-party websites):
Beta-sitosterol 150mg
Zinc 15mg
Copper 2mg
Vanadium 1mg
Chromium 120mcg
Molybdenum 75mcg
Selenium 70mcg
Boron 3mg
Iodine 150mcg
Silicon 10mg
Germanium 100mcg
Vitamin D
The company claims that Super Beta Prostate is a safe and effective way to support prostate health, and that more than 5 million bottles have been sold over the past 10 years.
Super Beta Prostate Pricing & Refund Policy
Super Beta Prostate is available from CVS, GNC, Amazon, and many other online retailers. If purchased through directly through New Vitality, you'll pay just $6.99 shipping and handling for a "free" 30-day trial.
Like most nutritional supplement manufacturers, after purchasing Super Beta Prostate you'll be automatically enrolled in the product's autoship program, which is named the "exclusive auto replenishment program." Whatever you choose to call it, this means that you'll continue receiving a fresh 30-day supply of Super Beta Prostate once per month, and your credit card will be charged $39.95 plus $6.99 S&H each time. According to the supplement's website, enrollment can be cancelled at any time.
Super Beta Prostate comes with a 30-day, 100% satisfaction guarantee, less shipping and handling charges. Simply contact customer service at 800-943-6465 or customercare@newvitality.com to begin the refund process.
Bottom Line: Is Super Beta Prostate a Scam?
First, as we briefly mentioned in our New Vitality review, the company was the center of a 2013 class action lawsuit involving allegations of false endorsements related to Super Beta Prostate, including for the product's endorser, Joe Theismann. Furthermore, it was revealed that Super Beta Prostate's creator, Roger Mason, "has no training, education or experience relevant to the treatment of BPH or its symptoms, [or] relevant to the development of drugs or dietary supplements. He has never held a job in any of these fields."
In addition, not including a product label or ingredients list is generally a big red flag when it comes to nutritional supplements. Because neither of these is included on the Super Beta Prostate website, we had to do some digging to uncover a list of ingredients. This is something you'll be putting in your body, and you deserve to know—directly from the manufacturer—exactly what's in it.
Finally, we've read countless complaints that Super Beta Prostate did not work as advertised, and that multiple calls to customer service are often required in order to un-enroll from the company's autoship program. Taken together, this would lead us to believe that your hard-earned money can likely be better spent on a BPH remedy other than Super Beta Prostate.
26 out 28 people found this review helpful

Free bottle

By Jerome G.

,

Milwaukee, WI

,

Oct 15, 2018
Verified Reviewer

This is a scam. I sent "Shipping and Handling" charges for a "Free" bottle a few years ago. I never received a bottle! This just takes the money you send and sends you nothing! I couldn't believe I saw the same scam again!

Bottom Line: No, I would not recommend this to a friend

---

31 out 32 people found this review helpful

Another scam

By Terry S.

,

Florida

,

Dec 4, 2018
Verified Reviewer

I have used five bottles of Super Beta taking twice a day for five months at $30.00 a bottle thinking it may take some time to work. It has NO results, very disappointed and it was a waste of money.

Bottom Line: No, I would not recommend this to a friend

---

27 out 29 people found this review helpful

Super Beta Prostate

By Jon C.

,

Beverly Hills, CA

,

Jan 9, 2019
Verified Reviewer

I have taken Super Beta Prostate daily for over two months and it does absolutely nothing. I have never had a problem during the day time, but at night, I am still waking up every 1 and a 1/2 to 2 hours a night to go to the bathroom just a very small amount.

Bottom Line: No, I would not recommend this to a friend

---

7 out 7 people found this review helpful

Bait and switch

By Samuel M.

,

Pennsylvania

,

Sep 8, 2019
Verified Reviewer

I wanted to try this product and I heard an advertisement for a free 30-day sample for only shipping and handling on $4.00 with no recurring shipments. I called them and tried to order the $4.00 30-day sample and after I gave them my credit card they tried to upgrade me to a complete order and I told the lady I just wanted the $4.00 30-day sample to see if it worked for me. I could not get a word in so I hung up the phone only to find my credit card was billed for over $100 the next day. This company is a fraud! I filed a complaint with the FCC and my credit card department. I now question if the product is any good and if it's just not a marketing scam...

Bottom Line: No, I would not recommend this to a friend

---

Advertisement

---

5 out 5 people found this review helpful

I got no relief

By Edward K.

,

Minnesota

,

Oct 9, 2019
Verified Reviewer

I called and got my free bottle, it was $4.99 plus tax. AND yes, the lady tried to sell me 4 or 5 other products totaling well over $100, what a sales SCAM! Took as prescribed for 30 days, noticed ABSOLUTELY no relief. Luckily, I used a prepaid Visa card with a very low balance so just in case they tried to make reoccurring charges there wouldn't be enough balance on the card to complete the order. I went to my doctor and he looked at the ingredients and said, "where's the SAW PALMETTO." He said, "Ed, you're wasting your money." He prescribed Finasteride 5mg once daily and now I have RELIEF. AND a 90-day supply was only $15.10 compared to Beta at $140.85 for 3 months with shipping. You make the choice as to the better value!

Bottom Line: No, I would not recommend this to a friend

---

86 out 90 people found this review helpful

It did nothing for me!

I took this twice daily as suggested and noticed absolutely zero effect. Bought it at Rite aid, and although the label implies a 100% satisfaction guarantee, there is no provision to place a claim on the product website for retail purchases.

I decided to cut my losses rather than waste my time chasing ghosts. I would NOT recommend experimenting with this product.

Bottom Line: No, I would not recommend this to a friend

---

Advertisement

---