The MYX Fitness Bike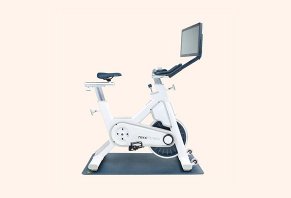 Summary
The Myx Fitness Bike is a stationary bike that delivers cardiovascular exercise to improve levels of fitness. There is robust research that supports the benefits of using a cycling bike to enhance levels of cardiovascular fitness and optimizing health.
The MYX Fitness Bike Review - How Effective Is It?
What Is the Myx Fitness Bike?
The Myx Fitness Bike is a stationary cycle bike that allows you to improve your levels of cardiovascular fitness through exercise. Cycling or spinning is also a form of a low-impact activity that may preserve joint health.
The Myx Fitness Bike is similar to spinning, a physical activity that is offered in gyms. Participants can be of any age with varying levels of body mass and levels of fitness.
In this article, we will review the science supporting the effectiveness of the Myx Fitness Bike exercise concept.
How Does the Myx Fitness Bike Work?
As a stationary professional-grade bike, the user will primarily perform an aerobic exercise that will improve their cardiovascular levels of fitness. The standard model of the Myx Fitness Bike includes a:
21.5-inch sweatproof touch screen with 360-degree swivel tilt tablet
Polar OH1 Heart Rate Monitor.
Pedal support for athletic and clip-in shoes
In addition, the heart rate monitor works with the touch screen tablet on the bike to provide you with real-time information regarding your heart rate.
Proposed Benefits of Using MYX
When using the MYX bike, it allegedly helps improve aerobic capacity, body composition, and blood pressure. We've broken down the three areas below.
May Improve Aerobic Capacity
A review of studies found that cycling may improve the capacity to perform aerobic activity, blood pressure, and body composition in subjects aged between 13 - 55 years.
Monitoring your heart rate during training can be an effective way to measure the amount of work being performed, especially during a cycling workout.
Safe elevation of heart rate during aerobic exercise forces your heart to efficiently supply the organs of the body with oxygen.
The Myx Fitness Bike uses heart rate zone training to promote optimal training levels. Some key components to heart rate zone training are frequency, duration, and intensity.
However, the intensity of the exercise is dependent on many factors. For instance, intensities that may be too low or too high may not allow you to get the desired training effect.
Cycling exercise effectiveness relies on the physiological principles of aerobic and anaerobic exercises as principles to achieve overall improved health benefits.
Aerobic exercise is an activity that requires oxygen to meet the demands needed by the body during exercise.
The term anaerobic refers to a type of exercise that does not require oxygen to perform the activity but involves exercises that are shorter in duration.
May Decrease in Body Composition
A six-week cycling workout was shown to decrease the body composition of women by 4.7% in the third week.
However, the results of this study suggest that bodyweight loss was dependent on body type.
An individual who is at an unhealthy weight is likely to achieve these benefits when compared to those who are at a healthy weight.
While cycling exercise may be an appropriate form of physical activity to achieve health benefits, some conditions may warrant a more standard approach, especially in those who require weight-bearing to improve bone mineral density.
A 12-week indoor cycling program done 3 times per week for 45-minutes resulted in a more significant decrease in body composition with a low calorie when compared to indoor cycling alone.
The Myx Fitness Bike, combined with dieting, may be able to help you to achieve an ideal body composition.
Safety
Cycling is a popular form of physical activity that is driven by instructor-led classes at fitness centers, which may increase overall safety.
But, indoor cycling done in the comfort of your own home is generally safe to perform.
The Myx Fitness Bike allows you to structure and progress your current aerobic exercise routine to promote optimal levels of health.
Aerobic activity at moderate intensity is recommended to be performed five times per week for 30 minutes for adults.
If you are concerned about your safety based on your current fitness levels and performing aerobic exercise on the Myx Fitness Bike, research has found that multiple sessions of aerobic exercise done for 10-minutes at a time were able to provide the same benefits as seen in aerobic exercise done in 30-minutes.
You should include your physician regarding your intent to increase your levels of physical activity and to discuss safety.
An individualized custom workout should be based on the individual's capabilities. For instance, assessments on cardiovascular fitness can appropriately determine starting levels that would be deemed safe before performing their first session.
How Much Does the Myx Fitness Bike Cost?
There are two versions of the Myx Fitness Bike and there are financing options:
Standard Package: $1299 or $37/month
The Plus Package: $1499 or $42/month
The Myx Fitness plus package includes additional equipment:
Stabilizing mat
6-piece weight set that comes without the weight rack
Kettlebell
Exercise mat
Eva Foam roller
Resistance bands
The Myx Fitness Bike has a return policy that requires you to Myx Fitness at help@myxfitness.com within 30 days of delivery.
The return shipping fee of $250 will be deducted from your refund, and you will be contacted by their logistics shipping partner to schedule a pickup of your bike. Refunds are issued at the time of the pickup.
There is also a membership option for Myx Fitness that will cost you an additional $29/month. Membership includes:
Unlimited access to stream live workouts through your iPhone or iPad
World-class coaches
Hundreds of total body workouts
The Bottom Line: Is the Myx Fitness Bike Worth It?
The Myx Fitness Bike is a viable and slightly less expensive exercise product when compared to the Peloton.
The Myx Fitness Bike comes with a heavier flywheel that will cater more to the heavier population.
However, there are more cost-effective aerobic exercise strategies such as walking that can achieve the same benefits done on the Myx Fitness Bike.
It also does not involve paying an additional $29/month to even get access to Myx Fitness trainers and their workouts.
The Myx Fitness Bike certainly will provide ease and convenience if you choose to workout from home.
Access to exercise equipment will also not guarantee you results as you must remain consistent with maintaining and receiving the benefits from exercise.
Also, keep in mind that exercise and a well-balanced diet are the most effective at improving body composition.
Aerobic exercise done on the Myx Fitness Bike will satisfy the daily recommended performance of a physical activity.
In terms of safety, the Myx Fitness Bike can be done safely in your home, but it is still recommended to speak with your physician to determine if participating in an aerobic exercise is safe for you.
Customer Reviews