Bowflex MAX Trainer Reviews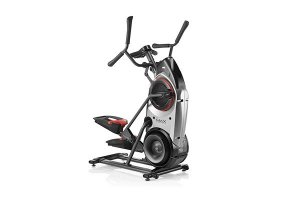 The Bowflex MAX Trainer is an elliptical-based exercise machine that claims to provide you with all the benefits of a much longer interval workout, but in just 14 minutes per day.
About Bowflex MAX Trainer
Manufactured by Nautilus, Inc., the Bowflex MAX Trainer claims to be an easy and intuitive fitness machine that can help you burn more calories in less time, build a stronger heart and lungs, improve your endurance and stamina, and continue burning calories long after you've stopped working out.
The Bowflex MAX Trainer is a unique device unseen elsewhere in the industry, which some consumers have described as being a combination of a "reverse elliptical" machine (e.g. your feet move in a reverse motion, almost as if you were walking backward), a stair stepper, and a stationary bicycle. Other users have described the MAX Trainer's motion similar to running up a very steep hill.
Regardless of how it's described though, the MAX Trainer's unique motion is claimed to result in virtually zero impact, to give you the most effective full-body workout in 14 minutes, guaranteed, and to provide "elite-level training for everyone."
If we're being honest, the Bowflex MAX Trainer is one sleek-looking machine that's hard not to notice. On top of this, by helping you to tone up and lose weight, it might not just be good looking, but could also bring inspiration to whoever uses it.
But you already know this, because you're here to find out more about the Bowflex MAX Trainer, especially after seeing those incredible before and after case studies. And at HighYa, we aim to serve.
What Benefits Does the Bowflex MAX Trainer Claim to Provide?
In the world of fitness, most manufacturers have figured out that Americans lead incredibly busy lives, and have created a variety of products that are claimed to give us quality workouts in as little time as possible. After all, they know that if they can provide more "bang for our buck," then their products will fly off the shelves.
With this in mind, the Bowflex MAX Trainer is the newest exercise device in the Nautilus lineup, which claims to provide you with all the benefits of a much longer workout, but in just 14 minutes per day. In fact, the MAX Trainer's promo video claims that creating an ultra-efficient workout was the primary goal right from the start, and the machine was specifically built with this in mind, in addition to being fun and motivating.
Save up $300 + Free Shipping On the Bowflex Max Trainer (Use Promo Code SUMMERFUN. Ends Soon)
The MAX Trainer utilizes small bursts of activity followed by longer periods of rest (known as intervals) to help you burn more calories and keep burning them for up to 48 hours after you've finished.
Specifically, Nautilus tells us that the MAX Trainer burns up to 2.5X more calories per minute than ellipticals, stepclimbers, and treadmills; provides 80% more upper body activation than ellipticals, and results in 200% less impact than running at a moderate speed.
How the Bowflex Max Trainer Works
At its most basic, the MAX Trainer is similar to an elliptical machine, in that your feet will move in circular (or more accurately, oval) motions when it's being used. This is how it delivers a good workout with minimal impact on your joints.
However, unlike some elliptical machines, the Bowflex MAX Trainer will simultaneously work your upper and lower body for "max" results. This is accomplished utilizing wide foot planks for a stable standing surface, which move opposite one another in up-and-down (and slightly forward-and-back) motions.
And from an upper body perspective, the MAX Trainer's "arms" move back and forth opposite one another as well, with v-shaped handles that allow you to intensify your upper body workout based on your preferences, simply by changing hand positions.
While you're working out, the MAX Trainer's gauge (known as a "Burn Rate" display, which is similar to a car's speedometer), will show you how many calories you've burned, as well as your target exertion range based on the program you've selected. These programs will automatically adjust resistance levels based on their presets (see more about this in the final section), or you can manually adjust resistance to your comfort level using the manual handlebar "knob."
Save up $300 + Free Shipping On the Bowflex Max Trainer (Use Promo Code SUMMERFUN. Ends Soon)
Once you have your Bowflex MAX Trainer set up in your home, the company claims it has a very small footprint (2.5' x 3.5'), and simply uses a small AC adapter as its power source. Nautilus also makes a MAX Trainer app for iOS/Android smartphones, which provides additional workouts and tracking features.
The New Bowflex Max Trainer M7
While we'll directly compare other models in a moment, Bowflex's new top-of-the-line M7 model promises to deliver upgraded features like two additional workout programs, four more resistance levels, and updated commercial grade handlebars.
You'll also find the same performance "burn" as other Max Trainer models, but with something Bowflex calls "performance targeted programming." Here, we're told that M7 tracks and stores your performance and responds by "coaching and adjusting to your needs." This way, the company claims Max Trainer M7 can deliver smart, fast, and effective workouts that "push you to your MAX"!
How much does the new M7 model cost? How does it compare to other Max Trainer models?
Bowflex MAX Trainer Pricing & Refund Policy
The Bowflex MAX Trainer is available in four different models, all of which feature the 14-minute interval program, a true, full-body workout, and low-impact motion (we'll discuss some of the differences in the final section). These are priced as follows:
To help with the purchase, Nautilus also offers credit card-based, no money down financing offered through Synchrony Bank. As of the time of this writing, the finance company was also offering no interest charges if paid in full within 18 months, which rolls over retroactively at an APR of 29.99% thereafter. In addition, the company can send a third-party technician to your home to assemble your MAX Trainer at a price of $159.
The Bowflex MAX Trainer comes with a 100% satisfaction guaranteed, 6-week refund policy, less S&H and assembly charges. Keep in mind that your trainer must be in original condition, including original packaging, accessories, and materials in order to be eligible.
The MAX Trainer M3 comes with a 1-year warranty for parts, while the M5 and M7 come with 2- and 3-year warranties, respectively. All models come with a 90-day labor warranty.
In order to file a warranty claim or request a refund, you'll need to contact customer service at (800) 605-3369 for an RMA.
Is the Bowflex MAX Trainer Right for You?
Whether you're talking about P90X, Focus T25, or something else altogether, the clear trend in fitness these days is to squeeze as much high-intensity exercise into as little time as possible. But when it comes to the Bowflex MAX Trainer, can you expect it to help you achieve your fitness goals, and is it worth the price? Perhaps, but consider the following:
What Are Intervals?
Although it may sound technical, intervals are just repeatedly changing from one exercise to another, often at different speeds and difficulties, but can be as simple as intermittent jogging while you're out on your morning walk.
However, according to the Mayo Clinic, you don't need any special equipment to do interval training. And while the Max Trainer is claimed to provide a variety of benefits over other types of exercise equipment (e.g. burn 2.5X more calories, etc.), they only reference an "Independent University Study" from 2013 to back these up, but do not provide a copy of the study on their website.
The 48-Hour Connection
Another benefit of intervals is that they can help your body continue burning calories long after you've stopped (the MAX Trainer website claims 48 hours, while most references we found cited about 24 hours), mostly because you take in more oxygen with intervals than you do exercising for a longer period at a moderate pace. In addition to increasing your metabolism, intervals can also improve your aerobic and anaerobic capacity, boost muscle cell function, and more.
As we mentioned in the previous section though, intervals can be performed without using the MAX Trainer, which means that you can achieve these benefits without one as well.
MAX Trainer's Reputation
Despite not providing any proof to back up their claims, Nautilus (Bowflex MAX Trainer's manufacturer) has been producing high-quality fitness products for more than three decades, and holds an A+ rating with the BBB based on 84 closed complaints (as of 11/09/14). While most of these appear to be related to the TreadClimber, many customers complained of long wait times for refunds and replacement parts.
Save up $300 + Free Shipping On the Bowflex Max Trainer (Use Promo Code SUMMERFUN. Ends Soon)
For the most part, the MAX Trainer appears to have a very positive online reputation, with an average rating of 4.5 stars (as of 11/9/14) on the company's website. Elsewhere online, customers complimented the MAX Trainer's solid construction, sturdiness (doesn't move when in use), will work you out to the point of exhaustion, has a small footprint, and that it's quiet/doesn't result in foot noises like with treadmills (good if you live in an apartment). This makes sense, as Nautilus puts a lot of emphasis in their product design, not only to make them function well, but also to help them look good while doing it.
On the other hand, by far the most common complaint we encountered during our research is that the rollers tend to squeak, sometimes after only a couple hours of using it. Some customers appear to have had success by using a silicon lubricant, while others have not. In fact, several customers claimed to have had the rollers replaced under warranty, only to have them squeak again a short time after installation.
Other common complaints cite that the MAX Trainer is difficult for a beginner to use, that it takes time to get used to the movement (something similar to an elliptical machine, but adding a stationary bicycle), that it causes joint pain (specifically knee), and high price.
Note: In our original MAX Trainer review, we noted that there was a 45-60-day delivery time. However, this alert is no longer listed on the Nautilus website, and some HighYa readers have indicated that they've received theirs in a little over a week.
Keep Your Expectations Realistic
Regardless of how well most customers scored the MAX Trainer, keep in mind that if you choose the 14-minute session, you will be pushed fairly hard, especially if you're just getting back into working out. And in reality, even though it may be hard, working out for 14 minutes per day probably isn't going to give you the weight loss results you're looking for.
This is because, according to Lifehacker, "Shorter workouts can do a lot for your muscles, but if you seek weight loss you really need a good diet you can follow and exercise that will provide sufficient calorie burn. Eating fewer calories is the simplest way to reduce weight/fat, and compact exercise routines can help build muscle, but you shouldn't expect them to make you slimmer." This means that, regardless of how much you use the MAX Trainer, if you're not eating a sensible diet, you probably won't achieve your goals.
More Than Just the Purchase Price
Next, while the Bowflex MAX Trainer's cost could be considered steep, remember that it doesn't just stop at the purchase price. This is because you'll pay $100 or $150 in S&H costs (depending on the model you choose), in addition to a $250 assembly fee if you'd rather not do it yourself (more about this in the following section). Note: The assembly service appears to be handled by a third-party company. Although the company's name isn't listed on the MAX Trainer website, or if different companies are used depending on a customer's location, one HighYa reviewer claimed that Go Configure was their provider. Unfortunately, they claim to have had a poor experience, with long hold times and difficulty scheduling an appointment.
Save up $300 + Free Shipping On the Bowflex Max Trainer (Use Promo Code SUMMERFUN. Ends Soon)
On top of this, while it's positive that a warranty is provided on the MAX Trainer, keep in mind that you'll be assessed a "small" trip charge each time a technician is sent to your home, although no exact prices are provided on the website, or if these prices fluctuate depending on the issue you're experiencing. Also, the labor portion of the warranty only lasts 90 days, so after this time, you'll need to figure out how to install any defective parts yourself.
Finally, if you're dissatisfied with your MAX Trainer and decide to return it, at 143 pounds, it will cost you quite a bit of money to send it back to the manufacturer. In fact, we read more than one customer review claiming that their return shipping charges were in excess of $200.
Should You Assemble the MAX Trainer Yourself?
During our research, we read a whole lot of customer reviews complaining about the steep assembly charges associated with the Bowflex MAX Trainer. So should you save yourself a good chunk of change and attempt to assemble it yourself? The answer is that it depends on your mechanical abilities.
After taking a look at the owner's manual, the assembly instructions seem fairly clear and straightforward, and other than a razor knife to unbox everything, all the tools, parts, and nuts and bolts you'll need are included. Basically, if you're capable of putting together furniture from IKEA, you should do perfectly well assembling the MAX Trainer yourself. And if you run into any issues, there are numerous assembly videos online, including through the Bowflex site.
What's Are the Differences Between Each MAX Trainer Model?
According to the MAX Trainer website, here are the primary differences between the M3 and M5 models:
Bowflex M3:
8 resistance levels
2 workout programs (Manual, MAX Interval)
Chest strap heart rate monitor
Water Bottle Holder
Media shelf/tablet holder
Bowflex M5:
16 resistance levels
9 workout programs (Manual, MAX Interval, Smart MAX Interval, Calorie Burn, Fat Burn, Calorie Goal, Stairs, Steady State, Fitness Test)
Chest strap heart rate monitor w/integrated contact grips
Water Bottle Holder
Media shelf/tablet holder
Bluetooth sync w/app
Backlit display
Premium Grips
Bowflex M7:
20 computer-controlled resistance levels
11 workout programs, which Bowflex claims will learn and adapt to "each user's fitness level over time to set new targets"
Oversized LCD/LED display that's dual backlit
The ability to extend your workout with the press of button using the Add-Time Feature
4 user profiles
Bluetooth 4.0 compatible with free Max Trainer app
Gym-quality, sculpted and dipped aero handlebars
Stainless steel "racing" pedals
Regardless of which model you choose though, the max weight is 300lbs. Also, the device sits at a height of 15", so you'll need to add your height plus 15" in order to gauge your minimum ceiling clearance.
Save up $300 + Free Shipping On the Bowflex Max Trainer (Use Promo Code SUMMERFUN. Ends Soon)
Which Bowflex MAX Trainer Model is Right for You?
As you can see above, there's not much of a difference between the three MAX Trainer models, other than the number of resistance levels and workout programs they feature.
What's a workout program? Essentially, this is like a autopilot feature that will automatically adjust resistance based on the program you've chosen. For example, if you choose the Calorie Burn program, your MAX Trainer will make resistance adjustments while you're working out, in order to ensure that you burn the maximum number of calories.
Related: How Walking a Little Bit Every Day Can Boost Your Health in a Big Way
Admittedly, this can be handy if you're looking for a fast and effective hands-free workout. However, resistance on all three models can be adjusted manually by turning a small "knob" on one of the handles, so you'll need to discern whether this added convenience is worth the additional $600 or $1,200.
Save up $300 + Free Shipping On the Bowflex Max Trainer (Use Promo Code SUMMERFUN. Ends Soon)
Bottom Line – Will You Be Happy with the Max Trainer?
While the Bowflex MAX Trainer appears to have a solid online customer reputation, it's certainly not for everyone, mostly due to the price. And while the device has been blurbed about in USA Today, Men's Fitness, and the LA Times, TechCrunch recently wrote a more in-depth article recently and surmised that, "It's a workout that won't necessarily replace a whole home gym, but will provide you with some much-needed cardio in the cold winter months, or if you prefer preserving your knees, hips and ankles from frequent runs."
However, it's not made clear exactly clear what's so unique about the Bowflex MAX Trainer that it can provide you with up to 2.5X the calorie-burning power as some other workout devices. So, while it's certainly made by a reputable company, we're still not sure if the MAX Trainer's steep price is in line with the competition—especially traditional elliptical machines that also provide upper body motion.
With this in mind, it's also important to note that in some instances, gym memberships can be purchased for as little as $120 per year, which is far less than the cost of a MAX Trainer. We also read numerous customer reviews claiming that you can achieve many of the same results by purchasing a bench, barbell, weights, and a few videos—again, at a much lower price.
If you do decide to purchase a MAX Trainer though, make sure you're 100% certain before pressing the "order" button, as it may not be able to be cancelled after it's been placed. Instead, with so much money on the line, you might want to order the information kit, which could give you time to cool off (no pun intended) and to think about your purchase.
HighYa's Editorial Disclosure: This URL Contains links to Bowflex's website. Should the reader click the links and make a purchase of the Bowflex Max Trainer (any of the models), HighYa will earn a 7% commission per sale through Impact. For more info, click here.
Sexy machine but horrible customer service

By AM M.

,

Washington DC

,

Nov 11, 2019
Verified Reviewer

Ordered the M6 after reading awesome reviews and trusting Bow Flex (Nautilus) company. We spent $2000 happily for this machine, knowing that indoor and snow would prevent good workouts.

February 2019. The machine arrived - we paid for assembly. It worked for 3 months. THREE months. Called, ordered power cord. Bowflex said "you need our power cord." We had it, but ordered another. Express shipping. Cold is here and muscle atrophy has set in. It did not work. They sent one. Did not work. Two weeks pass. We paid for their technician to come out, another $150...IT STILL DOESN'T WORK. No movement on a new machine or refund.

If I find the free time, I will sue this company for ruining winter workouts, making false promises and costing us over $3500 in lost funds, wages for appointments for them to fix their product. We have wasted months waiting for this to be repaired, wasted time off from work and still this brand new machine is broken. The fix-it and assembly technicians, however, are friendly.

Horrible customer service. DO NOT BUY A MACHINE FROM BOWFLEX unless you know how to make repairs yourself.

Bottom Line: No, I would not recommend this to a friend

---

Not worth the price they're asking for.

By Michael W.

,

Nottingham, PA

,

Nov 9, 2019
Verified Reviewer

The good news is it gives you a great workout but after about 18 months, it was done. It's not worth $3500 for the M7 that they claim it was going to last a long time. These so-called big-time workout machines are claimed to be working well and last a long time. The Bowflex M7 was a complete big bust. They're only worth about $500 if it's only going to last about 2 years. Don't buy this machine, it's not worth the money to spend on it.

Bottom Line: No, I would not recommend this to a friend

---

Advertisement

---

Do not buy

By Jerry P.

,

Pennsylvania

,

Oct 1, 2019
Verified Reviewer

Very poor customer service. I bought my MAX Trainer 3 weeks ago. I have only been able to use it 3 times. It has some kind of power issue. The display will not hold a charge and the Bluetooth and WiFi only work when they want. I have been in contact with customer service 5 times through email. I have not been able to get in touch with them over the phone because I am at work when the customer service line is open. Since I can't contact them by phone the customer service says that there is nothing to do to help. They won't even give the info I need to return it. So if you want a machine that you cant use, return, or get support for buy the MAX Trainer.

Bottom Line: No, I would not recommend this to a friend

---

Junk

By Erika C.

,

Maine

,

Jul 27, 2019
Verified Reviewer

I have bought many exercise machines over the past 15 years and the Bowflex MAX Trainer is one of the most expensive and unreliable pieces of equipment I have ever owned. Within two months after using it about 2-3 times a week, the computer would not turn on. The company sent me a replacement only after they made me completely disassemble the entire thing to see if I could find a loose wire in which I didn't. After 3 months of using the new replacement, I am again having the same issues. I would never buy another Bowflex again.

Bottom Line: No, I would not recommend this to a friend

---

Advertisement

---

Nice machine/horrible company

By Rich C.

,

Montana

,

May 9, 2019
Verified Reviewer

Why do all these reviews feel like they are commercials? Bought and paid for by Bowflex? Almost all these glowing reviews are the same, and use the same pictures and verbiage...it's suspect. There's literally no evidence to support these "14 minutes burns 2.5 times the calories!"

I bought into the hype, got the M6 a little over a week ago. It's a nice machine, but I worry about its long term durability, especially given the consumer reviews popping up around the web. I also have to say that the Bowflex customer service/support is among the worst I've ever dealt with, you either get someone who doesn't know what they are talking about, or someone who is quite rude. I had an issue where I wondered why the M5/7 supported Apple Health and Android but I couldn't get the app to work with the M6/8. To me, this is a huge deal, and something so basic. The first customer service rep sent me to the Max Trainer app, it wouldn't pair...so I called back. The next agent told me that Apple Health and Android Fit aren't supported (something not mentioned in any of these canned reviews), and that they want you to use their Max Intelligence App ($150 a year or $15 a month!). They say you don't have to, but are badgered everywhere in the app to upgrade. There's a handful of free training sessions, but even basic ones like calorie and fat burn aren't included, you have to disconnect the app and use the panel. Also, I logged out from the app so my wife could create a profile...and it would not let me log back in, telling me the password was wrong, then when I asked for a new password it sent me a code that would also not work...took 40 minutes and four resets to get it to work.

I contacted support again with my frustrations and dealt with an incredibly rude agent by email, who simply stopped responding after two emails.

I tried to leave a review on their website twice, wrote a lengthy review like this and gave them 3/5 stars, the review never posted. I contacted them again about the review and they told me they got my feedback and didn't have to posted my review...totally sleazy and dishonest. I like the machine ok, but I would never recommend Bowflex to anyone.

Bottom Line: No, I would not recommend this to a friend

---

Mechanical faults, manufactural defects

By Lester L.

,

Frankfort, IL

,

Jan 27, 2019
Verified Reviewer

I recently bought the Bowflex Max 3 and I am very disappointed with the product. After two months of use, I have a large knocking sound. I called Nautilus and they told me that even with my extended warranty they I would have to fix the problem myself. They said it was a maintenance problem. After looking on YouTube, many of the people called this and many similar other types of problems manufactural defects. This should certainly be covered by the warranty. I wish I could get my money back, but it is over 40 days.

Bottom Line: No, I would not recommend this to a friend

---

Good aerobic results, no change in weight. I feel terrific!

By Mitch S.

,

Raleigh, NC

,

Jan 11, 2019
Verified Reviewer

I purchased the M6 on the Thanksgiving sale - I did the assembly myself, and I think most people could put it together.

I am male, 58, 5'11, about 195 lbs.

Overall, I really like the machine. I have set a goal to work out every day for the 14 minutes as advertised. I downloaded the app and I have had done about 25 consecutive days now, and a total of about 30 sessions in the past 6 weeks. So pretty much every day.

I started off with limited resistance and now I do the 14 minutes with level 14 resistance. Its a really tough workout and it takes at least 30 mins to cool down completely. Heart rate peaks around 140.

The results are interesting, I feel really good from an aerobic standpoint - lots of energy, clear thinking, never out of breath, better sleep, tighter butt...so there is an immediate impact on those areas.

However, I have had no weight change at all. In fact, I have put a few pounds on. (Note: this was also Xmas period.)

My app says I am burning an extra 1800 calories a week doing the workouts. Each workout burns about 275 calories for me. With that, I would have expected some change in weight.

Obviously, what you eat has a much bigger impact on your weight than the exercise benefit on this machine. I am going to continue doing it as long as I can and see if the weight changes.

As a reference, I am not particularly overweight, but I was hoping to tone up and lose a few pounds around the middle.

I have had no injuries or pain from using the machine. My knees are too fragile to allow me to run or jog, so this machine is ideal. No shoulder pain or any negatives from using the machine.

Bottom Line: Yes, I would recommend this to a friend

---

Knee pain in under 60 seconds

By Tim H.

,

California

,

Nov 2, 2018
Verified Reviewer

I had a torn meniscus and as part of my rehabilitation, I looked into elliptical machines. The Bowflex made a very attractive package in both the size that it takes up is relatively small, and the promises that it makes of being gentle on your body, especially those with knee and hip and back problems. Unfortunately, in three years of ownership, I've only been able to use it a couple of days every few months or so because my knees hurt with what feels like terrible arthritic pain and I'm in my early forties. I actually have a 4-flight walk up from the street to my front door and then an additional 2 flights from the downstairs to the upstairs of my home, and I make these trips so many times per day that my Fitbit says that I do approximately 60 flights of stairs between work and home, and just inclined walking in general. With the Bowflex, however, it is just taking up space in my room as it hurts my knees within 1 minute of use.

It looks pretty, but if you start out overweight with any joint pain, it is going to be hell on you. I used to play field sports and was an avid cyclist, so I have stamina, but this is dreadful.

Bottom Line: No, I would not recommend this to a friend

---

Thanks for nothing

By Michael B.

,

Houston, TX

,

Oct 15, 2018
Verified Reviewer

My MAX Trainer M5 stopped working. It is out of warranty, but wasn't used all that much. I was told by the customer service rep that it was the keypad. So I ordered a replacement. That it would quit working, with little use, is an obvious indication of poor workmanship, design, parts, or a combination. Instructions were simple with regard to disassembly, except there is no easy way to disconnect the "plug" connection. I am concerned about breaking it, and called to ask if there was a secret to disconnect it. Customer service is closed.

My biggest regret is that on the answered survey regarding my initial call, I gave them a good score, because at the time I thought the rep was knowledgeable and helpful. I would like to revoke that endorsement, both for the representative and for the company. I am revoking it for the rep for not telling what I was in for, and I am revoking it from nautilus for designing this piece of trash, and not having someone available to answer questions at 3 pm Central Standard Time. Thanks for nothing.

Bottom Line: No, I would not recommend this to a friend

---

Amazing

By Joe E.

,

Georgetown, KY

,

Aug 23, 2018
Verified Reviewer

I am 60 years old, 280 lbs, I'm out of shape. I sit a lot because I drive a truck. Not much physical activity. And as time goes by, my activity level is declining. So, I'm trying and lose some weight and get in shape. I saw the commercial for the Max Trainer and thought it looked like something I could do.

So I read about it and then called them. They recommended the M5. It arrived in about three or four days. It was easy to put together. The first time on it, I was only able to about one minute. I thought oh crap, I wasted my money because I'm not going to be able to do this. The next time was three minutes. Then five minutes. Then I increased by 15 seconds every day until I got to six minutes. In my third week, I was doing the 14-minute max interval work out. In four weeks, I lost ten pounds.

So I'm happy with my purchase. I don't have time to go to the gym. People that spend an hour in the gym may not like this machine. I do. It fits my schedule and is exceeding my expectations.

Bottom Line: Yes, I would recommend this to a friend

---

Challenging cardio

By David J.

,

Boca Raton, FL

,

Jul 23, 2018
Verified Reviewer

Like others, I found my first uses of the machine quite challenging. I have always been a jogger and used ellipticals and treadmills in between shorter runs outside...5K. I was using different muscles, and it takes a little while to get into the groove. There is a fast learning curve once your muscles adapt, maybe 4-5 workouts over 2 weeks. Then you can work on building your intensity. I keep the resistance handle 1 or 2 clicks away from easiest.

I am on the M3. The wide pedals allow the lateral core to get some workout and interval training is more challenging on the M3 compared with treadmills because the resistance is more of a challenge. I believe this M3 is a good buy and I have heard some sounds, but I listen to music so I am not bothered.

Bottom Line: Yes, I would recommend this to a friend

---