Bowflex MAX Trainer Reviews - Details, Models, Features, Pros and Cons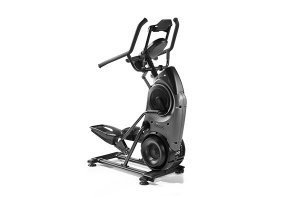 Summary
The Bowflex Max Trainer fitness equipment series will give you a full-body cardio workout quickly. However, it may be too intense for beginners, so pace yourself accordingly.
Pros
Workouts incorporate arms and legs for more efficient cardio exercise
You can decide whether to purchase a model with a built-in screen or use your own tablet
Numerous built-in workout programs
Integrated JRNY app gives more options for customized workouts
Cons
Machines may be considered expensive for performing one form of exercise
JRNY app is available only as a subscription
Some customer complaints that the machine broke quickly
Our Full Review
The Bowflex Max Trainer is a series of high-intensity cardio machines from Nautilus, Inc that promise to get you in excellent shape with workouts that range from four to 30 minutes.
The machine is a combination of a stair-stepper and elliptical, and it's designed to be compact enough for almost any living space.
Users can create their own workout programs, follow the pre-installed ones included with your chosen model, or subscribe to the exclusive BowFlex JRNY app to access hundreds of other workouts.
Bowflex sells three versions of its Max Trainer: the M6, M8, and Max Total. In this analysis, we'll look at how these machines work, the key differences between the models, and whether better home cardio machines are available.
How Does the BowFlex Max Trainer Work?
All Bowflex Max Trainers operate as a combo stair-stepper/elliptical. Each device comes with a range of resistance levels so that you can change the intensity as your abilities increase.
The Max Trainer's goal is to give you a high-intensity workout quickly so that you stay in a fat-burning state for hours after. The machine incorporates both your arms and legs with every movement so that you work your full body at once to maximize effectiveness.
To use the Max Trainer, you'll stand on the footplates like you would a standard elliptical and hold onto the handles at your preferred position.
Next, you'll choose whether to follow a preset workout program or to simply set the resistance level and get started. This level can be adjusted at any time using the switch on the handles.
As the machine is designed to deliver an intense cardio workout, you may struggle to get through the entire session when you first begin. Many users shared in their customer reviews that they could only make it through five minutes at a time when they got started, but that they slowly worked up their stamina after several weeks.
Looking Closer at High-Intensity Interval Training
Bowflex's workouts are based around the concept of High-Intensity Interval Training (HIIT). The idea is that you get a quality workout in quickly by changing the intensity of your actions every few minutes to keep your heart rate up and deliver maximum benefits within the shortest amount of time.
As one workout example on the product website, you can complete a 14-minute workout that includes a series of the following intervals:
25 seconds high intensity
80 seconds low intensity
In this case, you would complete the interval sequence a total of eight times.
Working out for just 14 minutes sounds appealing for the time-pressed, but are HIIT workouts actually an effective fitness strategy?
Research shows that alternating your workout's intensity leads to a variety of benefits, including a higher rate of calorie burning per exercise minute and improved aerobic capacity. You're also less likely to experience "workout fatigue" because interval training tends to switch up what you are doing every few minutes so it's harder to get bored.
However, HIIT training isn't for everyone—especially those who are new to exercise. Pushing your body to its upper limits can have negative consequences if you don't already have an exercise habit, and it can put unwanted stress on your joints and muscles.
That's one benefit of the Bowflex Max Trainer; these fitness machines make it possible to get in a low-impact workout at any intensity.
Models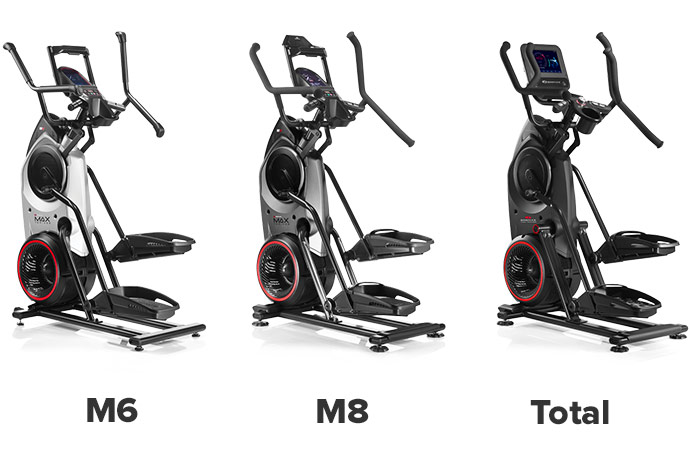 Image credit: bowflex.com
| | Max M6 | Max M8 | Max Total |
| --- | --- | --- | --- |
| Price | $1,699 (or $95/month for 18 mon.) | $2,299 (or $128/mon.) | $2,799 (or $156/mon.) |
| Resistance Levels | 16 | 20 | 20 |
| Features | Bowflex JRNY compatible, includes 5 workout programs, workout history tracking for two users, ergonomic handles with water bottle holder | Bowflex JRNY compatible, includes 7 workout programs, workout history tracking for four users, dual-positioned handlebars with aero bar upgrade and water bottle holder | Upper Body Power Measurement, includes 8 workout programs, workout history tracking for unlimited users, track heart rate with a built-in display, triple- positioned, sculpted handlebars with dual rail system and water bottle holder |
| Screen | Bring your own device | Bring your own device | Built-in touchscreen |
| Warranty | Frame and parts: 2 years | Frame and parts: 3 years | Frame and parts: 3 years |
One of the most significant differences between Max Total and the other models is that it comes with a built-in touchscreen. That's convenient for those who don't want to use their own technology with their fitness equipment.
Beyond giving you direct access to the JRNY app and other workout statistics, you can use this screen to log into your accounts on streaming platforms like Hulu, Netflix, and Amazon Prime to entertain yourself as you exercise.
It's up to you to decide whether this screen, along with a few other features like extra built-in programs and a different handle setup, is worth the additional $500 compared to the M8.
About Bowflex JRNY
To get the maximum benefit from your Bowflex Max Trainer, the company recommends that you sign up for a subscription to the JRNY app (all purchases will include a two-month free trial).
The app tracks your capabilities over time and creates customized workouts designed to challenge you and keep you improving. The time and intensity per session will increase with your fitness capabilities. You'll be guided by "Max," a virtual coach that will encourage you to keep pushing your abilities to reach new fitness milestones.
It's also possible to follow trainer-led videos for workouts for extra motivation and guidance on form. While you work out, you can stream a variety of playlists from Bowflex Radio that themed around pop, rock, hip-hop, best of the decade, and other genres.
If you need a change of scenery, you can follow one of 19 scenic locations like Death Valley, the Swiss Alps, and more.
The JRNY app costs $149.99 for an annual membership or $19.99 per month. This subscription will automatically renew unless you cancel it at least 48 hours before the end of your current subscription period. You will retain access to your account throughout the rest of the subscription time.
Below are user comments from the JRNY App reviews on Google Play, where it averages 3.9 stars after 650 reviews:
Calorie counts might be inaccurate
Not always fully integrated with machines
Great extension of included workouts
Solid options for customizing workouts
Doesn't support option to stream own music
A desire for more workouts over 21 minutes
Limited options to sync app data with other fitness services like MyFitnessPal or Google Fit
Purchasing Process and Satisfaction Guarantee
The best way to purchase Bowflex Max Trainers is through the company website. They are also sold through a few online distributors like Amazon, but most models aren't available in physical stores.
When scheduling delivery, you have the choice of whether to pay to have your Bowflex Max Trainer professionally assembled or to go the DIY route.
The machine will come with complete installation instructions, and there are supplemental assembly videos on the company website. Bowflex recommends that two people assemble it to ensure safety.
Processional in-home assembly can be purchased at the time of checkout, and the price will vary based on your location. Expect to pay around $170 for this service, on top of $150 for standard shipping.
Purchases from the company website come with a six-week satisfaction guarantee. You can request a return at any point within this timeframe for a full refund, minus any return shipping costs, or in-home assembly costs. The machines needs to be in original condition and preferably in original packaging.
Also, it's possible to receive a refund for an annual JRNY app subscription, but only if you purchase it directly through Nautilus, Inc (not through the Apple or Google App store, or other third parties.
You may qualify for this refund if you submit your request within six weeks of purchase by emailing the company with your login email and cancelation request. Your access to the app will be restricted as soon as your request is processed.
Analysis of Customer Reviews
Here at HighYa, we have 44 reviews posted for the Bowflex Max Trainer Family. These average 3.4 stars. Below is a summary of some of the main comments.
Common Compliments:
Fun, habit-forming piece of fitness equipment
Led to significant weight loss for many users
Efficient, quality cardio workout
Space effective for exercise equipment
Common Complaints:
Some had poor customer service experiences when they needed replacement parts
For some, machine lasted fewer than 18 months before breaking
A few users experienced significant joint pain when the device was in use
Popular Alternatives to the Bowflex Max Trainer
| | Bowflex Max Trainer | Tonal | Peloton Cycle | Mirror |
| --- | --- | --- | --- | --- |
| Workout Target | A high-intensity cardio workout that combines movements of an elliptical and a stair stepper | All-in-one machine that mounts into your all for building strength through weight lifting | Follow live and on-demand spin classes streamed from NYC and UK studios, members also get access to the Peloton app that offers yoga, running, meditation, strength-training, stretching strength-training, boot camp, walking, and dance cardio workouts | Lets you follow virtual cardio, yoga, boxing, and other fitness classes offered through an interactive mirror that blends in as décor when not on |
| Equipment Cost | $1,699–$2,799 | $2,995, plus $495 for Smart Accessories (handles, bar, rope, bench, mat, and roller) | $2,245, plus about $150 for accessories like shoes, weights, and headphones | $1,495 |
| Shipping Cost | $150, plus about $170 for professional assembly (optional) | $250 | Included with purchase | $250 |
| Monthly Subscription Cost | $19.99/mon. or $149.99/yr. | $49.99/mon. | $39.99/mon. | $39.99/mon. |
| Is Free Membership Available with Purchase? | Two months available free | No, all purchases require a 12-month subscription commitment | No | No, all purchases require a 12-month subscription commitment |
| Is a Subscription Necessary for Workout? | No, the machine comes with built-in workouts and can be used in free mode. | No, digital weight functionality is available without a subscription | No, the machine comes with several built-in classes, and the screen will display cadence, resistance, and output information when freecycling. | Yes |
You will pay a lot for the initial purchase—a minimum of $1,500 before accounting for any accessories or subscription fees.
All four of these machines are designed to be paired with their coordinating subscription service. However, only Mirror is rendered useless without it. The three other systems let you exercise in free mode without any extra guidance, though Bowflex Max Totals come with the most built-in workout programs.
From a time perspective, Bowflex workouts focus on giving you maximum benefits fast. The company claims you can fit in a quality workout in just 14 minutes, while the average length for most Peloton spin classes is 30-45 minutes. Both Tonal and Mirror fall in the longer range as well, though you have lots of flexibility to create your ideal workout session.
Cost-wise, the Bowflex's JRNY monthly subscription costs half or less what you'll pay for the other services, and it's also the only company that offered an annual discount. This brings down the total price of the equipment compared to Tonal, where you'll pay four times as much annually in subscription fees.
Choosing which system is best for you depends on your fitness preferences. Bowflex promises a quick workout and is slightly more cost-effective, but the machine essentially allows for only one type of exercise. You could argue the same for Peloton Cycle, but the subscription includes access to the Peloton app with wider-ranging workout options. Both Tonal and Mirror, in contrast, are designed to accommodate a broader range of workouts.
If space is your biggest concern, Mirror is the easiest machine to match with your décor while the Peloton spin bike will stand out. Bowflex Max Trainers have a relatively smaller footprint, as they take up about four feet by 3.5 feet of floor space.
The Bottom Line: Is It Worth It?
The Bowflex Max Trainer series promises to give you an intense cardio workout, and it will deliver, so long as you are willing to put in the work.
Customer reviews indicate that many users found this machine challenging, even when they thought they were in decent shape. For that reason, we suggest you expect to get winded on your first few attempts and plan to work your way up to full-length workouts over several weeks.
The Bowflex is priced similarly to other tech-enabled fitness equipment, but you'll pay less for the related subscription service. This machine is also the most functional of any we looked at if you decide not to go with the subscription.
Bowflex offers models both with and without a built-in screen, so you don't have to pay for that feature if you prefer to use a tablet. However, there are numerous reviews from disgruntled users who had their Max Trainer break down sooner than expected, but often right after the warranty had run out.
Overall, this machine makes sense for anyone who likes getting in quick, intense workouts, but it may be too much for those who are new to exercising. Either way, keep in mind that if you decide to try it, you will be out the $150 shipping fee if you request a return within the six-week window.
Customer Reviews
Posted on Nov 11, 2019
Sexy machine but horrible customer service
Ordered the M6 after reading awesome reviews and trusting Bow Flex (Nautilus) company. We spent $2000 happily for this machine, knowing that indoor and snow would prevent good workouts.
February 2019. The machine arrived - we paid for assembly. It worked for 3 months. THREE months. Called, ordered power cord. Bowflex said "you need our power cord." We had it, but ordered another. Express shipping. Cold is here and muscle atrophy has set in. It did not work. They sent one. Did not work. Two weeks pass. We paid for their technician to come out, another $150...IT STILL DOESN'T WORK. No movement on a new machine or refund.
If I find the free time, I will sue this company for ruining winter workouts, making false promises and costing us over $3500 in lost funds, wages for appointments for them to fix their product. We have wasted months waiting for this to be repaired, wasted time off from work and still this brand new machine is broken. The fix-it and assembly technicians, however, are friendly.
Horrible customer service. DO NOT BUY A MACHINE FROM BOWFLEX unless you know how to make repairs yourself.
Bottom Line: No, I would not recommend this to a friend
Posted on Nov 9, 2019
Not worth the price they're asking for.
The good news is it gives you a great workout but after about 18 months, it was done. It's not worth $3500 for the M7 that they claim it was going to last a long time. These so-called big-time workout machines are claimed to be working well and last a long time. The Bowflex M7 was a complete big bust. They're only worth about $500 if it's only going to last about 2 years. Don't buy this machine, it's not worth the money to spend on it.
Bottom Line: No, I would not recommend this to a friend
Posted on Oct 1, 2019
Do not buy
Very poor customer service. I bought my MAX Trainer 3 weeks ago. I have only been able to use it 3 times. It has some kind of power issue. The display will not hold a charge and the Bluetooth and WiFi only work when they want. I have been in contact with customer service 5 times through email. I have not been able to get in touch with them over the phone because I am at work when the customer service line is open. Since I can't contact them by phone the customer service says that there is nothing to do to help. They won't even give the info I need to return it. So if you want a machine that you cant use, return, or get support for buy the MAX Trainer.
Bottom Line: No, I would not recommend this to a friend
Posted on Jul 27, 2019
Junk
I have bought many exercise machines over the past 15 years and the Bowflex MAX Trainer is one of the most expensive and unreliable pieces of equipment I have ever owned. Within two months after using it about 2-3 times a week, the computer would not turn on. The company sent me a replacement only after they made me completely disassemble the entire thing to see if I could find a loose wire in which I didn't. After 3 months of using the new replacement, I am again having the same issues. I would never buy another Bowflex again.
Bottom Line: No, I would not recommend this to a friend
Posted on May 9, 2019
Nice machine/horrible company
Why do all these reviews feel like they are commercials? Bought and paid for by Bowflex? Almost all these glowing reviews are the same, and use the same pictures and verbiage...it's suspect. There's literally no evidence to support these "14 minutes burns 2.5 times the calories!"
I bought into the hype, got the M6 a little over a week ago. It's a nice machine, but I worry about its long term durability, especially given the consumer reviews popping up around the web. I also have to say that the Bowflex customer service/support is among the worst I've ever dealt with, you either get someone who doesn't know what they are talking about, or someone who is quite rude. I had an issue where I wondered why the M5/7 supported Apple Health and Android but I couldn't get the app to work with the M6/8. To me, this is a huge deal, and something so basic. The first customer service rep sent me to the Max Trainer app, it wouldn't pair...so I called back. The next agent told me that Apple Health and Android Fit aren't supported (something not mentioned in any of these canned reviews), and that they want you to use their Max Intelligence App ($150 a year or $15 a month!). They say you don't have to, but are badgered everywhere in the app to upgrade. There's a handful of free training sessions, but even basic ones like calorie and fat burn aren't included, you have to disconnect the app and use the panel. Also, I logged out from the app so my wife could create a profile...and it would not let me log back in, telling me the password was wrong, then when I asked for a new password it sent me a code that would also not work...took 40 minutes and four resets to get it to work.
I contacted support again with my frustrations and dealt with an incredibly rude agent by email, who simply stopped responding after two emails.
I tried to leave a review on their website twice, wrote a lengthy review like this and gave them 3/5 stars, the review never posted. I contacted them again about the review and they told me they got my feedback and didn't have to posted my review...totally sleazy and dishonest. I like the machine ok, but I would never recommend Bowflex to anyone.
Bottom Line: No, I would not recommend this to a friend
Posted on Jan 27, 2019
Mechanical faults, manufactural defects
I recently bought the Bowflex Max 3 and I am very disappointed with the product. After two months of use, I have a large knocking sound. I called Nautilus and they told me that even with my extended warranty they I would have to fix the problem myself. They said it was a maintenance problem. After looking on YouTube, many of the people called this and many similar other types of problems manufactural defects. This should certainly be covered by the warranty. I wish I could get my money back, but it is over 40 days.
Bottom Line: No, I would not recommend this to a friend
Posted on Jan 11, 2019
Good aerobic results, no change in weight. I feel terrific!
I purchased the M6 on the Thanksgiving sale - I did the assembly myself, and I think most people could put it together.
I am male, 58, 5'11, about 195 lbs.
Overall, I really like the machine. I have set a goal to work out every day for the 14 minutes as advertised. I downloaded the app and I have had done about 25 consecutive days now, and a total of about 30 sessions in the past 6 weeks. So pretty much every day.
I started off with limited resistance and now I do the 14 minutes with level 14 resistance. Its a really tough workout and it takes at least 30 mins to cool down completely. Heart rate peaks around 140.
The results are interesting, I feel really good from an aerobic standpoint - lots of energy, clear thinking, never out of breath, better sleep, tighter butt...so there is an immediate impact on those areas.
However, I have had no weight change at all. In fact, I have put a few pounds on. (Note: this was also Xmas period.)
My app says I am burning an extra 1800 calories a week doing the workouts. Each workout burns about 275 calories for me. With that, I would have expected some change in weight.
Obviously, what you eat has a much bigger impact on your weight than the exercise benefit on this machine. I am going to continue doing it as long as I can and see if the weight changes.
As a reference, I am not particularly overweight, but I was hoping to tone up and lose a few pounds around the middle.
I have had no injuries or pain from using the machine. My knees are too fragile to allow me to run or jog, so this machine is ideal. No shoulder pain or any negatives from using the machine.
Bottom Line: Yes, I would recommend this to a friend
Posted on Nov 2, 2018
Knee pain in under 60 seconds
I had a torn meniscus and as part of my rehabilitation, I looked into elliptical machines. The Bowflex made a very attractive package in both the size that it takes up is relatively small, and the promises that it makes of being gentle on your body, especially those with knee and hip and back problems. Unfortunately, in three years of ownership, I've only been able to use it a couple of days every few months or so because my knees hurt with what feels like terrible arthritic pain and I'm in my early forties. I actually have a 4-flight walk up from the street to my front door and then an additional 2 flights from the downstairs to the upstairs of my home, and I make these trips so many times per day that my Fitbit says that I do approximately 60 flights of stairs between work and home, and just inclined walking in general. With the Bowflex, however, it is just taking up space in my room as it hurts my knees within 1 minute of use.
It looks pretty, but if you start out overweight with any joint pain, it is going to be hell on you. I used to play field sports and was an avid cyclist, so I have stamina, but this is dreadful.
Bottom Line: No, I would not recommend this to a friend
Posted on Oct 15, 2018
Thanks for nothing
My MAX Trainer M5 stopped working. It is out of warranty, but wasn't used all that much. I was told by the customer service rep that it was the keypad. So I ordered a replacement. That it would quit working, with little use, is an obvious indication of poor workmanship, design, parts, or a combination. Instructions were simple with regard to disassembly, except there is no easy way to disconnect the "plug" connection. I am concerned about breaking it, and called to ask if there was a secret to disconnect it. Customer service is closed.
My biggest regret is that on the answered survey regarding my initial call, I gave them a good score, because at the time I thought the rep was knowledgeable and helpful. I would like to revoke that endorsement, both for the representative and for the company. I am revoking it for the rep for not telling what I was in for, and I am revoking it from nautilus for designing this piece of trash, and not having someone available to answer questions at 3 pm Central Standard Time. Thanks for nothing.
Bottom Line: No, I would not recommend this to a friend
Posted on Aug 23, 2018
Amazing
I am 60 years old, 280 lbs, I'm out of shape. I sit a lot because I drive a truck. Not much physical activity. And as time goes by, my activity level is declining. So, I'm trying and lose some weight and get in shape. I saw the commercial for the Max Trainer and thought it looked like something I could do.
So I read about it and then called them. They recommended the M5. It arrived in about three or four days. It was easy to put together. The first time on it, I was only able to about one minute. I thought oh crap, I wasted my money because I'm not going to be able to do this. The next time was three minutes. Then five minutes. Then I increased by 15 seconds every day until I got to six minutes. In my third week, I was doing the 14-minute max interval work out. In four weeks, I lost ten pounds.
So I'm happy with my purchase. I don't have time to go to the gym. People that spend an hour in the gym may not like this machine. I do. It fits my schedule and is exceeding my expectations.
Bottom Line: Yes, I would recommend this to a friend
Posted on Jul 23, 2018
Challenging cardio
Like others, I found my first uses of the machine quite challenging. I have always been a jogger and used ellipticals and treadmills in between shorter runs outside...5K. I was using different muscles, and it takes a little while to get into the groove. There is a fast learning curve once your muscles adapt, maybe 4-5 workouts over 2 weeks. Then you can work on building your intensity. I keep the resistance handle 1 or 2 clicks away from easiest.
I am on the M3. The wide pedals allow the lateral core to get some workout and interval training is more challenging on the M3 compared with treadmills because the resistance is more of a challenge. I believe this M3 is a good buy and I have heard some sounds, but I listen to music so I am not bothered.
Bottom Line: Yes, I would recommend this to a friend
Our Promise to You
In order to safeguard you and ensure helpfulness and relevance, our compliance team manually assess every customer review before it goes live.
We have a zero-tolerance policy for fake reviews, and companies cannot control or alter any reviews at any time.