Hydrow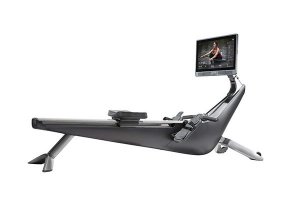 Summary
Hydrow is a tech-integrated rowing machine that lets you take live and on-demand rowing classes with world-class instructors and compete against others at home. Although effective and a great concept, there are more cost-effective options available.
Hydrow Rowing Machine Review
Hydro is a rowing machine that relies on 'Live Outdoor Reality' (LOR) to deliver a live, on-river rowing experience for you at home.
This fitness machine promises to help you burn up to 400 calories in a 20-minute workout by engaging 86% of your muscles at once. They state this makes it a more effective cardio workout than biking or running, both of which will only use about 44% of your muscles.
Hydrow distinguishes itself from other rowing machines through its subscription platform that lets you stream live and on-demand workouts led by world-class athletes, including rowers who are training for the U.S. national rowing team.
The brand was founded by Bruce Smith, a lifelong rower who helped the U.S. men's lightweight eight team achieve a bronze medal at the 2015 World Rowing Championships.
But is Hydrow something you should consider? We'll look through the facts to help you make a decision.
How Does Hydrow Work?
The Hydrow rowing machine utilizes electromagnetic, software-driven resistance. This means it relies on a power source to provide computer-controlled resistance that adjusts up to 100 times a second. The result mimics the feel of a traditional rowing machine, and by extension, a boat on the water.
The company claims that this frictionless technology creates a uniquely quiet fitness experience that isn't disruptive at home.
Measuring 86 inches by 25 inches, Hydrow can be stored upright with a mounting device (sold separately) to minimize the necessary storage space. It's built to meet commercial-grade quality standards and is compatible with any sports shoe.
What the company states really makes Hydrow stand out is the attached screen and LOR technology. Users will watch a rowing instructor out on the water, either live-streamed or pre-recorded and follow their instructions for the workout
This platform is designed to mimic the sights, sounds, and feeling of being in the water to give you comparable workout experience. You'll need a strong internet connection to make this work.
Hydrow states that the machine is tested for users up to 375 pounds and that there are no minimum size or weight requirements. Even so, they suggest that, from a safety standpoint, children 13 years and younger don't use the machine.
As you exercise, the Hydrow screen will display the instructor on the water as well as your time left in the set, your average time for rowing a set distance (typically 500 meters), your total distance, calories burned, and heart rate.
It will also display your rank compared to others who are doing the workout at the same time, and those who have completed it in the past.
Your Hydrow subscription also includes access to a soon-to-be-released app that can be used for the floor classes or to follow rowing workouts on other rowers, potentially at the gym while traveling.
Available Workouts
Hydrow's subscription platform gives you access to both live and on-demand rowing classes as well as yoga, Pilates, and functional training workouts. Below are the currently available workout categories.
The different Hydrow workout categories include:
Intro to Hydrow: These drill-based workouts focus on form.
Warm-up: Short classes designed to get you loose and limber for a rowing workout.
Cool Down: Post-workout classes designed to calm you down and reduce soreness.
Breathe: Low-intensity classes with a focus on form that is designed for stress relief.
Sweat: Moderate intensity works designed to improve heart health.
Push: These vigorous classes focus on advanced cardio training and are designed to build muscle.
Drive: Hydro's most challenging rows, these classes help you test your limits through both cardio and strength training challenges.
Journeys: These classes can be followed at your own pace, so you enjoy the experience of simulated rowing on water without following an instructor.
On the Mat: These workouts are independent of the Hydrow machine and are meant to supplement the experience for optimal fitness. The included screen can swivel for better visibility during floor workouts.
These classes range from 5 to 45 minutes in length. The company states online that they film new workouts every day, and that the platform will be updated regularly to increase the course offerings.
The Cost
Hydrow retails for $2,199.
You don't need to purchase a monthly subscription to use Hydrow, but without doing so, you won't have access to the company's live and on-demand classes. This costs $38 per month.
There are also numerous accessories you can buy to improve your Hydrow exercise experience. These include:
Upright storage kit ($69.99)
3 foot by 7.5 foot machine mat ($79.99)
Financing options are available starting from $62 per month.
You are able to see the Hydro machine in person by locating a gym or store on the company's page that carries it near you.
The company states that the best way to stay updated on pop-up locations and other retailers is by following their Facebook and Instagram pages where they share updates.
You can request a full refund on Hydrow if you contact the company before shipping. Once the rower is delivered, you have up to 14 days to try it out and request a full refund (minus return shipping) if you aren't satisfied.
Hydrow labor is covered for a year, the screen and other electronics for two, and the frame and other mechanical parts for five. This warranty isn't transferable to new owners.
Alternatives
Engadget calls Hydrow the "Peloton of rowing machines" for a reason; the two companies offer similar services and target the same demographic.
Like Hydrow, Peloton offers proprietary fitness equipment (a spin bike and a treadmill) that can be used to stream classes through their monthly subscription service.
You'll pay $40 per month for a Peloton subscription, which gives you unlimited access to thousands of on-demand classes and more than a dozen live classes each day.
The equipment syncs your workout statistics with all other exercisers when you complete live courses, meaning that you can see how you rank and the instructors can call you out in real time.
Peloton equipment is comparable to Hydrow, as the bike retailed for $1,995 and the Tread was $3,995 at the time of writing (Hydrow costs $2,199).
There are other companies entering the tech-integrated equipment sphere. Two that come to mind are Tonal, a weight-lifting machine, and Mirror, an interactive mirror for cardio and body weight workouts.
Tonal costs $2,995 plus $49 per month for the subscription, and Mirror comes in at $1,495, plus a $39 subscription cost.
We think that these offerings give you a range of homework options, all at a relatively similar price point.
Peloton is the most established company at the time of writing, so they offer the most classes and might have the most "polished" appearance. The Pelton Tread will take up the most floor space, while Mirror and Tonal have a smaller footprint.
However, the option that makes the most sense for you depends on your exercise preferences, and that's not something we feel like we can give general advice on.
One thing to note is that all of these options require a power source and a strong internet connection. This will impact what rooms make sense for storing the equipment, so you need to think through your exercise space before committing.
What will you get if you purchase a standard rowing machine instead? A popular model, the Concept 2 Model D, sells for about $900. You won't have to pay for a monthly subscription, plug it in to use it, or have a good WiFi connection, but you'll sacrifice the classes and camaraderie that Hydrow brands itself on.
If you're someone who loves group exercise for accountability, the extra features of subscription fitness equipment are likely worth the additional cost.
The Bottom Line: Is Hydrow Worth It?
Considering the popularity of its competition, there's a good reason to believe that rowing fans will find a lot to love about this platform.
Hydrow is still too new on the market to get much sense of the overall response to it, but we believe it offers an impressive level of features and class variety that put it on par with similarly priced tech fitness equipment.
That means that plenty of people will find it an overpriced option for exercising compared to a gym membership or traditional rowing machines, but those same people likely aren't interested in Peloton or Mirror either.
However, those who love the idea of improving their home workout options are likely going to find a lot to appreciate about Hydrow, especially as the community surrounding it grows.
Our verdict: There are plenty of ways to work out that are cheaper than Hydrow and just as effective, but there is nothing comparable from a rowing perspective. If that's something you care about, you'll find a lot about Hydrow that's worth the price tag.
Customer Reviews