Mirror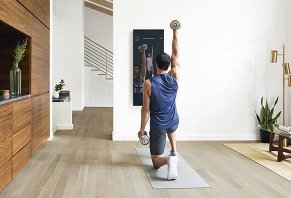 Mirror is a subtle exercise system that lets you stream live and on-demand classes from NYC instructors in the comfort of your own home.
Mirror Review: Is This Home Gym Worth It?
The Mirror brands itself as a versatile piece of home fitness equipment that's subtle enough when not in use that it blends into the background of your home. Unlike bulky treadmills and spin bikes, this fitness device is designed to work as décor as well.
Designed to look and act like a standard mirror when not in use, this device boasts a high-tech screen that displays your exertion level and calorie burning potential based on your fitness profile and the biometric data you provide by wearing a Bluetooth heart rate monitor.
They offer 50 live-streamed classes each week, and subscribers have the option to watch thousands of others on demand at any time.
The device boasts opportunities to receive real-time instruction from leading NYC instructors, and you can connect with friends and track your progress over time. In this way, Mirror hopes to compete with group studio classes. Does it compare? We looked at the details to help you decide whether Mirror is a fitness system worth investing in.
How Does the Mirror Work?
When not in use, the Mirror operates as precisely that — a mirror. It is composed of a 52-inch by 22-inch screen that weighs 70 pounds and comes equipped with speakers and an embedded camera and microphone. All that's needed for working out is some floor space and possibly weights or resistance bands, depending on the class you choose.
At the time of writing, the Mirror could be mounted on your wall or propped up with a floor stand. You'll need to position it within six feet of an outlet, and the company offers a "white glove installation service" to ensure a smooth delivery.
You control the Mirror through the companion iOS app (an Android app is in the works), which means that you won't smudge the mirror surface by touching it. The point of the design is that you can see both yourself and the instructor during workouts, meaning you can continuously check your form and monitor your exertion level.
When you first use the Mirror, you'll need to set up your fitness profile by reporting your height and weight and any injuries or limitations that affect your training ability. It's possible to customize almost every part of the workout, from the type, length, instructor, and even music choice. Trainers offer you detailed instructions, and the Mirror uses a proprietary algorithm to provide you with text-based tips in real time to boost your performance.
According to the company website, Mirror is compatible with Bluetooth speakers. Spotify Premium members also have the option to stream playlists from Mirror during their workouts. Each purchase also includes a Bluetooth heart rate monitor, which lets you track the time spent in different heart rate zones and monitor your performance over time.
Once your workout's done, the Mirror will enter sleep mode within 15 minutes of non-use and will only reawaken once you start to use the app.
About Mirror Workouts
The major selling point for Mirror enthusiasts is the access it provides to boutique-quality fitness classes. Do they deliver? We'll go through the workout details next.
At the time of writing, Mirror offered the following class options:
Barre: Strengthens and tones your muscles with moves that pull from ballet, yoga, and Pilates.
Boxing: Learn boxing form and master high-octane boxing combinations.
Cardio: Get your heart pumping with high-intensity, interval-style, boot camp, and low-impact cardio class options.
Pilates: Build your core strength through classes that focus on alignment and your breath.
Strength: Build up your strength and improve muscle definition, both by using your bodyweight and incorporating resistance bands and dumbbells into each move.
Stretch: Increase flexibility and reduce muscle tension with these full body stretches.
Yoga: Follow along with traditional Vinyasa flows or power up with athletic yoga flow classes.
Each of these classes ranges from 15 to 60 minutes and they are rated in difficulty from level one to four.
When you play a class, Mirror trainers will demonstrate each move, offer guidance about the proper technique, and strive to keep you motivated throughout each session. The Mirror screen will share how much time you have to rest between exercises, what's coming up next, and whether you will need additional equipment for the next moves.
If you include your height and weight information in your profile or are wearing a Bluetooth heart rate monitor, Mirror can track your calorie burning and exertion level in real-time. It will let you know when you should pick up the pace.
Each Mirror class is live streamed from the company's NYC studio, and all previously recorded classes are offered on-demand after they are filmed. If you watch a class live, you can send motivational emojis to others who are working out, and the Trainers might call out your name during class to keep you motivated.
In the future, the company website states that they plan to add 1:1 training sessions to Mirror to give subscribers extra attention. Each session will cost $40 and will utilize the built-in camera so that your trainer can monitor your form and effort level.
What Does Mirror Cost?
At the time of writing, the Mirror cost $1,495 and required a $39/month subscription to stream content. All subscribers must commit to a one-year membership when they make the purchase. When you order the Mirror, you can choose to receive professional installation for an additional $250.
Each Mirror order comes with a free Starter Pack, which includes Mirror-brand fitness bands, a Bluetooth Heart Rate Monitor, and a free Care Kit that consists of a camera lens cap and Mirror cleaner spray. You can create up to five unique profiles per subscription.
Mirror offers a payment plan to make its purchase price a little easier to handle. These plans range in their cost per month, and they allow you to pay off the device in three, six or twelve months at 0% APR.
All Mirror order comes with a standard 12-month parts-and-labor warranty, and you can request a return or refund within the first 30 days of delivery, minus shipping charges. Note that the warranty only covers Mirrors that were professionally installed. You can return any apparel and accessories if they are unused and have their original tags and packaging.
If you need to get in touch with the company to initiate a return or learn more about the Mirror, you can reach them at hello@mirror.co or (888) 288-1588.
What Home Fitness Equipment Is Similar to Mirror?
The Mirror is just one fitness option out of many that are available today for a high-tech home workout experience. This chart will help you compare important metrics between some of the most popular home workout options:
| | Mirror | Tonal | Peloton Cycle | Peloton Tread | FightCamp |
| --- | --- | --- | --- | --- | --- |
| Base Equipment Cost | $1,495 | $2,995, plus $495 for accessories | $1,995, plus $159 for accessories | $3,995 plus $229 for accessories | All equipment is optional (home gym package costs $995) |
| Monthly Subscription Cost | $39 | $49 | $39/month | $39/month | $39/month |
| Workout Type | Yoga, barre, cardio, boxing, strength, stretch, Pilates | Strength-training exercises | Cycling | Cardio and strength-training workouts for a treadmill | Boxing |
| Live Stream or On Demand Classes? | Both | On-demand | Both | Both | On-demand |
| Possible to Perform Exercises Without a Subscription? | No | Yes, but a subscription is required for the first 12 months. | Yes | Yes | No |
One thing that might surprise you about this chart is that the Mirror is one of the cheaper options available for high-tech fitness equipment.
Only FightCamp equipment costs less, and it doesn't have much tech integration besides sensors you use in your gloves, meaning that you'll need to provide your own screen to complete the workouts.
Likewise, the subscription cost for Mirror is the same as Peloton and FightCamp and less than what you'll pay for Tonal. However, you're more locked into a subscription with the Mirror than with any of the competition.
If you choose to opt out with any of these other companies, you still own a spin bike, treadmill, weight lifting machine or boxing equipment. Cancel your account with Mirror and all that's left is a pricey mirror.
It's also worth pointing out that Peloton has expanded its content offerings in recent months to include floor workouts like yoga and cardio classes. This means that Cycle or Tread owners gain access to these classes with their monthly subscription.
Overall, the value you get from Mirror depends on how well the device delivers on what it promises. To get an answer to that, we looked at the responses from previous users.
What Do Customer Reviews of Mirror Tell Us?
The Mirror was still a newcomer to the home fitness scene when we wrote this review, but we found some reviews of the device on the company website, Instagram, Gizmodo.com, and the Apple App Store.
Overall, the initial reception for the Mirror is positive. A few Instagram commenters wrote that they wished the Mirror was slightly larger, as it was difficult to see their reflection while doing floor workouts and the optimized height for setup could vary between family members.
We also read reports from group-class enthusiasts who said that the Mirror gave them an equally challenging workout and that it made scheduling in exercise easier than ever because of the flexibility and variety of classes.
Many people reported that they liked controlling the device through their smartphone, though they wished it was compatible with voice commands.
The Mirror instructors also won points with participants for their personalities and ability to keep them engaged in the workout, even though the long distance. A few people reported that the camera and microphone freaked them out because they kept the Mirror in their living rooms and they weren't sure whether it was watching them when not in use.
Another positive many people reported about the Mirror was the ability to add their playlists from Spotify to the workouts. This gives the classes an extra level of customization not often found in home fitness equipment.
Our Bottom Line: Should You Commit to Mirror?
In light of this information, do we think you should consider the Mirror? Our answer is yes—if you can comfortably afford it.
This fitness device offers something unique in the industry by allowing users to see both themselves and an instructor at the same time. We think it's great that the company offers so many options for live classes and displays your biometrics in real time to keep you motivated.
However, it's possible to get a relatively comparable experience by streaming workout videos to your TV, exercising in front of a regular mirror, and wearing a smartwatch that tracks your heart rate. This kind of setup lacks the cohesion and classiness of the Mirror, but we think you'll get a workout that's pretty similar and will save hundreds of dollars in the process.
If you prefer live classes but struggle to fit them in your schedule or need the motivation of a fitness machine that stores all your workout information in one place, there's nothing else quite like the Mirror available.
However, if you purchase the Mirror, you need to keep in mind that you'll be locked into a subscription fee for as long as you want to use it. Once you stop paying to stream classes, you're left with a pricey piece of décor.
Take the time to evaluate your fitness needs carefully. You might find that the Mirror makes sense for you. But if you're looking for a lower price tag and more versatility from your fitness equipment, there might be better options available for you.
» Recommended Reading: The Beginner's Guide to At-Home Workout Programs: Important Things to Consider
Poor customer support - bad delivery!

By Bridget D.

,

Chicago, IL

,

Dec 10, 2019
Verified Reviewer

We ordered a Mirror and set up delivery to our home, it was delivered to our office instead. The driver set it up in our reception area because the office personnel signed for it before knowing what it was and then left the installation incomplete. We tried to call and email the Mirror company over the last two days with no response. If this is what their customer support is like and I have to work with them to take classes then I want to return the product. I submitted an almost identical product review on their website and it has yet to post. Feels like a company I don't want to conduct further business with.

Bottom Line: No, I would not recommend this to a friend

---

Advertisement

---