Peloton Bike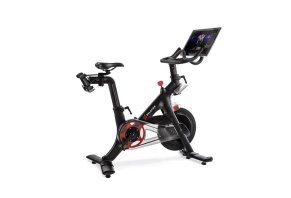 Peloton bikes let you connect to live and on-demand NYC studio spin classes (and more) from the comfort of your own home.
Peloton Bike Review: Is It Worth Your Money?
Home fitness equipment promises to give you all the benefits of the gym without any of the cost and inconvenience. But before you purchase, how can you tell whether a product will wind up used or abandoned in the basement?
Peloton promises to solve the problem of unused exercise equipment with its high-tech spin bike that gives you access to a passionate fitness community and thousands of engaging spin classes at any time.
In this review, we'll analyze what Peloton offers and compare it to the competition so you can determine whether to add this spin bike to your wish list.
What Is the Peloton Bike?
The Peloton bike is a spin bike with a screen that lets you take boutique fitness classes from home.
With this bike, you can live-stream workouts from the company's NYC studio, compete against others on a leaderboard, and get shoutouts from instructors when you reach key milestones.
Peloton's goal is to help you get rid of the mental and physical barriers associated with getting to a physical fitness class. When you own a Peloton, you can workout anytime- no commute required.
High tech spin bike with 22" LCD touchscreen
Access to 5000+ on-demand classes and 20+ live classes daily
Compete against others in real-time with leaderboard
Wide variety of class and music styles
Complimentary access to the Peloton app for other workout options
The bike costs about $2,500 with accessories and requires $39.99/month subscription
Repairs may take several weeks, depending on the crew's availability
More expensive than the competition
The screen can't be used for other purposes if you cancel your subscription
How Does the Peloton Bike Work?
The Peloton bike is essentially a magnetic resistance spin bike with a 22-inch touchscreen on the front. The bike's footprint is approximately 4' x 2', and you'll need to put it somewhere near a power outlet and a strong WiFi connection to use it.
While the bike can be used like any other spin bike, what sets it apart is integrated access to Peloton's studio classes. The company live-streams approximately 20 classes from their London and NYC studios daily, and these workouts are added to the continuously-growing on-demand library soon after.
You can choose from just under 5,500 spin classes, ranging in length from five to 90 minutes. The workouts vary in difficulty, class format, instructor, and music genre, and it's possible to filter your search by these parameters. Here's an example of some of the most recent class options.
20 Minute 80's Pop Ride with Denis Morton
20 Minute Beginner Ride with Cody Rigsby
45 Minute Tabata Ride with Ally Love
30 Minute Intervals and Arms Ride with Tunde Oyeneyin
45 Minute Heart Rate Zone Endurance Ride with Christine D'ercole
30 Minute Electronic Dance Ride with Matt Wilpers
As you take a class, you'll see your workout stats displayed on the screen. These include your pedaling cadence, resistance level, total power output, heart rate (if wearing a monitor), and more. You can track your stats against the cues that the instructor is calling out.
Your ride experience will vary slightly depending on if you take a class live or on-demand. Live classes get a real-time leaderboard that lets you compete against everyone else who is taking it. It's possible to filter the leaderboard to a specific gender, age range, location, or to hide it completely.
The instructor can also see your stats when you take a ride live. If you are reaching a milestone (such as your 100th ride), they might give your leaderboard name a shoutout.
When you take a class on-demand, you can compete against a "here now" and "all-time" leaderboard to see how you stack up against others who have taken it. The main difference from a live ride is that fewer people are likely to be taking it simultaneously and there's no chance of a shoutout.
Note that the only way to take these classes is to purchase a bike subscription, which costs $39.99 per month. Without this subscription, you are limited to three 45-minute workouts included on the bike and a "free mode" where you can bike in front of a blank screen that displays your workout stats.
Beyond spin classes, a Peloton membership also gives you access to a variety of other kinds of exercise. These include:
Strength
Yoga
Meditation
Cardio
Stretching
Outdoor Running (audio only)
Running
Walking
Bootcamp (workouts that are split between strength training and running on a treadmill)
You can access these classes through the bike's touchscreen or through the Peloton App, which is complementary for bike owners (it costs $12.99/month for everyone else). Some of these additional classes, such as certain strength training sessions, take place on the bike. Others work best if you play them through a separate device so that you have a better viewability angle.
Peloton Instructors
There are close to 20 Peloton instructors at the company's NYC studio alone. They vary in age, teaching style, and qualifications, and most have massive social media following thanks to their Peloton fans.
While Peloton instructors are usually leading classes with in-person participants, they put a lot of their focus on the camera that's live-streaming them. This is meant to help home riders feel connected with the rest of the class and motivated to keep showing up.
Some Peloton instructors, such as Matt Wilpers, take a technical approach to train with data-focused Powerzone classes. Others, like Cody Rigsby, keep the sessions lighthearted with pop music playlists. Still others, such as Ally Love, pepper their classes filled with encouragement for anyone who might be going through a hard time, exercise-related or otherwise.
Most Peloton riders have their favorites, so you might need to try out several classes until you find the instructor that resonates with you.
What Does the Peloton Bike Cost?
The amount you'll pay for Peloton depends partly on your payment plan and the accessories you purchase. This chart highlights the available options:
| | Basics Package | Essentials Package | Works Package | Family Package |
| --- | --- | --- | --- | --- |
| Price | $2,245 | $2,404 | $2,494 | $2,694 |
| Price Per Month Through Affirm (0% Interest, 39 Months) | $58/month | $62/month | $64/month | $70/month |
| What's Included | Bike, delivery and setup, one year limited warranty | All previously mentioned plus spin shoes*, hand weights, and Bluetooth headphones | All previously mentioned plus heart rate monitor and bike mat | Bike, delivery and setup, one-year limited warranty, two pairs of shoes, headphones, heart rate monitors and water bottles, and one bike mat and set of hand weights |
*Peloton bikes include LOOK Delta Compatible aluminum pedals. This means you will need to use spin shoes with Delta clips to use it.
Note that these prices don't account for the $39.99/month membership fee, which you will start being charged as soon as your bike arrives.
Peloton offers a 30-day home trial for new bike users. This allows you to try out the bike for thirty days. If you don't like it, you can request a full refund and the company will pick the bike up. This refund also includes all accessories and your first month's subscription.
All Peloton purchases come with 12-month parts and labor warranty. If any part of your bike breaks down within that time frame, Peloton will cover the costs for replacement parts and send out an authorized Peloton technician to complete the repairs free of charge.
The best way to contact the company is through their online chat profile on the official website, or at (866) 679-9129.
Analysis of Customer Reviews
We looked at Peloton bike reviews across a variety of platforms, including here at HighYa and Peloton Facebook pages. Here's a summary of the main takeaways from these reviews:
Stable, Well-Built Bike
A clear majority of Peloton users love this spin bike. They write that it is well-built and barely budges while they ride it, even when placed on the carpet. Many also mentioned that the bike was extremely quiet when they were cycling on it and that the 22-inch touchscreen was perfect for following the workout classes.
A few people mentioned that they had maintenance issues with the bike like broken wheel bearings, stripped pedals, and malfunctioning screens over the time they owned it, but that the company responded promptly and sent out a tech crew to fix it when necessary.
Wide Variety of Challenging Workouts
Peloton's key selling point is its classes, and customer reviews show that they don't disappoint. Users rave about the convenience of taking studio-quality spin workouts at home, and many appreciate how many options there are to take live classes throughout the day.
Many reviewers also appreciated that their Peloton membership gave them free access to the Peloton App, which included options for yoga, running, strength training, boot camp workouts and more.
Good Motivator to Workout at Home
A big selling point for many reviewers was that the Peloton allowed them to work out when convenient for their schedule. This meant mothers with young kids didn't need to find a babysitter before going to the gym, and city dwellers didn't need to suffer through another round of traffic to get fit.
The bike also resonated with people too intimidated to join an in-person fitness class. The Peloton allowed them to work out in the privacy and not worry about sweating in front of strangers. Likewise, many people found the class leaderboards kept them more engaged and committed to pushing themselves.
Promoted Long Term Use and Weight Loss
What set the Peloton apart for many users was that they kept wanting to use it. Many reviewers wrote that they had lots of home fitness equipment collecting dust in their homes, but that they looked forward to using the Peloton even years after they first purchased it because the classes and community continued to be engaging.
Many experienced real benefits from this regular exercise and reported that they had lost dozens of pounds, improved their fitness stats, and lost inches around their waistline after several months of regular use.
Quality Concern Issues
Some Peloton customers didn't have a positive experience from a quality standpoint. Some wrote that their bikes arrived dented or damaged, or that the bearings went out after just a few weeks of use.
Though most had the issues resolved by Peloton's repair theme, they resented how long the process took.
Confusion with Subscription Costs
In many cases, reviewers were blindsided by the cost of the bike, as they didn't know that they needed to pay a $39 monthly subscription fee to access classes. Many of these reviewers wrote that they wished they had bought a cheaper spin bike and used the $13-per-month Peloton app instead.
Key Takeaways
Overall, these reviews show that the majority of people who buy the bike seem to love it. Exercise enthusiasts and couch potatoes alike raved about how much they enjoyed using it.
The biggest problems from a customer perspective seem to be price and that the equipment is prone to breaking down, and that it can take a while to get it fixed. Those who have a functioning bike seemed to have little to complain about.
Peloton Bike vs. Other Home Spin Class Bikes
Buying home fitness equipment like the Peloton is expensive, and several competitors have entered the market at a slightly lower price point. Below, we compare the features between Peloton, NordicTrack and Echelon:
| | Peloton Bike | NordicTrack Commercial Studio Bike | Echelon Connect Bikes |
| --- | --- | --- | --- |
| Equipment Cost | Starts at $2,245 | Starts at $1,599 | Starts at $839.98 |
| Subscription Cost | $39.99/mo | $39.99/mo (first year free with purchase) | $39.99/mo |
| Class Types | Metrics-based spin classes that give you cadence, resistance and power targets, plus access to off-bike workouts | High-energy spin classes, instructors control your machines decline, incline, and resistance levels | High-energy spin classes and "FitPass" access to trainer-led yoga, stretching, meditation, kickboxing, Zumba, and more |
| Number of Available Spin Classes | 5,500+ | 100+ | 1,000+ |
| Live Classes Per Day | About 20 | N/A | 14+ |
| Key Details | Large community means lots of competition on the leaderboard and online support groups | You can choose to have the bike automatically adjust the difficulty setting depending on the workout | Most bikes come without a tablet so that you can use your own and keep costs lower |
As this chart shows, Peloton has the highest upfront cost for equipment, though each brand requires a $39.99 subscription to access its content. You'll get a year's subscription for free with NordicTrack, and Echelon offers subscription discounts with some of their bike purchases, but Peloton's subscription price doesn't fluctuate.
Unlike Peloton, both NordicTrack and Echelon offer several bikes to choose from. That lets you choose which features you want to pay for, and in Echelon's case, it allows you to buy a bike without a screen. That's significant because it means that you aren't locked into their platform forever with the bike.
In other words, you could follow either Peloton or Echelon classes (or another platform entirely) on an Echelon bike outfitted with your own tablet, but a NordicTrack and Peloton bike's touchscreens are limited to that company. If you stop your subscription, you can't use the screen for anything else.
Each of these bikes has its appeal, and choosing the right one for you depends on what you value.
Peloton has the highest price tag, the largest community, and the broadest range of classes. It makes sense for you if you want to feel like you are part of a bigger group and want ultimate flexibility in how you workout.
NordicTrack doesn't offer any live classes (yet), but its bikes are uniquely outfitted to adjust their difficulty level during the workouts. Those who struggle to push themselves hard enough when they are in charge of their own difficulty settings will likely appreciate this feature.
Finally, Echelon offers the most affordable tech-integrated spin class experience. You can choose from a range of bikes starting at $900, and it's possible to use your own tablet. Though the company offers less than a fifth of Peloton's on-demand workouts, this library is growing fast with 14 live classes each day.
Peloton Bike vs. the Peloton App
If you're not interested in dropping thousands of dollars on a Peloton bike, it's possible to enjoy much of the same experience by using the Peloton App with a regular spin bike. There are dozens of tutorials online that go into detail on what you will need, as well as a Facebook page dedicated to app users.
I personally have used the Peloton app for more than ten months, paired with a Schwinn spin bike and a Bluetooth cadence sensor and heart rate monitor. This setup lets me participate in both live and on-demand classes and monitor my cadence and exertion level (through my heart rate) directly through the app.
The biggest appeal of this approach is that you will save money. It's possible to buy used commercial bikes from fitness centers that are the same or better quality than a Peloton for about $500, and a cadence sensor and heart rate monitor for another $75.
This gives you an upfront cost savings of more than $1,500 over the Peloton, and you will continue to save money each month with the app subscription ($12.99) compared to the bike's subscription ($39.99).
Over one year of ownership, a Peloton Essentials Package ($2,404) plus a subscription ($480) will cost $2,884. Buying a different bike with accessories ($600) and using the app ($156) could cost you about $756 instead, a savings of more than $2,100.
Obviously, your numbers will vary significantly depending on the cost of your bike. But even if you buy a new spin bike at a similar pricepoint to the Peloton, you'll still save over the length of the subscription.
However, this stripped-down Peloton alternative has some drawbacks. You won't be connected to the leaderboard, which might decrease motivation for some people. Likewise, you will need to use another app to save your ride stats is you want to look at them later.
Using the Peloton app with a regular spin bike is an excellent option for anyone with access to spin bikes at the gym, anyone who doesn't want to be tied to a $39.99 monthly subscription, and anyone who doesn't want to own an exercise bike that's limited to one platform.
However, if the community leaderboard appeals to you, you don't mind paying more for premium equipment, and you don't want to go through the effort of rigging up your own system, then you'll likely be happier with a real Peloton.
The Bottom Line: Who Should Consider a Peloton?
For those who want the feeling of a studio spin class while working out at home, Peloton offers an industry-defining opportunity to get in shape.
If you can afford it, this bike can transform your approach to exercise by making it possible to follow an NYC studio spin class regardless of where you live and what your schedule looks like.
The primary thing to keep in mind before committing to Peloton is the price. Expect to pay about $3,000 for the first year of use and an additional $450 in subscription fees every year after. Though it's possible to continue using the bike if you cancel your subscription, you'll be left with an almost unusable screen in the front if you do.
However, $3,000 a year can be cost savings for you compared to attending in-studio cycling classes. SoulCycle, a leading spin class studio in the US, charges more than $30 per class at many locations. Once you use your Peloton 100 times, you're saving money compared to paying for the same number of SoulCycle classes.
Overall, we think Peloton makes sense for anyone who:
Loves instructor-led exercise classes
Wants to get in shape without going to the gym
Has a busy schedule and struggles to make it to in-person studio classes
Wants to save money on a gym membership or studio classes
Wants the accountability of an engaging virtual community and competitive leaderboard
Doesn't mind buying fitness equipment that's limited to a single platform
Intrigued by Peloton's virtual classes but not ready to pay the $3k price? Cheaper options are available from NordicTrack, Echelon, and the Peloton App. You can also try out the app for a thirty-day free trial. Our advice is to pair it with a regular spin bike and see whether you love the workout style enough to commit to the full system.
---
Overpriced and poor customer service

By Megan H.

,

Las Vegas, NV

,

Sep 29, 2020
Verified Reviewer

Length of Use: 6–12 months

Overall Experience:

We ordered the Peloton during the COVID pandemic. It took them 3 months to get us a bike, then of course we had to get our own help moving the bike in and setting it up. That stuff wasn't the issue. The issue was about 40 days after we got our bike they announced their new and improved bike and they wouldn't let us trade-in and pay extra for the new bike. It's in poor taste to sell something full price that you know is going to be outdated and not offer any solutions to an upset customer, especially after waiting months for the product to arrive. The bike is just ok. Technology isn't overwhelming but it does the job. There are other lower-priced alternatives that would work just as well and I regret my purchase mostly due to their poor customer service.

Pros and Cons:

No "pros" were specified in this review
Poor customer service
Technology lacking

Bottom Line: No, I would not recommend this to a friend

---

Customer service stinks

By Donna L.

,

Georgia

,

Sep 28, 2020
Verified Reviewer

Overall Experience:

My husband and I purchased our first Peloton in 2016 at a local store. We spoke at length with the clerk before buying. One of the things we talked about was the fact that we have a second home which we would eventually want to put a second bike in. He assured us that we would be able to use the single account for both bicycles. March/April of this year I went online to the website and began a chat session with one of the sales reps. I explained our situation and asked for reverification of my 2016 conversation, that we would be able to have 2 bikes at 2 different homes with one account. He assured me that we would. We purchased the second bike. Recently I realized Peloton was charging us for two accounts. I contacted customer support and was told that Peloton no longer allowed for two bikes to go on one account. I was told that Peloton changed its policy a year or so ago. That is the complete opposite of the commitment given to me.

I had to really insist to escalate to a 'manager' and he really blew me off.

If I had known they were going to charge me for two accounts then I would have purchased an Echelon for a lot less money.

Pros and Cons:

Good bike
Crummy, awful management and customer service
Liars

Bottom Line: No, I would not recommend this to a friend

---

Worst customer service

By William T.

,

Jacksonville, FL

,

Jun 2, 2020
Verified Reviewer

Length of Use: Less than 3 months

Overall Experience:

My bike was delivered inoperable. Called the next day.

They refused to fix it or pick it back up so I told them to come and pick it up under their 30-day warranty. They promised by email to come and get it on March 20th but it is still sitting in my house despite repeated calls and emails. Instead they keep trying to put the charge back through my credit card company.

Pros and Cons:

Delivered the bike when they promised
The bike delivered did not work
They won't pick up their inoperable bike
Customer service is not honest with their promises

Bottom Line: No, I would not recommend this to a friend

---

Overall Experience:

My complaint is not about the purchase of the bike nor the instructors. I have been very happy with both. However, it's the company itself and their attitude towards public negative feedback that has me concerned. Their Facebook page was set up to support Peloton customers. It should be a support group but instead, it has become a toxic environment where members attack each other while the admins look the other way until a complaint is actually submitted. A very constructive and popular post of mine was recently removed by the admins without any indication or reason given to me. The post did NOT violate any guidelines and trust me, I read the guidelines many times.

The post WAS very popular. In two hours' time it garnered over 100 positive likes. However, according to what I found out later from the admins, it took one or two people to lodge a complaint that prompted the removal. That's crazy. One of two people complaining is going to cause a post with over 100 positive likes to be yanked? What I believe happened is that the post made Peloton look bad. The post contained suggestions as to how Peloton could deal with additional music royalties they were facing. Members were very open to having ads before the workout.

The Peloton Facebook community is littered with rude and offensive posts. Members are constantly attacking other members. These kinds of posts remain on the site for days. The admins don't read the posts and basically don't monitor the page until someone complains. In the meantime, every week I see posts from members announcing their departure from the group because it has become so toxic. I love my bike. I love the instructors. However, there is a corporate attitude to stifle complaints on the Facebook page. The admins there are more busy removing posts that may offend company image rather than actually do what they are supposed to do - protect the members from being abused by others.

Bottom Line: Yes, I would recommend this to a friend

---

Advertisement

---

Misleading information and extra charges

By Terri O.

,

Kentucky

,

May 17, 2019
Verified Reviewer

Overall Experience:

Considering I read and re-read information about the Peloton Bike and my invoice for the shipment said $0 for the first year for the digital membership when all of a sudden, I am charged $39 for the monthly membership. I just received the bike yesterday with a shipping charge of $250, which is one thing, but when I called to complain about the charges, I am now returning the bike which is another $250 out of pocket. I think this is insane as I am returning the bike within the 30-day window and to not offer something to the customer when they lied on the invoice, too, is just horrible customer service. I will never buy anything with the Peloton brand on it...ever. They are making money off lies.

Bottom Line: No, I would not recommend this to a friend

---

Don't risk injury

By Jason C.

,

Cleveland, OH

,

Feb 26, 2019
Verified Reviewer

Overall Experience:

I have had two bikes since 1/7/2019...neither one has lasted more than 7 days due to bike pedal threads being stripped. Second time almost injured my wife as she was pedaling (pedal literally came out still attached to her shoe). It's obvious they don't care too much about the bike or the bike members anymore now that the Tread is in play. Their support even stated that they are so backed up due to all the focus being on the Tread. Was a new member...now no longer a member because of the fear of injury (from lack of product or install quality).

Bottom Line: No, I would not recommend this to a friend

---

Just ok.

By Mandi R.

,

Toronto, Ontario, Canada

,

Feb 19, 2019
Verified Reviewer

Overall Experience:

The only good thing about it are the classes with good instructors, and the fact that it's right there in your living room. Other than that, it's a rickety piece of plastic with horrible customer service. The associate knew nothing and didn't let me know to buy the shoes and hand weights - which of course isn't included for the $3k, and also failed to mention the sign-up fee for the classes - $50 a month for "subscription." I'm sorry, but better to work around the spin classes at your local gym if you ask me.

Bottom Line: No, I would not recommend this to a friend

---

Rip off, took bike and never gave refund!

By Zaneta Z.

,

Tampa, FL

,

Jan 12, 2019
Verified Reviewer

Overall Experience:

After countless mistakes, I get the bike. They set it up and before leaving tell me about an extra $41 a month indefinitely for "membership" after paying nearly $3000 for a bike! Worst thing was the guy says it's going to wobble due to your flooring. I don't want it then?! I told them it would be on the carpet. Then they tell me it will be $250 to take it back! I called arguing with Peloton and they said ok, they would pick it up (it had not been touched). They came and picked it up and I still HAVEN'T GOTTEN A REFUND! That was two weeks ago. I've been on hold for 50 minutes and the chat goes from 55 in the queue to 64. The whole company sucks, and I will sue if need be. Now the call hung up as a message stated they are closed!

Bottom Line: No, I would not recommend this to a friend

---

Broke in 8 days and horrible customer support

By Katie H.

,

Los Angeles, CA

,

Jan 9, 2019
Verified Reviewer

Overall Experience:

I have had nothing but problems. Late delivery and metrics stopped reading after 8 days of having it. Customer service has told me they would email and or call on 4 different occasions and on every single one they fail to do so. ABSOLUTE BS.

Bottom Line: No, I would not recommend this to a friend

---

Not satisfied

By Timothy H.

,

Belvidere, IL

,

Jan 8, 2019
Verified Reviewer

Overall Experience:

We received our bike today. We were recommended by a friend that told us when they took delivery of their bike they explained how to use the bike and set the bike up for them. Our delivery team DID NOTHING but drop the bike off and leave. We paid the same as our friend for the same service but because of where we live, Peloton told us that all we get because of where we live. REALLY, you had NO problem taking 3 grand for us. DO NOT buy this bike! They are a scam.

Bottom Line: No, I would not recommend this to a friend

---

Updated review

Revised my rating - one year of ownership

By Ted B.

,

Valley Park, MO

,

Jan 6, 2019
Verified Reviewer

Overall Experience:

So the experience of owning a Peloton has been inconsistent - and littered with issues since I started riding in February of 2018.

I've ridden about 5K miles this year - to be honest I am quite surprised that the bikes held up - yes, I said bikes. I took one break in September for a trip to Greece - so that's nine months of riding.

The first bike - bearings blew at 2K miles, so within four months, I had to have a technician do a repair for a new bearings kit on the flywheel. That's no easy task because what needs to occur post-replacement is what I call a tune - you have to make sure the flywheel and magnetic resistance are seated properly. I had issues with my resistance post-replacement.

Inevitably, I had to get new pedals and one of the pedals wouldn't even come off the bike. Tech was sent twice to get it off. The first time they almost broke the bike and a wall (yes, you read this right), and the second time they didn't have the right tools (above and beyond the wrench) for a scheduled repair. Amazing since it was a scheduled repair to get the crank and pedal replaced.

Then a new bike was ordered to replace. I received that bike - was able to ride it for about a month before the bearings blew again.

Note on this delivery - the people were awful at setup. A part that holds the cabling for the tablet to bike metrics recording fell off during setup and the installers wouldn't complete the install and left. I had to take apart the front sweat guard and reinstall the part - that's fine but shouldn't a new installation be one-and-done plug and play if it's meant to be delivered and setup? Is there a checklist to work here?

Another bike sent and received on December 30th - this was the mother of all bad things to ever happen. The guys showed up smelling like skunk (if you get my drift) and did a terrible job on setup once again. I should've called the cops on them to get them searched - if that would've happened I assume the brand would've taken a hit on social media and the media in general.

See the Jimmy John's story out today about a delivery driver who was stopped in Minnesota and hid his weed in a sandwich. True story. Cops smelled something and wala, you betcha - found weed IN THE SANDWICH while delivering to a customer. Amazing.

More - I had to take apart the front sweat guard (again on bike #3) to adjust the magnetic resistance because once I got to riding it was grinding on the flywheel at higher resistance levels. Add cosmetic blemishes to the handlebar and a possible issue with the seat axis - it looks like it's a 1st Gen to 2nd Gen refurbished model. Talking to tech support - they admitted it sounded like this was not a new bike but a refurbished/recycled bike sent to me.

A new bike and a new tablet are coming my way (if I can believe any of it). I got the warranty extended another two years for free (on bike #3 now going on bike #4), but I am not hopeful the bike will hold up to my training - I require 20-50 miles of riding per day, 500-700 miles per month, and I am aiming to get to 1K miles per month by next year. That's my training and I don't think Peloton was meant to do this, even though the price point is the same as a top-of-the-line Keiser, which is a studio-quality bike.

So I guess I am bought into the hype, thinking at the time of my first review on here months ago it was a great deal, when it appears otherwise. Until Peloton changes inside-out, I cannot recommend this product or service to anyone. Better off getting the Keiser for the same money - comes with a 5-year warranty up front. Best bike on the market for indoor spin.

So I apologize for a review earlier this year that labeled this as a great sensation - service has changed considerably since I owned it at the BOY, and it appears the company is growing too quickly and can't keep up with the demand and certainly, the quality of the bike feels compromised.

Thank you.

Bottom Line: No, I would not recommend this to a friend

Previous review
May 22, 2018

Incredible machine

The best purchase I've ever made. I get great customer service on all of my questions. No mechanical issues with the bike - so crossing my fingers there. Workouts are awesome. I can mix and match, and my rides go 90 minutes at times. Totally revamped how I approach my gym workouts; I can really concentrate on strength and core, and train for the bike. I already surpassed the Century ride and did it in NYC. I am now finishing top 5% or even <5% in less than three months. Just amazing stuff. I recommend this to anyone.

(

read more

read less

...)

---