Bowflex Max Total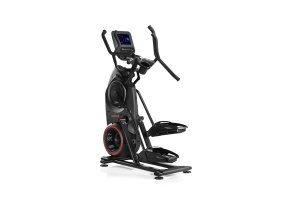 Summary
The Bowflex Max Total is the company's top of the line cardio machine, and it's designed to give you an intense total body workout in 14 minutes a day.
Pros
The machine makes it possible to perform steady-state and HIIT exercise
More efficient than many cardio workouts
Workouts challenge arms and legs at the same time
The tech-integrated machine includes a built-in LCD screen
The complementary app gives you access to workout programs
Cons
Pricey
Included screen means you can't save money by using your own
Requires a $19.99 subscription for access to fitness classes
Bowflex Max Total Review: Is It Worth It?
Medically Reviewed by Anthony Dugarte, M.D., C.S.C.S
Home fitness equipment is always popular, but all too often, today's need-to-own equipment becomes tomorrow's clothing rack. Buying machines that you will use for the long run takes a careful analysis of your fitness needs and preferences, and what the equipment offers.
The Bowflex Max Total Trainer promises to eliminate your home exercise fatigue with a machine designed to give you an intense workout in less time, and an engaging platform of fitness classes to keep you inspired.
This article will look closer at the Bowflex Max Total to help you decide whether you should add it to your home gym.
What Is the Bowflex Max Total Trainer?
Bowflex is a brand of home fitness equipment designed to give you an intense, low-impact workout quickly. The Bowflex Max Total is the company's top-tier offering, and like its predecessors, it operates similarly to a combination of an elliptical and a stair-stepper that works your arms in the process.
This high-tech device is targeted towards those who want to burn calories quickly from the comfort of home. They want a sturdy piece of equipment and the benefits of virtual coaching, but they don't want to spend hours each week getting fit.
The Bowflex promises to get you burning calories at 2.5 times the rate of using a treadmill in 14 minutes.
Does It Deliver a Good Workout?
Bowflex promises to deliver users an intense workout experience that targets the whole body. The company claims to put the focus on "human movements" to improve your functional fitness.
The machine comes with 20 levels of resistance, which means that you can customize each workout to match your fitness level. Its low-impact movement style reduces irritation on joints, which makes it easier on your knees than traditional cardio exercises like running or climbing stairs.
Part of Bowflex's appeal is that the machine works your arms at the same time as your legs. This lets you exercise more muscles at once than a treadmill, stair stepper, or spin bike, which can lead to more calories burned in the same amount of time. However, this also increases the intensity of the workout, so you will feel like you exerting yourself more.
Key Takeaway
As with all fitness equipment, the Bowflex will only give you a good workout if you put in the effort.
The machine's smooth movements, guided classes, and adjustable resistance levels make it possible to push yourself hard regardless of your fitness level, but it's up to you to keep yourself accountable.
Built-In Tablet and JRNY App
One thing that distinguishes the Max Total from previous Bowflex machines is the built-in Samsung touchscreen. Besides using it to access the company's workout platform, you can also use it to stream Netflix, Amazon Prime, or Hulu while you work out.
JRNY is Bowflex's designated app for Max Trainer M6, M8, and Max Total (it's not compatible with the earlier version, M3). You can access the app through the Max Total's built-in Samsung LCD screen. Other Bowflex models require you to use your own tablet and pair it via Bluetooth.
This subscription service lets you get coached and motivated with personalized workouts led by virtual trainer "Max."
When you use the app for the first time, you will take an initial fitness assessment test. This gives the app a sense of your baseline fitness, and it will adapt as your fitness level changes over time.
The app then creates customized workouts based on your fitness level and workout history. You can adjust the length and difficulty of each workout in order to meet personal calorie-burning goals.
The app will give you real-time feedback and tracking, along with virtual rewards meant to keep you motivated to stay committed.
There is also an on-demand library of workouts led by professional trainers.
If you cancel your JRNY subscription after the included free year of membership, you can still access seven built-in workout programs. These include 7, 14, and 21-minute intervals, as well as an upper body, calorie burn, fat burn, and stairs workout.
Workout Programming
Whether you opt for traditional, steady-state cardio or take advantage of the available high-intensity interval training (HIIT) workouts, daily exercise is related to a variety of physical and mental health benefits.
Adults should get 150 minutes of moderate or 75 minutes of vigorous-intensity exercise each week; this is 10-20 minutes each day depending on the exercise of your choice. Two or more days of strength training each week is also recommended.
In addition to manual settings, the Bowflex Max Total boasts a number of customizable plans ranging from 4 to 30 minutes of exercise:
Steady-State Cardio
This style of exercise involves the maintenance of the speed and intensity of exercise throughout the duration of the workout.
Pros:
As this form of exercise is submaximal, it can be comfortably carried out for longer durations.
It increases cardiovascular endurance.
It increases the aerobic capacity of slow-twitch muscle fibers and increases fat metabolism.
Cons:
As the effects of exercise are cumulative, longer periods of time are required to burn more calories and develop aerobic capacity.
Long bouts of daily exercise can lead to overuse injuries, though this is less of a risk with low-impact trainers such as the Bowflex
HIIT
This type of exercise involves cycling between bouts of high intensity and recovery.
Pros:
HIIT can result in greater calorie expenditure and aerobic capacity in shorter bouts of exercise.
Calorie expenditure that results from exercise is not restricted to the activity itself but continues beyond the workout.
HIIT targets fast-twitch muscle fibers while boosting hormones that promote the development of muscle.
Cons:
Soreness is more likely due to associated muscle damage during activity.
HIIT has been demonstrated to be less enjoyable than steady-state, and also more likely to result in muscle strain.
Both styles of exercise are possible with the Bowflex. They can be used exclusively, or in a program that includes both styles of training. The latter likely provides a more comprehensive plan of exercise.
Exercising at low intensities for prolonged periods of time would reap the cardiovascular benefits, though the muscular strength component would be minimal. If you're interested in hitting your weekly recommendations, this would necessitate 2 strength sessions beyond your steady-state training – not ideal for those pressed for time.
On the other hand, HIIT offers both a cardiovascular and strengthening component. Particularly on the Bowflex Max Total as it offers "upper body power training." This allows for your arm movements to be resisted – providing a total body workout without the need to strength train in addition to this session.
Key Takeaways
The Bowflex Total Max offers the ability to perform steady-state and HIIT training. Both are beneficial and would serve to get you well on the way to meeting the daily recommendations for physical activity.
Steady-state cardio is a proven method for boosting endurance, as well as reducing the risk for heart disease, diabetes, and obesity, though this style of exercise is time-intensive and without a significant muscle strengthening component.
HIIT may give you more bang for your buck as it offers many of the benefits of steady-state exercise, in less time. It also allows for more muscular strengthening.
It is likely that regardless of which exercise program you choose, that you will burn more calories compared to other forms of cardio (jogging, for example) as this piece of equipment is able to engage your upper body with resistance.
Pricing and Refund Information
The Bowflex Max Total costs $2,799. You can also purchase in-home assembly ($169) or a parts and labor protection plan (three years: $199, five years: $259). Standard shipping will be an additional $150.
If you are unhappy with the machine, you can contact Bowflex's customer service within six weeks of delivery. They will give you a Return Merchandise Authorization number (RMA) which qualifies you for a full refund, minus shipping and handling.
The Bowflex Max Total comes with a year's subscription to the Bowflex JRNY app. This subscription will cost $19.99 per month after the one-year point unless you cancel.
Bowflex Max Total Trainer Compared to Other Fitness Equipment
| | Bowflex Max Trainer | Peloton Cycle | Tonal | Mirror |
| --- | --- | --- | --- | --- |
| Workout Target | High intensity, low-impact cardio workout that combines movements of an elliptical and a stair stepper | Join live and on-demand spin classes, members also get access to the Peloton app with running, strength, meditation, yoga, stretching, bootcamp, walking, and cardio workouts | All-in-one equipment for building strength through weight lifting | Virtual cardio, yoga, boxing classes and more offered through an interactive mirror that looks like décor when not in use. |
| Equipment Cost | $2,799 | $2,245, plus about $150 for shoes, weights and headphones | $2,995, plus $495 for Smart Accessories (handles, bar, rope, bench, mat, and roller) | $1,495 |
| Shipping Cost | $150 | Included with purchase | $250 | $250 |
| Monthly Subscription Cost | $19.99/month | $39.99/month | $49.99/month | $39.99/month |
| Is Free Membership Available with Purchase? | Yes, the first twelve months are free | No | No, all purchases require a 12-month subscription commitment | No, all purchases require a 12-month subscription commitment |
| Is subscription Necessary for Workout? | No, the machine comes with built-in workouts and can be used without a class. | No, the machine comes with three built-in classes, and the screen will display cadence, resistance and output information when cycling without a class. | No, digital weight functionality is available without a subscription | Yes |
As this chart shows, each company charges a hefty price for your initial equipment purchase, and you'll then need to pay for a subscription to continue using it as designed.
At $19.99 per month, a Bowflex JRNY subscription is approximately half the cost of the competition, and you get a full year free when you first sign up. In contrast, both Mirror and Tonal require you to commit to a year-long membership at full price when you purchase the equipment.
One thing that makes Peloton, Tonal, and Mirror stand out from Bowflex is the greater variety of workout options.
Peloton subscribers can use the company's app for free, and it includes running, strength training, and yoga classes, among others. Mirror classes are equally versatile, as they include Pilates, Barre, yoga, cardio, boxing, and more. Tonal workouts are all strength-based, but you can choose between classes that target different muscle groups.
Bowflex, in contrast, operates solely as a cardio machine. Though you can change the resistance levels and class style, you will still be performing low-impact cardio movements similar to a stair stepper and elliptical.
Key Takeaways
The Bowflex Max Total is approximately the same cost as buying Peloton Cycle or Tonal, though you'll save money on monthly subscription costs.
But, while the three other brands we looked at offer versatility in their exercise options, Bowflex users are limited to low-impact cardio workouts.
Analysis of Customer Reviews
We looked at online reviews for the Bowflex Max Total from a variety of sources, including the company website, home fitness blogs, and equipment review websites.
Built-In Tablet a Progressive Feature
The Max Total stands out from other Bowflex machines because of its built-in touch screen, and reviewers seem to think it's worth the upgrade. Many wrote that it put the Bowflex line on par with other high-tech cardio equipment and that they appreciated that they didn't have to keep their phone or tablet on hand to follow classes.
Good Variety of Workout Options
Max Total reviewers wrote that they appreciated the variety of workout options available with the machine. Many loved the built-in workout options and that they could switch between 20 resistance levels. Others praised the machine's Max Intelligence feature for consistently creating workouts that matched their current fitness level.
JRNY App Is Helpful and Valuable
The Bowflex JRNY app has earned 4.3 stars on Google Play after more than 350 reviews. While some users experienced technical difficulties getting the app to connect with their machine, most loved its workouts and found it to be an effective way to work out.
Too Expensive for Benefits
At almost $3,000 per machine (not counting monthly subscription costs after the first year), the Bowflex Max Total is pricy compared to other fitness equipment. Some reviewers wrote that the upgrades to the Max Total didn't seem worth the extra cost, so they chose to buy different models of Max Trainers, priced between $999 and $2,299.
Intense, Quality Workout
We found only glowing reports from reviewers about the effectiveness of this machine from a workout perspective. Many wrote that they had lost dozens of pounds after a few weeks of use and that they didn't tire of the workouts or exercise style. Others noted that they thought the machine was one of the best ways to get an intense cardio workout without hurting their joints.
Key Takeaways
For those who can justify the cost, the Bowflex Max Total seems to be the best Max Trainer on the market. Users love the workout style, built-in tablets, and overall equipment quality, and many successfully used the machine to lose weight and seemingly keep it off long-term.
The Bottom Line
The Bowflex Max Total is a tech upgrade over the company's other fitness trainers, but it still offers a similar high-intensity, low-impact cardio workout. If you enjoy working out at home and want to maximize the effectiveness of your workouts in a short amount of time, then Max Total is worth considering.
Before you make a purchase, you'll need to decide whether the built-in touchscreen is worth spending more for the Max Total, or if another Bowflex machine is a better fit for your needs.
For example, the Max Trainer 8 includes a full-color interactive display, but you will need to use your smartphone or tablet to access the coaching and classes available on Bowflex JRNY. It costs $2,299 compared to the Max Trainer's $2,799, though it only includes a two-month subscription to the app.
This high-end fitness machine isn't for everyone. Below is a summary of who can most benefit from it.
Right for You If:
You don't mind paying more for a fully integrated tech experience
You want an all-in-one cardio workout that targets arms, core, and legs
You have injuries or otherwise need to do low-impact exercises
You are self-motivated enough to work out from home with virtual classes
You want to get in quick, effective workouts for more efficient calorie burning
Not Right for You If:
You get bored doing the same kinds of exercise regularly
You prefer the accountability of working out in classes or with other people
You don't want to pay more for a top of the line, tech-integrated equipment
Your goal is to bulk up, rather than lose weight or get in better shape
Customer Reviews