ZQuiet Reviews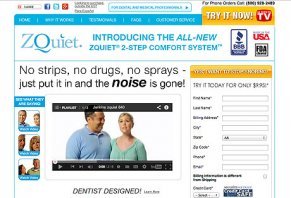 ZQuiet is a patented hinged mouthpiece device that claims to gently advance your lower jaw to help you stop snoring and to help you achieve a good night's rest.
About ZQuiet
Designed in conjunction with sleep specialist Dr. Avery Lieberman, DDS, ZQuiet claims to be a 2-step hinged mouthpiece that helps you stop snoring, and helps you and your family get the sleep they deserve. The ZQuiet's patented design is claimed to feature 2 unique mouthpieces that can help you effectively stop snoring, and its low profile is claimed to allow your mouth to move freely and for you to breathe normally. Because of this, ZQuiet is claimed to be comfortable and easy to use.
In your struggle against snoring, you may have tried a variety of breathing strips, pillows, chinstraps, and even sprays to eliminate your snoring. But when it comes to ZQuiet, can it really stop your snoring? And if so, is it worth the price?
How Does ZQuiet Claim to Work?
Made from a soft thermoplastic elastomer, ZQuiet is a dual mouthpiece that claims to widen your airway by gently advancing your lower jaw (known as mandibular advancement), which creates greater airspace in the back of the throat in order to prevent tissue vibration. In addition, ZQuiet's patented "Living Hinge" technology is claimed to allow natural breathing through your nose and mouth using specially designed airflow posts, which eliminate discomfort from having a clenched jaw all night, while its "springy" design keeps it in place.
ZQuiet is claimed to work immediately right out of the box, with no fitting required. Simply "put it in a the noise is gone." Depending on how much opening your throat requires, the manufacturer recommends starting with Comfort 1 (e.g. Level 1) and moving to Comfort 2 if you need additional lower jaw advancement.
More ZQuiet Features
According to the ZQuiet website, the anti-snoring device is manufactured in the USA and is FDA cleared, and is designed to fit men and women of varying mouth sizes. In fact, ZQuiet's soft, flexible, non-toxic, odorless, and tasteless (no latex and no BPA) material is claimed to be specially formulated for medical devices, and to fit 97% of all mouths.
ZQuiet is claimed to be completely safe and effective, and that you should expect results the very first night using it. Once you're finished, the manufacturer claims that ZQuiet can be cleaned using a toothbrush with warm water and mild soap (detailed cleaning instructions can be found here). As long as your ZQuiet is properly cared for and cleaned regularly, the device is claimed to last between 2 months and one year, depending on your jaw strength.
ZQuiet Pricing and Refund Policy
ZQuiet is only available through the manufacturer via 30-day trial, which will cost you $9.95. Once your trial has expired, you'll be billed $79.95 for the full price of the product.
You can also just buy the whole system directly for $59.96 (plus S&H) should you decide not to go through the trial-route.
Your ZQuiet order will include the following:
ZQuiet 2-Step Comfort System
Travel case
Instructions for use
In addition, you'll also receive 2 free booklets:
25 Tips for a Better Night's Sleep
25 Ways to Enhance Intimacy in Your Relationship
In order to return your ZQuiet mouthpiece during the 30-day trial, you'll need to contact customer service at 800-281-0543 to obtain an RMA. However, keep in mind that you will not get your original $9.95 back, and you'll be responsible for shipping charges back to the manufacturer.
What Do Other Consumers Have to Say About ZQuiet?
Overall, it appears that ZQuiet has a primarily positive online reputation, and although there are very few customer reviews, there are numerous professional ones available (e.g. on websites that specialize in anti-snoring products).
However, although many of these sites claimed that ZQuiet is comfortable for a wide variety of mouths, the most common complaint was that the mouthpiece didn't fit well and that it was too uncomfortable to wear all night. Other common complaints included that it may be effective at reducing snoring, but not necessarily eliminating it, and that it won't have the same precision fit as a "boil and bite" mouthpiece.
ZQuiet is manufacturer by Sleeping Well, LLC based out of Shelburne, VT, and holds an A+ rating with the BBB, with 6 complaints (as of 12/29/19). Among those available for review, some of the most common complaints cited difficulty processing refunds, and credit card charges being processed without authorization. However, it appears that the company swiftly responds to complaints.
Can ZQuiet Really Help Stop Your Snoring?
Considering the immense impact your snoring can have on your family, you'll probably try anything that promises to help you stop. But is ZQuiet a tried and true method of accomplishing this? Perhaps, but consider the following:
Is There Any Clinical Evidence?
While the ZQuiet website doesn't provide any clinical evidence to support its efficacy, mouthpieces such as these are widely regarded by medical professionals as one way to help individuals suffering from snoring and obstructive sleep apnea. According to this article, "Oral devices have been shown to have beneficial effects relating to several areas. These include the polysomnographic indexes of OSA, subjective and objective measures of sleepiness, blood pressure, aspects of neuropsychological functioning, and quality of life."
With this said, according to the product's website, ZQuiet is not intended to address sleep apnea (only snoring), and it should not be used if you have full dentures.
FDA Cleared vs. Approved
Despite its seeming effectiveness, keep in mind that although ZQuiet is claimed to be FDA approved, this should not be confused with FDA cleared. According to the FDA, "cleared is defined as, "medical devices are ones that FDA has determined to be substantially equivalent to another legally marketed device," while "approved" is defined as "medical devices are those devices for which FDA has approved a premarket approval (PMA) application prior to marketing. This approval process is generally reserved for high-risk medical devices and involves a more rigorous premarket review than the 510(k) pathway."
In layman's terms, while obtaining an FDA cleared designation is nothing to scoff at, in the instance of ZQuiet, this simply means that an application has been filed with the FDA, and that the mouthpiece is very similar to at least one other product on the market.
ZQuiet's Material
Although ZQuiet is claimed to be soft, flexible, non-toxic, odorless, and tasteless, and to contain no latex or BPA, keep in mind that thermoplastic elastomers are a combination of plastic and rubber, so there is still some potential for allergic reaction, especially if you're sensitive to certain kinds of rubber.
Might Take Some Getting Used To
Next, although ZQuiet's one size fits all design is claimed to fit 97% of the population, the number one online complaint is that it was too uncomfortable to wear for extended periods of time. However, the manufacturer claims that ZQuiet can be cut and filed in order to provide a more comfortable fit.
Even with cutting and filing though, keep in mind that it may require an adjustment period of a few hours to a few weeks, mostly based on the conditioning of your jaw muscles. During the process, you may feel like your bite has changed, although this should go away within an hour of removing the device.
ZQuiet's High Price
ZQuiet may be considered expensive by some measures, especially considering the fact that it may need to be replaced as often as every 2 months if you have an especially strong jaw. However, the company does appear to offer a 2 for 1 "Friends and Family" discount if you find that it works well to prevent your snoring.
Also, although it's positive that the manufacturer provides a 30-day trial, keep in mind that you'll lose your original $9.95 if you request a refund, and you'll also be required to pay S&H charges when sending it back to the manufacturer.
Only Works When You're Wearing It
Finally, it's important to remember that ZQuiet is only effective when you're wearing it. In other words, it will not slowly adjust your jaw over time so that you can stop snoring, even without the device. In other words, you'll have to continuously use ZQuiet in order to prevent snoring.
Bottom Line
Considering the fact that ZQuiet may help you (and your family) sleep through the night without having to listen to your snoring, it might just be worth its weight in gold. However, be sure to take a snoring test to find out if you're a jaw snorer, otherwise, you could just be wasting your money.
Scam

By Michael Rice

,

Rio Rancho, New Mexico

,

Sep 7, 2015

I ordered the product and it did not stop or control my snoring. So I called there number 800-281-0543 so I could return the product. That number has been discontinued or is no longer in use, and they won't accept your return until you call for instructions to return. I tried their order numbers but never got past the computer generated person. They have a great system order. You pay and then get stuck with a useless product that you can't return due to a bogus phone number.

Bottom Line: No, I would not recommend this to a friend

---

Advertisement

---