Zyppah Rx Reviews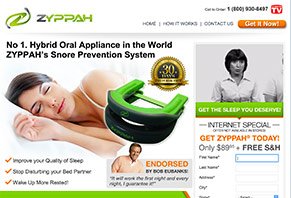 Zyppah Rx is a patent-pending anti-snoring mouthpiece that claims to combine mandibular advancement and tongue suppression to help put an end to your snoring.
About Zyppah Rx
Designed by Dr. Jonathan Greenburg and endorsed by Bob Eubanks, Zyppah Rx is a snore-prevention mouthpiece that uses a patent-pending elastic band to open your airway and comfortably stabilize your tongue, preventing it from falling back and blocking your airway. Because of this, Zyppah Rx is claimed to safely and effectively end snoring for good, and to be the "#1 hybrid oral appliance in the world" that can improve your quality of sleep, help you stop disturbing your bed partner, and wake up feeling rested.
Getting proper sleep is vital, not only for your quality of life (and others in your household), but for your overall health as well. So is Zyppah Rx's high price worth it, and can you reasonably expect it to help you stop snoring? We'll get to that in a moment, but first let's take a look at how Zyppah Rx stacks up against the competition.
Is Zyppah Rx Different from Other Anti-Snoring Mouthpieces?
Unlike many other anti-snoring mouthpieces, Zyppah Rx not only claims to position your jaw slightly forward (known as mandibular advancement), but to feature a unique "crossbar" that also prevents the tongue from falling and blocking your airway (known as tongue suppression).
Because of this, Zyppah Rx is also claimed to be effective for patients who suffer from sleep apnea, which is something that most other anti-snoring mouthpieces can't claim.
Fitting your Zyppah Rx is similar to many other anti-snoring mouthpieces, and uses a "boil and bite" process of submersing it in hot water, placing it in your mouth when still warm, and biting down while the soft material conforms to the shape of your teeth.
However, like other mouthpieces, you may experience some jaw soreness for about a week when you first begin using Zyppah Rx, although this should subside as your jaw muscles become accustomed to the new position.
Who Is Dr. Jonathan Greenburg?
Dr. Jonathan Greenburg was a practicing dentist until about 7 years ago when he decided to open five different Snore No More Centers across Southern California, which are "100% exclusively devoted to the treatment of snoring and sleep apnea."
Dr. Greenburg also has a background in bioengineering, which he relied upon when creating Zyppah Rx. According to Dr. Greenburg's bio, "He found a solution that worked not just for Snoring and Mild to Moderate Sleep Apnea patients but those with SEVERE Sleep Apnea as well. For many, they could now say good bye to the CPAP machine."
Can Mouthpieces Like Zyppah Rx Get Rid of Your Snoring?
According to HelpGuide.org, "Not all snoring is the same. In fact, everyone snores for different reasons. When you get to the bottom of why you snore, then you can find the right solutions to a quieter, deeper sleep." As you might imagine, this means that in order to effectively address your snoring, you first need to meet with your doctor to uncover the underlying cause, who can then recommend solutions based on your specific diagnosis.
With this said, snoring isn't only caused by your tongue falling back into your throat and blocking your airway, but can also be caused by soft tissues in your throat, alcohol use (especially right before bed), some types of medications, the pillows you use, the position you sleep in, and much more.
Because of these considerations, Zyppah Rx won't work equally well (or at all) for everyone. Once again, visiting your physician in advance can help you avoid wasting money on anti-snoring products that don't address your diagnosis.
We also recommend reading through our in-depth article, a Step-By-Step Guide to Finding an Anti-Snoring Product that Works, to help you find an effective solution based on your specific diagnosis.
Is Zyppah Rx Helping Customers to Stop Snoring?
SnoringMouthpieceGuide did an in-depth video review of Zyppah Rx, and noted that the fitting process was easy, and that they were pleased with the results. And after testing the mouthpiece for 2 weeks, the author claimed that Zyppah Rx helped them stop snoring, and that cleaning it was quick and easy.
Based on the placement of Zyppah Rx's tongue suppression band, our first thought was that the mouthpiece might not be ideal for individuals with sensitive gag reflexes. However, WithoutSnoring claimed that they were pleasantly surprised at how little the band was noticed when in place, and should be fine for most users. Unlike other anti-snoring mouthpieces though, they had to use a mirror to achieve an optimal fit.
Finally, SnoringDevicesThatWork appreciated Zyppah Rx's hybrid design, its effectiveness for stopping snoring, and its relatively small size. On the other hand, the author didn't appreciate that the mandibular advancement couldn't be adjusted, or that the fitting process was cumbersome.
From a company perspective, Zyppah Rx Inc. is based out of Carson City, NV. They hold an "F" Better Business Bureau rating based on 105 complaints (as of 3/23/19).
Zyppah Rx Pricing and Refund Policy
Zyppah Rx is priced at $89.95 plus free S&H, and includes the anti-snoring mouthpiece, a travel case, and a Better Night Sleep guide.
At the time of our research, a Limited edition Zyppah Rx Pink was also available, which provides a $5 donation to Susan G. Komen for each unit sold.
Zyppah Rx comes with a 30-day refund policy, less S&H charges. In order to request a refund, you'll need to contact customer service at (800) 875-3370 for an RMA number.
Should You Give Zyppah Rx a Try?
As we noted above, the primary factor that will determine whether or not Zyppah Rx can effectively address your snoring is the underlying cause. Because of this, you'll need to speak with your physician prior to purchasing any anti-snoring product.
With this in mind, if your snoring is caused by tongue obstruction, Zyppah Rx's unique design appears to work for most customers.
11 out 12 people found this review helpful

Rip off

By John C.

,

Florida

,

Dec 6, 2018
Verified Reviewer

The mouthpiece was returned to the address that was given to me. No refund, and I called and was told it went to the wrong address and they found it in the warehouse and I would get a refund. I waited and no refund. I called customer service on 10/29/18, 11/3/18, and 11/13/18 and every time I was told they would contact corporate and I would get an email and a refund. Nothing as of 12/4/18. I was told I could not contact corporate directly as they had no phone number. So evidently this guaranteed refund is a big scam. They just give you the run around until you give up trying. I won't stop just for the principal of it. Unethical businesses should be out of business. I will contact BBB, and I will research and see what else I can do and who else I can contact and report this con to.

Bottom Line: No, I would not recommend this to a friend

---

11 out 11 people found this review helpful

NO customer service

By Philip T.

,

Virginia Beach, VA

,

Nov 10, 2018
Verified Reviewer

I returned my device, exactly as directed in the email provided by Zyppah. The device was received by Zyppah on 10/18/18. After waiting for 7 days and not receiving my refund, we called the number provided, to check the status. We were told to wait 7 to 10 business days. We did, and called after 10 business days. We were told we would be contacted by corporate on two occasions. No one from corporate called. We called again, and yet again we still received no help.

I call again on 11/7/18, only to find that all this time we were only contacting a call center with NO authority to provide a refund. In fact, I was told that even the call center supervisor was unable to contact corporate by phone and they were not able to provide me ANY other contact information for their corporate office.

I find it very disturbing how a national advertised company has such a lack of caring for their customers, as to not even provide a transparent way of resolving customer issues. I will be informing the FCC, our Attorney General, and our local TV station, Wavy TV 10's 10 on your side. Realizing this is not a substantial amount of money, I may not get the help I need to recover my loss. But at least there will be a record of my complaint.

I truly hope that this review will alert others as to what they can expect should the devise not work for them. Disappointing to say the least! I will post an update when and if I receive any contact from Zyppah or if I receive my refund as soon as I can.

Bottom Line: No, I would not recommend this to a friend

---

Advertisement

---

4 out 5 people found this review helpful

Permanent mouth piece

By James U.

,

Colleyville, TX

,

Sep 1, 2018
Verified Reviewer

I used the Zyppah snore guard. When I wanted to order another device, the company told me that since I had sleep apnea and TMJ, I needed to get a professional mouthpiece. The best advice I had received. I found a dentist associated with Zyppah, and within a short time, I received my mouthpiece from Dr. Cook, from Fort Worth.

I did need to have another sleep study since the device was covered by Medicare and the requirement was to have a study within 5 years. Because of the study, my CPAP setting needed to be increased. I hate sleep studies, but it was a good thing to do.

I now get a restful sleep and wake up refreshed. My wife gets a good night cuz I no longer snore.

Bottom Line: Yes, I would recommend this to a friend

---

4 out 5 people found this review helpful

Works, takes time to get used to it

I have been using this for a month and a half. I had a CPAP machine for snoring (sleep study showed no stops in my breathing at all). My CPAP mask was ripping all of my hair out. I needed another option, and my dentist who wears this recommended it when I went in to talk with him about having an oral device made by him. So, I tried it.

It did take getting used to. I had a sore jaw and teeth in the mornings for about three weeks. The soreness went away within a few hours though. I did have excessive saliva too at first. This has gotten better as well. I sleep on my back, no problem with this now.

The only problem I am having is that the tongue band has gotten hard and is rubbing in my tongue and causing soreness. I called them and they recommended I remold with my tongue, relaxed, and do not bite down quite so hard. I did have a lot of the green stuff pushed out from biting too hard. I guess strength varies in people and can affect things when molding. They said to try this, and if that doesn't work, they will send me another and take care of me. So, so far my customer service experience was fine.

As for the device, I am sleeping better than I have in years. No snoring, and I was a closed mouth snorer who used to wake myself snoring. I am sleeping so heavy I don't even hear the things I used to hear easily. In fact, I am sleeping so much better that my body didn't know what to do at first. It was craving more sleep, I believe to catch up from lost sleep. I hope this helps someone in deciding on this. It was an adjustment, but I am so happy I stuck with it.

Bottom Line: Yes, I would recommend this to a friend

---

Advertisement

---

19 out 23 people found this review helpful

Didn't work

By Reese Hofler

,

Battle Creek, MI

,

Aug 27, 2017
Verified Reviewer

I bought this and it did not work. First of all, you drool all over your pillow, and you feel like you are choking on it. It is very difficult to breathe through the device. I returned it and never received a refund. Typical scamming BS.

Bottom Line: No, I would not recommend this to a friend

---

9 out 14 people found this review helpful

Did it for me and here are some tips

By Phil Cross

,

Houston, TX

,

Jul 27, 2017
Verified Reviewer

Zyppah mouthpiece significantly reduced my snoring. It became a real uncomfortable situation with my wife who was insisting I get a CPAP. I tried one and never really gave it a chance, but it was extremely uncomfortable. However, Zyppah was tolerable. The good thing about it if you don't get a good mold is you just boil the plastic and do it again. Mine started coming apart six months from my biting it, but I boiled it and made it like new.

Also, I recommend you use the plastic to cover the sharper edges and make it more comfortable. My overbite also did not allow me to use it right side up, so I use it upside down, and it doesn't pull my jaw out of the socket. Experiment a bit with it, and you may be able to get it comfortable.

Bottom Line: Yes, I would recommend this to a friend

---

19 out 21 people found this review helpful

Zyppah

By Richard Rey

,

Cheltenham, PA

,

Jul 20, 2017
Verified Reviewer

I was very skeptical to buy this device but with the 90-day money back guarantee I figured why not give it a shot. Well, it's been about three weeks now, and I will be returning the device as it does not prevent me from snoring. After molding the device to my mouth I found it very uncomfortable to wear. My jaw was sore, and I was salivating to the point where I couldn't fall asleep. The second night was a little better, and I was able to fall asleep after about 20 minutes. During the first two weeks, it was hit or miss as far as me being able to fall asleep.

The true test came when I went on vacation with my wife. Until then I was sleeping in a separate bedroom allowing myself time to adjust to the device. First night on vacation my wife woke me up after just sleeping for a couple of minutes telling me that I was snoring. The second night, same thing. I give up. It doesn't work.

Bottom Line: No, I would not recommend this to a friend

---

18 out 22 people found this review helpful

Shipping

By Scott Weiss

,

Illinois

,

Jul 17, 2017
Verified Reviewer

This did not work for me. And be careful, they will not give your shipping back and you have to pay to ship it back to them. It is nowhere on their website about this, very shady company.

Bottom Line: No, I would not recommend this to a friend

---

25 out 27 people found this review helpful

Zyppah falls apart too soon

I have had the device for about three weeks, and pieces are falling off. The tongue guard broke off in the third week and pieces of the teeth's setting material keep falling off.

I am not a fan for $100.00. I don't recommend it if it is only going to last a month.

Bottom Line: No, I would not recommend this to a friend

---

6 out 11 people found this review helpful

Smart packaging

I'm a truck driver. When I ordered my Zyppah, I had hoped there would have been the option to have it shipped overnight, but there wasn't. Even though I was home for five days, the Zyppah still had not arrived when it came time for me to go back out on the road.

I was impressed to see that they had designed the shipping box to fit through the mail slot. Thank you very much. Koodoes on the foresight. Last night was the first time I used the device. I assume it was working properly. I need to find a girlfriend to test it with. I'm sure at tonight's "Sleep Apnea" test they can tell me tomorrow morning.

Bottom Line: Yes, I would recommend this to a friend

---

20 out 24 people found this review helpful

Cheap garbage

This product MAY relieve snoring. It doesn't work on sleep apnea, although they will tell you it does (lie). Zyppah WILL and does fall apart after about three months, and then their great customer service will offer you a 20% discount to continue buying their cheap plastic garbage.

Do yourself a favor don't give Zyppah your money. They lie to customers and then insult them. Bad business practice.

Bottom Line: No, I would not recommend this to a friend

---