FootMedix by Dermal Medix Reviews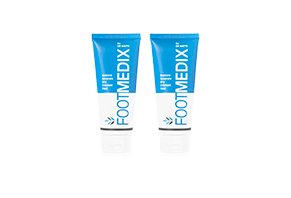 FootMedix by Dermal Medix is a doctor-formulated foot care cream that promises to moisturize and promote cell growth, repairing dry, cracked, callused feet.
What is FootMedix from Dermal Medix?
Formulated by Dr. David Watts, MD, FootMedix by Dermal Medix is a topical solution that claims to strengthen skin, stimulate new growth, and increase circulation, aimed at protecting and restoring severely dry, cracked, and painful feet.
In order to achieve this, Dermal Medix tells us that FootMedix's active ingredients—including the Nobel Prize-winning ingredient human epidermal growth factor (hEGF)—deliver "rapid healing," provide deep moisturization, and keep perspiration away from the skin.
In fact, Dr. Watts claims these ingredients will start working in just five minutes, regardless of your age!
According to the company, all you need to do is apply FootMedix to clean, dry feet twice daily, focusing on any areas where you're experiencing dry, damaged skin. While the exact results you'll experience will vary, Dermal Medix claims that many customers "feel and see a difference within just minutes of their first use."
Just because it's formulated by a doctor, though, can you expect FootMedix to leave you with healthier, more attractive feet? Is it worth the higher price? Let's take a look at the facts.
What Causes Calluses and Dry Skin?
Calluses aren't much more than the flat build-up of hard skin, usually located on the bottom of feet and hands and caused by repeated pressure or friction in a specific area. These are different than corns, which typically feature a soft core that falls inward.
Although not directly related, dry skin (insufficient moisture)—which is often caused by environmental factors like weather, humidity levels, hot showers, and more—can cause calluses to become increasingly uncomfortable.
In general, calluses cause little more than minor discomfort and can often be addressed by wearing shoes that fit, adding padding where needed, using salicylic acid to soften the callus (or soaking in warm water) and removing with a pumice stone, and more.
In some instances, you might need to visit your podiatrist for professional callus removal, and/or to purchase specialized orthotics that can help prevent calluses from getting worse, while relieving at least some measure of discomfort.
From a moisturization perspective, the American Academy of Dermatology recommends avoiding excessively hot baths or showers; using a gentle, fragrance-free cleanser, applying an ointment or a cream (instead of lotion) immediately after bathing, and using a humidifier at home, especially during the winter months when heat can dry out skin.
What about the ingredients in FootMedix? Will they deliver any better results than these suggestions?
What Ingredients Are Found In FootMedix and Is the Formula Clinically Proven?
According to the Dermal Medix website, FootMedix contains the following ingredients (only active ingredients are hyperlinked):
Water, Glycerine, Glycine Soja (Soybean) Oil, Emulsifying Wax NF, Butyrospermum Parkii (Shea Butter) Dimethicone, Alcohol, Cetearyl Alcohol, Simmondsia Chinensis (Jojoba) Seed Oil, Propylene Glycol, Glyceryl Stearate, PEG-8, PEG-100 Stearate, PEG-40 Stearate, Beta-Glucan, Glyceryl Caprylate, Tocopheryl Acetate, Panthenol, Clotrimazole, Human Oligopeptide-1, 1,2-Hexanediol, Caprylyl Glycol, Disodium EDTA, Triethanolamine, Melaleuca Alternifolia (Tea Tree) Leaf Oil
Of these, the vast majority work as surfactants, emulsifiers, humectants, emollients, and cleansing agents. In other words, they help clean skin and trap moisture, improving symptoms of dry skin and helping to prevent irritation.
Clotrimazole is often used in over-the-counter creams to treat (or prevent) fungal skin infections, like athlete's foot and jock itch. Tea tree oil is thought to perform a similar function.
What about the human epidermal growth factor (hEGF) mentioned on the FootMedix website? This appears to reference the human oligopeptide-1, which Amarte Skincare defines as:
… a small polypeptide of 53 amino acids that serves as a cytokine to stimulate epidermal cell growth and proliferation. This peptide is derived from non-human sources using recombinant DNA biotechnology. Also known as EGF or epidermal growth factor.
However, we didn't find any clinical evidence supporting this claim, or that human oligopeptide-1 can reliably lead to improved skin condition (at least compared to other traditional moisturizers). Keep this in mind, because we'll revisit this topic in the final section.
See more: 4 Health Benefits of a Cold Shower
Speaking of which, Dermal Medix claims that in clinical trials conducted by Dr. Watts, "100% of users reported improvement in foot calluses and dry skin, and a staggering 96% of FootMedix users reported results they classified as "phenomenal." Again, no support for these claims is provided.
Will FootMedix Cause Any Side Effects?
Unless you have especially sensitive skin, you probably won't experience anything worse with FootMedix than mild, temporary redness in the application area.
However, when it comes to PEG-8, PEG-100 Stearate, PEG-40 Stearate, Truth in Aging writes:
"Products and formulas containing PEGs should not be used on broken or irritated skin. Although PEGs are considered safe for use topically on healthy skin, studies showed that patients suffering from severe burns were treated with PEG-based antimicrobial cream; this treatment resulted in kidney toxicity."
How Much Does FootMedix Cream Cost?
While FootMedix is only available directly through Dermal Medix, how much you pay depends on which of their websites you purchase from. For example, on their Funnel Order page, you'll pay the following:
1 Bottle (no amount listed): $49, plus $4.95 S&H
2 Bottles: $86
3 Bottles: $120
On the other hand, if ordered on their Product page, you'll pay:
1 Tube (again, no amount listed): $120
2 Tubes: $228
3 Tubes: $324
All of these secondary options come with free S&H.
Regardless of how much you pay, though, Dermal Medix provides a 90-day risk-free guarantee on FootMedix purchases, less S&H charges. To request one, customer service can be reached at 800-425-0243 or support@dermalmedix.com.
Are There Any Reviews for FootMedix and How Does It Compare to the Competition?
Despite the fact that FootMedix has been on the market for years (it was originally trademarked in 2009), we didn't come across any customer reviews for the topical cream at the time of our research.
If you're looking for an antifungal moisturizing cream, though, you have hundreds of different options, several of which will be available at local pharmacies. On top of this, many of these can be purchased for as little as $8.
Dermal Medix justifies FootMedix's meaningfully higher price with the inclusion of 4% dimethicone, which they call a "powerful antifungal, perspiration blocker."
However, WebMD indicates it's only a moisturizer, so we're not sure this claim is accurate. Instead, they're almost certainly referencing clotrimazole, an extraordinarily common ingredient found in OTC antifungal creams.
What's up with that Nobel Prize-winning human epidermal growth factor (hEGF) again?
While the discovery of epidermal growth factor won the 1986 Nobel Prize in Physiology or Medicine, we didn't find any clinical evidence on authoritative websites drawing a direct link between oligopeptide-1 and improved cellular growth and differentiation in humans.
Who Is Dr. David Watts, MD?
According to his bio on the FootMedix website, Dr. David Watts is a double-board certified plastic surgeon, President of QuadASF, a proud Army Major, and a former Assistant Clinical Professor of Plastic Surgery Johns Hopkins University.
Currently, Dr. Watts works as CEO of Dr. Watts' Skin Care International (no additional information available online) and President-Elect for the American Association for Accreditation of Ambulatory Surgery Facilities, Inc. (AAAASF).
He's also Medical Director and CEO for Watts Plastic Surgery Association, Ambulatory Surgery Center.
Will FootMedix by Dermal Medix Cure Your Foot Problems?
Even if you don't have diabetes, calluses can cause a great deal of discomfort, and can even be a cause for concern under the right circumstances. And almost all of us have experienced dry skin at some point, as well as the tight, itchy skin that can result.
Will FootMedix's ingredients help address either of these issues? Based on what we learned from authoritative websites like WebMD, it seems the vast majority could help trap moisture against the skin and relieve dryness.
In turn, it's reasonable to believe that this moisturization could also help soften calluses and reduce the discomfort they cause.
But considering how common most of these ingredients are, we're not sure that FootMedix's formulation will provide meaningfully better results than the (sometimes much) lower-priced competition, or deliver more value for the much higher cost.
And as we've discussed a couple of times already, the only standout ingredient compared to the competition, oligopeptide-1, seems to have limited evidence indicating it can improve cellular growth and differentiation in humans.
In the end, the choice is up to you. But if you're looking to boost hydration from products you already own, be sure to read Making the Most Out of Your Moisturizer!
1 out 1 people found this review helpful

Dermal Medix - a total waste of money!

By

Barry

,

New York

,

May 26, 2017

I was sucked in by being tracked by Google. I saw one of their ads and started to watch his presentation. It was a very professionally done animation ad! As it went on, I started to hold on to my wallet. The longer it played the more money it was going to cost me.

My friend and I split an order. Below is my opinion.

1. Be aware that this product has been on the market for several years. So my first question is, why doesn't everyone know about this?

2. It is only sold on the internet! If this product was so great, it would be in every drug store in America, but it isn't. I smell super huge markups, with equals lots of profit. The real question is, how come no drug store sells this? I hope that they don't respond with all kinds of crazy reasons why they need to sell direct via a website.

3. There should be a ton of information on the internet about the Dr. and his company. Almost no information means, draw your own conclusions.

4. Be wary when someone says that 100% or some high crazy amount of people say that your product is that good.

Does it work? I guess it did, but so did other products that cost a fraction of this! When I say that it worked, I mean that I've used other products that were 80% cheaper that did just as good.

If this product worked as they claimed, why wouldn't the Veterans Administration place an order for 5 or 10 million bottles? This company never did a double blind study! Trying this on 100 or so people is a total joke.

Would I buy it again? No way! You will go broke using it.

Bottom Line: No, I would not recommend this to a friend

---

0 out 1 people found this review helpful

Yes it does!

First let me say, I never ever write reviews. I was compelled to write one for Dermal Medix because, yes, it does work!

All I know is that I have had painfully cracked dry heels most of my adult life. I've tried regular pedicures, constant moisturizing and callus removers, just to name a few. The health of my heals have always fluctuated with painful periods followed by weeks of reprieve only to the have the pain and deep cracking happen all over again. In fact, even when not in pain or deeply cracked, I ALWAYS had mildly cracked heels.

Well, no more! My husband and I consider it a miracle ointment. Today my heals are as if I were a baby. The cracks are completely gone! Not sort of gone. Not kind of gone. They are completely gone! I even thought they'd come back when the tenderness returned recently, but they haven't. Yes, it does work. And yes it is a miracle!

I recommend it to everyone without hesitation.

Bottom Line: Yes, I would recommend this to a friend

---

Advertisement

---

2 out 2 people found this review helpful

I am amazed

I've been a Type 1 diabetic for over 46 years. My feet were callused and cracked, sometimes very painful. Any pedicure required at least 30 minutes with a cheese grater. I hated showing my feet but gave up trying to hide them.

I saw FootMedix online and based on other reviews decided to try it. Within a week, my feet were softer and looked so much better. It has been nearly a month, and the calluses have nearly disappeared. This stuff works! I thought it was a tad speedy, but now I see it is totally worth the price. Love, love, love it!

Bottom Line: Yes, I would recommend this to a friend

---

2 out 2 people found this review helpful

Very impressed!

By

Akira K

,

California

,

May 10, 2017

I had mostly dry, cracked heels for the past 10+ years and was resolved that this was how it was going to be. Pumice stones and moisturizing creams never had a lasting effect. Once I tried FootMedix, I started seeing results within two weeks. A month later, I have heels I'm no longer ashamed to show in public. Pumice stones are a thing of the past!

Moreover, I suffer from psoriasis and eczema and have had a dry patch by my ankle for 15+ years. FootMedix was able to cure what prescription medication couldn't.

I highly recommend this to anyone suffering from dry, cracked skin. I always apply after showering and continue to see great results.

Thank you!

Bottom Line: Yes, I would recommend this to a friend

---

Advertisement

---

2 out 2 people found this review helpful

Best foot cream I've used yet

I'm very pleased to report my experience with FootMedix. I have suffered from dry, callused and achy feet for years. So I'm little over a month now with FootMedix. And though I haven't gotten back the pink color yet, the soreness has diminished a ton. Walking in my work boots is no longer something I dread. I actually use the cream on legs and elbows too and have seen great skin results.

Bottom Line: Yes, I would recommend this to a friend

---

Soothing comfort

What a great feeling to have the cracked skin and dryness now to be smooth on my heels. I apply it immediately out of the shower in the morning, and in the evening. I am now ready to wear sandals again.

Bottom Line: Yes, I would recommend this to a friend

---

1 out 1 people found this review helpful

FootMedix Dermal Medix

My experience has been very good. The only reason it's not excellent is because there are still a couple of spots that the callous is hard and cracked by my big toe where it is an obvious pressure point. The coloring of my foot is better and much softer. My heals are definitely no longer rough and dry.

It hasn't been 30 days yet but I will definitely continue to use FootMedix. It really has made a noticeable difference.

Bottom Line: Yes, I would recommend this to a friend

---

Advertisement

---

1 out 1 people found this review helpful

My feet are soft again!

I have to say I was not thrilled about the price and not knowing what size tube of cream would show up. That aside, within a few days I started to notice a big difference in my feet. I have been using this daily for two months now and am very, very pleased with the results. My feet are ready for summer!

Bottom Line: Yes, I would recommend this to a friend

---

1 out 1 people found this review helpful

FootMedix - great product

I have been using FootMedix by Dermal Medix for about one month at this time. The product truly impressed me on the first use; actually within five to ten minutes. I have had a problem with calluses at the ball of my feet as well as leather-like skin on the outside edges. Add to that cracks starting to form between one pair of toes.

When I applied the cream, there was a tingly feeling over the entire foot (both feet ). In just one month of use, the cracks are gone, and the skin of my feet feels more like skin than leather. The calluses are also softening. Even though I still work on my feet all day, the calluses are going.

I have noticed my feet are more sensitive with far less pain now than before I started using this product. It is my plan to continue using this product. I have been recommending it to friends and family.

Bottom Line: Yes, I would recommend this to a friend

---

2 out 2 people found this review helpful

Smooth as a baby's bottom.

My feet are, what my mother used to say, as smooth as a baby's bottom. I still have a few rough spots, but their texture leads me to believe that even the roughest spots are feeling that they are getting better.

Bottom Line: Yes, I would recommend this to a friend

---

Advertisement

---

2 out 3 people found this review helpful

A fine product, but

The product worked as advertised. The tube didn't last a week. I asked for a new tube as a reply to one of their emails and never received it.

They need to get the price down, as this is a fix, not a cure. $40.00 a week is a bit steep.

Bottom Line: Yes, I would recommend this to a friend

---