Ab Doer 360 Reviews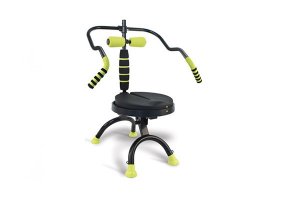 Using Multidirectional Technology to support your back, the seated Ab Doer 360 fitness device claims to help you safely achieve toned abs and tighter muscles.
What is Ab Doer 360?
Invented by John Abdo, Ab Doer 360 is a lightweight, compact, and easy to assemble workout system that promises to help you tone your abs, tighten and shape your muscles, and burn calories and fat.
At the core (see what we did there?) of Ab Doer 360 are fun, easy-to-do movements called Abdobics, which combines muscle shaping with heart-pounding aerobics.
When performing Abdobics, Ab Doer 360's dynamic fluidity seat claims to automatically engage more muscles for maximum results. The embedded comfort groove takes the pressure off your pelvis, tailbone, and hip joints and the abductor grip supports your thighs and streamlines the swiveling action.
Attached to the back of the seat, Ab Doer 360's stem uses Multidirectional Technology to activate your core muscles, including abs, upper abs, obliques, and back. The included dual foam roller system stimulates core and spinal muscles as you move with a dynamic, comforting back massage.
Finally, Ab Doer 360's elevated bars help ensure your body is aligned when performing these exercises, so you can also improve your flexibility and alleviate back discomfort—regardless of age, weight, or fitness level.
Counting the original, the Ab Doer product line has been around for a few years, which is why the company claims it's been used by more than three million people worldwide.
But is the updated Ab Doer 360 really a breakthrough innovation? Will it turbo-charge your workout? Can you realistically expect it to transform your body faster than ever before—all claims made by the manufacturer? That's what we'll help you decide here.
How It Works
Just like any other muscle in the body, your core muscles can be stressed through resistance (whether using your body weight, free weights, or machines), which breaks down the fibers and causes them to become bigger and stronger as they're repaired.
The problem is that, while most of us already have a six-pack of abdominal muscles, they're covered by a layer of fat and can't be seen. This is where the cardiovascular exercise promoted by Ab Doer 360 enters the picture, which elevates heart rate, boosts metabolism, and helps burn fat.
In order to continuously lose fat and help those abdominal muscles pop, you'll need to consume fewer calories than you ingest (called a calorie deficit) using a combination of diet and exercise.
One pound of fat is equal to 3,500 calories, so if you restrict your intake by about 500 calories per day, this mean you'll lose one to two pounds of fat per week.
An exercise that might help you accomplish this is Abdobics, which is a proprietary system that combines the Ab Doer 360 device with stretching and strength training routines, known as aerobics.
Now, the number of calories you burn doing any physical activity depends on many factors, including age, gender, weight, and fitness level. But according to the Mayo Clinic, a 160-pound person can expect to burn between 365 and 533 calories per hour with traditional aerobics.
Whether or not you'll burn this amount with the Ab Doer 360, however, remains to be seen. But is there necessarily anything you can do with the new 360 that you couldn't do with the other Ab Doer models?
What's the Difference Between the New Ab Doer 360 and Previous Models?
The original Ab Doer featured a static (non-pivoting) seat and a simpler U-shaped bar, but it provided the same basic Multidirectional Technology, padding, and roller.
As its name implies, the Ab Doer Twist then added a swiveling seat and a bar with more bends for a greater number of hand and arm position possibilities.
Finally, the new Ab Doer 360 added the dynamic fluidity seat, which appears to use the same principle as a stability ball to continuously challenge muscles while maintaining balance.
The seat also features a comfort groove, which takes a cue from the bike seat industry to purportedly relieve pressure, while the front bump (called an abductor grip) can help you remain in place when sweating and swiveling.
Finally, a dual roller system was also added to the 360 to provide massaging action on both sides of the spine, along with another new bar design.

As you can see here, the main differences between each Ab Doer model are the seat, bar design, and foam roller placement.
Now, how much will you pay for the new Ab Doer 360?
How Much Does the Ab Doer 360 Cost?
If you'd like to try Ab Doer 360 for 30 days, you can start by paying $14.95 S&H.
After 30 days, you'll be charged four payments of $49.95 in 30-day intervals, or a single payment of $199.80. With your order, you'll also receive the following free bonus items:
Quick Start Guide
Accelerated Results
Nutrition Guide
Motivational Calendar
Instruction DVD & Full-Length Workout Program, Beginner, Intermediate, and Advanced Workouts
We called customer service for more information and learned that you could also purchase the six-pack massage roller for $31.96, plus $5.95 S&H, a resistance band set for $29, and an extended 2-year warranty for $30.
If you're not satisfied, the representative let us know that you'll have to pay to ship Ab Doer 360 back to the manufacturer. However, they didn't know the system's total weight and put us on hold for a long period until we disconnected the call.
We then called back two more times, waiting on hold for 5+ minutes each time, with no answer.
Note: According to Amazon, the previous Ab Doer Twist model weighed 37.4 pounds, so you might expect something similar with Ab Doer 360, which certainly won't be inexpensive to ship.
Outside of this, Ab Doer 360 also comes with a one-year warranty against manufacturer's defects resulting from normal personal use.
To process a refund or a warranty claim, you'll need to contact Thane IP Limited at 800-676-1604 or customercareusa@thane.com.
Alternatives
If you're looking to get a chiseled core, there are thousands of products that promise to deliver results; everything from fitness devices and supplements to workout DVDs and diet plans.
Is there anything out there exactly like Ab Doer 360? There doesn't seem to be, although this doesn't necessarily mean it will deliver better results than the competition. So, how can you decide which option is best for you?
As always, any time you're thinking about starting a new fitness plan, the first person you should speak with is your doctor. This is especially the case if you're suffering from any kind of injury or chronic pain.
After speaking with you and perhaps undergoing some testing, your physician can then recommend a fitness path that takes into consideration important factors like your age, fitness level, current weight, and medical diagnosis.
But don't forget: If your main goal is to get six-pack abs, you need to pay just as much attention to what you eat as the exercises you perform, which is where the services of a professional nutritionist might come in handy.
The Bottom Line
Based on what we viewed in the commercial and learned from customer feedback for previous Ab Doer models, it seems like it's targeted toward those who are just getting back into fitness, or who may suffer from arthritis, back pain, or other types of chronic injury.
As a result, if you're already reasonably fit and looking to take your physique to the next level, you might want to keep looking.
With this said, we have a few other thoughts to keep in mind:
What about your lower body? While your lower body appears to move when performing Abdobics, remember that there's no resistance, so your overall results in this region might be limited.
Do you frequently travel? Based on Ab Doer 360s size and weight, it's not exactly portable (despite the company's claim that you can "get fit anywhere"), so you might find yourself without it if you travel often or prefer to workout at a gym.
Will you lose weight? As discussed earlier, this depends on the number of calories you consume, in addition to how frequently (and intensely) your workouts are with Ab Doer 360. Just keep in mind that the device has a 300-pound weight limit.
Will it alleviate your back pain? Clearly, this almost wholly depends on what's causing your back pain in the first place. To ensure you're not aggravating your back pain with a device like Ab Doer 360, speak with your doctor first.
Will you get bored? Finally, Ab Doer 360 only comes with three videos (Beginner, Intermediate, and Advanced), so if you require diversity to remain motivated, you might quickly become bored.
Searching online, we found many of the older Ab Doer videos available. While they're obviously not created around the 360 model, they could help stave off boredom if you need to mix things up.
Clearly, there are a lot of considerations to keep in mind before placing your Ab Doer 360 order. But the good news is that you should be in a better place to make an informed decision after reading through everything we've covered in this article.
Fortunately, the manufacturer provides a 30-day refund policy on Ab Doer 360 if you're not satisfied, although return S&H charges will be your responsibility—and at around 37 pounds, it probably won't be cheap.
---
I love my Ab Doer 360

By Betty G.

,

Key Largo, FL

,

Aug 23, 2018
Verified Reviewer

Overall Experience:

I got my Ab Doer 360 two weeks ago and worked out between 3-5 hours a day. I see results and love it! It was easy to install (I didn't have to ask my husband for help). I definitely recommend it if you're willing to work out over 3 hours a day since it doesn't have that much resistance.

Bottom Line: Yes, I would recommend this to a friend

---

Warranty and customer service

Michigan

,

Jan 12, 2018
Verified Reviewer

Overall Experience:

I purchased the Ab Doer 360 with the understanding that I would be able to return it if dissatisfied. I understood I would pay the shipping. However, since the whole advertisement stated the shipping and handling fee would be $14.95, and I would get that free if I paid in full, I ASSUMED it would only cost me $14.95 to ship it back. WRONG!

Because there was a computer system problem with my order, I was sent two machines instead of one. When I realized I was being charged twice, I contacted customer service who told me the unit had shipped so I would have to wait until it arrived to get instructions on returning it. That was fine, but because I bought two in error and was keeping one, I really expected the company to cover the shipping cost to return it. No! They insisted I pay to return it as if I was a dissatisfied customer. At that time I was not. Now I am. When I went to the USPS and UPS office, the cost was $80-$90 to ship. I was informed the company gets a discount because they are a corporate customer. That is why they only pay $14.95.

When I called the customer service team back about the company providing the return shipping, I was given the same jargon. I asked to speak to a supervisor and every request was refused. The representative was a little rude about explaining the supervisors have no more authority than he did.

I enjoy the device as it is easy and I am just getting back into exercising. I am also in an apartment, and it is less likely to disturb my neighbors if I use in later in the evening or early in the morning.

I also agree with one of the previous reviews. There are only three videos, one for each level of ability. They are not very exciting, so you will become bored after the first five views. Searching the internet for other videos is not easy and often are not even 15 minutes long.

Buyer beware! Customer service is not great!

Bottom Line: No, I would not recommend this to a friend

---

Advertisement

---

Keeps breaking

By Linda F.

,

Missouri

,

Jan 2, 2019
Verified Reviewer

Overall Experience:

I purchased an Ab Doer 360 from an individual who bought it and never used it. I have been using it 5-6 times a week. I really like the way it works. The only problem is it has broken on the seat area twice now. And I have to take it to someone and pay them to weld it back. I paid a lot for the machine and I still have to keep putting money into it. It needs to be made with heavier metal. If it wasn't for the breakage, I would give a higher rating.

Bottom Line: No, I would not recommend this to a friend

---

Ab Doer bait and switch

By Homer

,

Baltimore, MD

,

Apr 13, 2017
Verified Reviewer

Overall Experience:

I purchased the AB Doer 360 based on advertisement shown. At time of purchase, I was assured the product could be returned if dissatisfied.

Upon receipt of unit, I discovered during assembly that it was NOT exactly as shown in advertisement. The core bar foam had a different spiral design, no foam covered the contour armbar, and the seat design was without marked templates.

Customer Service was unresponsive. Upon first calling, was told I would receive a call back within 24 hours. No such call was received. I called back after 24 hours only to be told that there was nothing that could be done about the unit I received versus the unit as exactly shown in the advertisement that I thought I was purchasing. The woman said the unit advertised that I was referring to was for a limited time only. I directed her to AB Doer 360 website that clearly showed her statement to be untrue with a picture of the unit still being advertised that I thought I would receive, with no "limited time only" notices shown.

She then would only talk about the same physical benefits I would receive using the unit received versus the unit shown. I told her I still wanted the unit as shown in the advertisement. She said nothing could be done other than to RETURN THE UNIT AT MY OWN EXPENSE and then proceeded to provide me a return merchandise authorization number. Reportedly, shipment to me was $14.95 shipped by FedEx overnight. Upon taking the unit to Fed Ex for return shipment, the cost to ship the unit back was $73+ to ship by ground (cheapest rate quoted). I was told that when unit was shipped to me it was probably shipped using a business account.

Because of my disappointment and stubborn principle, I shipped the unit back anyway. It became apparent to me that more customers that might be dissatisfied with the unit had maybe not shipped their units back because of the cost to be incurred in returning the unit. This is by far my worst purchasing experience ever. If a company chooses not to be fully transparent about the sale and advertising of their product, what does it say about their product and business dealings overall?

Bottom Line: No, I would not recommend this to a friend

---

Advertisement

---

Horrible company to order from

Overall Experience:

I purchased the Ab Doer 360. It was delivered a day early to my home. While I was at work, my package was stolen. I contacted the company, who told me there is nothing they can do. Then I get some wise ass who told me to go to the post office and report it to them, which I did.

The postmaster gave me a letter to submit it to the company, stating there have been some issues of theft in the area. The company still refuses to replace the item; they instead reminded me that my next payment would be in 15 days. They expect me to pay for an item that I do not have and refuses any resolution for me, so I had no choice but to report this to my credit card company and have them re-issue me a new credit card. I will not pay for something I do not have.

Their customer service department is only nice when you're placing an order, but if you have an issue, their response is there's nothing we can do. Please beware before ordering from them if something happens like it did to me. They will not do anything but still want to get paid for the item.

Bottom Line: No, I would not recommend this to a friend

---

It is not a safe machine

By Andy Chen

,

California

,

May 28, 2017
Verified Reviewer

Overall Experience:

The back part to support the body is easily shaking. I was actually renting the item for a month. I called to return the item on the 31st day, but the customer service refused to take the return because it is already more than 30 days. That means you will have to pay the machine for the full amount, plus one-month rent, plus shipping, plus tax. I have to pay more than the full amount of the item. I am trying to dispute it with my bank, but it looks like the bank cannot help.

Bottom Line: No, I would not recommend this to a friend

---

Missing parts

By Lila Scott

,

Michigan

,

Jul 1, 2017
Verified Reviewer

Overall Experience:

Once they have your money, forget it. I paid for everything all at once. After putting it together, I realized everything was not there as pictured. I called and was told no problem. It's been over two months without the pictured part. It won't happen again.

Bottom Line: No, I would not recommend this to a friend

---

DO NOT WAST YOUR MONEY ON THIS MACHINE

By Robin F

,

Murrieta, CA

,

Jul 27, 2017
Verified Reviewer

Overall Experience:

I have had my Ab Doer 360 for a couple of months now and also purchased the additional power rods. I very quickly moved up to the tightest rod and still feel no results. I expected to feel tight and sore after beginning the exercises and have not felt even a little.

And, this company has terrible customer service. My 360 came without any rubber padding on the arm bars, which in all of their advertising it shows the rubber padding. The machine is very uncomfortable, and it hurts my arms. I called the company to get then to send me the correct arm bars and was lied to that they would be sending new ones right away. Once I have passed my 30-day trial, they proceeded to inform me that they no longer have the arm bars with the rubber padding and did absolutely NOTHING to fix the issue and basically said sorry if it hurts your arms but you're STUCK with the machine!

This was the absolute worst choice. DO NOT buy this machine!

Bottom Line: No, I would not recommend this to a friend

---

Defective part

By Evar Y Smith

,

Rochester, NY

,

Jan 17, 2018
Verified Reviewer

Overall Experience:

I paid in full for Ab Doer 360. When it arrived, the back would not stay up even when you put the pins in. Customer service was very evasive about who to contact. I sent emails, photos, and a video of the problem. It is always the same; we will send you to corporate. They only will give you their first name, like David R. I have been trying to get the right part since August of 2017. I have never used my machine because I can't get the part I paid $300.00 in full for. I am seeking an attorney to resolve this problem. Worst customer service that I have ever seen. This company sucks.

Bottom Line: No, I would not recommend this to a friend

---

Bad sales tactics

By Michelle

,

Minneapolis, MN

,

Feb 28, 2018
Verified Reviewer

Overall Experience:

Aka Cody, a fast-talking salesman, added extra insurance to our four payment plan and we didn't ask for it. If calls are taped, you can hear how fast he doesn't let you speak. Now he won't remove it and wants us to pay $82 instead of agreed $74.70. I love the Ab Doer 360, but can't stand scrums. Kohl's sells them for $189.00. We even got the extra package and didn't get the extra DVDs, as promised.

Bottom Line: No, I would not recommend this to a friend

---

"AbDidn't Zero" is a piece of crap, and so is company.

By Moss Boyde

,

Westover, NJ

,

Mar 7, 2018
Verified Reviewer

Overall Experience:

The "AbDidn't 0 Degree Special" should be called the "AbWannabee Let Me Rip You Off."

If you are stronger than a toothpick, want a product that lasts, like companies that have good customer support and honor their guarantees and warranties, go somewhere else.

The tongs they glued on to stop the handlebars bend if you use this piece of crap. If you weigh 120lbs or less and plan to use it, you might still feel resistance after a week but don't count on it.

"AbBozo" customer service is a circus full of clowns that will blame you for anything that goes wrong with the "AbTurd Flush-Me," and will replace despite having a defect that WILL NEVER WORK.

Also, this thing sits so close to the floor you will probably feel like you are doing a Steve Bannon on yourself. Further proof these people are cheapskates (no adjustment just short as possible) and scam artists (customer services after you buy this boat anchor - ha ha ha have a nice day because they are trained morons and this is what they like and get paid to do - take your money and run, and they end their calls after serving you up a dish of BS).

The "AbDidn't Zero" is good for jellyfish and worms, because the people who made it can relate really well.

Bottom Line: No, I would not recommend this to a friend

---