ActivatedYou Essential Skin Food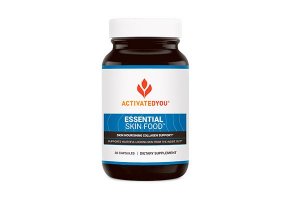 Summary
Essential Skin Food is an oral dietary supplement that is alleged to offer benefits in enhancing your skin appearance. A review of available literature provides support regarding the available ingredients in helping to maintain skin health and providing ample protection from ultraviolet sun damage.
Pros
Research supports the improvement of skin health and protection from UV sun damage
The proprietary blend of ingredients contains disclosed dosage amounts
Cons
Essential Skin Health can be expensive
Results will vary regarding skin wrinkles
ActivatedYou Essential Skin Food Reviews - Is It Safe & Effective?
What is Essential Skin Food?
Essential Skin Food from ActivatedYou is a dietary supplement designed for individuals who want to enhance their skin appearance.
Essential Skin Food provides you with six plant-based skin-nourishing compounds by offering a proprietary blend of ingredients to support collagen production.
The skin is the largest organ of the human body. Your skin is made up of a perfect blend of collagen and elastin, proteins that provide the skin's resiliency.
Damage may occur in the skin with prolonged exposure to sunlight that affects the overall resiliency to prevent ultraviolet radiation, inflammation, free radical damage, and breakdown of the outer cell wall.
Collagen is a protein found in your skin and is essentially a building block required to improve and maintain skin health.
In this article, we will review the available research to help you determine whether science backs the proposed benefits of Essential Skin Food.
Ingredients
According to their website, ActivatedYou suggests taking one capsule each day with a full water glass and, most preferably, with food.
One capsule contains:
Dermaval 50 mg (Pomegranate Extract, Coffeeberry, Quercetin, and Camu Camu
Vitamin C 10 mg
Triple Amino Acid Complex (Lysine 75 mg, L-Arginine, and L-Proline 50 mg)
Cosmythic French Maritime Pine Bark Extract 40 mg
Proposed Benefits of Essential Skin Food
In the following sections, we will review the available science to determine if Essential Skin Food provides the proposed benefits below.
Fewer Visible Wrinkles
Wrinkles become more prevalent as we age. Increased exposure to ultraviolet sun damage can eventually cause the skin's wrinkling because the skin also contains water.
Dermaval ™ proprietary blend of ingredients contains phytonutrients, which are thought to serve as antioxidants and may offer benefits in protecting the skin.
Pomegranate fruits have been used for centuries for its medicinal purposes.
A study of 74 female participants who were between the ages of 30-45 years took 8 ounces of pomegranate extract for 12 weeks experienced enhanced protection from ultraviolet sun damage on the skin.
The coffeeberry extract comes from the fruit of the Coffea arabica plant and is used in skincare products.
A randomized clinical trial found that scaliness and smoothness of cheek skin improved significantly after four weeks in the group that supplemented coffee berry beverage drink that contained nearly 300 mg every day.
Further, the study suggests that coffee berry had more of an effect on improving and regulating blood flow to the skin.
Quercetin is an antioxidant that is available in many fruits and vegetables.
A study was able to highlight and suggest the potential use of quercetin as a natural remedy for anti-skin aging.
Specifically, quercetin played a role in specific binding molecules responsible for age-related changes seen in the skin and serving as a protective role against skin aging and inflammation.
Supports Skin Elasticity and Firmness
Myrciaria dubia, Camu Camu, is a small berry native to the Amazon and is a rich source of ascorbic acid.
Compared to 1050 mg of vitamin C, oral ingestion of 70 ml of 100% camu camu juice may have powerful anti-oxidative and anti-inflammatory properties found in a study of male volunteers.
L-proline is an amino acid that may be linked to keeping skin looking younger.
Results from an 8-week study found that 400 mg per day of proline may improve chronologically aged skin's looseness by changing the amount of skin collagen to prevent age-related skin loss.
Improved Skin Complexion
Vitamin C, otherwise known as ascorbic acid, plays an essential role in maintaining skin health, leading to antioxidant protection against ultraviolet-induced sun damage.
Normal skin needs a high amount of vitamin C to promote the new formation of skin barrier and collagen.
A randomized study supplemented 80 mg of vitamin C in 72 healthy women for three months was able to confirm and extend observations of vitamin C.
Other nutrients were able to produce visible improvements in the skin's appearance.
Cosmythic, also known as French Maritime Pine Bark Extract, may improve skin barrier function and the cellular structure.
A study of 21 fair-skinned volunteers was supplemented with orally ingested French Maritime Pine Bark Extract of 1.10 mg or 1.66 mg per day. This was effective in reducing ultraviolet-induced reddening of the skin or erythema.
L-Lysine HCL is an amino acid responsible for building collagen in the skin and preventing herpes simplex recurrence.
A study done in rats found that 30 mg/dL of lysine influenced the presentation of collagen cross-links.
This study's relevance is to confirm that lysine, as an amino acid, will promote collagen formation and improve strength.
Is This Supplement Safe?
Overall, the use of Essential Skin Food is considered safe.
Vitamin C is recognized as having a high safety profile and is generally safe to use daily for long durations.
Toxic doses of vitamin C that lead to adverse reactions of cellular death seen in the lab were 100-200 times the daily recommended dose.
Quercetin supplemental intake has been rarely reported. Based on the available scientific data, regular long-term use of greater than 12 weeks of 1000 mg was generally safe.
However, some common side effects of quercetin through oral use are headaches and numbness and tingling.
Studies revealed interactions between quercetin and certain drugs in some animals and humans, leading to altered drug effectiveness.
There is limited literature regarding the safety use of Coffeeberry, Camu Camu, and Pomegranate extract in humans.
Coffeeberry at dosages of 8800 mg and 4000 mg were given to female and male rats in a study indicated no adverse effects.
Pine Bark Extract was supplemented at dosages of 40 mg - 100 mg in a study with no adverse reactions in 112 women with age spots.
There was no observed adverse effect level for lysine. However, there are minimal studies available that include humans.
Cost
There is a variety of purchasing options for Essential Skin Food. Each bottle of Essential Skin Food contains 30 capsules per container.
One Bottle $59.95 with free shipping and handling
Three Bottles $161.85 (save 10%) with free shipping and handling
Six Bottles $305.70 (save 15%) with free shipping and handling
Essential Skin Food comes with a 90-day money-back guarantee, which means that you will have to return the used or unused product within 90 days by contacting the ActivatedYou customer service team at 800-720-8403.
The Bottom Line
ActivatedYou claims that taking one capsule a day can help support your skin present with less visible wrinkles and fine lines, and help to fight skin-damaging free-radicals.
While research shows that taking oral supplementation of the proposed ingredients are generally safe, you could experience symptoms of headaches along with numbness and tingling.
Quercetin may be the cause for numbness and tingling, but symptoms reported were seen with significantly higher doses than those available in Essential Skin Food.
In terms of research backing the proposed claims, there are plenty of available scientific studies that show and support using the suggested ingredients to promote skin health.
However, the dosages in Essential Skin Food are much lower than what was used in the studies.
It is important to mention that while Essential Skin Food contains ingredients to promote skin health, you must also seek to maintain a healthy balance of nutritious meals of fruits and vegetables.
Always consult with your physician regarding the possible supplementation of Essential Skin Health.
Customer Reviews