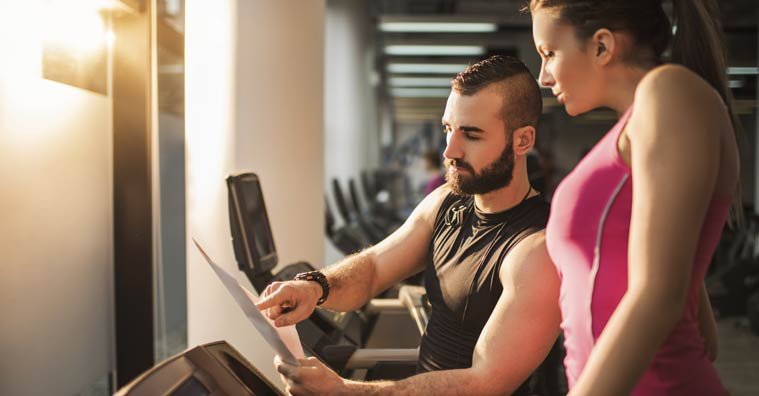 There's no club quite like a gym.
Everyone in there is working towards something, whether it's losing weight, building bulk, training for a competition or making friends.
But for someone who's new to gyms or took a long time off, it can be a really intimidating experience. And it's not just the fitness fanatics clothed in the latest workout gear that's overwhelming.
It's the contracts, what's included in the membership and the fees – all of this can be a little too much to handle.
So, we've done some research on some of the most popular gyms in the country: Planet Fitness, Youfit, LA Fitness, 24 Hour Fitness, and Gold's Gym.
We've checked out their membership fees (monthly, sign-up, annual), perks, various membership tiers and outside reviews to get a sense of what each gym is like.
Also, we've thrown in a little consumer psychology to help you understand why you might be drawn to one gym over another.
Once we provide you with all the information we just listed, we'll give you our perspective on which gym is best for which kind of person.
A Quick Review of the Gym Industry
In our guide to gym memberships, we discovered that more than 50 million people are gym members. That huge number of people creates a revenue stream of more than $25.8 billion for the 35,000 gyms across the country.
A huge industry, right? Business owners have recognized how much we love a good gym, so they've done their best to woo customers to their workout epicenters.
Gym owners have recognized how much we love a good gym, so they've done their best to woo customers to their workout epicenters.
They put familiar, easy-to-use machines at the front of their gym and in front of windows. So, when you walk by or walk in, you see a treadmill and elliptical instead of monstrous mountains of weights. The less intimidating, the better.
A Quick Word About Confirmation Bias
Another thing that's important to keep in mind is the concept of confirmation bias. Let's say you've heard from a few friends that the chef at your local bistro uses a little too much garlic in her food.
Then, out of the blue, a coworker invites you to dinner … at the said bistro. You sit down and order your meal. You take the first bite of your shrimp alfredo, and, lo and behold, there's that garlic flavor. I knew it, you think as you suffer your way through your meal.
You look over at your dinner mate and she's enjoying the same dish. No winces from the garlicky burn. No crinkled noses.
After your meal, you chit-chat about the food. She's thrilled with her meal. You, not so much. When you get home, you check Yelp to read reviews. No mention of garlic.
Alas, you're the victim of confirmation bias. In your mind, you believed the food was over-garlicked without ever having tried it. But at that first taste of the stuff, your mind said, See, I told you! The food here has too much garlic!
In reality, the chef wasn't bad. Her food was actually quite good. But because your confirmation bias limited your ability to process new information, you shut down any notion of praise after that first bite.
Gyms work in the same way, and even more so in today's age of online reviews. Everyone's got an opinion about gyms. If you dive too deep into the black hole that is the internet, you're bound to come out with some seeds of doubt that could make you pass on a perfectly acceptable gym.
For instance, you read a review that says, "Hated this gym. Super cheap, but the bathrooms were dirty and I saw hair on the floor in the tanning room."
You go to the gym to check it out and, during your tour, you see a random hair on the floor in the tanning room and you notice bits of dirt here and there that you wouldn't normally see if you weren't already biased toward it.
Ha! I knew this gym was dirty, you think to yourself, when, in fact, it's pretty clean compared to the next gym you go to.
An Overview of What You'll Get When You Preview a Gym
Now that you've gotten your briefing on confirmation bias, it's time to start whittling away at some of the finer points of gym memberships. Keep these in mind as you get your tour of the gym: fees, free amenities, perks, and add-ons.
Gym Membership Cost
Nearly every franchised or national chain of gyms will have three separate fees they'll charge you: a monthly fee, a one-time initiation fee, and an annual fee charged once a year.
Free Amenities
Pay close attention to what's free at the gym you're previewing. At the very least, you'll have access to all workout equipment, showers, and lockers for free. Some gyms will offer free training, free classes or free access to pools and saunas.
Perks
These are the fringe benefits you'll get as a member of a particular gym. The usual perks include discounts at certain fitness-oriented clothing stores as well as other workout-related stuff.
Add-Ons
Depending on which gym you visit, you'll notice that they offer certain classes or conveniences like childcare for an added cost per month.
A Quick Word About Membership Fees
Remember how we said you should always keep a close eye on your gym's contract? That's because each company has different rules about how they charge you, when they charge you and how much you have to pay (or not pay) to cancel your membership.
Unless you're signing up for a month-to-month membership, you can anticipate paying an early termination fee, just as you would a phone contract.
Always Try It Before You Buy It
Four of the five gyms we're going to talk about all have free passes you can use to get a feel for their facilities before signing on the dotted line. We encourage you to take advantage of this option because it gives you an honest look at the gym.
A Few Big Names in Gym Memberships Near You and How They Fit You
Narrowing down the biggest, most popular gyms in America is a tough thing to do. So, we pared down the long list to five gyms you've probably heard of before. For each gym, we'll cover fees, free amenities, perks, and add-ons.
We'll also give you an idea of what other people are saying about each gym; take those opinions with a grain of salt (more on that later).
Planet Fitness: The Budget-Minded Option
Planet Fitness is a popular club that's been around since 1992 when two brothers started the company and eventually turned it into a big-box gym for newcomers to the workout world. These days, there are more than 1,000 clubs in the United States.
Their mottos are "No Gymtimidation" and "Judgment-Free Zone" which means they try to create an atmosphere where hulking weightlifters aren't walking around scaring off people who just want to get a little cardio in before work. In most cases, clubs are open 24 hours a day except on certain holidays.
Planet Fitness Membership Fees
PF memberships come in two tiers: the $10 per month option and the Black Card option, which is $21.99 a month. Startup fees vary depending on when you sign up but can range from $0 to $10. Annual fees are $39.
Planet Fitness Free Amenities
The $10 membership gets you unlimited use of equipment as well as free personal training sessions. Those sessions aren't super complex; each location has a daily schedule (abs, arms, legs, etc.) of training sessions you can sign up for. All members also have access to showers and lockers.
Basic members get access to one PF location, while Black Card members have access to all PF locations across the country.
Planet Fitness Perks/Add-Ons
Black Card members get 20% discounts at Reebok stores, as well as a 10% discount at the PF online store (gym gear with the PF logo).
PF's only add-on is the Black Card, which gives members exclusive access to hydromassage tables, massage chairs, and red-light therapy. They also get discounts on a few items from the gym's beverage cooler.
Planet Fitness Free Pass?
No.
Planet Fitness Is Perfect For:
People who are intimidated to go to a gym. Their cheap monthly membership fees make them a great bargain. However, their amenities are really limited compared to other gyms.
If you want a low-cost option where you can do cardio and lift some weights in a low-pressure environment, PF is a good option, in our opinion. However, if you want an elevated gym experience with classes, swimming, and other nice amenities, there are plenty of other options out there.
Youfit: A Step Up from Planet Fitness
Youfit is a relative newcomer to the gym scene. It was founded in 2013 in Arizona and, at the time of publishing has, because of its lower prices and basic amenities, drawn comparisons to Planet Fitness.
The comparisons between Youfit and Planet Fitness are pretty spot on but there are some differences between the two, especially when it comes to the classes that YouFit offers.
Youfit Membership Fees
Youfit has two different membership tiers: Standard and Lime Card.
Standard Membership: A standard membership is $10 a month. It gets you access to one club, is a month-to-month contract and comes with a $42.79 annual fee charged once a year. The annual fee is a couple dollars more than what you pay for Planet Fitness.

Lime Card Membership: The similarities here between YF and PF are uncanny. PF has their Black Card and YF has their Lime Card. Both cards get you an enhanced set of benefits and amenities and both cost $21.99 a month.
Youfit Free Amenities
Youfit's gyms have all the basic cardio and weightlifting equipment. Since the gym is newer, there's a good chance that the equipment in your local Youfit will be more up-to-date than what you'd find at competing gyms in the area.
Lime Card members get free access to a variety of fitness classes: gentle yoga, Les Mills BodyPump, BodyFlow, BodyStep, BodyAttack, BodyCombat, Pilates, Spin and Silver Sneakers are a few examples.
These free classes are what set Youfit's Lime Card membership apart from Planet Fitness' Black Card membership.
All Youfit locations include locker rooms and showers.
Youfit Perks/Add-Ons
While there aren't any extra perks for standard members, Lime Card membership gets you the following discounts on purchases at the gym:
Access to all Youfit locations
Unlimited guest privileges
50% off cooler drinks
Youfit Free Pass?
You can get one free guest pass a year, which means your guest can use the gym once for free. Youfit requires you show a local photo ID to get the pass.
Youfit Is Perfect For:
Youfit is a good fit for someone who doesn't have childcare needs and wants a gym membership that includes a variety of fitness classes. YF's Lime Card provides all these benefits at a very competitive $21.99 per month.
LA Fitness: Good Value for the Perks
Though the name says "L.A.", you can find their clubs at more than 300 locations across the country, with most of them in Florida, Pennsylvania, New York and California.
LA Fitness started in 1984 in California and has since grown to both coasts. Their gyms offer a variety of amenities and add-ons.
LA Fitness Membership Fees
At the time of our research, LA Fitness was offering memberships for $24.99 per month with a $99 initiation fee. What you pay may vary slightly depending on where you live, so we decided to do a test run for an LA Fitness in Jacksonville, FL.
The results were consistent with what we saw on the LA Fitness website. To start, you'll need to pay the first and last month's fees along with the startup fee.
LA Fitness Free Amenities
Every LA Fitness offers cardio machines, weight machines, and free weights. You'll also have the luxury of an indoor heated lap pool, saunas and a whirlpool.
Fitness classes are included, too (click here for a list of what they offer). Like most gyms, you'll get access to showers and lockers. You also get access to all LA Fitness locations across the country, except for special "Signature" clubs, which have higher fees.
LA Fitness Perks/Add-Ons
Based on what we saw from the test run we did, you have three options: a $7 courts fee (to use racquetball and basketball courts), a $20 guest fee to bring guests with you and a separate contract and fees for personal training sessions.
Members can also pay for child care and swim school. Many LA Fitness locations also include a juice bar.
LA Fitness Free Pass?
Yes, for three days.
LA Fitness Is Perfect For:
If you want a complete gym experience at a reasonable monthly rate, LA Fitness seems to be a good fit. The difference in amenities between LA and PF are pretty drastic, particularly when you compare PF's $10 per month membership.
Their daycare perk is a great option for families with one car or schedules that put a time crunch on when one parent or guardian can work out.
24 Hour Fitness: Around-the-Clock Workout
24 Hour Fitness has been in the gym business for more than three decades. They're based in California and have more than 400 clubs in 17 states. According to their website, they have more than 2 million members.
24 Hour Fitness Membership Fees
24H memberships are split into three categories: month-to-month, contract or prepaid. We did a test search of gyms in San Diego to find out how fees differed between the three categories:
Month-to-month: $0 initiation fee, $34.99 per month, $82.23 due on signing, $49.99 annual fee.
12-month contract: $0 initiation fee, $29.99 per month, $61.91 due on signing, $49.99 annual fee.
We noticed that, for the location we searched, there was no option for prepaid memberships. We also noticed that the site offered the above plans for access to more than 300 clubs.
They had a "Super-Sport" option that included access to more than 450 clubs. Prices were, on average, $10 to $15 more per month.
Two other access levels are available – Active and Ultra Sport – but information on those programs was not available at the location we searched.
24 Hour Fitness Free Amenities
Most 24H clubs include some group fitness and spin classes, all cardio and weight equipment, a whirlpool, sauna, steam room and a pool. However, like other clubs, amenities vary from location to location, so make sure you're clear on what your location offers.
24 Hour Fitness Perks/Add-Ons
24H has a pretty impressive list of add-on fitness classes, including high-intensity workouts (TC24) and the gym's GX24 group classes. 24H also offers, for a fee, daycare for kids between 6 months and 11 years. Cost varies per club.
24 Hour Fitness Free Pass?
Yes, for three days.
24 Hour Fitness Is Perfect For:
The night owl who wants more perks than what's available at Planet Fitness.
For budget-conscious fitness enthusiasts, 24H's varied pricing structures are more likely to fit a wide variety of financial situations as compared to LA Fitness.
Gold's Gym: An Old Favorite With Modern Perks
If you feel like the name is familiar, you're right. Gold's Gym used to be a haven for hardcore weightlifters back in the day. The gym is the oldest of the five we cover in this article. Despite its sinewy origins, the gym has changed its business model and now appeals to a wide variety of people.
Gold's Gym Membership Fees
Gold's membership fees vary from location to location because, as one of their PR reps told us, some locations are owned by franchisees and some are owned by Gold's Gym. Franchise owners have the freedom to set their own prices.
Generally speaking, membership fees start at $29.99 a month. We did a quick search of Gold's Gyms in Florida and here's what we found out about membership fees at the Gold's location in Sebring, FL:
Monthly fee for month-to-month: $49.99
Monthly fee for 12-month contract: $39.99
Processing fee: $29.95
Yearly fee: $30
Gold's Gym Free Amenities
Gold's offers a unique perk you won't find at the other four gyms: cardio cinema. Members of all levels can ride a variety of cardio machines while watching a movie on a big screen.
Aside from that, each Gold's has the standard collection of cardio machines, weight machines, and free weights.
Gold's Gym Perks/Add-Ons
The main perk you can add on to your membership is Gold's AMP, which is an app-based service that provides daily workouts, expert advice from Gold's personal trainers and a free music streaming service. The service is $9.99 per month.
Also, many locations have "Kids Club" childcare centers. They cost $5 per child, per visit, but clubs with membership tiers may include unlimited childcare for the more expensive membership levels.
Gold's Gym Free Pass?
Yes. Their VIP Pass gets you access for seven days.
Gold's Gym Is Perfect For:
Gold's membership, in our opinion, is an excellent option for parents/partners who have one or two children and want to work out at a gym with formidable amenities.
Keep in mind, though, that cost can be an issue if your local gym doesn't offer unlimited child care in their membership prices.
How to Pick the Best Gym for You
The purpose of breaking down these five clubs is to give you an idea of what kinds of options, pricing and perks gyms offer their members. There are, as we pointed out earlier, more than 35,000 gyms in the United States alone, so offering details on every gym is pretty impossible.
Here's what you need to take away from our reviews to help you pick the best gym for you:
1. Know the Levels of Membership Inside and Out
The gyms we took a look at fall into two tiers: budget (PF, Youfit) and comprehensive (24 Hour, LA Fitness, Gold's). Each of these gyms has their own levels of membership. Decide what you want out of your gym, write down a list, then compare your list to the membership levels at each gym you visit.
You'll notice that some plans won't measure up to your needs, but are very affordable. Step with caution, here; going for the bargain may leave you wishing you'd chosen a gym with more amenities.
Other plans are more expensive but include all kinds of amenities and perks. However, if you're just interested in cardio, you may not need a whirlpool, sauna or personal training programs.
2. Read the Contracts
We want to mention this one more time. Gyms are notorious for making it difficult for you to get any money back on a canceled membership. Know this going into it.
And also know that, if you do cancel, you need to watch your bank account or credit card to make sure there are no further charges after your membership is over.
Gyms are notorious for making it difficult for you to get any money back on a cancelled membership.
Dozens of reviewers for all five gyms on Consumer Affairs have complained about these ongoing charges.
Be clear on four things before you sign:
Initiation fees
Monthly fees
Annual fees
Cancellation policies
If you have any doubts, ask direct questions to the employee who's helping you.
3. Be Wary of Gym Reviews
We've waited until now to bring up reviews because we don't want your confirmation bias to take shape. Gyms, in general, get terrible reviews on consumer review websites.
A quick scan of review sites will show low scores for the five gyms we listed here.
We noticed that most of these complaints focus on billing and cancellations. So, here's our advice: plan on sticking with your membership for the entire contract. Opting out before your one-year anniversary could cause you headaches.
If you're unsure whether or not you can stick with your membership for a year, you have two options. First, forego the gym membership and try alternatives like walking, hiking or in-home workout programs.
As for the low ratings that these gyms get, remember that the majority of these complaints are billing-based.
Except for the occasional rant about rude employees, there are few criticisms of amenities and classes. These reviews tell us that the clubs themselves are good, more or less, but the billing can be a hassle.
Final Word of Advice About Finding the Right Gym
If we could sum up this article in just a few words, we'd say: Know your budget, the amenities, and the contract.
We believe that you'll be happiest when you can:
So, set a limit on how much you want to spend, be clear about what you want from your gym and commit to a year of membership to avoid any billing surprises or headaches.
Like we mentioned earlier, our examination of these five clubs is a good representation of what's out there. You'll find gyms offering memberships that cost way more than $30 or $40 per month; some boutique gyms can cost you nearly $200 a month.
But, in most cases, you can apply our classification method to just about any gym: fees (initiation, monthly, annual), free amenities, and add-ons/perks.
A final word of advice: Take advantage of free passes. It's like a test drive for a car; make sure you feel comfortable with what you're getting before you start a contract.
More on Gym Memberships and Fitness: