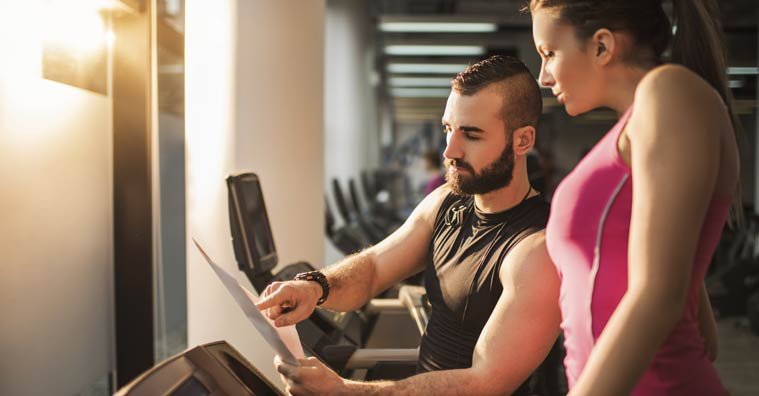 Choosing which gym is right for you is a decision that affects your health and finances.
You want to find a gym that meets your specific fitness and budget needs. If you can, there's a good chance you can avoid being one of the 70% of people experts say are paying for a gym membership they don't use.
What makes this endeavor of finding the right gym so difficult is the complexity. Every gym has its own mix of fees and amenities.
And, in some cases, these factors change from gym to gym within the same brand. The 24 Hour Fitness near your home may have different fees and amenities than the one near your job.
We want you to spend your money on the gym chain that best meets your health, wellness, and budget goals. Therefore, we've done an in-depth analysis of five popular gym chains that will help you make the choice.
Each gym analysis includes:
Membership pricing and fees
Cancellation policy
Free amenities
Paid amenities
Free passes
Who it's good for
After the comparison, we will give you advice on how you can pick the right gym for you.
| | Planet Fitness | Youfit | LA Fitness | 24 Hour Fitness | Gold's Gym |
| --- | --- | --- | --- | --- | --- |
| Cheapest single-gym membership | $10 | $10 | $34.99 | $31.99 | $20 |
| Cheapest multi-gym membership | $22.99 | $21.99 | $39.99 | $31.99 | $32 |
| Sign-up fee | Up to $29 | Starts at $0 | Up to $99 | Up to $29.99 | $1 to $50 |
| Annual fee | $39.99 | $49.99 | $49 | $49 | $0 to $55 |
| Cancellation fee | $58 | Up to $10 | None | Remaining months on contract | $50 to $100 |
| Free pass | No | 1 day | 5 days | 3 days | 1 day |
| Free classes | No | Yes | Yes | Yes | Yes |
| Child care | No | Yes, at some locations | Yes | Yes | Yes |
Planet Fitness
Membership Fees
Month to month: $15/month
12-month basic contract: $10/month
12-month PF Black Card contract: $22.99/month
Annual fee: $39.99
Sign-up fee: $0 to $39.00 depending on location and time of year
Planet Fitness gyms run promotions from time to time that discount or waive the sign-up fee.
Cancellation Policy
You will pay a $58 cancellation fee if you want to end a 12-month contract with Planet Fitness. You can cancel by going to your gym and talking with a staff member.
Free Amenities
The $10 membership gets you unlimited use of equipment as well as free weight training sessions. In these sessions, a PF trainer will use the gym's machines and free weights to work on one part of your body.
All members also have access to showers, lockers and free Wi-Fi.
Basic members get access to one PF location, while Black Card members have access to all PF locations across the country.
Paid Amenities
Planet Fitness's Black Card membership is the only paid option you have to access:
Massage chairs
Hydromassage tables
Red-light therapy
Unlimited free guest passes
Black Card members get 20% discounts at Reebok stores, as well as a 10% discount at the PF online store (gym gear with the PF logo). You also get discounts on a few items from the gym's beverage cooler.
Free Pass
Planet Fitness does not offer a free pass.
Who Is Planet Fitness Good For
If going to a gym intimidates you, then Planet Fitness will be a good fit for you. PF emphasizes inclusive gyms meant for anyone who wants to work out. If you're joining a gym for the first time and you want a place where you can be yourself and avoid the pressure of looking good, PF is the right choice.
However, if you want amenities like free classes, this gym's bare-bones amenities aren't a good fit for you.
This gym is a great fit if you're on a budget, too. Its $10 contract memberships and $15 month-to-month contracts are great deals, especially if you can sign up during a promotion where they waive your sign-up fee.
» For Further Reading: Our Detailed Review of Planet Fitness
Youfit
Membership Fees
Standard: $10/month
Lime Card: $21.99/month
Sign-up fee: $1 to $20 depending on location and time of year
Annual fee: $49.99
Like Planet Fitness, your sign-up fee may be as low as $0 depending on what promotion your local club is running at the time you sign up.
Cancellation Policy
Though Youfit's plans are month-to-month, they may charge you up to $10 in administrative fees to cancel. Also, you have to cancel at least 10 days before your next monthly payment is due or you'll have to make the upcoming payment.
Free Amenities
Youfit's gyms have all the basic cardio and weightlifting equipment. Since the gym is newer, there's a good chance that the equipment in your local Youfit will be more up-to-date than what you'd find at competing gyms in the area.
You have access to locker rooms and showers, and some locations have a sauna, too.
Paid Amenities
There are two types of paid amenities you get at Youfit: those available only to Lime Card members and those that aren't.
Lime Card Amenities
Lime Card members get free access to a variety of fitness classes: yoga, Les Mills BodyPump, HIIT, Zumba and senior workouts are a few examples.
Lime Card membership gets you the following discounts on purchases at the gym:
Access to all Youfit locations
Unlimited guest passes (must check in with you)
50% off cooler drinks
Paid Amenities Available to All Members
Youfit locations include paid personal training sessions that cost:
$90 for two sessions
$120 for three sessions
$150 for four sessions
All your Youfit trainers are certified personal trainers.
Also, some Youfit locations include child care services that cost around $25 per month.
Free Pass
YouFit gives you a free one-day pass, with which you can get a tour of your local club and try the equipment.
Who Is Youfit Good For
If you really enjoy group exercise classes and don't need extra amenities like a pool, sauna or whirlpool, then Youfit will be a good fit for you.
Youfit is your match if you want to maximize the value you get from your membership fees. No other gym we analyzed gives you free classes and has membership fees under $30 per month.
LA Fitness
Membership Fees
Single club: $34.99/month
Multi-club: $39.99/month
Annual fee: $49
Sign-up fee: $0 to $99, depending on location and time of year
What makes LA Fitness' pricing unique is that you can go to the location nearest you and negotiate with a salesperson to get a lower monthly payment. We suggest doing this if you're comfortable with bargaining, as you could save as much as $15 a month on a single-club membership.
Cancellation Policy
Because LA Fitness does month-to-month contracts, you don't have to pay a fee if you want to cancel your membership.
However, you should cancel your contract at least 10 days before your next membership fee is due. This ensures LA Fitness doesn't charge you the upcoming payment.
Free Amenities
Every LA Fitness offers cardio machines, weight machines, and free weights. You'll also have the luxury of an indoor heated lap pool, saunas and a whirlpool. Most locations have racquetball and basketball courts too.
Fitness classes are included, too. Some of these classes include belly dancing, Latin dance, spin, HIIT and Pilates.
Like most gyms, you'll get access to showers and lockers. You also get access to all LA Fitness locations across the country, except for special "Signature" clubs, which have higher fees and luxury amenities like upgraded locker rooms and towel service.
Paid Amenities
Because free amenities are what make LA Fitness unique, there are very few services you'll have to pay for. Those services include:
Two hours of childcare per visit: Up to $15/month
Racquetball reservation privileges: $7/month
Personal training sessions: $160 for four sessions/month
Free Pass
All locations offer free five-day passes. Make sure you request the pass around two weeks before you sign up, as salespeople may balk at giving you the pass if you plan on signing up months down the road.
Who Is LA Fitness Good For
LA Fitness is perfect for you if you want a complete gym experience at a reasonable monthly rate. The difference in amenities between LA Fitness and Planet Fitness is pretty drastic considering you get a pool, sauna, basketball, and other perks for just $12 more a month.
You can decrease that price difference further by signing up in-person. LA Fitness sales reps are willing to negotiate the price.
Their daycare perk is a great option if you have to take your child with you when you work out.
» For Further Reading: Our Detailed Review of LA Fitness
24 Hour Fitness
Membership Fees
24 Hour Fitness membership fees for a one-year contract typically range from $31.99 to $56.99 and month-to-month contracts are $5 more. The price you pay depends on two things: location and club type.
Gyms located in big cities like New York will tend to have higher membership fees.
Also, 24 Hour Fitness has four types of clubs: Active, Sport, Super Sport, and Ultra Sport.
Additional fees you'll pay include:
Month-to-month sign-up fee: $29.99
12-month contract sign-up fee: $0
Annual fee: $49.99
Cancellation Policy
24 Hour Fitness does not allow you to cancel your 12-month membership. If you want out of the contract, you'd have to pay all your remaining membership fees.
There is no fee for canceling a month-to-month contract, although you'll want to cancel at least 10 days before your next payment to avoid being charged.
Free Amenities
Active clubs have the most basic amenities, whereas the amenities get better and more extensive as you move up to Sport, Super Sport, and Ultra Sport.
All club types have cardio equipment, weight machines, free weights, locker rooms, a sauna and group classes. Those classes include spin, Zumba, Pilates, yoga, kickboxing, senior-focused classes, and multiple cardio groups.
Paid Amenities
The gym offers paid group exercise classes that have smaller class sizes (6 to 20 people). These classes are called "TC24" and will cost at least $200 per month.
Free Pass
A 3-days free pass is available.
Who Is 24 Hour Fitness Good For
24 Hour Fitness is perfect for you if you have up to $70 to spend on a gym membership and you want the most luxurious gym experience you can get for your money.
With this budget, you can most likely sign up for a Super Sport or Ultra Sport gym in your area that provides amenities you won't get at LA Fitness or Gold's Gym.
» For Further Reading: Our Detailed Review of 24 Hour Fitness
Gold's Gym
Membership Fees
Gold's membership fees vary from location to location. Each location will have at least two membership options: Basic and All Access. Basic members get access to the gym at which they sign up. All-Access members have access to all Gold's Gym locations.
Based on our research of prices across the country, you can expect to pay anywhere from around $20 a month to $60 a month.
Other fees include a sign-up fee ranging from $1 to $50 and an annual fee of $0 to $55 depending on the location and time of year you sign up.
Cancellation Policy
Like gym amenities, your cancellation policy may change depending on the location where you sign up.
To help you get a sense of what options you'll have if you want to cancel, we researched the cancellation policy of an L.A.-based club. Here are some important details from their policy:
$100 cancellation fee if you're in the first half of your contract
$50 cancellation fee if you're in the second half of your contract
A 30-day notice is required
You'll pay for any monthly membership fee charged within the 30 days
Free Amenities
While the specific amenities you get at your local gym may be different than other locations, most Gold's Gym clubs will have:
Cardio machines
Free weights
Weight machines
General group classes
Specialized Gold's Studio classes
Locker rooms and showers
Paid Amenities
The main perk you can add on to your membership is Gold's AMP, which is an app-based service that provides daily workouts, expert advice from Gold's personal trainers and a free music streaming service. The service is $9.99 per month.
Also, many locations have "Kids Club" childcare centers. They cost $5 per child, per visit, but clubs with membership tiers may include unlimited childcare for the more expensive membership levels.
Free Pass
You get a free one-day pass.
Who Gold's Gym Is Good For
Gold's Gym is perfect for you if you want free classes structured to move you from baseline fitness levels to strength and endurance. Gold's Studio classes walk you through your fitness progression in a systematic way, joining you with other members at your level in small classes.
How to Pick the Best Gym for You
1. Know Your Goals
Your gym should be a reflection of what your wellness and financial goals are. Before you sign up for a gym, think about what your fitness goals are:
Weight Loss
If your goal is to lose weight and you thrive in groups, 24 Hour Fitness, Gold's Gym, Youfit, and LA Fitness are relevant choices because they offer free group exercise classes.
Build Muscle
Should you want to build muscle, then you need to consider which local gyms have the most free weights.
Also, go online and check out reviews of those local gyms. Pay particular attention to what they say about wait times for particular benches or weights, along with the quality of the equipment.
Relieve Stress
If your goal is to relieve stress, you do it via cardio machines like treadmills and ellipticals. Therefore, a basic membership at Planet Fitness would work because you don't necessarily need all the extra amenities other gyms have.
Train for a Sporting Event or League
If you're training for a sporting event or league, you need a gym that has equipment and programs that strengthen specific parts of your body critical to your sport.
Flexibility
Gyms with free classes often have yoga included in their class schedule. This is the perfect fit for you if you want to increase your flexibility.
Saving Money
Gym staff can be very persuasive when you drop in to ask about pricing. If keeping your gym expenses low is your goal, focus on Planet Fitness and Youfit. They have memberships below $20 a month and offer month-to-month plans.
If you check out other gyms, go in with a hard budget in mind. If the gym can't offer you a membership for that price, leave.
2. Read the Contracts
Gyms are notorious for making it difficult for you to get any money back on a canceled membership.
Therefore, you need to be as much of an expert about your contract as possible.
If you know what gym you want to join, negotiate your pricing in person. Once you and the salesperson agree on a price, ask for a copy of the contract. Tell them you want to take it home and look it over to make sure you know what you're getting yourself into.
This tactic will help you because you'll be able to read your contract at home without the presence of a salesperson pressuring. Furthermore, as you review your contract you can write down a list of questions you want to ask the salesperson.
There are too many consumer reviews complaining about deceptive contracts and misleading salespeople for you not to carefully read your contract.
Some important points to watch for include:
Contracts with commitments that don't match what the sales rep said
Cancellation fees
Policies about transferring/canceling your membership if you move
Pause/cancellation provisions for pregnancy and medical conditions
Timeframes required for cancellation (i.e. at least 10 days before your last day)
3. Take Gym Reviews in Context
Reading through customer reviews of gyms will most likely discourage you from joining. All gyms on HighYa and other review sites have below average or bad reviews.
You'll want to read over these reviews not so much for every detail, but for the general theme of the reviews.
Furthermore, there's a difference between reading reviews of an entire gym chain and reviews of the gym in your area. When you read reviews of the entire brand, take note of what customers say about billing and cancellations.
When you read reviews about a particular gym in your area, focus on what they say about the staff, the condition of the equipment and cleanliness. These factors will be most important for your day-to-day experience.
The Bottom Line
Every gym provides the necessary equipment for you to reach your fitness goals. Each gym has the baseline collection of free weights, machines and cardio equipment you'll need.
Remember, though, that your choice isn't just about your goals. It's about your needs and preferences, too. While each gym has the basics, it's their pricing, equipment and amenity nuances that will maximize your gym experience.
Be methodical in your decision. Weigh the pros and cons of each gym. This systematic approach will help you find the right gym for you.