Planet Fitness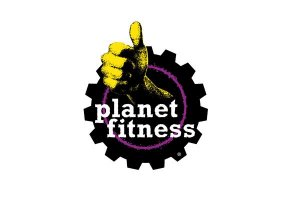 Summary
Planet Fitness' low monthly fees and its focus on helping people feel accepted and comfortable in their gyms make it a popular choice for those who are working out for the first time.
Pros
Affordable monthly payments
Low-pressure, welcoming atmosphere
Free fitness training
30-minute workout circuit simplifies weight training
TRX area
Massage chairs and hydromassage beds
Cons
Cheapest membership requires a 12-month contract
No group exercise classes
No pools or saunas
No child care
Planet Fitness Review: Is It the Right Gym for You?
Planet Fitness is a budget gym offering memberships for as little as $10.
The company's philosophy focuses on making members feel welcome. "Judgement Free Zone" is the motto of each gym. If working out intimidates you and you want to sign up for a gym where you can be yourself, this focus on judgment-free fitness is very appealing.
Joining a gym is more than just finding the right philosophy, though. Our review will help you decide if Planet Fitness is right for you by analyzing key aspects of its membership.
Membership Tiers, Fees, and Features
Planet Fitness offers the following three membership tiers:
Classic: $10/mo with 12-month contract
No Commitment: $15/mo with no contract
PF Black Card: $22.99/mo with 12-month contract
| | Classic | No Commitment | PF Black Card |
| --- | --- | --- | --- |
| Annual fee | $39 | $39 | $39 |
| Cancellation fee | $58 | None | $58 |
| Sign-up fee | $29 | $39 | $0 |
If you want to save money on the sign-up fee, clubs in your area will run promotions. You should be able to capitalize on a $0, $0.25 or $1 promotion around January when sign-ups hit their peak.
Classic and No Commitment Plan Features
The Classic and No-Commitment plans give you access to:
One PF club you choose
Free weight training sessions
Free Wi-Fi at PF clubs
PF Black Card Features
Black Card gets you the three perks of the lower membership along with the use of all PF gyms across the country, discounts on food and drinks at PF gyms and the following complimentary perks:
Bring a guest for free every time you go to the gym
Free tanning bed access (first come, first served)
Free use of massage chairs (first come, first served)
Free hydromassage beds (first come, first served)
Black Card members also get 10% off at the Planet Fitness online store and 20% off purchases at Reebok.com. Additional discounts include:
15% off at 1800Flowers.com
$80 off at BlueApron.com
$10 credit for Audible
Up to 60% off hotel bookings through PF's travel site
12% off at Shoebacca.com
How to Cancel Your Membership
You have to cancel your membership in-person at your local club. If you have a 12-month contract, you'll pay the cancellation fee. To avoid making your next monthly payment (usually billed on the 17th) or the annual fee (Feb. 1), you have to cancel at least seven days before those dates.
If you don't live near a Planet Fitness location, you'll need to send a letter requesting cancellation to the club where you signed up.
PF recommends sending a certified letter via the USPS. A certified letter provides proof that you sent the letter and requires the recipient to sign for the mail.
Amenities
Most Planet Fitness gyms feature the following amenities:
Cardio machines: treadmills, ellipticals, bikes, stair climbers
Free weights: dumbbells, benches, squat racks
30-minute Express Circuit
Medicine ball/resistance band area
TRX station
Locker rooms with showers
Free weight training sessions
Open 24 hours, in most cases
If you're new to working out, Planet Fitness' 30-minute weight circuit is a good fit for you. You'll work through 10 weight machines and 10 step platforms, switching to each one according to a prominent flashing light in the circuit room.
The workout combines aerobic exercise (step stations) with resistance training (weight machines), two keys to burning fat and building endurance.
Another valuable benefit is that PF's free weight training is a great way to learn how to lift weights with the right form. Good form helps you avoid injury. You can sign up for a session at the front desk. The sessions are organized by body region: arms, core, legs, etc. Trainers will also lead you through PF's 30-minute Express Circuit.
Also, your trainer can help you learn how to use the various weight machines in your club.
Finally, Planet Fitness focuses on giving you a non-judgemental, welcoming workout environment. If you're new to working out, this is a key advantage, as it's easy to be intimidated and feel defeated in your first few weeks at the gym.
Analysis of Customer Review
Common Compliments:
Cheap: Many reviewers said they were amazed at how affordable Planet Fitness was compared to other gyms.

Friendly Staff: We saw multiple reviews from customers who enjoyed their interactions with PF staff. The praise covered interactions with managers as well as front desk staff.

Clean: There is a lot of praise for how clean PF locations are. However, cleanliness will vary from location to location.
Common Complaints:
Hard to Cancel: There are dozens of reviews from consumers noting how difficult it was to cancel a membership and how, in some cases, they were required to send a certified letter to the gym at which they signed up to cancel. We also read complaints about Planet Fitness's unwillingness to budge on their cancellation fee, regardless of the circumstances of the cancellation (illness, injury, etc.).

Poor Customer Service: There are numerous accounts of PF customer service reps being rude and unhelpful. Many of the complaints we read pointed out staff was unhelpful and aloof when the customer tried to cancel their membership.
Takeaways:
First, you can avoid most of the issues customers complain about by signing up for the $15 no-commitment plan. You won't have to worry about cancellation fees or club staff that slow down the process because they don't want to lose your membership.
Second, factors like cleanliness and customer service will vary by location. Head to the Planet Fitness club you'll most likely use. Talk with the staff there and get a feel for their attitude. Read reviews for that specific club.
Finally, if you choose to do a 12-month contract, ask for a copy of the contract before you sign. Read through all the fine print. Make sure you understand how you cancel your membership and when you'd need to cancel to avoid the annual fee charged in February.
Planet Fitness vs. LA Fitness and 24 Hour Fitness
| | Planet Fitness | LA Fitness | 24 Hour Fitness |
| --- | --- | --- | --- |
| Cheapest single-gym membership | $10 | $34.99 | $31.99 |
| Cheapest multi-gym membership | $22.99 | $39.99 | $31.99 |
| Sign-up fee | Up to $29.00 | Up to $99 | Up to $29.99 |
| Annual fee | $39.99 | $49.00 | $49.99 |
| Cancellation fee | $58.00 | None | Remaining months on contract |
| Free classes | No | Yes | Yes |
| Child care | No | Yes | Yes |
Planet Fitness's low-cost model makes it the most economical choice. However, its amenities aren't nearly as diverse as LA Fitness and 24 Hour Fitness.
Many LA Fitness and 24 Hour Fitness locations have pools, saunas, and basketball courts.
Planet Fitness provides free weight training sessions but does not offer the variety of dance, HIIT and cardio group classes you get with LA Fitness and 24 Hour Fitness.
The Bottom Line
Planet Fitness is a low-cost option whose facilities are tailored to newcomers or average people who aren't looking for specialized workouts and just want to get some cardio and weightlifting in.
Who Is Planet Fitness Good For?
So, if you're the kind of person who hasn't been to the gym in years, or has never had a gym membership, we think that Planet Fitness will meet your needs.
If you're a regular gymgoer but you feel intimidated at your current gym, Planet Fitness is an excellent alternative where you'll feel more comfortable.
Also, if you have a busy work schedule or odd working hours, Planet Fitness' emphasis on clubs being open 24 hours will give you time to work out. In some cases, though, clubs will not have 24-hour schedules on the weekend.
Who Planet Fitness May Not Be Good For?
If you're someone who values group exercise and thrives on it, Planet Fitness is not a good fit.
Gyms with free classes usually have dance, HIIT, senior-focused and spin classes. Planet Fitness' only "class" is its free daily weight training sessions that focus on learning and using weight machines.
Second, you won't enjoy Planet Fitness if you want a high-end gym experience. PF's amenities and fees are stripped down. Other gym chains provide a more upscale experience.
Finally, Planet Fitness isn't good for you if you have kids and need to bring them with you when you workout. PF locations don't offer childcare in order to keep membership fees low.
FAQ
What Is the Planet Fitness Lunk Alarm?
Planet Fitness activates a light- and sound-powered "lunk" alarm whenever members slam weights down and/or make loud grunting noises. This alarm is part of Planet Fitness' emphasis on making their gyms non-intimidating and welcoming.
What Is Planet Fitness Hydromassage?
The hydromassage beds that Black Card members have access to are open-top beds that massage your back via pressurized water shooting below the bed's surface.
Does Planet Fitness Have Showers?
Yes.
Does Planet Fitness Have a Sauna?
No.
Does Planet Fitness Have Pools?
No.
Does Planet Fitness Have Free Weights?
Yes. PF locations have a wide variety of free weights.
Does Planet Fitness Have Classes?
No. The gym has no group fitness classes. However, they do small-group weight training sessions through which trainers show you how to use weight machines effectively.
Is Planet Fitness Open 24 Hours?
Most locations have a 24-hour schedule. In some cases, clubs will do 24 hours during the week and have shorter hours on the weekend.
Does Planet Fitness Have Wi-Fi?
Yes. All members have access to PF's free Wi-Fi.
Our Promise to You
In order to safeguard you and ensure helpfulness and relevance, our compliance team manually assess every customer review before it goes live.
We have a zero-tolerance policy for fake reviews, and companies cannot control or alter any reviews at any time.