LA Fitness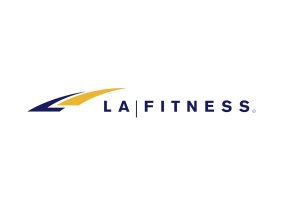 Summary
LA Fitness sets itself apart from competing gyms by offering pools in nearly every location as well as child-care facilities that watch your kids while you work out.
Pros
Most locations have a pool and sauna
Childcare provided at nearly all locations
Signature Clubs offer a premium experience
You can negotiate your membership fee
Group classes are included in membership fees
Cons
The cancellation process is cumbersome
You have to pay for racquetball court reservations
Expensive if you just need weights and cardio equipment
LA Fitness Review: Is It the Right Gym for You?
LA Fitness is a popular gym offering memberships you can buy for as little as $34.99 a month.
Their claim to fame is their reasonable pricing that includes access to fitness classes, a heated lap pool, whirlpools, saunas and, at some locations, child care.
The company started in 1984 and has since grown to more than 800 clubs in the United States and Canada. Their mission is to do what they can to improve your physical and emotional well-being through inclusive, amenity-laden facilities.
Exactly how LA Fitness does that is what you'll discover in this review. Our goal is that you'll get a clear sense of what LA Fitness is all about and whether or not it's a good fit for you.
Membership Cost and Options
All LA Fitness memberships are month-to-month. You can choose to sign-up in-person or online. If you sign up online, you'll pay the following prices:
Single-club: $34.99/month, $49 annual fee, $0 initiation fee
Multi-club: $39.99/month, $49 annual fee, $0 initiation fee
You'll have to pay your first and last month's membership fee when you sign up. Also, the following states may have different pricing when you join online: AZ, AK, KY, LA, NY, OH, SC, TN, and DE.
Your initiation fee will vary based on which promotion LA Fitness is running online or at your local club. It can go as high as $99. In that case, you'll probably get a lower monthly fee since you're paying more upfront.
LA Fitness will charge you $10 a month if you want to pause your membership for travel, sickness and other situations that make it impossible to work out.
Negotiating a Lower Membership Fee in Person
Your monthly fees could be lower than what's listed online if you go to a club and negotiate with a sales rep. For example, a sales manager at my local LA Fitness quoted my monthly payments as low as $20 if I came into the club to sign up.
I went into an LA Fitness to research pricing and found that the sales rep was willing to discount my membership equal to what I'd have to pay to get out of my Planet Fitness membership.
If you're not comfortable with negotiating in-person but you want to lower your monthly payment, call the club you want to sign up at and talk with a sales rep over the phone. Agree over the phone on a price, then head to the club to finalize it.
Single-Club vs. Multi-Club Memberships
If you're a business traveler, you might entertain a multi-club membership. However, most business hotels provide enough workout equipment to keep up with your routine, even if it means cutting back some of your usual exercises in favor of more cardio work.
Multi-club memberships may be good for you, too, if there's a club next to your school or work. This gives you the flexibility to sneak out during your lunch break or between classes to get a workout in.
However, if you tend to use the gym closest to your home no matter where you work or go to school, the single-club membership will suit you.
Five-Day Pass
If you want to try out your local LA Fitness before you join, the easiest way to do it is to go about a week or two before you want to sign up for a gym membership and ask for a five-day pass.
When I went to my local LA Fitness to research pricing, the salesperson seemed willing to give me a free pass only if I was making my membership decision soon. I noticed another customer getting the same treatment.
How to Cancel Your Membership
To cancel, you'll need to go to your My LA Fitness online account and print out a cancellation form. Fill out the form and either take it to the Operations Manager at the nearest LA Fitness or send it to the following address: P.O. Box 54170; Irvine, CA; 92619-4170.
You should not be charged for another month of dues as long as the form's envelope is postmarked at least 5 business days before your due date.
Amenities
All LA Fitness locations will include the following amenities:
Free weights, weight machines, and cardio machines
Several free group fitness classes
Lap pool, whirlpool & sauna
Lockers
Racquetball and basketball courts
Racquetball courts are first-come, first-serve. You'll have to pay $7 a month if you want to reserve a court.
Some locations – LA Fitness doesn't list them on their site – have additional amenities that may or may not cost you an additional fee to use:
Babysitting
Juice bar
Swim school
Because pricing for these amenities could change from club to club, we can't give you an exact quote on how much these services will cost.
We did, however, give our local LA Fitness club a call and found that babysitting was up to $15 a month and allowed one two-hour session per day.
LA Fitness Signature Club Amenities
Signature Clubs will cost you more each month but include:
Full-size basketball courts
Towel service
Executive-style locker rooms with bigger showers
Digital lockers
These locations are low in number and tend to have higher membership fees. However, you may find the club worth it if, for example, you go to work after the gym and want better locker-room amenities while you get ready for work.
Personal Training
LA Fitness organizes your personal training sessions based on your fitness needs as determined in a free assessment before your first session.
You have three payment options for these sessions: 6- and 12-month contracts or per-appointment. The fee is $160 a month for once-a-week sessions, with pricing varying for single appointments. This price, though, will vary by location.
Remember, though these personal training sessions are contract-based, and you could be charged up to 50% of the price of your remaining sessions if you cancel your contract before it's completed.
Group Classes
All or nearly all of your group classes will be free depending on which location you go to. These classes include the following workout styles:
Pool workouts
Belly dancing
HIIT
Spin
Hip hop dance
Kickboxing
Pilates
Latin dance
Zumba
Step
The variety of classes the gym offers are varied enough to keep your interest over time, especially if you enjoy multiple dance styles.
One way to get the most out of these classes is to find an instructor you like and attend their classes or classes each week. The connection you feel with them and their teaching style helps you stay consistent with your workouts.
Analysis of Customer Reviews
Customers who leave good reviews for LA Fitness most often praise the gym's amenities, citing a love for the gyms basketball courts, pools and saunas.
The main consumer complaint against LA Fitness is its rigid terms of membership contracts.
The gym will not let you out of a contract once it's signed, which is something we saw time and again from customers on HighYa.com and other review sites. LA Fitness' unwillingness to bend on membership contracts carries over to their personal training contracts, too.
A few readers mentioned that they felt the sales reps who sold them a membership were misleading and made claims that didn't match what was in the contract and in the customer's billing statements.
The Takeaway
You'll be most happy with your LA Fitness membership if you read your contract carefully and understand your membership terms.
Doing this removes the surprise of additional fees and allows you to enjoy the many amenities that draw praise from LA Fitness customers.
LA Fitness vs. Planet Fitness and 24 Hour Fitness
The following chart shows you how LA Fitness compares to the competition regarding the most important parts of your membership. Pricing is based on online prices, which can differ from what the clubs offer in-person:
| | LA Fitness | Planet Fitness | 24 Hour Fitness |
| --- | --- | --- | --- |
| Cheapest single-gym membership | $34.99 | $10 | $31.99 |
| Cheapest multi-gym membership | $39.99 | $22.99 | $31.99 |
| Sign-up fee | Up to $99 | Up to $29.00 | Up to $29.99 |
| Annual fee | $49.00 | $39.99 | $49.99 |
| Cancellation fee | None | $58.00 | Remaining months on contract |
| Free classes | Yes | No | Yes |
| Child care | Yes | No | Yes |
If you want to know which gym is best for you, consider:
How much you can afford each month?
Does your schedule require you to work out at multiple locations?
How comfortable you are with negotiation?
Which amenities are non-negotiable?
Prioritize these questions in an order that makes sense for you, then find out which gym best fits your priorities.
The Bottom Line: Who Is LA Fitness Good For?
LA Fitness is an excellent all-around gym because of its extensive amenities and free classes. These two features mean that they can cater to almost any customer. Furthermore, the variety of amenities and classes means you can expand and adjust your workout routine over time.
In addition to these scenarios, we think this gym is a good fit for the following type of people:
You Need Childcare While You Exercise
Many LA Fitness locations have childcare facilities you can use when you work out. This makes their gym convenient if the only time you can work out is with your child. Furthermore, their two-hour time limit means you have enough time to take a class and do a workout on their cardio equipment, weight machines or in their pool.
A Pool Is Necessary to Your Workout
Nearly all LA Fitness locations have a pool, which is part of what makes their facilities unique. If swimming laps is part of your exercise regimen or is your workout plan, your local club's pool may be the only reason you join.
You Thrive in Group Workouts
LA Fitness' extensive list of group classes means you have dozens of options each week for classes that put you next to other people who are pushing toward a goal just like you. The natural accountability you feel in your group workouts will help you meet your fitness goals.
You're Willing to Negotiate Membership Prices
LA Fitness salespeople are willing to negotiate plan pricing depending on how much you want to pay each month and if you're willing to sign a year-long contract. If you're good at getting what you want through negotiation, you'll find that you could talk your monthly fees down below $25.
You're Bored with Your Budget Gym
Budget gyms give you plenty of cardio and weight stations to get fit but often lack additional amenities. If you've grown tired of what your budget gym has to offer, LA Fitness' pools, saunas, and basketball courts provide a significant upgrade over your current experience.
Customer Reviews
Posted on Dec 5, 2021
Total rip-off, especially personal training
I was called to come in for a free fitness assessment, came in and it ended up with me sitting at the table and literally being pressured into signing an agreement. What they explain to you at the table is not what is on the document. I'm so disappointed because I feel like I signed a devil contract. The guy there told me if I wanted to cancel I would have to pay half of the monthly balance, but turns out I'll have to pay half of the 12-month balance. This place is a ripoff and they are complete liars and scammers, and they are not honest at all about a sale.
Length of Use: Less than 3 months
Bottom Line: No, I would not recommend this to a friend
Pros and Cons
No "pros" were specified in this review
Liars
Scammers
Posted on Apr 20, 2021
Just out for the money
I've been a member of Bally's then LA Fitness continuously since I started at Bally's in 1979. I renewed my annual membership this past February and told the customer service rep that I did not want to go during the pandemic and she told me I could wait until August to use the membership but I had to pay then even though I said I'd rather wait to pay in August. I retired last month and found out that my retiree insurance would pay for my membership once I turn 65 this June. I called LA Fitness asking if they would refund my annual membership that I paid in February and they would not. I guess 42 years of being a client means nothing to them. Can't say I was surprised. Everyone knows they don't care about their customers.
Length of Use: 2+ years
Bottom Line: No, I would not recommend this to a friend
Pros and Cons
Their amenities
The cleanliness
Money hungry
No concern for customer
Posted on Apr 16, 2021
We're closed so get out!
I was there for 1 day using my "trial pass" and I made the unforgivable mistake of using the toilet right at closing time. So this girl who works at the front desk comes into the bathroom and starts screaming for me to leave and she sounds psychotic, like she's really angry that I was still there! I just laughed at her and went about my business getting my things out of the locker. As I was walking towards the exit she actually started to lecture me about their hours and that I should have been out by now! I just told her she had a serious attitude problem and needed to get her crap together because there was no need for her to speak to me in such a disrespectful tone. I walked out of there and now I'm so glad I never joined this substandard gym! I took my complaint to the management the next day and never heard back from them. They really don't care about how they talk to guests and I'm amazed they are still in business as they do not even bother enforcing mask-wearing, the locker room is filthy with zero housekeeping, and the pool is cloudy like they don't maintain it either! There are so many better clubs in Houston. You couldn't pay me to join this club!
Length of Use: Less than 3 months
Bottom Line: No, I would not recommend this to a friend
Pros and Cons
The exit sign
Unprofessional staff
Dirty locker rooms
Zero accountability for poor treatment by staff
Posted on Apr 8, 2021
Awful
I usually went to the Arcadia, California LA Fitness until all LA Fitness around had to rent out one of three existing swimming pool lanes to an outside company to teach screaming children how to swim. The only benefit of the club originally was that only 14-year-old members were permitted in the club and there is child care on-site. Swimming to reduce stress does not happen with screaming kids in one lane and their non-member parents camping around the pool. Why the heck are paying members having to cram in two lanes? This company should be shut down.
Length of Use: 2+ years
Bottom Line: No, I would not recommend this to a friend
Posted on Mar 3, 2021
Not a great place, would not recommend.
Outdated, poorly maintained machines. Multiple treadmills that have needed repairs for weeks. Broken old exercise machines with missing hand grip covers and missing paint and rusted spots. Machines with stretched or very worn belts. Management seems most concerned with signing people up for personal training or spending hours of his work time doing his own bodybuilding. No efforts to enforce Covid mask or cleaning rules. The only advantage is it's not usually crowded and close to my home.
Length of Use: 3–6 months
Bottom Line: No, I would not recommend this to a friend
Pros and Cons
Close to home
Poor maintenance
Old worn machines
Lack of Covid enforcement
Posted on Oct 4, 2020
Not worth it
Insert "I'm only giving them 1 star because 0 stars isn't an option" cliché. I can't say enough bad things about what a scam LA Fitness is. Do not sign anything! Everything has fine print, they couldn't care less about your health and fitness, they ONLY care about making as much money off you as possible, and it is VERY difficult to get ahold of customer service. They also made ZERO exceptions and accommodations in the midst of a global pandemic that greatly affects your ability to work out. They do not care about anything but money.
Length of Use: 1–2 years
Bottom Line: No, I would not recommend this to a friend
Pros and Cons
No "pros" were specified in this review
They overcharge you for everything
They lie to their employees and their clients
Terrible customer service
Posted on Sep 30, 2020
Renegar. I could not find another term.
LA Fitness meaning: A place where words and actions are not fulfilled. When you say you'll do something, others expect you to do it, or you may develop a reputation for not following through on commitments and letting people down. Signed a contract with the explanation that it could be used until sections end (my daughter or me), 50 sections were still in the account, information given by the front person. Later on, ends up you lose your money and your time. Every visit a promise that somebody will call but nobody calls. Somebody will solve the situation, but nobody cares. And every time it is a new face!
Length of Use: 1–2 years
Bottom Line: No, I would not recommend this to a friend
Pros and Cons
No "pros" were specified in this review
The change of manager playing with your time and money
Posted on Mar 18, 2020
My first day at LA Fitness
Just bought my membership card on Sunday, after being bombarded by phone call of their sales. They offered a free evaluation and program completion with the instructor. Scheduled for Monday, 12 pm. I arrived at 11:20 and was introduced to the instructor, who said he needed to have lunch, which was totally ok for me since I wanted to do 30 minutes cardio. After returning to his desk, I found this instructor Conrad still eating his meals, halfway actually. I politely said that it is 12 pm already. He replied he could not have his lunch due to some customers' calls and that I should wait.
I said I had an appointment booked after this introductory session. But probably Conrad was too hungry to stop eating lunch.
Are you interested in people only before you sell membership? Selling is one thing, but keeping customers is more important.
Bottom Line: No, I would not recommend this to a friend
Posted on Jan 11, 2020
You don't "NEED" my darn email address!
I was going to renew my membership to the local club. The guy at the counter started from the BEGINNING of the GD application, after I already told him the ONLY information that had changed was my insurance company...what's your zip code, email address...etc. I do NOT give out my email address anymore because of the CONSTANT email scams! He said he couldn't complete the membership without it. I turned around and walked away! Good bye LA Fitness!
Bottom Line: No, I would not recommend this to a friend
Posted on Jan 9, 2020
Don't accommodate relocation
Disappointed that LA Fitness was unwilling to accommodate the change of a single location for me. Not only were they unwilling, but they sent me on a song and dance before getting to the conclusion of unwilling to help. I was passed along to no less than four people before I finally got the answer that if i wanted to change gym locations I would have to purchase a multi-club membership and pay double. All I wanted to do was change my single location to another single location due to relocation.
Loved the gym, disappointed with the absolute lack of support and disregard for life changes. Have been forced to change gyms and go to a Good Life Fitness.
Bottom Line: No, I would not recommend this to a friend
Posted on Jan 2, 2020
So what
Belonged to LA Fitness, canceled membership, gave 8 weeks notice, LA still took money out of my account for months. There was a class-action lawsuit, LA loses. 10 years later thought about coming back, was treated like "so what," gave the highest price monthly. Also since I was a prior member should have been given the lower rate, but so what, too bad.
Bottom Line: No, I would not recommend this to a friend
Our Promise to You
In order to safeguard you and ensure helpfulness and relevance, our compliance team manually assess every customer review before it goes live.
We have a zero-tolerance policy for fake reviews, and companies cannot control or alter any reviews at any time.