Better Bladder
This company has claimed this profile, is getting alerted on any new customer reviews entering this page, and may engage in dialogue with its customers to address their matters.

Companies cannot pay money or provide goods in order to remove or alter customer reviews.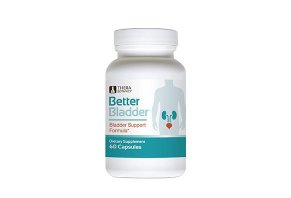 Summary
Better Bladder is a dietary supplement aimed to naturally relieve embarrassing and inconvenient urinary symptoms.
Better Bladder Review: Effectiveness, Side Effects, Cost, and More
Thera Botanics claims that Better Bladder will naturally relieve your embarrassing and inconvenient urinary symptoms.
According to their site, you'll experience the following benefits by taking two capsules once daily with a meal:
Reduced frequency of daytime urination
Reduced nighttime urination
Reduced urgency to urinate
Reduced frequency of leaks and accidents
By definition, overactive bladder (OAB) includes an increased frequency, as well as a sudden compelling desire or inability to control urination. This condition may affect as many as 43% of women and 27% of men.
The causes of OAB are numerous and can be very different for men and women. Nonetheless, Thera Botanics states that Better Bladder can offer relief for both sexes.
As treatment for OAB can include adult diapers, medications, or even surgery, a product that offers natural relief can be advantageous for those wishing to avoid traditional management.
But can a couple of pills really live up to these claims?
In this article, we'll review any available scientific evidence for Better Bladder to help you determine if this supplement can offer the relief you need.
Analysis of Active Ingredients: Is There Any Scientific Support?
Thera Botanics states that the proposed benefits of Better Bladder are made possible by a blend of just three all-natural ingredients.
Though Thera Botanics does not provide the quantity of each, they do offer that of the total blend. Thus, we know that every two capsule serving of Better Bladder includes 840mg total of the following ingredients:
Crateva Nurvala
Though the proposed effects of this extract are widely accepted, they have not been extensively studied. Nonetheless, extracts from this small tree are often used in the management of a variety of urinary symptoms.
For example, a randomized trial found that the combination of crateva nurvala and banana stem (250mg each) to benefit those with kidney stones.
This herbal supplement significantly reduced the size of even large kidney stones.
Reducing the size of stones can improve urinary flow, decrease pain, and make the stone easier to pass without surgery. The effects of this extract in those with OAB are less clear, however.
Horsetail
Also called Equisetum arvense, this plant is grown all over the world. It is widely thought to work as a diuretic, a substance that promotes urination.
Healthy subjects that received 900mg of horsetail daily, safely caused a diuretic effect comparable to a medication commonly prescribed for those with high blood pressure.
In women with difficulty controlling urination, those treated with a 625mg blend containing horsetail improved frequency of accidents, as well as day and nighttime frequency of urination.
The side effects reported were mild and typically included headaches and gas.
Interestingly, horsetail is thought to promote urination. This seems counterproductive to the symptoms of OAB. Nonetheless, it is commonly used worldwide to treat this condition.
The available evidence seems to support the use of this extract in doses much higher, as well as those likely comparable to what is offered in Better Bladder.
Lindera Root
This root is thought to offer many health benefits related to treating stomach, kidney, and nerve issues. It is widely used in traditional Asian medicine for the treatment of urinary issues, though support for this benefit is lacking.
Better Bladder Research Trial
Except for horsetail, the ingredients in this blend lack meaningful scientific support for their effects on urinary symptoms.
However, Better Bladder was investigated as a stand-alone product in a clinical study – this may offer further insight into the intended use of this product.
In 150 individuals with OAB, those that received Better Bladder safely and significantly improved urinary day and nighttime frequency, sudden urges, and accidents over 8-weeks when compared to placebo.
While this only gives us an idea of how the supplement acts in the short-term, it is still valuable information.
Is Better Bladder Safe?
The ingredients offered in Better Bladder, when used alone, are generally safe.
Without information detailing the quantities of each extract, however, we are unable to conclude as to whether the serving sizes are large enough to be effective, or too large to be safe.
Being tested as a stand-alone supplement does offer some insight. No serious side effects were reported, though the trial was only for 2-months.
Thus, we do not have information detailing the effects of this product over a long period.
Lastly, your urinary symptoms may be related to any number of underlying conditions. Some may be relatively easy to manage, while others can be quite serious.
Better Bladder may not target the specific source of your symptoms; management should begin with seeing your doctor.
Pricing and Ways to Buy
Better Bladder is currently available from their website.
You can get a 60-day supply through their special internet offer; for just the cost of shipping ($9.95), you'll get two bottles of Better Bladder, a 30-day supply of their fish oil supplement, and Secrets to a Better Bladder, by Dr. Tracey Seipel.
Make sure you watch out for the fine print:
"Then, unless you call to cancel, after 30 days your credit card will be charged only $39.95 per bottle ($79.90 total). Every 60 days, we will send you a new 60-day supply of Better Bladder™ billed to your same credit card at the same low price of $39.95 per bottle ($79.90 per shipment) plus $9.95 S&P."
Purchasing Bladder Relief through their site also ensures that their 30-day guarantee covers you. To process your return, simply call (800) 234-0693.
At Amazon, you'll pay $79.90 for a 1-month supply, though you can save on shipping.
Are There Any Alternatives?
As urinary symptoms affect so many individuals, there are a number of products that claim to offer benefits similar to those of Better Bladder.
BladderControl360 from Stop Aging Now is a great example. Their proposed benefits are identical to Better Bladder's claims, and just two natural extracts are thought to be responsible: pumpkin seed and soy germ.
This product may also be a more cost-effective option as it is available at the following pricing options:
1 Bottle – $29.95
3 Bottles – $80.85
6 Bottles – $149.70
The Bottom Line
Better Bladder contains just three active ingredients, two of which lack substantial scientific support for their proposed ability to relieve urinary symptoms.
Being tested as a stand-alone product has revealed some merit for Thera Botanics' claims, though the safety and efficacy were demonstrated only in the short-term.
At Amazon, over 50 users rate Better Bladder just 2.9-stars. Nearly 65% of all reviews were 3-stars or lower. Poor ratings seem to be related mainly to expensive pricing, poor results, and worsening symptoms like frequent urination.
As this supplement is relatively expensive and it may not even address the source of your urinary symptoms, it is best first to seek medical attention to identify the underlying cause and map out the best plan of action.
Customer Reviews
Posted on Feb 9, 2023
Works great
In two weeks, I have stopped having frequent daytime accidents. I only wake up once during the night. I am able to drink water throughout the day. I feel like like a normal person again.
Length of Use: Less than 3 months
Bottom Line: Yes, I would recommend this to a friend
Company Response from Ideal Living Management, LLC
Feb 9, 2023
Hi Beverly,
Great to hear how Better Bladder has helped you. Thank you so much for sharing your experience with us.
Posted on Oct 21, 2020
Fraud
This is a fraudulent company. Product does not work and they have no way of canceling an order. I have been trying for five days and the same idiot gets on the phone and says sorry system is down, call tomorrow. They are taking your money for nothing more than their own pleasure. I am contacting an attorney.
Length of Use: Less than 3 months
Bottom Line: No, I would not recommend this to a friend
Company Response from Ideal Living Management, LLC
Oct 22, 2020
Hi Elizabeth,
Thank you for the review. What you are being told is true - we are experiencing a major outage of our system and one aspect that is being affected is our ability to look up orders to service our customers. No need to get an attorney but just call back on Tuesday 10/27 which we have been told is the goal date for all systems to be back up and running. We are grateful for all the YEARS it has been working without issue and we certainly wish it was up and running as well. I am sorry for the inconvenience.
Posted on Jun 10, 2020
Didn't work for 3 weeks
I'm 82 years old, I took these pills for 3 weeks and no result of my bladder. It still leaks. I would like a refund for this, it is not worth it.
Length of Use: Less than 3 months
Bottom Line: No, I would not recommend this to a friend
Company Response from Ideal Living Management, LLC
Jun 10, 2020
Hi Angelina,
Three weeks isn't very long. We would recommend giving it some more time.
In the clinical study, many participants started seeing improvement in as little as 2 weeks, but you should continue taking Better Bladder for at least one month before deciding if it's working for you (which is why we offer our 30-day risk-free trial).
Everyone reacts at a different rate, but a double-blind placebo-controlled clinical study showed that participants saw improvement in the major symptoms of a weak and unpredictable bladder, including urinary frequency, urgency, and leaks, and accidents.
Posted on Dec 16, 2019
I sleep through the night!
I'll admit I was skeptical. I take a prescription medication for Overactive Bladder and even that isn't 100% effective. I would still wake up about every 3 hours to use the bathroom at night, so I always felt sluggish and sleepy when waking up and would have to RUSH to the bathroom the minute my alarm went off! NO MORE of that! I started Better Bladder and within 2 days, I woke up and realized I SLEPT THROUGH THE NIGHT. Better yet, after my shock of that, I noticed there was NO URGENCY to rush to the bathroom first thing! During the day, I noticed I can "hold it" for almost 5 HOURS. Haven't been able to do that in probably 10 years! Although a little pricey, I think it's worth everything penny. I HIGHLY recommend you at least TRY it!
Bottom Line: Yes, I would recommend this to a friend
Company Response from Ideal Living Management, LLC
Dec 17, 2019
Hi Shawna,
Thanks for the review. :-)
It's so wonderful to hear about how Better Bladder has helped you with this. Thank you so much for sharing your experience with us.
Posted on Sep 5, 2019
A total waste of money; no help.
Due to warnings about signing up for the discount, I chose to buy two months worth at full price. I did not want to keep getting a product if it didn't work. And it DID NOT help at all. I would not recommend another expensive supplement that is ineffective. I question the raving reviews since I know companies can and do manipulate success information. I wish it worked.
Bottom Line: No, I would not recommend this to a friend
Company Response from Ideal Living Management, LLC
Sep 6, 2019
Hi Anita,
Thanks for the review. We are sorry that Better Bladder did not work for your specific needs as it has helped many. You may need to check in with your healthcare provider to find what is right for you! We appreciate you trying Better Bladder!
Posted on Jul 3, 2018
Company reached out
Mary at Better Bladder reached out to me last week. The product was received by them and my bank account has now been credited with the full amount that had been withdrawn. Thank you, Mary, for taking care of this matter.
Bottom Line: No, I would not recommend this to a friend
Posted on Jun 18, 2018
Think about it
I discovered Better Bladder while surfing the internet. I tried it and determined that my condition improved so have continued to take it. When taken as directed, "with a meal," it works well. I no longer drink caffeinated beverages. Both of these has greatly improved my bladder function. I have now used it for four months and will continue to take it so long as it improves my condition.
Bottom Line: Yes, I would recommend this to a friend
Our Promise to You
In order to safeguard you and ensure helpfulness and relevance, our compliance team manually assess every customer review before it goes live.
We have a zero-tolerance policy for fake reviews, and companies cannot control or alter any reviews at any time.