Better Bladder Reviews
Claimed This company has claimed this profile, is getting alerted on any new customer reviews entering this page, and may engage in dialogue with its customers to address their matters.

Companies cannot pay money or provide goods in order to remove or alter customer reviews.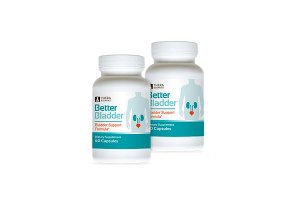 With just 3 ingredients, the Better Bladder supplement claims to be clinically shown to reduce urination frequency and urgency, and improve quality of life.
What Is Better Bladder?
The patented formulation of natural herbs found in Better Bladder's dietary supplement promises to help reduce daytime and nighttime urination frequency and urgency, as well as minimize embarrassing leaks and accidents, in as little as two weeks.
In fact, the website tells us that in a double-blind, placebo-controlled clinical study, 90 percent of participants who took the supplement reported fewer leaks, accidents, and visits to the bathroom, without side effects. All you have to do is take two capsules once daily with a meal to experience these benefits, without having to rely on drugs, surgery, or diapers.
Whether you're a man or a woman, bladder problems can severely limit your day-to-day activities, not to mention constantly present a potentially embarrassing situation. But have you finally found safe, natural relief with Better Bladder, as claimed on the website?
In this article, we're going to break everything down and help you answer the central question: Should I spend my hard-earned money on this product?
What Causes Loss of Bladder Control?
MedlinePlus reports that urinary or bladder incontinence "occurs when you are not able to keep urine from leaking out of your urethra," and falls into one or more of the following classifications:
Stress incontinence: Caused by coughing, sneezing, laughing, or exercise
Urge incontinence: A strong, sudden need to urinate with little time to make it to the restroom
Overflow incontinence: Dribbling caused by the bladder not fully emptying
Regardless of the classification, they indicate that causes can run the gamut; everything from brain or nerve problems and weak urethral muscles, to pregnancy and spinal cord injury. Because recurring loss of bladder control can be the result of so many underlying causes, and because WebMD notes that it's extremely common for seniors, it's extraordinarily important to speak with your doctor if you're experiencing the condition.
With this said, the article reports that, while "treatment depends on the type of problem," it "may include simple exercises, medicines, special devices or procedures or surgery."
Comparatively, what does the clinical evidence indicate for the ability of Better Bladder's ingredients to address urinary incontinence?
Taking a Closer Look at the Ingredients In Better Bladder's Supplement
According to the label listed on the supplement's website, Better Bladder contains the following:
Proprietary blend 840mg: Lindera (Lindera aggregata) extract (root), Horsetail (Equisetum arvense) extract (aerial parts), Cratevox Three-leaf caper (Crateva nurvala) extract (stem bark)
In order to report on the efficacy of each of these ingredients, we typically rely on the summarizations of the available clinical evidence provided by sites like the Natural Medicines Database, WebMD, and Examine.com.
In this instance, however, none of these resources listed entries for lindera or crateva. For horsetail, they indicated there's insufficient evidence that the ingredient can provide any bladder or incontinence-related benefits.
We also didn't encounter a standalone website for Cratevox, although it also appears to be included in another dietary supplement named UriVarx.
With all of this said, the website provides an abstract of a randomized, double-blind, placebo-controlled trial completed on Better Bladder, which concluded that after eight weeks, it helped significantly lower urinary day frequency by 90%, nocturia (excessive night urination) by 84%, and symptoms of urgency and stress incontinence by 86%/
It also concluded that "Significant improvements in quality of life were reported after treatment in comparison to placebo."
Could Better Bladder's Ingredients Cause Side Effects?
According to the Better Bladder website, there are no known harmful side effects from taking the supplement.
However, WebMD reports that "horsetail is possibly unsafe when taken by mouth long-term. It contains a chemical called thiaminase, which breaks down the vitamin thiamine. In theory, this effect could lead to thiamine deficiency.." The horsetail in Better Bladder is thiaminase-free.
However, it's always important to speak with your doctor before you begin taking any supplement.
How Much Do Better Bladder Pills Cost?
If purchased directly through the BetterBladder.com URL, the only way to get your hands on the supplement is by agreeing to a 30-day trial for an initial price of $9.95, which covers shipping and processing. For this, you'll receive a two-month supply (120 capsules). Advertisement
If you don't contact Therabotanics at 800-234-0693 or customerservice@betterbladder.com within 30 days, you'll be charged the discounted price of $39.95 (it normally sells $59.95 per bottle) per bottle ($79.90 total). Then, you'll continue receiving a two-month supply of Better Bladder once every 60 days, and your credit card will be charged $79.90, plus $9.95 S&P each time. You can also buy Better Bladder from the Therabotanics.com website for $59.95 per bottle, but they do offer a 25% discount (plus free shipping) if you sign up for monthly delivery.
All orders from the BetterBladder.com website also come with a free bottle of Perfect Omega, as well as a copy of the "Doctor's Secrets to a Better Bladder" booklet by Dr. Tracey Seipel.
We also found Better Bladder for sale on Amazon.com for $59.95 per bottle, plus free shipping and no auto-ship enrollment.
Are There Any Online Customer Reviews For Better Bladder?
The only place we encountered direct online feedback for Better Bladder was on Amazon, where 19 customers had given the supplement an average rating of three stars, with 8, five-star reviews.,.
From a company perspective, Therabotanics is headquartered in Sherman Oaks, CA and has an A+ better Business Bureau rating..
Therabotanics manufactures a whole line of popular dietary supplements, many of which the HighYa team has researched in the past, including Profemin, Prosvent, Cebria, and Citratrim.
Better Bladder itself has been on the market since 2012, although the website indicates it was sold under a different name in Australia, "where the product was first developed by Dr. Tracey Seipel after 15 years of research and testing." Who's this?
Although we didn't find much mention of Dr. Seipel outside of press releases for Better Bladder during our research, the supplement's website indicates that she's been a naturopathic doctor, medical herbalist, and nutritionist for more than 30 years.
They also indicate she "has pioneered the Natural Urological Healthcare Category and received the prestigious Nutrition Business Journal Award for Innovative Product Merit."
Are There Other Urinary Incontinence Supplements Like Better Bladder?
Just typing the phrase "bladder supplement" into Google will return hundreds of options that contain a wide assortment of ingredients and proprietary formulas, priced anywhere from less than $10 to well over $40.
You can even type in the phrase "lindera horsetail cratevox" and find at least two other supplements currently available with an identical formulation to Better Bladder, including:
| Supplements | Per-Bottle Price | Clinically Studied? |
| --- | --- | --- |
| Better Bladder | $39.95 (must purchase two bottles at a time) | Yes |
| UriVarx | As low as $49.95 | Yes |
| Doctor's Best Bladder Support w/Urox | $25 | No |
Outside of price, we didn't uncover any functional differences between these formulas. So, how can you choose?
Not to sound like a broken record, but because an overactive bladder or loss of bladder control could be a symptom of a wide range of conditions—many of which could be potentially serious—we think you'll get the most value for your money by starting off discussing any issues you're experiencing with your doctor.
They'll be able to ask all the right questions and order any necessary tests to provide you with a science-based diagnosis, and then advise whether or not supplements like Better Bladder fit into the overall picture.
If they recommend that you proceed, you'll want to focus on companies that price their supplements competitively, offer money-back guarantees, don't force you into a trial or recurring shipping program, and who formulate their products with science-backed ingredients. Better Bladder does offer a 30-day money-back guarantee, so if you don't see the results you're hoping for, you can get a refund of your purchase price. The ingredients also match identically those which were researched in the clinical study. If you are not interested in the discount offered for auto-ship subscriptions, you can buy a single bottle through Amazon or the Therabotanics website.
What does this mean for you and Better Bladder?
Our Final Thoughts About Better Bladder
Based on what's reported by authoritative sites like WebMD and the Natural Medicines Database, there seems to be little-to-no clinical evidence that Better Bladder's ingredients—on their own—can provide any bladder-related benefits.
However, the company provides an abstract of a double-blind, placebo-controlled clinical study indicating that the supplement's specific formulation of ingredients—together—led to significant improvements in participants' nighttime and daytime urination frequency, reduced symptoms of urgency and stress incontinence, and significantly improved quality of life.
And while you'll be required to sign up for a trial and be enrolled in an autoship program if you order directly through the Better Bladder website, the company seems to make it easy to cancel and obtain a refund if you're dissatisfied. The supplement also comes with mostly positive—online customer feedback.
2 out 2 people found this review helpful

I sleep through the night!

By Shawna M.

,

Michigan

,

Dec 16, 2019
Verified Reviewer

I'll admit I was skeptical. I take a prescription medication for Overactive Bladder and even that isn't 100% effective. I would still wake up about every 3 hours to use the bathroom at night, so I always felt sluggish and sleepy when waking up and would have to RUSH to the bathroom the minute my alarm went off! NO MORE of that! I started Better Bladder and within 2 days, I woke up and realized I SLEPT THROUGH THE NIGHT. Better yet, after my shock of that, I noticed there was NO URGENCY to rush to the bathroom first thing! During the day, I noticed I can "hold it" for almost 5 HOURS. Haven't been able to do that in probably 10 years! Although a little pricey, I think it's worth everything penny. I HIGHLY recommend you at least TRY it!

Bottom Line: Yes, I would recommend this to a friend

Dec 17, 2019

Hi Shawna,

Thanks for the review. :-)

It's so wonderful to hear about how Better Bladder has helped you with this. Thank you so much for sharing your experience with us.

---

2 out 3 people found this review helpful

A total waste of money; no help.

By Anita W.

,

Pt. Ludlow, WA

,

Sep 5, 2019
Verified Reviewer

Due to warnings about signing up for the discount, I chose to buy two months worth at full price. I did not want to keep getting a product if it didn't work. And it DID NOT help at all. I would not recommend another expensive supplement that is ineffective. I question the raving reviews since I know companies can and do manipulate success information. I wish it worked.

Bottom Line: No, I would not recommend this to a friend

Sep 6, 2019

Hi Anita,

Thanks for the review. We are sorry that Better Bladder did not work for your specific needs as it has helped many. You may need to check in with your healthcare provider to find what is right for you! We appreciate you trying Better Bladder!

---

Advertisement

---

14 out 16 people found this review helpful

Updated review

Company reached out

By Mary F.

,

Washington

,

Jul 3, 2018
Verified Reviewer

Mary at Better Bladder reached out to me last week. The product was received by them and my bank account has now been credited with the full amount that had been withdrawn. Thank you, Mary, for taking care of this matter.

Bottom Line: No, I would not recommend this to a friend

Previous review
Jun 3, 2018

No help whatsoever. In fact, it increased my problem!

I took the product for about 2-3 months but finally realized that it wasn't helping at all! I didn't think I could get a refund at that point, so I threw the rest of the pills away. I just received a message from the company that I was being sent another six-month supply, and $209 was being charged to my bank account! I had no idea this was going to happen, so I called the number posted in the email but had to listen to a gazillion advertisements for all sorts of stuff and was never able to get through to a live person!

I don't want the product, and I'm going to "return to sender" when it arrives, and I also want my money returned. I have contacted my bank and will have them step in if I don't hear from the company in a timely manner.

Jun 19, 2018

Hi Mary,

Thank you for the review. We are sorry that Better Bladder was not right for you unique needs. Sounds like you were on our preferred shipping program plan. Please contact marmstrong@idealliving.com with the name and zip code used when placing the order so she can make sure that future shipments have been cancelled and the refund processed. Also, can you please include the email that you received with a phone number in it? You should not have heard a "gazillion advertisements" so we would like to review the number. Thank you.

(

read more

read less

...)

---

7 out 10 people found this review helpful

Think about it

By B J.

,

Eugene, OR

,

Jun 18, 2018
Verified Reviewer

I discovered Better Bladder while surfing the internet. I tried it and determined that my condition improved so have continued to take it. When taken as directed, "with a meal," it works well. I no longer drink caffeinated beverages. Both of these has greatly improved my bladder function. I have now used it for four months and will continue to take it so long as it improves my condition.

Bottom Line: Yes, I would recommend this to a friend

---

Advertisement

---