Blue Diamond Pan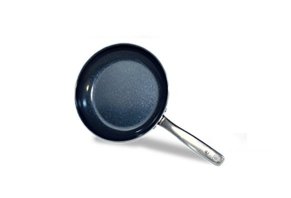 Blue Diamond Pan's ceramic coating is PTFE-free and infused with diamonds, so the manufacturer claims it's harder, stronger, safer, and longer-lasting than other non-stick cookware.
Blue Diamond Pan Review: Is It a Good Non-Stick Pan?
Using ultra-durable ceramic that's infused with millions of diamond particles, Blue Diamond Pan promises to deliver a coating that's five times harder, lasts 10 times longer, and transfers heat four times better than the competition.
Together with its solid forged base, heat-safe functionality up to 850°, and ability to roast, broil, bake, low-fat fry, sear, and sauté, the manufacturer advertises it delivers extreme strength and warp prevention, toxin-free (PFOA, PFAS, lead, cadmium) cooking, and is dishwasher safe for quick and easy cleanup. In fact, they claim you can even use metal utensils.
These certainly sound like some fantastic benefits. But, once we move away from marketing sound bites and look at real-world performance, is Blue Diamond really the strongest, longest lasting non-stick pan available? Even then, does it represent the best non-stick option for you?
How Does Diamond-Infused Cookware Work?
In How to Buy the Best Non-Stick Cookware, we explain there are three different types of coatings used in these types of products:
Fluoropolymer Gel – Typically sold under the Teflon brand name, this is made from polytetrafluoroethylene (PTFE), a plastic polymer resin that's known for its durability.
Silicone – The least expensive option that's baked onto metal, but which is known to lose its non-stick ability quickly.
Sol-Gel Ceramic – A ceramic like blend "that incorporates a release agent in the coating to give a slippery texture," provides good temperature resistance, and offers a variety of color choices.
In the instance of cookware like Blue Diamond, ultra-small diamond particles are added to the ceramic mixture before it's baked onto the metal, which these manufacturers typically advertise improves hardness, durability, and heat transferability.
However, it's worth emphasizing that the company behind Blue Diamond Pan doesn't provide evidence to support their claims that their diamond-infused coating is five times harder, lasts 10 times longer, or transfers heat four times better than the competition. Even the originator of these diamond-infused non-stick coatings (more soon) doesn't provide evidence to support these claims.
Furthermore, zooming out and looking at the information reported by sites like Geek.com, MSN.com, and ChowHound.com, based on real-world testing (including some conducted by professional chefs), popular diamond-infused non-stick coatings don't necessarily deliver better performance compared to standard PTFE-based coatings, regardless of price.
» Related: Non-Stick Cookware 101: Is Teflon Safe?
How Much Does Blue Diamond Pan Cost?
One 9.5" Blue Diamond Pan is priced at $19.99, plus $8.95 S&H. If you purchase an additional pan for $19.99, shipping would be free, bringing your total to $39.98 plus any applicable tax.
Each order comes with 50 quick and easy recipes, a 60-day refund policy (less S&H and any fees associated with the second pan), and a limited lifetime warranty against defects in materials and workmanship.
Note: Per the Warranty listed on the Blue Diamond Pan website, if a claim is filed more than 60 days after purchase, customers are required to pay for S&H to the manufacturer and also include an $8.95 check for return S&H.
In order to request a refund or file a warranty claim, you'll need to call customer support at 800-430-0475.
Who Makes Blue Diamond Pan?
The Cookware Company (USA), LLC is based out of Tarrytown, NY and has been in business since 2007.
In addition to Blue Diamond, they also manufacture popular brands such as GreenPan (more in the next section), GreenChef, GreenLife, VitaVerde, Twiztt, Michel Roux, Cookware Holland, GERO, Keltum, van Kempen & Begeer, and Fiesta cookware.
Blue Diamond Pan vs. Other Non-Stick Cookware
While traditional Teflon-based non-stick cookware has been on the market for decades, and ceramic cookware is newer but has still been available for years, it appears that Swiss Diamond is the original diamond-infused non-stick manufacturer. They've been in business since 2001.
Based on their length of time in the marketplace, it seems they've dominated this cookware niche for a while, although several other companies have recently entered their territory. Some of the top options at the time of our research included:
| | | |
| --- | --- | --- |
| Company | Size(s) Available | Price(s) |
| Blue Diamond Pan | 9.5" | $19.99 |
| Swiss Diamond | 7" - 12.5" | $39.95 - $229.95 |
| GreenPan Diamond EverShine | 8", 10", 12" | $89.95 - $99.96 |
| WOLL Diamond Lite Fry Pan | 8" - 12" | $60 - $135 |
| Happycall 5-Layer Diamond Coating Fry Pan | 7.9" - 12.6" | $25 - $50 |
Considering the wide variety of sizes and price points available, how can you choose the best diamond-infused option? As with most consumer purchases, it's largely going to come down to your individual needs.
For example, returning to our non-stick cookware buying guide, we emphasize that sol-gel ceramic coatings typically boast a better initial release than traditional Teflon.
"However, the non-stick property of sol-gel can degrade faster than conventional PTFE coatings. While proper use and care play a significant role, if treated similarly, ceramic would lose its non-stick qualities sooner. Not only will ceramic-like non-stick pans wear more quickly, but they are more prone to scratching, reducing their overall durability.
On the other hand, ceramic coatings like Blue Diamond's are often heat resistant up to 850°, while traditional Teflon begins deteriorating and losing its quality at temps above 500°. So, if high temps are your main concern—as long as you're ultra-careful when using utensils and washing, then it might deliver a solid option.
Does this necessarily mean you should go ahead and place an order? Let's fully answer this important question as we come to a conclusion.
Our Final Thoughts About Blue Diamond Pan
When choosing a non-stick pan, quality largely comes down to three distinct—but closely related—factors:
The coating's specific formula, which is frequently proprietary to each manufacturer
The number of layers in the coating
Each layer's thickness
We contacted several customer support representatives at the number above looking for these types of details about Blue Diamond, although none were able to provide anything more than what was listed on the website.
If you decide to give the 9.5" pan a try, though, it comes from a company with many years in business and who stands behind it with a 60-day refund and a lifetime limited warranty.
» Related: How to Season, Use, Clean, and Store Your Non-Stick Cookware
I'm on my second set due to the fact that the frying pans ended with chips in bottom

By Linda B.

,

Clinton, UT

,

Jan 28, 2020
Verified Reviewer

I received a set for Christmas, and I love how they cool, but like I said, the frying pans each ended with a chip in them just after if used a knife to cut some meat open to see how well it was cooked. Would recommend to a friend as long as I told them about my dealings with the pans.

Bottom Line: Yes, I would recommend this to a friend

---

Worked for a while, now not so much.

By Roy S.

,

Northeast Ohio

,

Jan 16, 2020
Verified Reviewer

This pan was referred to us by a friend. He claimed it was the best. Worked for a while...now everything sticks to it. Never overheated. Always oiled/greased. When cleaned, finish still looks like new. No abrasive scrubbers used on it. I got out my old Teflon frypan and finished up breakfast today. I'm going to gift the Blue Diamond to my friend. Maybe his wasn't used as much as ours.

Bottom Line: No, I would not recommend this to a friend

---

Advertisement

---

Never buying Blue Diamond Pan again.

By Tracy L.

,

South Carolina

,

Jan 7, 2020
Verified Reviewer

Bought the largest fry pan 9" inside cooking area and 11 inches rim to rim, was great first 2 times using. Loved how it cooked! Cleanup was easy. BUT since those 2 times and thereafter, every time I cook, the pan won't come completely clean.

It leaves a brown sticky residue. I loved the size of the fry pan, very disappointed because they are not a cheap fry pan, grateful I didn't buy any more than 1 pan.

Bottom Line: No, I would not recommend this to a friend

---

Pan is crap

By Ed H.

,

New Jersey

,

Jan 3, 2020
Verified Reviewer

My wife bought a Blue Diamond frying pan. The first time I used it I almost burned my hand on the handle. Can't pick up by handle with a hot pad. Next problem is the non-stick wears off fast. Can't make eggs without butter in the pan. The pan will go in the trash can. Don't waste your money.

Bottom Line: No, I would not recommend this to a friend

---

Advertisement

---

Hard to clean

By MaryJanr C.

,

North Carolina

,

Dec 28, 2019
Verified Reviewer

Purchased 1 month ago, used regularly and has developed a greasy film on the cooking surface which we are unable to remove with normal hand-washing cleaning routines. Product cooks well.

Bottom Line: Yes, I would recommend this to a friend

---

So so

By Ernest E.

,

British Columbia, Canada

,

Dec 27, 2019
Verified Reviewer

You have to use oil or butter which defeats the non-stick feature. Eggs stick without oil or butter, wondering if there will be a recall after Christmas...

Bottom Line: No, I would not recommend this to a friend

---

Do not waste your money, starts out amazing until coating wears off

By Jenness S.

,

Texas

,

Dec 17, 2019
Verified Reviewer

I absolutely loved this pan for 4 months. Cleanup was easy, only a paper towel to wipe away excess and brand new. I tend to keep all pots oiled slightly but clean between uses. Used only silicon tools with it. My BF, ONE TIME, used metal tongues with hard nylon edges to turn over meat about 3 weeks ago and he is a very good cook so I know he wasn't just raking the pan and now the pan is useless. There are 100 tiny minuscule scratches now and everything sticks. It was NYLON edges - the metal wasn't even connecting.

This morning I tried to make eggs, put organic coconut oil (too much) in the pan and gently cracked open eggs into it. Even the oldest pans it would not stick in that much oil. I couldn't even get the eggs up without breaking them. Threw it in the trash. Just worthless.

It states you can use metal but that's a lie - you can't even use hard nylon. Nothing advertised is true.

I noticed that even with the most gentle care that it was starting to not be as good after 4 months - so perhaps the coating had worn with consistent daily albeit gentle as a feather use, that even nylon ruined it.

Don't waste your money. I'm really annoyed at how mad I am at this pan because at first, I was so happy with it.

Bottom Line: No, I would not recommend this to a friend

---

Unhappy customer

By Roxanne D.

,

Pinellas Park, FL

,

Dec 6, 2019
Verified Reviewer

Purchased the square griddle from Kohls, worked fine the first 2 times, cleaned up good. The 3rd time I used it, it started to smoke and the pancakes stuck and burned to it. I bought the pan solely to make pancakes on, nothing else has been on it and I use a plastic spatula and medium heat, the middle bowed up and now the pan is bent slightly sideways so it does not lay flat anymore. Very disappointed in this product. It did not clean up well at all, now it has some burnt black specks on it that I could not get off and hazy marks. All from just pancakes.

Bottom Line: No, I would not recommend this to a friend

---

Pan sucks

By Matt P.

,

Cambridge, IL

,

Nov 28, 2019
Verified Reviewer

Works fine until you scratch the surface, metal utensil safe, don't think so. I have not had the pan one month, already junk, everything sticks to it, can't get the stuck-on food when cleaning it. As far as I am concerned, the biggest rip off and false advertisement I have seen or dealt with in many years. I am going to tell everybody about it and going to use my pan that I paid $30 for it as example of your false advertisement, thank you very much.

Bottom Line: No, I would not recommend this to a friend

---

Waste of money

By Ramon R.

,

Bradenton, FL

,

Nov 18, 2019
Verified Reviewer

I bought the complete set. I have only used the skillet to make omelets. I've used it perhaps 8-10 times. The pan doesn't have a single scratch on it shows minimal to no wear but everything now sticks. This is a complete waste of money, don't buy it.

Bottom Line: No, I would not recommend this to a friend

---

Blue Diamond no-stick pan

By Denny D.

,

Madoc, Ontario, Canada

,

Nov 14, 2019
Verified Reviewer

Do yourself a favor and save your money, this pan may be strong but the handle gets hot during cooking on the stove and the pan is not no-stick. I got mine as a gift last Christmas and it was good for a while and then it started to stick with everything. I have hand washed this pan since day one and I didn't understand why it's sticking. We can't even cook bacon without it making a terrible mess. I will never ask for another one again!

Bottom Line: No, I would not recommend this to a friend

---