BodyBoss Portable Gym 2.0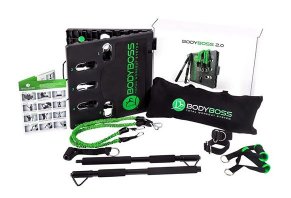 Summary
The BodyBoss Portable Gym makes it possible to get in a strength-training workout at home with a base and resistance bands that can be customized to complete hundreds of exercises.
Pros
Durable and adaptable for a variety of exercises
Can adjust the resistance to over 80 lbs per side
Lots of online workouts and form instructions to follow
Cons
Less portable than other home gyms
Offers similar benefits to simply using resistance bands
Only a 14-day satisfaction guarantee
BodyBoss Portable Gym 2.0 Review: What You Should Know
When you need to exercise from home, it's simple to go out for a run or do some yoga in the living room. Unless you're willing to invest in a bulky bench press, the options often feel more limited for lifting weights.
The BodyBoss Portable Gym claims to be a home fitness solution that allows you to get a gym-quality strength-training workout in at home with minimal equipment.
This personal fitness system got its start through crowdfunding on Kickstarter and has since been used by exercise enthusiasts in more than 60 countries.
BodyBoss's idea was to create a convenient strength training system so that not making it to the gym was no longer an excuse for not exercising.
The brand claims to deliver the same level of tension and weight you would get from strength training machines at the gym from just seven pieces of equipment weighing a collective 15 pounds.
Will the BodyBoss Portable Gym really help you bulk up at home, or will your money be better spent on a home workout alternative—or even a gym membership? Read our analysis so you can make a better decision for your needs.
How Does the BodyBoss Portable Gym Work?
The BodyBoss Portable Gym 2.0 consists of a sturdy platform that you attach the included resistance bands to in various positions so that you can perform different exercises like squats, bicep curls, shoulder presses, and more.
It's considered to be a healthy, safe alternative to lifting heavy weights so that you can work your muscles with little risk of injury—no spotter required.
The entire set packs up into an included travel bag and folds in half for easy storage under your bed or any other limited space.
BodyBoss Portable Gym workouts are primarily based around resistance band exercises. Is this an effective way to get in shape? Harvard Health shares that resistance bands are an effective way to get an all-around strength workout in with minimal equipment.
The bands are beneficial for targeting specific muscle groups as well as recovering from injury, and they make it easier to customize your exercise difficulty than traditional dumbbells—unless you own numerous sets.
However, unlike traditional weightlifting that can build muscle mass, using resistance bands is more likely to improve your functional fitness, or strengthen the muscles you use in daily life. This makes resistance band training a great way to reduce your risk of future injuries.
Likewise, resistance band training is better suited for some exercises than others. One 2017 study compared exercises performed with TheraBand resistance bands to the same exercises on a cable pully machine and found that the bands were equally effective for lateral pulldowns, and unilateral rows, but not as effective for squat exercises.
The BodyBoss Portable Gym purportedly further increases the benefits of resistance band training by giving you a stable platform to attach the bands to at pre-determined difficulty levels.
Each resistance band will provide you with about 30 lbs of resistance at regular length, but you can shorten them through any of the platform's ten anchor points to increase the resistance to up to 80 lbs per band. You can double up the bands up to increase this resistance even further.
About Club BodyBoss
When you purchase your BodyBoss Portable Gym, you have the option to enroll in Club BodyBoss. This "virtual gym" is a members-only website that boasts more than 13,000 members and over 60 explanation videos and full workouts.
Basic membership is free and gives you access to the complete Getting Started Program and video training library. For $4.99 per month, you can upgrade to premium membership, which allows you to join an unlimited number of live training sessions as well as scheduling personal training sessions (additional costs may be required) and monitor your workout stats.
You can cancel your premium membership at any point and go back to free by messaging BodyBoss directly.
Packages, Accessories, and Pricing
BodyBoss 2.0 System
On the company website, the BodyBoss Portable Gym system sells for $179. Your purchase will include the following:
Free three-week premium membership to Club BodyBoss
Exercise instructional manual
Fold-up VectorFit Base that withstands up to 500 lbs of force
Collapsible workout bar
One set each of handles, wrist/ankle straps, and resistance bands
Door anchor with ring
Extra Bands Bundle
You can also purchase the Home Gym with an Extra Bands Bundle for $198, which includes four resistance bands instead of two.
Accessories
It's possible to further expand your home workout with the following BodyBoss Portable Gym accessories:
Extra Boss Bands ($24.99): Increase the difficulty of your exercises by adding an extra set of bands that adds up to 30 pounds of resistance each.

1Loop RepLoops ($149): This new tracking technology lets you monitor your workout performance, progress, and rep and weight metrics from your phone.

Padded Wrist/Ankles Straps ($14.99): An extra pair of straps to make partner workouts easier.

Boss Ab Wheel ($19.99): Increase your core strength quickly by using this neon-hued ab wheel daily
Shipping and Money-Back Guarantee
Shipping prices will vary based on the delivery timeframe. At publication, you could choose free shipping for delivery within 4–8 weeks, pay $15 for delivery within 2–4 weeks, or $60 for delivery within 7–10 days.
Both packages qualify for a 14-day money-back guarantee. This means that you can return the device for a full refund (minus shipping charges) within that time, which starts the day that you receive your package. Note that orders outside the United States aren't eligible for returns.
Analysis of Customer Reviews
The BodyBoss Portable Gym has more than 1,000 reviews on Amazon, averaging 4.2 stars. The product has a similar reputation on Walmart.com, where it earned 4.7 stars after 264. Here's a closer look at what customers are saying about this home workout system.
Common Compliments:
A great motivator for home workouts
Adequate gym replacement
Takes up minimal space at home
Works well for strength training at home
Some users were able to cancel their gym membership to save money
Easy to modify for people with disabilities
Common Complaints:
Most customers will want to purchase the extra accessories to use with it to complete more exercises
Not possible to replicate a bench press workout
The base might not be stable enough for some users
Somewhat bulky to store because straps don't fit in the base
Very few reviews mentioned quality concerns. This shows us that most customers found the system to be high quality and well-performing for what it promised—many only wished that it was capable of more.
Popular Alternatives to the BodyBoss Portable Gym
There are several options for portable strength training equipment for home exercise besides the BodyBoss Portable Gym. Two such options include the Pocket Monkii and the TRX Suspension training system.
Claiming to be a "complete gym that fits in your pocket," the Pocket Monkii is a bodyweight training system that comes in a small travel bag. It's essentially two resistance bands that you can attach to almost any service to perform bodyweight exercises like bicep curls, lunges, and more.
Unlike the BodyBoss Portable Gym, which includes a support base, the Pocket Monkii straps are designed to attach to door frames, tree branches, and whatever other surfaces might be convenient. This makes the device more portable (and consequently easier for travel), but it might take more ingenuity to use it in certain situations.
At present, the Pocket Monkii retails for $149 on the company website, so it's relatively similar to the price of BodyBoss.
The TRX suspension system is similar. You can choose from a range of kits with different straps and accessories that retail for $199–$250. Each includes fitness straps that can be mounted to most sturdy surfaces for body-weight based exercises.
They also come with barrel lock adjusters so that you can make quick transitions between poses for a more significant range of movements. Again, like the Pocket Monkii, TRX straps fold up small and can be stowed in any suitcase.
You don't get the bulky board that comes with the BodyBoss Portable Gym, but that also means you are more limited in the kinds of exercises you can complete and have less control over the total resistance level.
The Bottom Line
The BodyBoss Portable Gym aims to make strength-training at home similar to going to the gym without requiring you to invest in bulky, expensive equipment.
This compact setup is surprisingly versatile, as the included stability board makes it possible to finely adjust the resistance and positioning for every move to ensure you're pushing yourself in lots of different ways.
However, this system does have its limitations. The base is somewhat bulky, which means you can travel with your portable gym in the car but probably not an airplane.
Likewise, this system can't replicate the effects of heavy strength training. If you're looking to put on serious muscle mass, you're still going to have to lift some barbells.
Overall, the BodyBoss Portable Gym makes sense for those who want to work out from home and are self-motivated to use the set as it's designed.
There are plenty of fitness class resources available for this system, but you still need to take the time to pull out the gym and complete some basic assembly.
If you're interested in pushing yourself closer to max capacity, consider purchasing a second set of resistance bands so that you double the force for every move.
Customer Reviews