OYO Personal Gym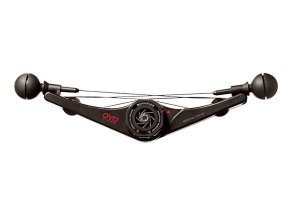 Summary
For those who enjoy a portable resistance training solution, the OYO Personal Gym is a compact device with three resistance settings and a video workout app with nearly 200 different workouts.
OYO Personal Gym Review: What You Should Know
OYO Personal Gym is a fitness device that provides a variety of workouts intended to give you a full-body weight-training regimen without all the bulky equipment.
The core technology behind the device is something called SpiraFlex, which, according to OYO, is a technology that U.S. astronauts used for exercise while at the International Space Station.
OYO claims that you can "transform your body in just minutes a day," and they provide a few testimonials from past users about how helpful the device was in helping them lose weight and gain muscle strength.
This review discusses the claims made by the company and how effective they can be for your workout routine.
How It Works
OYO is meant to be a resistance-training device that you use on your own, hence the acronym, "OYO".
The OYO weighs two pounds and is able to provide three resistance levels of up to 25 lbs. The device has two attachments you can use to adjust the resistance to your ability level for a variety of different types of workouts that strengthen your legs, arms and core.
The key to the resistance OYO provides is something called SpiraFlex technology, which we'll discuss in a few minutes.
According to the website, you can do 197 different exercises with the device. Coming up with all those different exercises would be virtually impossible on your own, so the company provides a workout app available to iPhone users and you can access full workout videos via Vimeo and a smaller collection of workout videos on YouTube.
You'll also get a wall chart with 75 different exercises you can perform with the OYO.
Some of the Vimeo routines available at the time of publishing were:
Pilates Core
Pilates Back
Chest Back
Core Strong
Chest Shoulders
The videos feature one person in a workout studio performing resistance exercises with the OYO device. Each video begins with a quick explanation of the name of the exercise and which body parts it works, then gives directions on how to do the exercise.
All the while, the person is performing the exercise so you can have a visual of what it looks like. Once the instructions and explanation are done, the narrator chirps out encouraging phrases – "You got this!" – as the person in the video continues to work out.
In the case of the video we watched, it was more than six minutes long and it included a series of variations of the original exercise.
The Benefits of Resistance Training
As we mentioned earlier, OYO uses SpiraFlex technology that was used by American astronauts in the International Space Station. This was confirmed by this article.
"One of the primary reasons NASA selected SpiraFlex is that it duplicates the benefits of free-weights in a lightweight, portable, and safe system," the article reads.
It's important to remember, though, that the astronauts weren't using the OYO Personal Gym. Rather, they were using workout devices ("resistance exercise device") that implemented the same resistance technology found in the OYO.
The article points out that astronauts lose bone mass during spaceflights because of the gravity levels in space. Resistance training can counteract that negative effect.
This type of training has a variety of benefits on Earth, too. Resistance and weight training can help with a variety of issues.
"For a balanced fitness program, strength training is essential. It can slow the muscle loss that comes with age, build the strength of your muscles and connective tissues, increase bone density, cut your risk of injury, and help ease arthritis pain," the site notes.
Pricing and Return Policy
The OYO Personal gym is sold through two package options.
Basic Package - $124.95
OYO Gym Base Unit
Two 10 lb + One 5lb FlexPacks
Product Guide
Free Access to OYO Fitness Club Online (Workout videos, nutrition guide, 10-week challenge video)
Total Body Package: $149.95
You get everything that is included in the basic package plus:
Leg Attachments
Door Attachment
The Bottom Line
The OYO Gym could be the right fit for someone who wants a simple workout device they can pair with a series of different workout routines.
The OYO isn't a complicated device to use. The company's series of video workouts help you understand how to use the OYO for more than 190 workouts that can meet your daily requirements for resistance training.
The device has three different resistances levels you can adjust by adding or taking away resistance extensions.
OYO Personal Gym is a great fit for someone who already participates in a consistent strength/resistance training plan and wants a device they can travel with and use in an airport or at a hotel that doesn't have suitable weightlifting options.
Customer Reviews