Stealth Core Trainer Reviews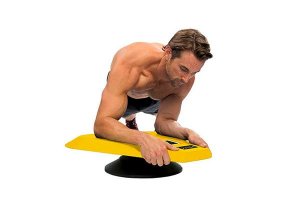 After researching the Stealth Core Trainer is a viable option for those who plank as part of their regular workouts and are looking for a way to make the experience more tolerable.
About Stealth Core Trainer
Stealth Core Trainer is a piece of fitness equipment that works your abs through a unique balance platform that mimics planking.
What makes this piece of fitness equipment interesting is that they incorporate movement-based games into the workout via the Stealth app.
The product is the brainchild of Stealth Body Fitness, a Florida-based company whose only product seems to be a line of three different Stealth Core Trainers, which we'll talk about in a few minutes.
The Stealth Core Trainer presents an interesting concept, as gamifying (using games to encourage participation) is a popular technique to get people to use a product or service.
This review examines the product's purported benefits to help determine if it's right for you.
How the Stealth Core Trainer Works
This device has two main parts to it: a 360-degree rotating ball seated in the plank's base, attached to the rotating ball and the base is a platform shaped to provide a surface on which you can put your arms when you do a plank.
"Plank" refers to an exercise utilizing your body weight in which you suspend your body parallel to the ground with just your toes, forearms and elbows touching the ground.
As you suspend your body above the ground, you're using 29 different muscles, the Stealth website says.
Healthline confirms the claim, noting that planking is a whole-body exercise.
"Planks don't just work your core: They work your entire body. Planks require your arms, your legs, and all of your abs, making them an all-encompassing workout and a more efficient way to exercise," the site says.
The drawback to planks is that they're difficult because they require so many different muscles. This is where the games come into play. By focusing on a game in which you move the game piece around via your movements on the Stealth Core Trainer, you add an element of fun that can distract you from the pain.
Also, the games enhance the workout because they require you to lean from side to side, twist the bored and shake it, all while maintaining your balance.
Some screenshots and videos of the app reveal that some of the games require you to move a target over various planets. You have to keep the target over the planet long enough to blow the planet up.
Another game puts you in the seat of a pilot navigating his/her aircraft through a series of hoops.
As part of the company's marketing campaign, they sent a company rep out to a gym to convince people to try the equipment. The rep was able to get a young woman to try it. When she was done with the workout, she said it was challenging.
The rep went on to ask her about how the video-game aspect of the workout affected her.
"Did the video game add to the fun," the rep asked.
"Yeah. It was fun. I like that. I would do that as a workout," she said.
Cost & Return Policy
Stealth Core Trainer sells three different core trainers: the Stealth Professional, the Stealth Personal and the Stealth Plankster.
The Plankster is available on the company's As Seen on TV website and is available for purchase for $99, which is $50 less than what's listed on the official Stealth Core website. Shipping charges were, at the time of publishing, $14.95.
The equipment comes with a 30-day, money-back guarantee minus S&H. According to the fine print, that fine print starts the day you make your order, not the day you receive your Stealth Core Trainer in the mail.
Keep in mind though, that you have to pay to ship the product back to Stealth Body Fitness. Also, they won't refund the shipping you paid with your original purchase. Because the equipment is pretty big, it's most likely going to cost you at least $25 to ship it back. This means you'll lose at least $40 in what you paid to ship the Stealth Core Trainer to you and ship it back.
The three Stealth Core Trainer models are also available on Amazon:
Plankster: $149
Personal: $199
Professional: $299
Customer Reviews
Amazon reviewers gave the equipment an average rating of 4.5 stars. Some of the most-used words in those reviews included: "core workout," "challenging," "really fun," and "sore."
Our perception of these phrases indicates that people enjoyed using the Stealth Core Trainer, for the most part, but that the workout is demanding and can leave you feeling pretty sore the next day.
We did see a prevalence of the word "expensive," which corroborates a review we watched on YouTube from user Heather Gerhardt. Gerhardt bought the Professional version for $199. She said she thought it was too expensive but that she would keep it anyway.
"The price of this thing is too expensive. I think it should have been $100. If it was $100, I think they would be selling thousands of these because they really are fun and it's a way to hack exercise," she said. "I think that it works."
Gerhardt did one-minute workouts once a day for 30 days and twice a day for 30 days. She said she lost a pound and an inch off her waist and hips.
"It's easy and fun and simple to learn and I think anybody can do it," she said.
The Bottom Line
The Stealth Plankster Core Trainer is efficient at making planking fun via the games you can play on the Stealth app. It offers an incentivized approach to planking that you won't get without it.
The downside to the equipment is that it can be cost-prohibitive at $99 through the As Seen on TV site, although that price represents a $50 discount over the Stealth Body Fitness site and Amazon.
Also, Android users had trouble with the app that seemed to clear up with the app's newest update.
In general, we think there is ample evidence that the Stealth Core Trainer will make planking fun. But, keep in mind that their plank workouts are between 1 and 3 minutes long. You have to weigh the cost of spending around $115 on a device that you'll use, at most, 2 to 6 minutes a day.
Also, remember that planking is excellent for building core strength but is not a technique for losing weight.
So, as you think about purchasing a Stealth Core Trainer, take a few minutes to ask yourself what you want out of your workout experience. If you want to strengthen your core muscles, it could be an excellent tool for that.
However, if you're looking to lose weight or find a workout that lasts more than just a few minutes, you may want to look elsewhere before making your final decision.
Stealth Core Trainer

By Terrie E.

,

Santa Margarita, CA

,

Mar 6, 2020
Verified Reviewer

Overall Experience:

I ordered my Stealth on a Thursday and it was delivered the following Monday. I am SO excited to "feel the burn" in my abs, the back of my arms, and across my back in just a few 3-minute workouts! It's super fun, and right about the time I start feeling lazy, I tell myself, "Really? It's 3 minutes!"

Absolutely LOVE my core trainer! I have recommended it to everyone I know!

Bottom Line: Yes, I would recommend this to a friend

---

Advertisement

---