Stealth Core Trainer Reviews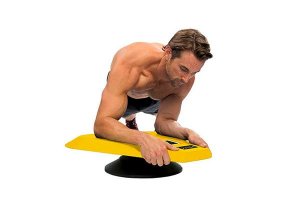 Summary
Stealth Core Trainer, with its patented dynamic motion, targets your core muscles through twisting, turning, and 360-degree rotation motions. The Stealth Core Trainer primarily uses instability to actively increase the number of muscles used during a plank exercise, which has been studied extensively.
Pros
Affordable variation to strengthen your core
Effective when supplemented with a comprehensive exercise program
Cons
Not travel-friendly
Not the most effective in terms of burning calories when compared to other forms of training
Stealth Core Trainer Review - Is It Effective?
What is the Stealth Core Trainer?
The Stealth Core Trainer is a piece of fitness equipment that allows the user to perform a plank on their forearms to strengthen the core muscles.
Stealth Core Trainer features a dynamic base that allows the user to twist, turn, and rotate while holding the plank position.
The Stealth Core Trainer provides a range so that it is not only limited to be done at home but also at work and with friends.
The Stealth Core Trainer also comes with an app that is available on the Android and iOS smartphone devices.
You can place your smartphone in a designated space on the Stealth Core Trainer, creating an experience that may be more fun than when holding a regular plank.
According to their website, when using the Stealth Core Trainer, it is proposed to help you:
Improve energy
Burn calories
Tone your body
Define your abs
Works your arms
Strengthens your legs
Boost your buttocks
Maintain levels of fitness
How Do I Use the Stealth Core Trainer?
To use the Stealth Core Trainer, you will be required to perform a plank position by placing your elbows on the device.
The concept of the Stealth Core Trainer provides you with a unique way to strengthen your core muscles while in the plank position.
Typically a plank is held for some time. Depending on your current level of fitness and core strength, starting with your feet wider apart will help you to manage the challenge while on the Stealth Core Trainer.
You can readily expect for these muscles to engage while using the Stealth Core Trainer.
The following section will discuss the proposed benefits of using the Stealth Core Trainer by reviewing the research and literature.
Proposed Benefits: Can They Be Accomplished?
Before getting diving into the proposed benefits, it is essential first to identify core stabilization.
Core stabilization exercises require the ability to provide an instantaneous firing and activation of muscles.
Typically, a comprehensive assessment is necessary to begin an approach to address core muscle strength, endurance, and recruitment patterns.
When performed on a dynamic surface, such as the Stealth Core Trainer, core stability exercises can enhance the recruitment of muscle activation and firing.
A study provides results that, when tasks were performed on unstable surfaces, led to higher activation levels than stable surfaces.
The importance of this study suggests that it is important to include variety to train your core.
Burn calories, Tone your Abs, and Increase Energy
The Stealth Core Trainer website provides a disclaimer that results vary, mainly due to participants following a nutrition plan and regular performance using the Stealth Core Trainer.
There are no studies that directly link core stability training through the plank position and weight loss.
The performance of resistance training, aerobic training, and diet would provide you the best results in overall calorie burn.
Calorie burn depends on your age and sex, so results may vary amongst users that are utilizing the Stealth Core Trainer.
It is important to mention that even though the Stealth Core Trainer does not offer superior results compared to other forms of training, it should not deter you from performing core stabilization training.
A program that includes core stability can help progress you into different types of physical activity.
Strengthening Arms and Legs, and Buttock Definition
Due to the positioning of the plank, you are required to exert and support your body's weight through your arms, core, and legs.
A study found that a core stability training program offered positive changes in body composition and improved upper and lower extremity anaerobic power.
A six-week plank program was studied to determine its effectiveness compared to a traditional floor-based program in patients with diastasis recti abdominis. The participants of the study were women aged 18-45 years.
They were randomized to either perform a plank or perform abdominal crunches. The study's findings suggest that the plank group participants were slightly greater at reducing diastasis recti after six weeks.
Another study was done to examine the correlation of core stability programming and lower extremity performance, such as single-leg balance.
While the findings indicate a significant relationship between core stability and balance on one leg, the training that took place were specific to standing, however.
This analysis provides insight into whether the Stealth Core Trainer can target muscles of the glutes and upper body.
Since the plank position that you will perform on the Stealth Core Trainer requires your upper body to hold yourself up and the dynamic motion may offer additional benefits in muscle activation.
Is It Safe?
While core stability training can be classified as safe, you want to determine your existing physical activity levels before performing core stability training on the Stealth Core Trainer.
Due to the Stealth Core Trainers dynamic base, it may provide some challenges that may be too difficult for a novice with little to no experience with core stability training.
Regular performance of core stability training in the plank position can lead to the progression of variable forms of core stability programming such as the Stealth Core Trainer.
The likelihood of developing low back, shoulder, and neck pain from a healthy adult is minimal.
Core stability training that is progressed and appropriately dosed from a qualified fitness or medical professional can help mitigate pain levels through supervision and education on corrective cueing.
Plank form can also be assessed through repetitive practice and modifications. For instance, those with wrist issues may find benefits in a position that reduces weight-bearing in the joint.
The Stealth Core Trainer may or may not be an appropriate device to mitigate those risks.
The Stealth Core Trainer should not replace resistance training or aerobic exercise. As a stand-alone program, it will not meet the recommended Physical Activity Guidelines.
The Physical Activity Guidelines indicate that adults should engage in resistance training 2-3 times per week.
Aerobic exercise should take place five times a week at moderate intensity for 30 minutes daily.
Generally, it is recommended that you seek consultation from your physician before participating in any exercise program.
How Much Does it Cost?
You can currently purchase the Stealth Core Trainer who is on sale for $99 through their website.
Included with your purchase of the Stealth Core Trainer is the free Stealth app that contains access to games through your smartphone.
A 30-day money-back guarantee backs the Stealth Core Trainer.
If you would like a refund of the product, you will need to get in touch with them first by emailing support@StealthNation.com.
You will then get an email back from Stealth Body Fitness LLC with information on how to send your item back before you are refunded.
Alternatives
The Stealth Core Trainer provides comparisons of other models of core trainers that feature instability training.
One model that was not included and could possibly be an alternative to the Stealth Core Trainer is the TRX Suspension Trainer ®.
In particular, the TRX Suspension Training Home Kit may be a more convenient and cost-effective device to develop core strength and more.
What you are getting with the TRX is access to straps that allow you to use your body weight as resistance while performing movements.
The keys are the straps that allow you to either use your arms or legs to maintain a plank position.
The instability provided through the straps using your body weight works the neural subsystem to actively engage the core muscle of your trunk, hips, and shoulders.
Exercises on the TRX straps can easily be adjusted by either moving closer or moving further away from the anchor point, which will increase or decrease the intensity of the exercise, respectively.
Purchasing a TRX home kit through trxtraining.com will cost you $184.99. A TRX home kit from amazon will cost you $129.99.
Either price will be more than what you are paying for the Stealth Core Trainer.
But the ease of storage, set up, 1-year access to TRX exercises, and is a more travel-friendly option if you are to seek ways to maintain your fitness levels.
The Bottom Line
The Stealth Core Trainer can be offered as a variation of core stability training to keep your existing routine fresh.
To seek optimal health benefits, a program that includes resistance training and aerobic exercise would be the most effective.
The Stealth Core Trainer can be an additional variable to reinforce appropriate muscle recruitment strategies of the core muscles.
The Stealth Core Trainer may offer additional exercises requiring movement of the lower extremities in different anatomical planes that could target the glutes.
However, it may not be as effective as other types of training programs that target the core muscles.
When comparing the Stealth Core Trainer to other core trainers, others may be more cost-effective such as the TRX Suspension Trainer home kit as its easy storage and travel capabilities are worth the additional $50 to provide a comprehensive program to target the core.
Customer Reviews
Posted on Sep 30, 2020
Horrible service and lies, and I don't have the product yet
I ordered the Stealth Core Trainer Pro on September 18th. They sent me an email on September 22nd saying the item was 'Shipped' on the 23rd. Not sure how that's possible but oh well. On the 25th there was no update by FedEx. I emailed Stealth.
Here is what they told me. It's possible FedEx didn't pick it up or didn't update the shipping. But it's been dropped off by Stealth to FedEx. Do you see the contradiction already?
I called him out on it. Of course, no response. Then on the 27th of September, 9 DAYS AFTER I ordered the product they respond back by "There is an update." Hahaha. Why "hahaha?" Because they dropped it off today. How nice of them? NOT.
First, they lie. Second, they lie again. It's not a good start. We'll see how this product is but I'm already annoyed by their lies, laziness, or whatever you want to call taking 9 days to ship an item.
Bottom Line: No, I would not recommend this to a friend
Pros and Cons
No "pros" were specified in this review
Their service
Lies
Slow shipping
Posted on Mar 6, 2020
Stealth Core Trainer
I ordered my Stealth on a Thursday and it was delivered the following Monday. I am SO excited to "feel the burn" in my abs, the back of my arms, and across my back in just a few 3-minute workouts! It's super fun, and right about the time I start feeling lazy, I tell myself, "Really? It's 3 minutes!"
Absolutely LOVE my core trainer! I have recommended it to everyone I know!
Bottom Line: Yes, I would recommend this to a friend
Our Promise to You
In order to safeguard you and ensure helpfulness and relevance, our compliance team manually assess every customer review before it goes live.
We have a zero-tolerance policy for fake reviews, and companies cannot control or alter any reviews at any time.