Simply Fit Board Reviews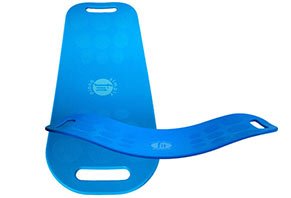 The Simply Fit Board is a new product in the balance-board niche of the fitness world. It comes in bright colors and has free workout videos on YouTube.
About Simply Fit Board
The Simply Fit Board is a plastic exercise device intended to strengthen core muscles and trim waist fat by using its balance-board design to enhance workouts.
Balance boards come in all shapes and sizes and have been around the workout world for some time now, but the Simply Fit has gained a lot of popularity since it made an appearance on Nov. 6, 2015, on the popular ABC entrepreneur show Shark Tank. There, founders Linda Clark and her daughter Gloria Hoffman were thrilled when shark and QVC personality Lori Greiner agreed to invest $125,000 for a 20% stake in the company.
We're guessing you came to our page either because you saw Simply Fit on Shark Tank and wanted to learn more, or you've heard about the balance-board workout craze and came across the trending board as you did some research.
Either way, we're glad you're here. Over the next few minutes we're going to answer the following questions:
What is the Simply Fit Board?
Do balance boards really offer any benefits?
What are people saying about the Simply Fit Board?
What is the Simply Fit Board?
The Simply Fit is crafted from a special plastic, a video on the website says, that allows you not only to rock back and forth like a traditional balance board, but also to twist from side to side. The board's surface includes handles for hands and non-slip surfaces for feet.
It comes in five different colors with descriptive names like atomic orange and bright magenta. The boards cost $44.95.
In addition to highlighting the board, the Simply Fit website also pushes their series of 10-minute YouTube workout videos that offer tutorials on how to use the board, workouts designed for kids as well as a variety of workouts for adults.
The website claims their board helps weight loss, targets abdominal fat (a.k.a. muffin tops), tones legs, improves balance and offers several other benefits.
Do balance boards really offer any benefits?
As we mentioned earlier, balance boards (they're also called "wobble boards") have been around for a while. They literally come in all shapes and sizes. Some are discs with rounded bottoms, while others are shaped like skateboards with knobs underneath them.
Even though they're all designed differently, balance boards, in general, try to do one thing: improve your balance.
But are they really effective in this end, or just gimmicky pieces of workout equipment? We wanted to know, so we did some research through the American College of Sports Medicine (ACSM).
In 2011, they published a piece on using balance training with older adults. It pointed out that our balance can be maintained and improved as we get older. We think this bodes well for balance boards (Simply Fit included) because they can be a "lifetime" type workout equipment rather than a passing fad.
Specifically, the ACSM said balance training can:
Rehabilitate injuries
Strengthen muscles
Condition the body
Improve stability and postural alignment
Help prevent falls
Another published piece from the ACSM, "Ankle Sprains and the Athlete", points out that balance boards are "an excellent rehabilitation technique that helps strengthen and stabilize the ankle." It even goes as far as to say that you can reduce the risk of re-injury by up to 50% using balance boards during rehab.
Even Mayo Clinic has pages devoted to balance exercises, which, they say, should be included in your daily routine and can improve your stability.
So what's the takeaway here for the average person who's interested in using these boards? They seem to be an excellent way to improve your balance, posture and rehab injuries. We run into a lot of junk science during our reviews, but, based on what we've read, we feel pretty positive about the benefits balance-board workouts can provide.
We think it's important to point out something we noticed on the Simply Fit website, though. The site claims that their balance board fights "muffin top" and helps you burn fat.
Based on the research we've done, there's not a lot of evidence to support that claim. It's our opinion that the fat-burning benefits listed on the Simply Fit site are the result of the company's workout videos and not the board itself.
But our opinion is just part of the bigger picture. What are your fellow consumers saying about the Simply Fit Board?
What's the feedback so far about the Simply Fit?
The two main sources of feedback from consumers about the board were found on Simply Fit's Facebook page, and on the item's QVC page. The board received 160 reviews on its Facebook page, averaging 4.7 stars and gaining 146 5-star reviews.
Several of the most recent reviews mentioned Shark Tank, others talked about the company's excellent customer service and many praised the product's ease of use. The reviews, in general were glowing.
Simply Fit's balance board has an average rating of 4.1 out of 5 stars on QVC, where 13 of 19 reviewers gave the product the maximum 5-star rating.
Two customers mentioned Shark Tank, while two others said they stopped using it because they were scared they might fall over.
When we look at these reviews as a whole, we think there's a good chance you'll be pleased with your Simply Fit Board if you choose to buy it.
How does the Simply Fit Board stack up against other balance boards?
Let's cut to the chase: while balance exercises are proven to help coordination and muscle strength, those same studies haven't identified which balance boards work best.
For the average consumer, we think the two factors which matter most when selecting a balance board are weight limits and price.
The Simply Fit Board has a weight limit of 400 pounds and costs $44.95. We found a couple of similar boards on Amazon:
Based on these comparisons, we think the Simply Fit Board is a good value because it supports up to 400 lbs. and costs less than some of its competitors. If you weigh less than 300 lbs., the Isokinetics Deluxe could be a great fit for you.
Our conclusions about the Simply Fit Board
As we mentioned before, we deal with many products that provide a lot of hype and very few benefits. We don't believe this is the case with Simply Fit's balance board. It is the latest piece of equipment in a long line of balance tools that can help you with stability and certain rehab programs.
We also think the founders have done a good job of creating a balance board with style. Their bright colors are a breath of fresh air in a market where most boards are made from wood or dark plastic.
It's important to remember, though, that a balance board by itself has limited benefits. We believe it's best to buy the board understanding that you'll need a series of balance-specific workout videos to get the full benefit of the board.
Simply Fit knows this, and we think they've done a great job of providing customers with 10 different workout videos that included the balance board.
Before we end our review, we'd like to point out that Mayo Clinic and ACSM said it's important to start slow with your balance board. As you work up your strength and stability, branch out to more complex exercises.
All in all, we think the Simply Fit Board falls in line with most balance boards in terms of what they do. While the company hasn't reinvented the wheel, it definitely has captured consumers' attention with good-looking equipment and free workout videos.
If you're looking for ways to improve your balance without a balance board, check out these balance exercises. They'll strengthen your body and improve your stability for free.
Fit Board uses

I'm using the Fit Board to do rehabilitation therapy with my massage clients and it helps in overall balance and core strengthening. We feel the difference and its usage has benefited many of us. Thank you.

Bottom Line: Yes, I would recommend this to a friend

---

Disappointed

By Denise F.

,

Onanole, Manitoba, Canada

,

Oct 31, 2019
Verified Reviewer

I was liking the board but with not a lot of use or weight, it is literally cracking in half! Really unhappy now and have been unable to find a contact to share the picture of the broken board!

Bottom Line: No, I would not recommend this to a friend

---

Advertisement

---

0 out 1 people found this review helpful

Company does not stand behind their product!

By Diane S.

,

Michigan

,

Sep 10, 2019
Verified Reviewer

I asked for this for a Christmas gift and was excited when I received it. My board has started to crack in the middle after less than a year's use (and I weigh under 200 lbs). When I called Simply Fit Board...they claim they have not heard of this issue in the past. After reading some of these reviews, that surely is NOT true. The company will not even allow a discount on a new board purchase. Sad, sad company!

Bottom Line: No, I would not recommend this to a friend

---

3 out 4 people found this review helpful

4-year-old Fit Board

By Linda S.

,

Wylie, TX

,

Apr 8, 2019
Verified Reviewer

I'm 66 and weigh 125 lbs I use my fit board almost every day. Today I got on my Fit Board and found it was splitting in the middle. I was surprised as the weight max is 400 lbs. I have taken very good care of my board so not sure why it split. I now need to go buy another one. Just wanted to know if anyone else has had any trouble with their board splitting. Also, if anyone has a clue as to why it has split, please let me know I only use it for twisting and hold 3 lb weights while I'm twisting. I highly recommend the Fit Board, I have thoroughly enjoyed it, and my mid-section is in the best shape than it has been in years. Just very sad the board did not last very long.

Bottom Line: Yes, I would recommend this to a friend

---

Advertisement

---

1 out 2 people found this review helpful

No good!

By Edwin P.

,

Tennessee

,

Mar 27, 2019
Verified Reviewer

I would not waste my time or money on this product. I bought mine at Walmart for only $9 in clearance because no one wants it. Shark Tank did a good job promoting this and they have made lots of money fooling the public. There are so many better exercises that will actually work for you like doing planks! Be smart and don't follow the hype.

Bottom Line: No, I would not recommend this to a friend

---

1 out 2 people found this review helpful

Simply broke

By Terry M.

,

Hillsdale, MI

,

Mar 7, 2019
Verified Reviewer

I purchased my Simply Fit board on eBay a little over a year ago. I use it for 5 minutes or less 5 days a week. I weigh less than 200 lbs (less than half of the posted 400 lb capacity of the board). This morning I got on the board and it snapped in half, almost causing me to fall to the floor! It gets your heart rate up so it can burn calories, but the board needs to be thicker or reinforced so it won't break in half.

Bottom Line: No, I would not recommend this to a friend

---

1 out 2 people found this review helpful

I really like this

I purchased the Simply Fit Board at a discount retailer about six months ago. I use it daily as a balance board with my standing desk at work. I love the Simply Fit Board so much more than the basic rocker board I started with. I feel more energized as I work and enjoy taking brief breaks to twist to music or listen to podcasts and exercise my abs. I definitely miss it when I am just standing on solid ground at my desk. I use other means to stay fit the rest of the time, but when I am at work, this is a wonderful solution. I've used my board for about six months with no trouble at all.

Bottom Line: Yes, I would recommend this to a friend

---

3 out 5 people found this review helpful

SimplyFit Board product review

By Terry C.

,

Staunton, VA

,

Jan 12, 2019
Verified Reviewer

I've had four boards in two years. I paid for the first board and the other three boards were free, in which I was grateful. I can no longer get a free board because the warranty has expired. There's a defect in this product because it keeps breaking. I'm using the board correctly and I don't weigh over 500 pounds. I'm very disappointed that they don't stand by their product. I was offered a discount if I wanted a new board but this isn't an option if it keeps breaking.

Bottom Line: No, I would not recommend this to a friend

---

2 out 2 people found this review helpful

Longevity

By Mark K.

,

Georgia

,

Dec 20, 2018
Verified Reviewer

My wife loved using her Simply Fit Board. The problem is that it only lasted a year and about a month ago it starting geting stress fractured in the middle on both sides. Now tonight it split halfway through the middle. We bought it from Target, so I do not have an order number. Why is there not a longer warranty for an item that seems at first that it's is made from a qulity material? The crack is the only issue she had, other than that, it did help and motivated her to lose weight. She is more sad than mad about her board.

Bottom Line: No, I would not recommend this to a friend

---

8 out 8 people found this review helpful

Great tool for burning calories

By Robert J.

,

Shreveport, LA

,

Nov 11, 2018
Verified Reviewer

First, let me say I bought my first Simply Fit Board on a whim in February 2018 while in a checkout line in Walmart.

I started doing 10 minutes, steadily increasing the length of time until I reached 2 hours. When I started in February, I weighed 216 pounds, not fat just stocky, and this morning I weighed in at 182 pounds.

I googled "how does a 62-year-old lose his belly fat" and the answer was simple, burn 500 more calories than you consume. I quickly went on a diet counting my calories and used my Garmin watch to monitor my calories burned and noticed the longer I stayed on the Simply Fit Board, the more calories I burned. Currently, I'm doing an hour and a half on the board and burn between 1500 and 2000 calories before 8 AM. I am down from a tight 36-inch waist to a loose 34-inch waist.

I recently visited my doctor and she was so impressed with the weight loss and how it affected my cholesterol and could speak highly enough about my results.

Let me add, if you use the Simply Fit Board as I do, you will have to replace it about every 4 months, I just bought my third, it's plastic and nothing plastic last forever.

One other benefit that I did not count on, I move from sitting to standing on average 60-70 times a day Monday thru Friday at work and my hips were killing me, but now I am pain-free and the only thing I can attribute that to is the Simply Fit Board.

Bottom Line: Yes, I would recommend this to a friend

---

5 out 7 people found this review helpful

Don't waste your money

By Lori F.

,

Massachusetts

,

Oct 25, 2018
Verified Reviewer

I just tried the Simply Fit Board. I wouldn't recommend it to anyone unless you just want to work on a balance issue or are recovering from an ankle injury. I am 58 years old and I found the workout to be nothing more than what you can do in your own home with a couple of weights. The video included was boring, the music was annoying, and there was no motivation for even a beginner to get excited about.

I originally saw the Simply Fit board on Shark Tank and thought it looked fun. When it was featured on The View at a reduced price, I decided to try it. The first disappointment was the tiny mat that is included. The second and biggest disappointment was that the exercises are nothing special and nothing specific to the Simply Fit Board. I can do squats and sit-ups without spending extra money on a useless piece of equipment. And there are plenty of free workout videos available online that are much more engaging than the 80's style video included with the Simply Fit Board. I am in the process of trying to return mine for a refund.

Bottom Line: No, I would not recommend this to a friend

---