Simply Fit Board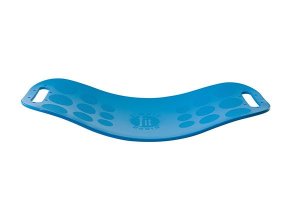 The Simply Fit Board is a Shark Tank-funded balance board that utilizes bodyweight training to allegedly help you achieve stronger muscles and lose weight.
Simply Fit Board Review: What You Should Know
HighYa is supported by our readers. When you buy something through a link on this page, we may earn an affiliate commission. Learn more.
Simply Fit Board is a balance board that uses the power of balance and strength training that allegedly helps you reach your fitness goals.
The device targets your abs, legs, and upper body while simultaneously helping you improve your balance and coordination.
It's possible to use the Simply Fit Board with your standing desk or to follow special exercise videos (sold by the company and offered free on YouTube) to get in a home workout.
A surprisingly versatile way to work out
Low cost, space-saving home fitness tool
Lots of online resources for following classes
Safe and effective workout tool for those who have joint issues
Boards crack easily, even when users follow the weight limits
Workout videos may seem dated
It takes some time to master
How to Use
The Simply Fit Board is made of plastic and has a 400-pound weight limit. Users can stand on the board and rock or twist to work their muscles or as a way to balance while lifting hand weights.
It's also possible to place your hands on the board and use it as a platform for planks and other shoulder exercises.
The company strongly recommends that you use the board on carpet to prevent it from moving across the floor and potentially damaging hardwood. Though it sells a workout mat for the board, any small, tightly woven rub with rubber backing should work to protect hard surfaces.
To use the board, step on the edges and gently swing your torso so that your leg on the board swing side to side. It's common that you'll move all across the floor the first few times you try to use it. This is because you're slightly off-balance and likely leaning more towards one side than the other.
If you're struggling to maintain your balance on the board, try holding onto a chair or table when you first get on it. You can loosen your grip as you rock your ankles back and forth to see whether your balance has improved, and eventually begin the workout.
Make sure you twist with your waist rather than your knees, as your knee joints shouldn't move. One way to master this movement is to hold a hand weight in each hand straight down at your sides and swing your arms in semi-circular motions while slightly bending your knees so that the board begins to twist.
After you've used the board for a week or two, the company claims, you'll get a better sense of the proper motion and should be able to keep the board in one place.
Once you have the fundamental technique down, you can build on the basics by following workout videos offered by the company or on YouTube. Most require a few additional pieces of equipment like kettlebells or hand weights.
Pricing and Return Policy
You can purchase a Simply Fit Board and accessory package off the company website for $39.99, plus $7.99 for shipping. This includes a board in the color of your choice, a user guide, workout mat, and Core & Buns workout DVD.
You can also purchase these accessories and others separately at the following price points.
Core and Buns Workout DVD: $9.99
Workout Mat: $19.99
21 Day Challenge Workout DVD: $9.99
Low Impact Workout DVD: $9.99
All purchases qualify for a 60-day money-back guarantee. If you don't love the board, you can request a full refund, including return shipping costs.
To start the return process, you can reach out to the company at (800) 401-9760 to request a return authorization form.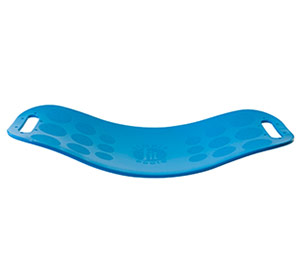 Buy Simply Fit Board from Amazon:
Simply Fit Board costs $19.88 on Amazon, and is available in four colors. Shipping is free (on orders over $25.00). It is rated 4-stars based on 3,100+ customer reviews.
Analysis of Customer Reviews
We have 100 reviews of the Simply Fit Board here at HighYa, averaging three stars. There are also more than 3,000 reviews on Amazon, averaging four stars. Here are some of the most common perspectives in these reviews.
Common Compliments:
A useful tool in rehabilitation settings
Pairs well with standing desks
Many people used it long term and experienced weight loss
Great low-impact workout option
Common Complaints:
Boards cracked in half after minimal use and while following recommended weight limits
Workout videos for the board are boring, dated
Color of the board may rub off onto flooring
Difficult for larger people to balance on
Simply Bit Board vs. BOSU Trainer: Which Is Right for You?
Space-saving fitness tools for improving your balance aren't rare. Besides the Simply Fit Board, another popular option is the BOSU Trainer (sold for about $150). Which one should you commit to? Here's how the two compare.
While the Simply Fit Board is set up like a saucer that rocks back and forth, the BOSU (both sides utilized) Balance Trainer looks like half an exercise ball mounted to a sturdy plastic platform. Users are meant to balance on the inflated ball, use it as a base for core exercises, and as a platform for plank and shoulder workouts.
Besides the obvious appearance differences, both tools have different aims. The rocking motion of the Simply Fit Board targets your core muscles, while the BOSU Trainer offers all-over balance benefits.
However, the two tools have lots of similarities. Both are low impact ways to improve your fitness, each offers a lot of versatility in how you use it, and both work well with a standing desk.
Likewise, each training tool shares the same primary negative criticism—it breaks easily. Simply Fit Boards tend to crack, and BOSU Trainers can deflate or even pop with heavy use, though this seems much less common than with the Board.
At present, the Simply Fit Board costs less than a third of the BOSU Trainer, which may make it more appealing for people who are interested in starting a home exercise routine but aren't sure how committed they will be. Just keep in mind that you may need to rebuy it several times.
The Bottom Line
For many customers, the Simply Fit Board offers a fun way to switch up the home workout routine and tighten their core muscles. This relatively low-cost training tool is easy to store when not in use, and so long as you have carpet or a workout mat, it can be used anywhere.
However, like many niche workout tools, the appeal of this board might wear off after a few weeks of use. Many users complained that the company's workout videos were dated and boring, and few seemed to be using it daily after several months.
Another concern is the board's durability. Many users had it crack in half after a few months of normal use and were frustrated that they had to buy another board at full price to replace it.
Though the company website states that the board is safe for those under 400 pounds, user experience seems to show otherwise.
If you're interested in this fitness fad, there's not much to lose from trying it out. Lots of users share it helped them tone up and lose weight, and it may work for you too. Just keep in mind that with all fitness tools, the only way you'll notice any benefits is if you actually use it.
---
Cracked

By Amy M.

,

Iowa

,

May 15, 2020
Verified Reviewer

Overall Experience:

I was on my board and looked down and noticed it was cracked down the middle. I'm worried it's going to break in half. Customer service was terrible. Not willing to work with me to guarantee satisfaction.

Bottom Line: Yes, I would recommend this to a friend

---

Simply Fit mat offer

By Karen S.

,

Frisco, TX

,

May 4, 2020
Verified Reviewer

Overall Experience:

The Simply Fit Board is great! The Simply Fit mat offered along with the DVDs for an additional $14.99 is horrible!

It is toxic smelling and the shipping plastic around it had yellow residue. It was so bad it made my hall closet and everything in it smell. I had to throw it out. It was not touching anything in the closet. I would order the board again but this additional offer was not worth it.

Bottom Line: No, I would not recommend this to a friend

---

Advertisement

---

Don't buy!

By Katherine V.

,

Cincinnati, OH

,

Apr 28, 2020
Verified Reviewer

Overall Experience:

They charged me twice and I can't get a hold of customer service at all. I have to dispute the charge through my bank. I read I'm not the only one this has happened to. It's a big headache!

Bottom Line: No, I would not recommend this to a friend

---

Overall Experience:

I'm using the Fit Board to do rehabilitation therapy with my massage clients and it helps in overall balance and core strengthening. We feel the difference and its usage has benefited many of us. Thank you.

Bottom Line: Yes, I would recommend this to a friend

---

Advertisement

---

Disappointed

By Denise F.

,

Onanole, Manitoba, Canada

,

Oct 31, 2019
Verified Reviewer

Overall Experience:

I was liking the board but with not a lot of use or weight, it is literally cracking in half! Really unhappy now and have been unable to find a contact to share the picture of the broken board!

Bottom Line: No, I would not recommend this to a friend

---

Company does not stand behind their product!

By Diane S.

,

Michigan

,

Sep 10, 2019
Verified Reviewer

Overall Experience:

I asked for this for a Christmas gift and was excited when I received it. My board has started to crack in the middle after less than a year's use (and I weigh under 200 lbs). When I called Simply Fit Board...they claim they have not heard of this issue in the past. After reading some of these reviews, that surely is NOT true. The company will not even allow a discount on a new board purchase. Sad, sad company!

Bottom Line: No, I would not recommend this to a friend

---

4-year-old Fit Board

By Linda S.

,

Wylie, TX

,

Apr 8, 2019
Verified Reviewer

Overall Experience:

I'm 66 and weigh 125 lbs I use my fit board almost every day. Today I got on my Fit Board and found it was splitting in the middle. I was surprised as the weight max is 400 lbs. I have taken very good care of my board so not sure why it split. I now need to go buy another one. Just wanted to know if anyone else has had any trouble with their board splitting. Also, if anyone has a clue as to why it has split, please let me know I only use it for twisting and hold 3 lb weights while I'm twisting. I highly recommend the Fit Board, I have thoroughly enjoyed it, and my mid-section is in the best shape than it has been in years. Just very sad the board did not last very long.

Bottom Line: Yes, I would recommend this to a friend

---

No good!

By Edwin P.

,

Tennessee

,

Mar 27, 2019
Verified Reviewer

Overall Experience:

I would not waste my time or money on this product. I bought mine at Walmart for only $9 in clearance because no one wants it. Shark Tank did a good job promoting this and they have made lots of money fooling the public. There are so many better exercises that will actually work for you like doing planks! Be smart and don't follow the hype.

Bottom Line: No, I would not recommend this to a friend

---

Simply broke

By Terry M.

,

Hillsdale, MI

,

Mar 7, 2019
Verified Reviewer

Overall Experience:

I purchased my Simply Fit board on eBay a little over a year ago. I use it for 5 minutes or less 5 days a week. I weigh less than 200 lbs (less than half of the posted 400 lb capacity of the board). This morning I got on the board and it snapped in half, almost causing me to fall to the floor! It gets your heart rate up so it can burn calories, but the board needs to be thicker or reinforced so it won't break in half.

Bottom Line: No, I would not recommend this to a friend

---

Overall Experience:

I purchased the Simply Fit Board at a discount retailer about six months ago. I use it daily as a balance board with my standing desk at work. I love the Simply Fit Board so much more than the basic rocker board I started with. I feel more energized as I work and enjoy taking brief breaks to twist to music or listen to podcasts and exercise my abs. I definitely miss it when I am just standing on solid ground at my desk. I use other means to stay fit the rest of the time, but when I am at work, this is a wonderful solution. I've used my board for about six months with no trouble at all.

Bottom Line: Yes, I would recommend this to a friend

---

SimplyFit Board product review

By Terry C.

,

Staunton, VA

,

Jan 12, 2019
Verified Reviewer

Overall Experience:

I've had four boards in two years. I paid for the first board and the other three boards were free, in which I was grateful. I can no longer get a free board because the warranty has expired. There's a defect in this product because it keeps breaking. I'm using the board correctly and I don't weigh over 500 pounds. I'm very disappointed that they don't stand by their product. I was offered a discount if I wanted a new board but this isn't an option if it keeps breaking.

Bottom Line: No, I would not recommend this to a friend

---