The DB Method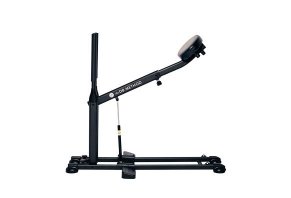 Summary
The BD Method machine is a supported squat home workout system that targets three muscles in your glutes for a quick, intense workout that tones and tightens. Read our review to help you decide if it is right for you.
Pros
Supports your glutes through full squat movement
Versatile for a variety of fitness movements
Possible to target different glute muscles with each workout
The company offers video workout guides
Makes it possible for beginning exercisers to get intense glute workouts
Cons
Minimal benefits beyond regular squats for experienced exercisers
Costly and bulky compared to bodyweight exercise
Single-use machine that can only be used for one style of training
Not possible to adjust resistance levels
Workouts might get monotonous
Similar benefits can be achieved from squatting while holding onto fixed objects
The DB Method Review: A Detailed Look
The DB Method Machine is a home fitness system designed to help you get an intense glute workout in just ten minutes a day. The machine mimics your natural squat posture to give you support throughout the entire movement so that you can activate your muscles quickly and effectively.
By targeting your glute muscles and nothing else, this device will purportedly give you extra bulk in this one area while keeping you slim elsewhere.
The machine shifts your center of gravity from your legs to give you a quick, convenient workout that can be tailored to your fitness level. Weighing just under 30 pounds, this machine is designed to have a small footprint and fold away when not in use.
In this review, we will analyze if this machine delivers an effective workout to help you decide if it makes sense for you.
How It Works
The DB machine comes with a controlled resistance system of 220 pounds that the company states is optimized to make you perform isolated, controlled movements that create a "deep burn" to tone and tighten your muscles.
You can't increase this resistance level, as the company claims it would only work to make the exercises easier by supporting your glutes on the ascent so that they work less hard. Instead, this level of resistance is designed to work your glutes and core both going up and coming down.
You use the machine by sitting on the seat and bringing your body up and down out of a modified squat. This position purportedly works your entire lower body and core, and specific movements will target your arms and chest as well.
The included handrails are included for balance only, and you will increase the workout's effectiveness if you don't use them.
The machine shifts your natural center of gravity to isolate the glutes so that they are the focus of your workout, rather than your legs. This also reduces stress on your knees and back that you might feel during regular squat exercises.
DB Method workouts are meant for all fitness levels, though the company specifies that users should be at least five feet tall and under 250 pounds.
For best results, they recommend using the machine for at least ten minutes a day, three to four times a week. More frequent use should give you better results.
Users can follow the company's website, Facebook, and YouTube pages for workout videos and instructions.
Will Glute Workouts Give You a Better-Looking Butt?
The DB Method machine targets the three main muscles that make up the buttocks: the gluteus maximus, gluteus medius, and the gluteus minimus. Together, they make up some of the biggest, most powerful muscles in the body.
When your glutes are weak, you might suffer from seemingly unrelated health effects, including knee or hip pain, an irregular gait, poor posture, and blisters and other foot issues. But there's another reason many people consider working their glutes – beauty.
"Glutes are always a focus for my clients," shares Jordan Musser, a certified personal trainer and postpartum fitness expert, "but there's a lot of misconception around glute training."
Musser went on to explain that most glute training programs that promise to help you develop a better-looking butt quickly are just selling empty promises.
"Much of what your glutes can look like is determined by genetics, as the glutes can either have a short origin of insertion, which creates a bubble but sort of look, or longer origin of insertion, which is much harder to develop into a voluptuous rear end."
In other words, all the squats in the world can't help you meet your booty goals if it's not in your genetics. But that's not to say that there aren't things you can do to boost what you have.
According to Musser, the most effective way to build up your glute muscles is to perform a wide variety of glute-focused exercises regularly, preferably with increasingly heavier weights like barbells or dumbbells.
Is The DB Method Better Than Regular Squats?
The DB Method claims to make getting a glute workout both easier and more effective than regular squats. Does this make sense? That partly depends on your baseline fitness level.
The DB Method's main benefit is that it supports your body in the squat position so you can perform dozens of reps without hurting yourself or fatiguing other muscles.
Many beginning exercisers will burn out after performing ten squats or fewer, but this machine supports your body weight so that you can continue to work your glute muscles beyond the point of burnout.
The DB Method offers external stabilization and keeps you in proper alignment so that you don't strain your muscles as you use them. This reduces your risk of injury, especially if you are new to exercising your glutes.
Regular squats, in contrast, rely on just your body weight for resistance, though you can change this by lifting weights during each repetition. Performing a regular squat workout requires no special equipment, but you may be limited in how many you can do by your current range of motion.
However, it's possible to get a similar level of support by holding onto something that's fixed in place while you squat. A column or sturdy stair rail banister works well for this purpose.
Key Takeaway
The DB Method supports your body in the squat position and isolates your glute muscles so that you can perform more reps without fatiguing. This can help beginning exercises get in a more effective workout than if they were performing regular squats.
Pricing and Return Policy
The DB Method Machine costs $229 on the company website, plus $20 shipping.
All purchases come with a 30-day money-back guarantee, and you can return the machine within this timeframe for a refund, minus shipping charges.
To qualify for a return, the machine must be in its original condition and shipping box.
Analysis of Customer Reviews
On the company's website, the DB Method machine has earned an average of 4.9 stars after almost 400 reviews. We've highlighted some of the takeaways below:
Quick and Effective Workout: Many reported that they lost several pounds after adding it to their routine. Others wrote that it toned up their glutes and thighs quickly.

Enjoyable Even for Non-Exercise Fans: Reviewers who were intimidated by squats reported that they loved the DB Method. They stated that they looked forward to the workouts.

Lack of Customization a Downside: Some customers wrote that they wished the machine allowed for more resistance options so that they could customize the workouts to their abilities.

Good Exercise Modification for Injuries: Some reviewers wrote that they loved using this machine because knee and hip injuries prevented them from doing traditional squats. They wrote that the machine helped them maintain proper form and work their muscles without irritating their injuries.

Customer Service Problems: Some reviewers reported issues with their machine delivery, indicating that it arrived broken and that customer service was slow to get in touch and fix the issue.
Key Takeaways:
The DB Method offers a quick, effective squat workout, and many people experience fitness improvements from using it. However, quality issues are a minor concern, and you might feel limited by the machine's fixed resistance level.
Popular Alternatives to The DB Method
Two alternative squat machines include the Body-Solid Leverage Squat and Calf Raise and the Sunny Health & Fitness Squat Assist Row N' Ride Trainer.
Body-Solid's squat machine differs from the DB Method in that it's designed for variable weight loads. You can workout with up to 800 pounds by adding on weight plates (sold separately).
This machine costs about $650, and it offers a different squat approach than the DB Method. Rather than sitting in a seat and pulsing up and down, you will brace yourself on the machine's inclined platform and perform a traditional squat movement with a predetermined amount of weight resting on your shoulders.
The Body-Solid machine makes it possible to fully customize the intensity of your squat workout without sacrificing your safety. It's best for bodybuilders, as it's tailored to those who want to build up muscle mass quickly. The machine makes it possible to perform intense squat workouts at home without a need for a spotter or space for free weights.
Another home squat machine comes from Sunny Health and Fitness. This multi-functional machine claims to work as a squat assistor, and it comes with three levels of resistance bands. The device costs about $100, and it lets you perform compound movements that replicate the benefits of a traditional squat while also strengthening your arms, back, and shoulders.
Amazon reviewers have awarded it 4.4 stars after more than 450 reviews. Popular comments include that the machine delivered an intense workout in ten minutes or less and was an acceptable cheap substitute for the DB Method. Many wrote they were surprised how high quality the machine itself felt when they used it.
Overall, all three of these machines will work your glutes in similar ways to performing standard squats. Body-Solid's heavy weight approach is best for anyone looking to bulk up, while both the DB Method and Sunny machine offer a supported squat workout for anyone who wants to tone or slim down those specific muscles effectively.
If you're willing to pay a little more for access to workout videos and a supportive fitness community based around the machine, the DB Machine might be your best option.
The Bottom Line
The DB Method's home squat machine offers a simple way to get in a supported squat workout. This machine makes sense for anyone new to working their glutes who wants access to dedicated workouts for mastering the machine.
It might not be the best use of money for those who already incorporate glute exercises into their fitness routine or who can perform multiples sets of unassisted squats.
And you need to keep your expectations realistic as it won't override what your rear looks like from a genetic perspective.
Customer Reviews