PowerFit Elite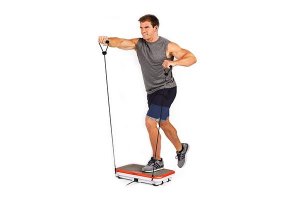 Summary
The PowerFit Elite promises to help you shake your way to a slimmer, more toned appearance in just 30 minutes a week. We analyze this brand's claims to help you decide if it makes sense for you.
Pros
100 vibration settings so you can customize your workout
Clinical evidence shows that it can improve the effectiveness of workouts
Cons
The "30-day trial offer" may be deceptive price-wise
Relatively limited resources available for workout guidance
PowerFit Elite Review: A Detailed Look
Getting in shape without having to sweat is a pipe dream for many. What if all it took to slim down was buying a machine that gently shook the weight right off you?
The PowerFit Elite is an As Seen on TV fitness product that promises to help you shake off your excess body weight for a "slim, firm, sexy new you."
You're meant to stand on this multi-directional vibration platform and perform a range of exercises like squats, lunges, and more.
The idea is that your body will work harder to maintain your balance and stability, which contracts and relaxes each muscle so that you get in a more efficient workout.
This portable platform is branded as a way to maximize your workouts in just 30 minutes a week. Are these claims unrealistic, or can you really expect to lose weight and tone up with the PowerFit Elite? Learn HighYa's take here.
How Does PowerFit Elite Work?
The PowerFit Elite claims to supercharge traditional exercises to help you get the most out of your cross pulls, push-ups, squats, yoga, lunges, bicep curls, core, laterals, and more.
This technology was purportedly inspired by vibrating workout systems designed for Russian astronauts who needed to maintain their muscle tone while in space.
PowerFit Elite states that using this device for three ten-minute workouts a week will help you burn calories and tone your muscles, especially when paired with a healthy diet and regular exercise.
The entire device is advertised as silent to use and compact enough to fit under your bed or a dresser for simple storage.
You can adjust the strength of the vibrations from settings from one to 99, and where you stand on the board will also change the difficulty. The further you stand from the center, the stronger the power and the more challenging to maintain your balance.
These gentle vibrations are purportedly easy on the joints so that people of all fitness levels can start benefiting immediately. The board comes with programs for beginners, intermediate, and advanced users, and there are YouTube videos available for full workout classes.
Safety
The PowerFit Elite product website makes it clear that this fitness device might have health risks for some people.
It's not recommended for use during pregnancy or for those who have recently had surgery. Likewise, those with underlying health issues that might affect their ability to balance should talk with their doctor before using it.
Clinical Evidence for the Whole Body Vibration Machines
Moving your workouts to a vibrating platform sounds almost too easy for getting in shape. Does clinical evidence support PowerFit's claims? Here's a look at some of the relevant studies.
One study from 2004 looked at the effects of 20 minutes of whole-body vibration on physically active males.
Twenty-two physically active males exercised on the vibrating machine for twenty-minute sessions, and the study found that they increased their energy expenditure by 22% compared to exercising without it.
More research on whole-body vibration from 2004 looked at its effects on 48 "untrained" females.
However, after 24 weeks of whole-body vibration training, participants did not show any significant differences in weight, total body fat, or subcutaneous fat, though they made gains in their knee-extensor strength.
Another study, this one from 2017, found that whole-body vibration may be as effective as regular exercise for relaxing and contracting the muscles.
This study looked at the effects of vibrations on obese mice over 12 weeks and found that those who spent twenty minutes per day on a whole-body vibration machine experienced similar metabolic benefits as mice that spent 45 minutes on a treadmill daily.
Summary
Overall, this research shows that whole-body vibration technology can make small but significant improvements in the effectiveness of your exercise routine. However, human studies seem to show that you will only experience benefits if you pair the vibration training with regular exercise.
Pricing and Return Policy
The PowerFit Elite is currently sold on the company website as a $14.99 30-day trial offer. The fine print shows that you will also be billed $19.99 for shipping and handling, and must then make four monthly payments of $49.99.
One benefit of signing up for the 30-day trial offer is that you will receive a free deluxe upgrade set that includes a remote control, resistance bands, a workout guide, and a healthy eating plan.
Alternatively, you can purchase the PowerFit outright for $199.96, and the company will waive the shipping cost and 30-day trial fee for a savings of $35.
All PowerFit orders are covered by a 60-day return period. This period starts on the day you receive your order, and you can contact customer service to receive a return merchandise authorization number and start the refund process.
Once accepted, you'll receive a full refund, minus any shipping fees associated with the delivery and return.
Popular Alternatives
For those interested in adding some vibrations to your exercise routine, there are numerous whole-body vibration machine brands to consider. Here's a quick snapshot of some of the popular options:
| Name | Cost | Key Features |
| --- | --- | --- |
| PowerFit Elite | $199 or $235 | Includes two payment plans, 100 settings, and workout instructions. |
| Vibrofit One | $600 or $249 refurbished | 200 adjustable speeds, ten presets, and one manual program. Vibrates |
| XtremepowerUS 2000W | $57.26 | This machine includes an LCD screen and handles for extra stability. |
| LifePro 3D Hovert Vibration Plate Machine | $249 | Marketed for healing long-term injuries rather than weight loss |
| BCP Full Body Vibration Platform | $104 | Includes 99 speeds and ten modes, detachable resistance bands and a remote control |
In a lot of ways, these vibration machines are relatively indistinguishable from each other. Each offers multiple speed settings to help you customize your workout, and they all include additional accessories for maximizing your workout.
One thing to note is that PowerFit Elite's marketing is the most targeted towards weight loss compared to these other options. Each of the other machines puts more emphasis on how it offers a way to get low impact exercise that will strengthen your joints and potentially aid your rehabilitation efforts.
These claims are more in line with what clinical evidence shows that whole-body vibrating machines can deliver. And, while the PowerFit Elite site boasts of how the machine can help you lose weight, the fine print is careful to point out that you are only likely to experience those kinds of benefits if you combine the machine with exercise and a healthy diet.
The Bottom Line: Is It Worth It?
The PowerFit Elite makes some bold promises about its benefits—some of which stand up to scientific scrutiny better than others.
If you use this device regularly to perform intense bodyweight exercises like lunges and squats, then there's a high chance that it will improve your fitness and help you get in better shape.
However, if you buy this machine with the idea that all you need to do is stand on it to start shedding weight, you're likely to be disappointed.
The PowerFit Elite is a tool that can make your workouts marginally more effective. However, you'll still need to put in the hard work of actually exercising to notice any benefits.
While the company claims this machine can get you in shape in 30 minutes a week, the clinical evidence recommends close to that much use per day for any benefits.
Here's our final word. The PowerFit Elite is not a magic solution for weight loss and toning, so keep your expectations realistic when you use it.
Customer Reviews
Posted on Jun 28, 2021
Machine broke after using a few times only past the 3 months
I had to pay $50 out of pocket with the machine breaking after 4 months. Very bad quality, do not buy! Does not last. They will replace it for free but the shipping is almost the price of the machine.
Length of Use: 3–6 months
Bottom Line: No, I would not recommend this to a friend
Pros and Cons
Good exercise
Poor quality
Broke down after 4 months
Posted on Sep 8, 2020
Nuts
They sent me an e-coupon for twenty-five percent off and free shipping. Try to use it and it takes you to the checkout at full price. Customer service basically says they made no such offer. There is nothing they can do without a coupon code. And, they are unable to transfer the call to anyone who could help.
Bottom Line: No, I would not recommend this to a friend
Posted on Jun 23, 2020
My gym has this contraption
It is not meant to lose weight. It is meant to help get rid of lactic acid after a hard workout. It works great for that but doesn't help you lose weight. Don't drink the Kool-Aid.
Bottom Line: No, I would not recommend this to a friend
Posted on May 14, 2020
Diet and exercise go together like PB&J!
I wanted to share some insightful research on the benefits of "Whole-body vibration." Beyond the expected weight loss and fitness and physical improvements. I found on MayoClinic.org a doctor, Edward R. Laskowski, M.D., who responded by pointing out that, "Advocates say that as little as 15 minutes a day of whole-body vibration three times a week may aid weight loss, burn fat, improve flexibility, enhance blood flow, reduce muscle soreness after exercise, build strength and decrease the stress hormone cortisol."
That's a whole lot more than just losing weight and building strengths which is what the PowerFit Board is advertised to do.
I literally just got my board today, and I made this purchase with the mindset that, "Anything that can 'kickstart/boost' my workout routine has got to be worth a try. So far so good! The first 10-minute workout recorded through my Apple Watch showed a rise in my heart-rate to a mild 133 while trying out Exercise A in the Beginner/Intermediate level.
Last but not least, I'd like to address the other post from Sharon O., Milford, NE, Apr 28, 2020 entitled: Joke.
Sharon, If I'm understanding you correctly, you're saying that you are returning your PowerFit Board because you're frustrated that it's necessary to eat a healthy diet in order to balance your body in order to lose weight? I'm not quite sure what you're thinking but to those others out there I want to point out these two activities of eating healthy and exercising have always gone hand and hand together. So please don't let her pursue you from trying this seemingly multifunction and multi-beneficial product just because someone else has a problem eating right. You never get anywhere half-assing things, and if you but a fraction of effort into your workouts, you're only going to get a fraction of the results. However, best of luck to everyone and just remember, "We could all benefit for increased circulation as well as weight loss." This could result in less heart disease and so far all this sounds like a win. So go ahead, order this product like I did, and remember the benefits you are not gaining with just any other workout product.
Reference: Edward R. Laskowski, M.D., "Is whole-body vibration a good way to lose weight and improve fitness?" Mayo Clinic.org. Retrieved from: https://www.mayoclinic.org/healthy-lifestyle/fitness/expert-answers/whole-body-vibration/faq-20057958.
Bottom Line: Yes, I would recommend this to a friend
Posted on Apr 28, 2020
Joke
This is a joke. If I have to diet and exercise what do I need PowerFit for? I'll lose with or without it. Impossible to return. Need a reference number from them in order to return. I've been trying for THREE days. All you get is a recording over and over. They don't call back or return e-mails.
Bottom Line: No, I would not recommend this to a friend
Our Promise to You
In order to safeguard you and ensure helpfulness and relevance, our compliance team manually assess every customer review before it goes live.
We have a zero-tolerance policy for fake reviews, and companies cannot control or alter any reviews at any time.