monkii 360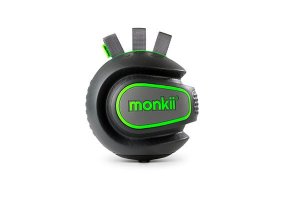 monkii 360 is a functional movement resistant trainer designed to give you an intense workout within minutes, anywhere you want.
monkii 360 Review - Does It Work or Is It Just Hype?
What Is monkii 360?
monkii 360 is a dynamic resistance trainer designed to help you get in an effective workout in less time. This multi-purpose tool claims to offer "efficient training for busy people" and help you lose weight, build muscle, or increase your endurance, depending on your fitness goals.
At the time of writing, monkii 360 hasn't been officially released, though other workout products from the brand are available. The company claims to be the most-backed fitness brand in Kickstarter history and has an April 2020 release date planned.
In anticipation of this release, this article will explore the available information to help you decide whether monkii 360 is worth waiting for. We'll look at its features, training philosophy, and comparable products.
How Does monkii 360 Work?
According to the company's Kickstarter pitch, monkii 360 is a self-contained fitness device that will help you get in better shape without going to the gym or investing in other equipment.
This device is essentially a weighted ball that users can tether to doorways or trees with a resistance band that comes with the ball. You're meant to lunge, jump and perform other functional moves with the ball to mimic the benefits of both cardio and strength training in one device.
monkii lists numerous features of the device:
Self-contained storage within the ball for all accessories
Easy-grip texture that keeps your muscles engaged through irradiation
Fits all hand sizes
Acts as a foam roller
Options for a modular weighted MassCore at five weight levels (sold separately)
Easy setup and minimal footprint when in use (workout takes up less space than a yoga mat)
Includes DynaForce Bungees at various resistances
An app that provides monkii workouts
Let's dive deeper into three of these.
Irradiation
monkii 360 purportedly has a patented grip design that activates more muscles at once and keeps them engages throughout each move.
They call this "irradiation," and a quick Google search shows that the term is used casually within the fitness community but doesn't seem to have an official definition.
The company claims that irradiation is the same feeling you experience when you put tension between both hands placed in a clapping position. You'll feel pressure from your hands through your chest and core, which improves your neuromuscular functioning, builds your grip strength, and gives you a more balanced workout.
MassCore
The monkii 360 has a hollow interior, into which you can add a modular weighted core to increase leverage during your workouts. There are five levels available, and their weights are relative to their level number (level 3 weighs three pounds). Levels 1 to 2 are considered beginner, 3 to 4 are intermediate, and level 5 qualifies as advanced.
You can purchase heavier MassCore weights as your fitness improves.
DynaForce Bungees
The monkii 360 is meant to be used with interchangeable DynaForce Bungees that keep your muscles engaged through the full range of motion. Each band is 23 inches long and produces a weight/resistance equivalent between 20 to 50 pounds.
You can change out the bands to increase the amount of resistance produced when you pull the ball away from your body.
monkii 360 app
monkii's Android and iOS app contains hundreds of workouts that can be done with monkii equipment or using just your bodyweight.
You'll get access to full-length, follow-along videos for workouts ranging from two to 45 minutes. You can choose from low, medium, and high-intensity workouts that include beginner, intermediate, or advanced moves.
New users can follow the app's 21-day monkii Habit Program to learn the basics of this training strategy and receive expert guidance along the way.
This app is free and earns 4.4 stars on Google Play and 4.8 on the Apple App Store. Most users seem to appreciate the amount and variety of workout options and found it to be a great companion to their monkii Bars and Pocket monkii, two other fitness systems offered by the brand.
The monkii 360 Workout Philosophy and the Research Behind It
We learned from Kickstarter that monkii 360 workouts are designed to work you through "dynamic, functional, full-body exercises that move you through a huge range of motion." Throughout a workout session, you will rotate, squat, bend, lunge, press, pull, and perform other moves designed to keep you in motion.
The central idea is to have you move your muscles in conjunction with each other, so you keep more of your body activated through each session. This will purportedly build functional strength while improving your balance and mobility.
Most monkii 360 workouts are based around the Tabata Protocol. This is a workout style that utilizes a two-to-one ratio of work to rest to maximize the fitness effects. Traditionally, this encompasses about 20 seconds of intense activity followed by 10 seconds of rest for about four minutes.
The main idea is that you put your body into oxygen debt so that it needs to burn both glucose and fat to keep up. monkii cites Tabata's study from 1996, which they state shows that four minutes of intense Tabata is more effective than an hour-long run (from an anaerobic standpoint).
However, it's important to note that this study was performed on elite athletes already in incredible shape. This research doesn't suggest that the average person will see similar performance improvements compared to other forms of cardio exercise.
Second, the key to success with short Tabata workouts is intensity. You need to be operating at close to your maximum heart rate for all twenty seconds per session, which is more than most beginners can handle. We also can't be sure that monkii 360 workouts will get you to that high of an exertion level.
What Does monkii 360 Cost?
monkii 360 is available for preorder on Kickstarter. Here were the package deals available at publication time:
Starter System ($149): Includes a monkii 360 and starter bungee
Growth System ($179): This upgrade comes with three DynaForce Bungees and your choice of an advanced training program (Cardio, Core, or Hybrid). These 36-day programs are offered through the monkii app, and customers will receive passwords through email to access their program of choice.
Ultimate System ($199): You'll receive the full Growth System as well as your choice of MassCore weight (choose from level 1 through 4).
Tactical System ($249): This features a full black monkii 360, five Dynaforce Bungees, a MassCore Tactical Weight (level 5), and a Tactical Training 49-day combat program guide.
You can also buy bundles that include the monkii 360 with other fitness products from the company as well as optional add-ons for securing the device to trees for outdoor workouts.
All monkii 360 orders will be covered by a 100% money-back guarantee for the first 30 days after delivery. You can contact the company directly for more information at info@monkii.co.
How Does monkii 360 Compare to TRX?
One of the more popular The TRX Suspension System. Former Navy Seal Randy Hetrick developed this highly portable training tool as a quick, effective way to get an intense workout.
While there are plenty of variations, the classic system consists of two adjustable, durable nylon straps attached to a central anchor and with handles on each end.
You can hang the TRX straps anywhere (similar to monkii 360) and complete a customizable resistance workout. This device starts around $150 for an All-In-One system.
Unlike the monkii 360, TRX doesn't center around using a weighted sphere. This changes the scope of workouts possible with each device slightly, as TRX tends to mimic traditional weightlifting moves better. Like monkii, TRX offers a fitness app with standalone exercises and workout routines designed for the equipment.
If you're looking for a direct comparison to TRX, consider monkii Bars 2, which costs $199 on the company website. A more portable option is the Pocket monkii, priced at $149.
If you're a fan of monkii products but can't afford the price tag, the company website offers DIY monkii instructions for the Pocket monkii, though no blueprint yet exists for a DIY monkii 360.
Bottom Line – Is It Worth It?
Here's our view. monkii 360 is intriguing, but you're taking a risk if you decide to become an early adopter. This system stands out from other portable resistance-training systems available, but until it's released in the real world, it's hard to weigh in on whether the concept works as well as described.
Monkii 360 makes sense for anyone who wants the option to complete intense workouts at home without being required to own bulky traditional fitness equipment. It's best for those who are self-motivated and willing to work hard with a little guidance. If you're new to exercising or need a group atmosphere to stay motivated, Monkii 360 might not be the best choice.
One thing to keep in mind is that monkii 360's MassCore and DynaForce accessories don't come with the base purchase. You'll need to level up to get a variety of DynaForce Bungees, and even when doing so, you'll still receive just one MassCore Weight.
This means you'll need to purchase extra accessories for full functionality as your fitness level improves. Doing so puts the price far above TRX gear, and it might be enough to make you consider purchasing other home gym tools like traditional weights.
Overall, monkii has a loyal following, and there's little reason to believe the monkii 360 will disappoint for flexible home fitness. However, keep in mind that you'll need to pay for additional equipment as you get stronger and more advanced in your 360 workouts.