Bombfell Reviews
Claimed This company has claimed this profile, is getting alerted on any new customer reviews entering this page, and may engage in dialogue with its customers to address their matters.

Companies cannot pay money or provide goods in order to remove or alter customer reviews.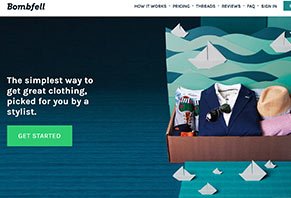 Bombfell is a monthly subscription service using tech and personal stylists to help men who hate shopping, but wish they had a more fashionable wardrobe.
About Bombfell
Don't have the time (or inclination) to shop until you drop? Bombfell is a subscription-based fashion service that aims to help men look their best without breaking the bank.
Short for "bomb fellow" (think "bombshell" meets "fellow"), Bombfell is the brainchild of co-founders Jason Kim and Bernie Yoo. The two long-term friends met as college roommates while attending Harvard where, according to one article, they built their respective wardrobes on "a shaky foundation of free t-shirts handed out by dot-com companies."
After graduating, Jason and Bernie found that they lacked the time and know-how to dress well—often asking girlfriends to pick out clothes for them, instead. The inspiration for Bombfell came after "realizing that you could only ask someone to shop for you so many times."
Drawing from Jason's professional experience as a lead engineer and Bernie's in business development, the two entrepreneurs used technology to enhance what a professional stylist could offer, and claim that the combination offers an ease-of-use and personalization that few others can match. How does it work?
How to Use Bombfell to Build Your Wardrobe
When you sign up for Bombfell, the website guides you through a short questionnaire in which you provide the following:
Indicate what best describes your situation, from looking for advice, stepping up your look, too busy to shop, or helping out your partner.
Your height, weight, and body shape.
What size clothing you currently wear.
How you like your clothes to fit. Choose between trim and relaxed.
Choose from six swatches to select the closest match to your skin tone.
Select one or more styles that represent your preferred look. Choose from casual, classic, preppy, or modern.
Select items or colors you'd never wear, including plaid, pink, red, stripes, skinny jeans, and graphic t-shirts.
Choose one or more brands that you currently wear.
After providing Bombfell with selections that best represent your size and personal style preferences, the next survey section allows you to choose your budget for each item with sliding scales.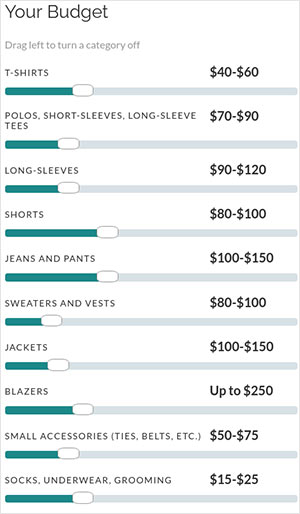 Note that the price ranges shown represent the least amount that Bombfell members can allot to each category of clothing. If the proposed price range is too high for any given category, you can also slide the scale to "No Thanks."
Last up, you're allowed to pick up to three items from the following categories to be included in your first Bombfell shipment: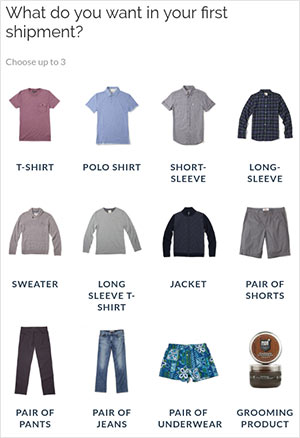 ​
What happens next? Bombfell's software analyzes the information you just provided to make recommendations from a carefully curated selection of well-known and up-and-coming designers based on your fit and style preferences. Next, one of Bombfell's personal stylists decides which items make the final cut.
Bombfell sends members a preview email, showing what's been selected before shipment. A box of clothes is then delivered to your door. After trying the items on in the comfort of your own home, you're allowed ten days to give your Bombfell picks a thumbs up or thumbs down. Any items that aren't keepers can be returned in a prepaid envelope at no charge.
The company claims that their combination of technology and personalized service offers the best of both worlds: a personal shopper's expertise and a customizable budget. Additionally, Bombfell claims that selections get better over time, as members are encouraged to send feedback through their account about what worked and what didn't.
How Much Does a Bombfell Membership Cost?
Bombfell doesn't charge a subscription fee, stylist fees, or shipping – members only pay for the items of clothing that they keep. According to their FAQ section, there is a fair amount of variation in how much each item costs. The average price point for one item of clothing is $89.

​
Note that the price you pay is per item, not for a complete ensemble. Though, members are allowed to place a cap on how much they're willing to spend on particular items of clothing, as shown in the previous section.

​
Want a clearer understanding of how much entire Bombfell ensembles cost? You can see more examples of selected outfits in their Pricing section.
Unless otherwise specified, Bombfell members will receive shipments once a month. If that's too often, members can change the frequency to once every two or three months in their Account Preferences or re-schedule the next shipment in the "Up Next" tab of your account dashboard. Members can also pause or cancel their account at any time.
What Range of Sizes Does Bombfell Offer?
According to the FAQ section, Bombfell has ample selections in average sizes, but only a limited selection of Big & Tall: "For bottoms, we carry a few styles in waist size from 38" to 46", and up to a 36" inseam in select waist sizes. For tops, we carry XLB to 4XB in Big sizing and for tall sizing XLT to 3XT."
Bombfell encourages prospective members to contact their customer service at support@bombfell.com if you're still left with questions about whether they can accommodate your size, fit, or style.
What If I Don't Like My Bombfell Selections?
Returning unwanted items is also free—just be sure to do so within your 10-day "try on" period. The clock doesn't start ticking until your shipment is delivered. Note that Bombfell only accepts unused, unwashed, and undamaged returns with the tags still intact.
What if you're late? Bombfell members who exceed the 10-day period will be charged the full amount of the order. Between 11-29 days after receipt, refunds and credits are handled individually. Post 30-days, only store credit is available – minus a $10 restocking fee.
Also, due to hygiene reasons, underwear and grooming products cannot be returned. Socks can be returned, but must be in their original unopened packaging.
Remember that preview email we mentioned? To help negate the chances of getting a shipment you don't enjoy, members can request new selections or choose to skip the month within 48 hours of the email being sent.
If you keep receiving items that don't suit your style, Bombfell does allow members to switch up their personal stylist—just email the service department at support@bombfell.com.
Bombfell Reviews: What Customers Are Saying About Their Selections
Like many startups, Bombfell saves on their marketing budget by offering bloggers commission from affiliate links placed in their review. Meaning that, if a reader were to click through to Bombfell after reading a post, the blogger gets paid either a flat rate or percentage of your purchase. (Note that the presence of affiliate links should always be mentioned in a disclaimer.)
While affiliate links don't always (and shouldn't ever) affect the review, there's still a chance that the blogger could be less than objective. To ensure objectivity, we headed to Reddit's Male Fashion Advice (MFA) forum to find what members had to say about their Bombfell subscriptions.
Related: Trunk Club Review
Commenters comparing the service to similar fashion subscription companies targeting male shoppers, such as Trunk Club and 54 Club, described Bombfell as offering better prices.
"I've been with them for 4 months now and I love 'em!" –immasheep
"I've been using bombfell for a few months and I really like it. It costs me literally nothing unless there's something I like. I've kept a lot of stuff though. It's all pretty good quality stuff that I'm willing you pay for. It also has a third party picking it out that gets me to branch out. And for what it's worth, I get tons of compliments on the stuff they send." –geoffersonspin
It's worth noting that Reddit's MFA community focuses on learning how to look fashionable yourself. However, the most common complaints were that Bombfell's selections weren't to users tastes.
"I tried Bombfell for almost a full year. I returned just about everything, kept a pair of shorts I believe. Overall wasn't too impressed and I'd rather just do my own shopping." –habisch
One Redditor also commented that his shipments became repetitive. Although, no statement was made as to whether or not he contacted Bombfell's customer service about the problem before canceling.
Bombfell vs Trunk Club vs Five Four: How Do These Subscription Services Compare?
As few customers mentioned in their reviews above, Bombfell isn't the only clothing subscription service that caters to men. How does it stack up against two similar services, Trunk Club and Five Four?
A Quick Look at Trunk Club
Trunk Club delivers a similar model of subscription service, but with a twist. Trunk Club members can take advantage of in-person styling services at its clubhouses in several cities, including Chicago, D.C., Dallas, New York, and Los Angeles. This gives members the chance to chat with a stylist and try on clothes—as well as access to a full bar to fuel your shopping experience.
While some might find Trunk Club's in-person perks appealing, stopping in to see a personal stylist starts to blur the line between a subscription service and regular ol' shopping—potentially making Trunk Club a less appealing option for men who'd rather have dapper selections delivered directly to their door.
There's also Trunk Club's high prices. Granted, what you're willing to pay for personalized shopping is likely different from the next guy, so "expensive" is subjective. However, Trunk Club's clothing picks don't shy away from items that cost a pretty penny. For example, their averages are:
$170–$250 for denim
$100–$200 for casual shirts
$100–$300 for sweaters
Those prices are a far cry from Bombfell's average of $89 per item. Additionally, a number of Trunk Club customers has stated that the clothing they received wasn't representative of those high prices and that they quickly showed wear and tear.
Learn more: Trunk Club Reviews
A Quick Look at Five Four
Another men's fashion subscription service, Five Four costs a flat $60 each month. Each month you will receive a package of apparel valued up to double its monthly fee, which is selected for you based on your style profile.
Because of its low price and ample items delivered, one blogger hailed it as the best value for men interested in curated clothing picks delivered to their door. In addition to monthly shipments, Five Four members can purchase additional outfits from the website at a 25% discount.
The potential drawback? Unlike Bombfell or Trunk Club, Five Four only sells its own brand of clothing. This allows them to offer clothing at a reduced cost but also limits subscribers style options to a single brand.
Is Bombfell a Good Fit to Amp Up Your Fashion?
While Bombfell members won't benefit from the kind of clothing sales you can find at a standard retailer, the company does appear to offer items without a significant markup. (A co-founder commented on Reddit that clothes are purchased at wholesale cost, and that they consciously try to keep items competitively priced when deciding retail value.)
While items aren't conspicuously over-priced, Bombfell is likely only appealing to male shoppers who don't make a priority of hunting for bargains. Instead, the service will likely work best for men who are interested in dressing well, and are willing to pay for the convenience.
After completing Bombfell's survey, we were left with one concern: While the questionnaire takes build and skin tone into consideration, there's no opportunity to upload a picture or share other information that could influence which patterns and colors are selected, including eye or hair color. This makes the service feel slightly less custom than working with a personal shopper. If bringing out your baby blues is a top priority, you may be interested in contracting the services of a professional stylist instead.
Bombfell customer service

By Jeff A.

,

Jun 4, 2019
Verified Reviewer

I had a question about the delivery date. FedEx delayed my shipment arrival until I was already on vacation. Lilly in customer service responded to my issue very quickly and extended my review time until I return from vacation. Very satisfied with her quick response. Thanks Lilly!

Bottom Line: Yes, I would recommend this to a friend

---

Quick solution to my problem

By Chris G.

,

Jackson Heights, NY

,

May 29, 2019
Verified Reviewer

I misplaced my shipping label and contacted Bombfell to see what I needed to do to get another one. Lilly was able to immediately send me a replacement without any fuss. Thanks for solving my problem so quickly.

Bottom Line: Yes, I would recommend this to a friend

---

Advertisement

---

Great service

By Mike M.

,

Clarence Center, NY

,

May 29, 2019
Verified Reviewer

Janelle at Bombfell followed up with me timely and addressed my concerns. She went above and beyond and this is why I love Bombfell! Couldn't be more pleased with the clothing so far and the customer service is top notch. Thanks Janelle!

Bottom Line: Yes, I would recommend this to a friend

---

Great, friendly service so far

By Justin G.

,

Albuquerque, NM

,

May 20, 2019
Verified Reviewer

I just received my first order from Bombfell today and really liked half of the clothes. I got the others returned easily today with the shipping label that was included. I also received quick customer support from Martha with a question I had about a discount code. I am really looking forward to my next box and can already tell I'll be walking the streets a bit more stylish.

Bottom Line: Yes, I would recommend this to a friend

---

Advertisement

---

Speedy, professional service

By Tobin M.

,

Madison, WI

,

May 13, 2019
Verified Reviewer

It was the weekend, and I decided at the last moment I wanted to change my order. I didn't expect to hear back from Bombfell til Monday. Yet I heard back from Janell in customer service in less than an hour! Problem solved - fast, friendly, professional. Beyond impressed!

Bottom Line: Yes, I would recommend this to a friend

---

Bombfell order

By Mike D.

,

Illinois

,

May 13, 2019
Verified Reviewer

My last order hit all of the bases. My stylist Janelle was great, she listened to what I was looking for and picked stuff that fit and looked good on me.

When I put my account temporarily on hold, Janelle was quick to respond and let me know how to schedule my next order when I was ready.

Bottom Line: Yes, I would recommend this to a friend

---

Fantastic service

By B K.

,

Boston, MA

,

May 9, 2019
Verified Reviewer

The stylists are fantastic, the clothes are great, they've added pieces to my wardrobe that I never would have even tried on if it were up to me. I'm excited to have them continue to style me.

Bottom Line: Yes, I would recommend this to a friend

---

Excellent and understanding service

By Nathan R.

,

Alabama

,

May 9, 2019
Verified Reviewer

In the midst of a house move, I misplaced a shipping label to return a jacket that I elected not to keep. Coincidentally, my check card number was stolen the same week, so I had to get a new check card. Long story short, my account wasn't updated and I still had the coat a couple of months later. When I finally got around to explaining to Bombfell, customer service - Lisa was my rep - was totally understanding and accommodating. She sent me a new shipping label to return the coat, and I'll be ordering from Bombfell again soon.

Bottom Line: Yes, I would recommend this to a friend

---

Thanks Martha and Caitlin!

By Brendan C.

,

New York, NY

,

May 6, 2019
Verified Reviewer

Twice now I've brought an issue to Martha's attention and both times she responded immediately with a very understanding and effective solution. Services like these are all over the place, but I can't imagine leaving this one as long as they continue to put this level of emphasis on their customer service. Thanks Martha for the assist, and thanks Caitlin for making me look as cool as I feel!

Bottom Line: Yes, I would recommend this to a friend

---

Had a returns question

By Ryan M.

,

New Jersey

,

Apr 30, 2019
Verified Reviewer

I had returned my unwanted items late and Bombfell charged me for those unwanted items, which was my fault. I dropped the returns in the mail in the morning and the charges posted that afternoon. I emailed Martha asking if I would get a refund. She emailed back less than 24 hours later and told me I would get a refund once the items came back and were confirmed in new condition with tags still on. It was a quick response with the information I had requested. I was disappointed that the website did not provide a phone number to call, but they do promptly respond with helpful information when you write to them.

Bottom Line: Yes, I would recommend this to a friend

---

Quick and friendly

By Jordan L.

,

Quincy, IL

,

Apr 30, 2019
Verified Reviewer

Lisa from Bombfell was quick to respond. Her response addressed each point in my email, and she was friendly.

Bombfell has continuously provided me with a great wardrobe and has addressed the one concern with quality that I've had.

Bottom Line: Yes, I would recommend this to a friend

---