CB-1 Weight Gainer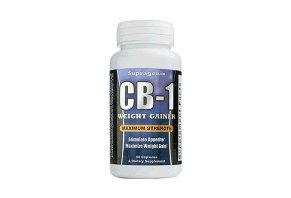 Summary
Supragenix claims that CB-1 Weight Gainer is a supplement that allegedly offers a weight gain solution for those with fast metabolisms or weak appetites.
CB-1 Weight Gainer Review - How Effective Is This Supplement?
What is CB-1 Weight Gainer?
Supragenix claims that CB-1 Weight Gainer is a natural weight gain pill with allegedly clinically proven results.
As the many unwanted conditions associated with obesity remain at the forefront of most health and wellness discussions, Supregenix states that those that struggle to gain weight are often overlooked.
Being underweight has its inherent risks as well. Such issues include malnutrition, heart issues, and kidney dysfunction, which commonly related to being underweight.
Supragenix claims that taking 1 capsule 30-60 minutes before each meal can deliver lasting weight gain results. But is it that simple?
While Supregenix claims to offer a weight gain solution that is backed by science, they're also quick to share this disclaimer:
*Results featured may not be typical. Weight gain results depend on a variety of factors and are not guaranteed. Individual results vary.
This conflicting information can be challenging to weed through.
In this article, we'll review the active ingredients and highlight any available scientific support for their safety and efficacy.
CB-1 Weight Gainer Ingredients and Their Efficacy
Supregenix prides itself on offering a product free of steroids and other potentially harmful substances. They claim that their blend of herbs, vitamins, and minerals are safe and effective.
In this section, we'll take a closer look at the ingredients to determine if there is any available scientific support for their ability to offer the weight gain you need.
The Ingredients
Each capsule of CB-1 Weight Gainer contains the following:
Vitamin D3 - 1,500 IU (375% of your Daily Value)
Zinc - 6mg (40% of your Daily Value)
Maximum Strength Weight Gain Blend - 405mg

Echinacea Purpurea Powder
Dodeca-2E, 4E, 8Z, 10E/Z-tetraenoic isobutylamides
Dodeca-2E, 4Z-diene-8, 10-diynoic isobutylamide
Undeca-2Z, 4E-diene-8, 10-diynoic isobutylamide
Echinacea Angustifolia Powder
Dodeca-2E, 4E, 8Z, 10E/Z-tetraenoic isobutylamide
Undeca-2-ene-8, 10-diynoic isobutylamide
Dodeca-2E, 4E-dienoic isobutylamide
Soy Lecithin
Vitamin E (mixed tocopherols)
These ingredients are broken up into 3 main categories: Vitamins, Minerals and Isobutylamides.
Vitamins
CB-1 Weight Gainer includes both vitamins D and E, though E is part of their weight gain blend - we'll discuss that a bit later.
Vitamin D helps to maintain strong bones and teeth, while also potentially reducing your risk for some chronic diseases.
As deficiency is common, supplementation is often necessary. With three servings of CB-1 Weight Gainer, you'll receive more than 10x the recommended daily value. This dose should help prevent or improve deficiency.
With respect to weight gain, our literature review did not produce any evidence that Vitamin D offers a benefit. In fact, it may have the opposite effect.
In a recent study, 50,000 IU per week over 6 weeks significantly reduced body weight, BMI, waist circumference, and hip circumference.
Though Vitamin D is necessary for overall health, it may offer weight loss benefits rather than aiding weight gain.
Minerals
Zinc is an essential mineral that is often deficient in older adults and those that opt for plant-based diets. Low levels can be associated with many unwanted effects so ensuring your diet or supplement meets your needs is important
CB-1 Weight Gainer includes 40% of the recommended daily value of zinc in each pill. Consuming 3 pills each day means you'll exceed your recommended daily value, so this supplement may help improve or prevent deficiency.
Zinc is involved in many vital reactions in your body and may offer many benefits such as reducing inflammation, promoting wound healing, and boosting immune function.
Our literature review did not produce any support for zinc's ability to assist in weight gain. Zinc seems to offer favorable results in managing blood sugar and reducing weight.
In a randomized trial, 30mg of zinc daily for 4-weeks significantly decreased both BMI and body weight in obese subjects.
While including this mineral can serve to bolster your nutrition, zinc does not appear to provide weight gain benefits.
Maximum Strength Weight Gain Blend
As in most proprietary blends, the company provides only the total combined amount of all ingredients. As they do not offer details regarding the amount of each specific ingredient, we can't compare them to doses included in scientific research.
Nonetheless, the proposed weight gain benefits of this supplement may be primarily related to echinacea, isobutylamide, soy lecithin, and Vitamin E.
Echinacea is obtained from flowering plants found in the US, Canada, and Europe. For centuries, it has been thought to offer a number of health benefits like wound healing and boosting immune function.
Cannabinoid (CB1) receptors found in your brain can induce hunger when stimulated. In a laboratory study, echinacea purpurea root extract demonstrated an ability to stimulate these receptors, though this action has yet to be demonstrated in human subjects.
Isobutylamides are compounds found in echinacea and thought to be the active ingredient responsible for its proposed benefits. Multiple isobutylamides are likely included in this blend to further stimulate hunger, but again, support for this action is lacking.
Lecithin are fatty substances found in both animals and plants that are used as an additive to thicken foods. Soy is a common source for this substance.
While soy lecithin may offer memory and mood-boosting effects, its role in weight gain has not been demonstrated.
In addition to offering antioxidant effects, Vitamin E may boost immune function and promote blood flow.
While its antioxidant benefits have been well studied, there is no information describing a potential role in weight gain.
While CB-1 Weight Gainer offers some ingredients that may be valuable, weight gain does not seem to be one of the benefits. Ingredients like Vitamin D and zinc seem to be associated with weight loss.
While some laboratory studies point to a possibility for echinacea to boost hunger, this support is not available in human studies.
Supragenix claims that a randomized trial backs their product; our literature review did not produce this information. If available, this would represent the only study examining the weight gain effects of these ingredients in humans.
We reached out to the company to see if they'd share the study details, but we did not hear back.
CB-1 Weight Gainer Side Effects and Safety
Vitamin D is safe at much larger doses than what is included in CB-1 Weight Gainer. Vitamin D is fat-soluble, so the excess is harder to get rid of when compared to the water-soluble vitamins that are easily excreted in urine.
Adverse effects are unlikely at daily intakes below 10,000 IU/day; digestive symptoms may be an early sign of consuming too much.
Consuming excess zinc may lead to nausea, vomiting, stomach pain, and fatigue. These effects are more likely at doses much higher than what is offered in CB-1 Weight Gainer.
As Supragenix does not offer information for the individual ingredients in their Weight Gain Blend and available scientific support is lacking, we don't have much to compare. Also, recommended daily allowances are not provided for ingredients such as extracts.
Since a safety profile can't be described for this supplement, it is best to include your physician in the decision on whether or not you should try the product or similar ones.
How Much Does It Cost?
The CB-1 Maximum Strength Weight Gainer can be purchased directly from the Supragenix site. Their products do not seem to be available from other retailers as of yet.
If you're consuming 3 meals per day, a single 90 capsule bottle will last you one month. One time orders run $69.98 per bottle.
You have a choice between standard processing (free) or rush processing ($6.99) in which your order ships in 1-day or less.
You'll save $20 per bottle if you join the CB-1 Success Program. Joining the program locks you in at $49.98 per month where you will receive a bottle each month until you cancel.
Lastly, Supragenix backs your purchase with their 30-day guarantee. If you're unsatisfied, call (888) 528-5551to process your refund.
Available Alternatives
There are many weight gain supplements currently available on the market, though none seem to offer a blend similar to CB-1 Weight Gainer.
The vitamins and minerals, as well as the echinacea included in this supplement are available individually from a variety of retailers. Isobutylamides seem to be a little harder to come by, however.
Due to the lack of available research for CB-1 Weight Gainer's efficacy in weight gain, why would you want to go through the trouble of finding these ingredients individually even if you did save money?
There are other products available that may offer weight gain through a different mechanism.
High-calories supplements like Serious Mass from Optimum Nutrition can assist in weight gain by boosting your calorie totals with daily use. You can pick up a tub at GNC for $39.99, though this offers only 8 total servings.
This particular product contains a whopping 1250 calories in every 2 scoops.
Watch out for products like these, however. This powder also contains over 20g of sugar per serving and a total of 253 carbs.
Remember that if you mix with a liquid other than water, you'll only add to these totals.
These products often contain sugar and preservatives, so be sure to check the label.
The Bottom Line
The proposed weight loss benefits of CB-1 Weight Gainer do not seem to be backed by research. In fact, this supplement contains a couple of ingredients that have been demonstrated to assist with weight loss.
As the available research is lacking and Supragenix does not offer information for the individual proprietary blend ingredients, we can't determine how safe this supplement is. This product also comes with a pretty hefty price tag.
In light of these factors, it's probably best to seek weight gain assistance elsewhere.
Supragenix also mentions that increasing your caloric intake is necessary with the use of their product, though increasing the calories you consume alone can result in weight gain.
For example, if you eat an additional 500 calories daily, you'll gain 1lb over 7-days.
If you feel you are underweight, consult a physician. Examining your diet will likely be one of the first steps in your management.
Under the guidance of a trained professional, strategically managing your diet can be an effective way of gaining weight, while also ruling out any possible underlying medical conditions.
Customer Reviews
Posted on Jun 11, 2022
Be aware!
I finally purchased a bottle of CB-1 Weight Gainer a week ago. I read the Weight Gain Guidebook that came with the product. It says to take one capsule 30 minutes before eating a meal, which I did for breakfast. Halfway through my breakfast, I started to feel an upset stomach. Thus, I had no desire to finish. About 45 minutes later with full-blown nausea, I ran to the bathroom with severe diarrhea that lasted about 45 minutes. And a repeat performance after trying to eat a light lunch. I was so miserable that I researched the side effects...I read everything that I was experiencing.
This is what they don't disclose: If you have allergies to certain plants, you should not take this product, especially ragweed! I never saw any warnings on their website, and I took that harmful capsule on Sunday and I remained very ill three days later.
My lesson? Don't EVER buy supplements online without checking side effects, completely reading the label, and DEFINITELY speak to your physician before making that online purchase. This was my online purchase from hell.
Length of Use: Less than 3 months
Bottom Line: No, I would not recommend this to a friend
Pros and Cons
The Weight Gain Guidebook
This company is deceptive — if it sounds too good...you know the rest
This company does not disclose serious health cautions
This company is false advertising
Posted on Sep 5, 2020
Excellent
I am totally 100 percent satisfied with CB-1. I had a terrible sinus infection that took away my sense of smell, my taste buds, I could not taste any food or smell any fragrance or aromas that made me lose a lot of weight, I had no appetite. I went from 180 lbs to 122 lbs. I was embarrassed to go out and embarrassed to be around my own family. My oldest son ordered CB-1 for me, a true miracle in a bottle! It did everything it said, I gained weight every week, I checked the scale with no clothes on, 6 lbs, 7 lbs a week gaining weight. I was so excited, could not wait until the end of week to check my weight. Its been exactly 3 weeks. I was at 122 lbs when I started today, I'm at 142 lbs, not bad for the first 3 weeks! I have a feeling I might need to keep an eye out for the scale because it gives you what you ask for weight. I am truly thankful for a product that finally works. Also, read the book that comes with it, that little book gave me so much info, it truly helps, thanks to Jesus! It changed my life. Thanks CB-1!
Length of Use: Less than 3 months
Bottom Line: Yes, I would recommend this to a friend
Pros and Cons
It told the truth
Explained product pro and cons, product works
Tell you what to expect from product
No "cons" were specified in this review
Posted on Mar 20, 2020
It really does work
I have been using CB-1 weight gain for a while and I gained so much weight. I eat every 5 mins, lol. I love my new body. They also deliver fast. I will continue to keep ordering.
Bottom Line: Yes, I would recommend this to a friend
Posted on Sep 3, 2019
Waste of money
CB-1 does not work, it is a waste of time, money, and energy! Ya'll really need to stop selling people dreams! I purchased this mess and followed directions for about a month. It makes my stomach burn and gives me tons of gas! Guess what, I'm still eating normally, go figure.
Bottom Line: No, I would not recommend this to a friend
Posted on Jul 25, 2019
Waste of money, does not work
I thought that these weight gain pills were supposed to make me gain weight but I wasted $50 on these pills, they are a waste of money, they do not work. I'm never buying these again, I recommend buying something else.
Bottom Line: No, I would not recommend this to a friend
Posted on May 17, 2019
Unauthorized transactions
I ordered one bottle at full price, without my approval they charged my card for additional bottle that I never requested. This company is a rip-off! Don't bother to order. They claim they can't stop the pending charges or the order. Forcing you to ship back out your pocket for an order you never wanted! They are crooks!
Bottom Line: No, I would not recommend this to a friend
Posted on Dec 8, 2018
Increased my appetite immediately
I have been trying to gain weight for a few months and I am eating everything I can, but it wasn't enough. So I started taking CB-1 Weight Gainer a few weeks ago and I have already put on 8 pounds. I can totally feel myself eating more.
I hope to gain about 7 more pounds while I work out at the gym in the next month. It has been really nice being hungry so I can get enough calories in each day. Sometimes my protein shake fills me up, but when I take CB-1 with it, I can still have a snack.
Overall I would highly recommend!
Bottom Line: Yes, I would recommend this to a friend
Posted on Sep 11, 2016
Do Not Waste Your Time Or Money
Do not waste your money. I took this product for 2 months faithfully and had no results. And then couldn't even get one month of my money back because the product was a fail. So I'm warning people to stay away from this product and by all means take another route.
Bottom Line: No, I would not recommend this to a friend
Posted on Jul 3, 2015
Don't waste your 50 bucks on this.
Don't waste 50 bucks on this garbage. If you want to gain weigh, lift the weights to gain muscle which makes you gain weight. Eat protein such as eggs, stake, protein shakes, etc.
Bottom Line: Yes, I would recommend this to a friend
Our Promise to You
In order to safeguard you and ensure helpfulness and relevance, our compliance team manually assess every customer review before it goes live.
We have a zero-tolerance policy for fake reviews, and companies cannot control or alter any reviews at any time.