Atrantil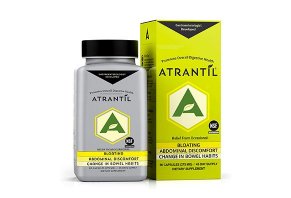 Summary
Atrantil is a dietary supplement that offers a blend of 3 active botanicals that are intended to support healthy digestions with daily use. Our review will help you decide if it is the right choice for you.
Atrantil Review: Is It Safe and Effective?
HighYa is supported by our readers. When you buy something through a link on this page, we may earn an affiliate commission. Learn more.
According to the product page, Atrantil is a dietary supplement that blends 3 active botanicals that are intended to offer clinically proven support for your digestion.
Allegedly, by taking 2 Atrantil capsules up to 3x daily you will:
Protect the good bacteria in your gut
Treat bloating and abdominal discomfort
Manage constipation and diarrhea
Support your immune system
Promote overall digestive health
The company states that these benefits are made possible by the actions of their botanical blend. More specifically, each ingredient works together to eliminate the methane gas-producing bacteria that can cause bloating and stomach discomfort.
But can a couple of capsules really offer the digestive support you need?
In this article, we'll review Atrantil's ingredients, as well as any available scientific support for their proposed benefits to help you determine if there is any merit to the claims.
Analysis of Active Ingredients
The three natural ingredients found in Atrantil are polyphenols – micronutrients that give plants their color and protect them from harm. Consuming polyphenols may offer a number of health-related benefits.
According to Atrantil, the combined efforts of each polyphenol can relieve many of the symptoms that are associated with a digestive system that is not balanced.
Every 2-capsule serving of Antrantil contains a 550mg blend of the following ingredients:
Peppermint Leaf (M. balsamea Willd extract)
While this aromatic herb may be familiar as its menthol derivative is a common ingredient in toothpaste and gum, its suspected medicinal role may be less well-known.
Nonetheless, it has been used for centuries in certain parts of the world to do much more than freshen breath.
While peppermint may offer relief for sinus congestion, headaches, and menstrual pain, it is included in Atrantil for its suspected ability to relax the digestive tract to allow the other 2 ingredients to work more efficiently.
In a 2014 review, researchers concluded that peppermint may offer calming effects for those with Irritable Bowel Syndrome (IBS), at least in the short-term.
Quebracho extract
This extract is obtained from trees found in South America. Their polyphenol content has not been well-studied in humans, though their ability to reduce methane production has been demonstrated in animal studies.
In cattle, the addition of quebracho to feed reduces the production of methane without altering energy or the digestion of nutrients.
Horse Chestnut (Conker Tree extract)
Horse chestnut is native to Southeast Europe and has historically been used to manage joint pain, bladder issues, as well as digestive symptoms.
The ability of horse chestnut to support digestive health have not been well-studied in humans, though it has been shown to relieve diarrhea when given orally to calves.
Atrantil Clinical Studies
While the 3 botanical ingredients offered in Atrantil's blend have not been extensively studied in humans individually, the proposed digestive health-related benefits of Atrantil have been investigated in 2 clinical studies.
In 2015, sixteen subjects with IBS were studied over the course of 2-weeks. Those that were randomized to receive Atrantil significantly improved symptom scores for constipation and bloating when compared to the placebo group. No side effects were reported.
The following year, researchers retrospectively reviewed the medical charts of 24 patients with IBS that took Atrantil after other treatments failed to offer relief.
They found that Atrantil was associated with significant improvements in abdominal pain, bloating, and constipation during a 2-week span. Again, there were no reported adverse effects.
While both of these studies were published in peer-reviewed journals, it's important to note that one does not have an impact factor, while the other's is well below 1. This means that the studies published in these 2 journals are not cited very often.
Safety
Regarding their digestive effects, Atrantil's ingredients have been studied individually mainly in animal and laboratory models. While these studies can highlight the need to further investigate promising results, they can't be used to describe safety and efficacy in humans.
Atrantil was specifically studied, however. In both instances, safety was demonstrated over a 2-week span as no adverse events were reported during this duration of time. Keep in mind that there is currently no evidence for safety in the long-term.
Unlike the other 2 ingredients, peppermint's digestive effects have been examined in humans. It Is generally safe, though use was associated with heartburn in those with IBS. Similar mild digestive symptoms are likely most common when using herbal supplements like Atrantil.
Lastly, Atrantil contains tree nuts. If you have an allergy, it is best to find relief for your symptoms elsewhere.
Though this supplement is likely safe, speak with your doctor before use to first identify the source of your symptoms.
Pricing
Atrantil is available directly from the product page.
They offer both a 20ct (10-day supply) and 90ct for $17.95 and $39.95, respectively. Both options ship free.
Your order is backed by a 3-day guarantee. If for any reason you're unsatisfied, call (214) 984-3724 or email support@atrantil.com to process your refund.
You can save a few bucks by picking up your 90ct at Amazon for $35.96 using the Subscribe and Save option. You won't miss out on the return policy either as Amazon offers a 30-day refund policy.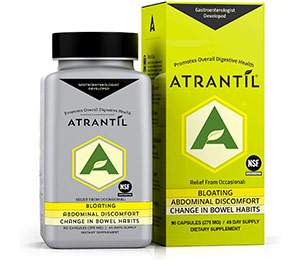 Buy Atrantil from Amazon:
Atrantil costs $17.95 for 20-count and $39.95 for 90-count. Shipping is free. It is rated 4.1-stars based on over 800 reviews.
What Are the Alternatives to Atrantil?
Atrantil isn't the only herbal supplement on the market that claims to offer digestive support.
Herbal Digestive Care from Swanson offers 150mg each of licorice, ginger, fennel, and peppermint. At $15.99, the 90ct will last you 3-months when used as directed. This represents a more cost-effective option even when compared to Atrantil pricing at Amazon.
As Atrantil contains just 3 ingredients, you may also try your hand at shopping for them individually. While this is a less convenient option, you may be able to save a few bucks.
The Bottom Line
Most of Atrantil's proposed benefits are supported by animal and laboratory research. These results do not guarantee safety or efficacy in humans.
Atrantil was studied as a stand-alone product. These investigations support the claims for Atrantil to relieve stomach pain, constipation, and bloating in those with IBS - only over a 2-week span.
These results do not mean that Atrantil will benefit users without IBS, or those who are in need of long-term support.
Ratings are decent at Amazon – 4.1-stars on nearly 800 reviews. More than 60% of the reviews are 5-stars. Happy customers reported finding symptom relief for IBS when other products offering support previously failed.
Though this combination of herbal extracts is likely safe, it's best to consult your doctor before use.
Customer Reviews