Atrantil Reviews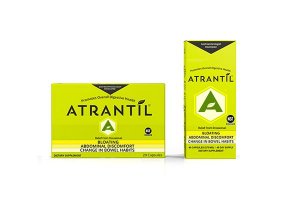 Using just three natural ingredients, Antrantil's formula claims to calm the bowels, remove the fuel source for bad bacteria, and completely shut off methane production.
About Atrantil
Atrantil is a patented, natural, and safe dietary supplement that uses carefully selected botanical extracts to restore normal gut function, remove unwanted methane-producing bacteria, and relieve abdominal bloating and discomfort.
The website indicates you'll start by taking two capsules, three times per day, at the beginning of meals. Once your symptoms are under control (we're told most users experience significant relief within 20 to 30 days, although some patients in clinical trials were symptom-free in as few as two days), you can reduce dosing to two capsules, one to two times daily.
Although the HighYa team has written about hundreds of dietary supplements over the years, we've yet to encounter one exactly like Atrantil. But does its uniqueness necessarily mean that it will deliver on the manufacturer's promises? What does the available clinical evidence have to say?
There are many important questions to answer, so let's start with the root problem.
What Causes Bloating & Abdominal Discomfort?
Healthline tells us "abdominal bloating occurs when the abdomen fills with air or gas," which can result in swelling, abdominal tightness, and pain and discomfort. This can express itself as cramping, achiness, and dull or sharp pain, and can occur anywhere between the chest and the pelvis.
Although the condition is relatively straightforward, there can be hundreds of potential causes, including overeating, gas, stress, indigestion, food intolerance, acid reflux, gallstones, hernia, cystic fibrosis, Crohn's disease, and appendicitis, to name just a few.
From a bacterial perspective, we've learned during our research that they play a key role in proper digestion, as well as regarding effective immune response. But if the ratio of 'good' to 'bad' bacteria gets out of whack, it can lead to many of the symptoms Atrantil promises to address, including bloating, gassiness, and indigestion.
But instead of adding beneficial bacteria to the digestive tract like probiotic supplements, this formula promises to use a blend of polyphenols (plant-based micronutrients) to reduce the presence of methane-producing bacteria, thereby relieving bloating. Which ones, exactly?
Taking a Closer Look at Atrantil's Ingredients
According to Atrantil's supplement facts label, it contains:
Proprietary Blend 550 mg: Quebracho extract, Conker Tree (Horse Chestnut) extract, M. balsamea Willd extract (leaf)
The website explains that peppermint leaf starts by calming the small bowel, and then the flavonoids from Quebracho extract remove hydrogen (a key fuel source for methane-producing bacteria). Finally, the saponins and flavonoids from Conker Tree extract further reduce methane production.
While websites like the Natural Medicines Database, Examine.com, and WebMD indicated there's insufficient clinical evidence these ingredients on their own can provide gut-related benefits, the manufacturer lists one clinical trial for Antrantil's specific formulation.
In a 2015 two-week double-blind, randomized, placebo-controlled study published in the Journal of Gastroenterology and Hepatology Research, researchers found the three-ingredient formula significantly improved constipation and bloating in 88 percent of participants, compared to placebo.
Could Atrantil's Ingredients Cause Side Effects?
The above study indicates there weren't any side effects reported by participants, and the website emphasizes the formula is completely free of milk, eggs, peanuts, gluten, soy, and shellfish.
However, they point out that "some patients may experience a Jarisch-Herxheimer reaction," which "can result in a brief period of low-grade fever, muscle aches or even diarrhea."
As with most dietary supplements, they also warn that Atrantil shouldn't be taken by pregnant or nursing mothers, and that you should always consult with your doctor or other qualified health care professional beforehand.
Returning to sites like Examine.com, WebMD, and the Natural Medicines Database, they indicate there isn't enough information to know if quebracho is safe in medicinal amounts, and that in some instances (no dosages or other circumstances noted), it can lead to side effects like headache, dizziness, sleepiness, and nausea.
How Much Does Atrantil Cost & Where Can You Buy?
If purchased directly through the manufacturer, you'll pay $39.95 for each 90-capsule bottle of Atrantil. Standard shipping is free, Expedited is $11, and Priority is $20.
Atrantil can also be purchased from online retailers like Amazon, Walmart, Swanson Health Products, and Jet.com, with most offering it for between $35 and $40. It's also available from hundreds of retail locations throughout the U.S., which you can find on their website's Store Locator page.
Direct purchases come with a 30-day money back guarantee, less S&H, which you can request by reaching out to customer service at (214) 984-3724 or support@atrantil.com.
What Can We Learn From Atrantil Customer Reviews?
On the supplement's website, Atrantil had more than 530 customer reviews, who had given it an average rating of about 4.5 stars. Most compliments seemed to revolve around effective results (improved digestion, reduced bloating, and relief from constipation), while the relatively few complaints referenced no results and side effects like digestive upset.
Among hundreds of additional reviews on Amazon, Atrantil had a slightly lower overall rating of about four stars, with many of the same compliments and complaints noted on the manufacturer's website.
The dietary supplement is brought to us by KBS Research, LLC, who's based out of Plano, TX and has been in business since 2008. The company was founded by Kenneth Brown, MD, a board-certified gastroenterologist who was "frustrated that available treatments didn't work well, [so] he set out to create his own."
How to Choose a Digestive Health Supplement Like Atrantil
Since Atrantil's three-ingredient formula is patented, it's no surprise we didn't encounter any supplements exactly like it during our research—or even ones advertised as targeting methane-producing bacteria. As such, it seems like it's currently in a class of its own.
However, we found each of these ingredients sold individually through other retailers, although it would likely cost more to create the same formula on your own.
With this said, there are perhaps thousands of digestive health supplements competing with Atrantil, including the ever-growing probiotic niche mentioned earlier. And to help you choose the specific ingredients you should focus on, based on your diagnosis (not to mention other factors like dosages and pricing), the best bet is to speak with your doctor.
If they recommend that you continue researching dietary supplements, the next important factor to keep in mind is that these products are subject to very little governmental oversight before reaching customers. As such, we've learned over the years that you'll want to focus on companies who:
Come with mostly positive online customer feedback. After all, if a supplement (or manufacturer) doesn't work, customers will quickly begin speaking out.
Support their claims with double-blind, placebo-controlled clinical evidence.
Back their products with at least 30-day refund policies, and don't charge restocking fees.
Does this mean you should go ahead and place an order for Atrantil?
Our Final Thoughts About Atrantil
Although we learned from websites like the Natural Medicines Database, Examine.com, and WebMD there isn't sufficient clinical evidence to classify any of Atrantil's ingredients as 'effective' for providing gut-related benefits, the company supports their claims with their own two-week clinical study.
Whether on their website or third-party sites like Amazon, the supplement also seemed to come with overwhelmingly positive feedback from customers, and the manufacturer appears to stand behind it with a 30-day satisfaction guarantee.
As a result, if your doctor gives you the go-ahead, you might not have much more to lose than a few dollars in return shipping charges if you give Atrantil a try and aren't satisfied with its results.