CB-1 Weight Gainer Reviews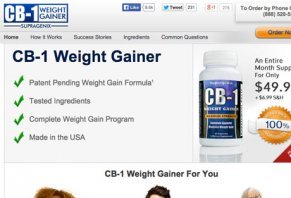 CB-1 Weight Gainer is a patent-pending nutritional supplement that's claimed to help increase your appetite and slow your metabolism using natural ingredients.
About CB-1 Weight Gainer
CB-1 Weight Gainer claims to be a patent-pending, natural weight gain formula that uses a blend of gentle herbs, vitamins, and minerals to help support a healthy appetite and metabolism. And compared to other weight gain formulas, CB-1 Weight Gainer is claimed to help you gain only "quality body weight that you can maintain," making it ""the fast, effective weight gain solution."
According to the manufacturer, CB-1 Weight Gainer's ingredients are extracted and tested by a third-party laboratory to ensure it contains only the most pure and potent ingredients, which are clinically tested to work as advertised (more about this shortly).
Made in the USA, CB-1 Weight Gainer is claimed to work for men and women of all ages (even children), simply by taking one capsule 30-60 minutes prior to each meal.
Are you sick of hearing, "Oh, you're so skinny" or "Why don't you eat something?" The fact of the matter is that being overly skinny can be as psychologically damaging as being overweight. But if you've tried everything to gain weight but have been unsuccessful, should you give CB-1 Weight Gainer a try? Consider the following:
What's Preventing You from Gaining Weight?
People come in all shapes and sizes, so it might be your genetic makeup that's preventing you from gaining weight. And in instances like these, while lifting weights and eating a high calorie diet can fuel your body and increase your muscle mass, it might just be that you're naturally destined to be slim. In this case, you might want to embrace being thin.
On the other hand, some severe medical conditions can lead to an inability to gain weight, such as hyperthyroidism, which obviously requires a doctor's intervention.
Because of this, we'd strongly recommend speaking with your physician about your difficulty gaining weight, who can then recommend a plan of action based on your specific diagnosis.
Is CB-1 Weight Gainer's Ingredients Effective?
According to the product label on the CB-1 website, the weight gainer contains the following ingredients:
Vitamin D3 1,500IU
Zinc 6mg
Maximum Strength Weight Gain Blend 405mg: Echinacea Purpurea Powder, Dodeca-2E,4E,8Z,10E/Z-tetraenoic isobutylamides, Dodeca-2E, 4Z,-diene-8,10-diynoic isobutylamide, Undeca-2Z,4E-diene-8,10-diynoic isobutylamide, Echinacea Angustifolia Powder, Dodeca-2E,4E,8Z,10E/Z-tetraenoic isobutylamide, Undeca-2-ene-8,10-diynoic isobutylamide, Dodeca-2E,4E-dienoic isobutylamide, Soy Lecithin, Vitamin E
When it comes down to it though, are any of these effective for weight gain?
In short, probably not. This is because there is no third-party clinical evidence showing that Echinacea, vitamin D3, zinc, or vitamin E can provide any kind of reliable weight gain.
But what's up with all these numbers and crazy words listed after Echinacea? These are the alkylamines contained in Echinacea, which are a relatively new discovery that has been tested for everything from tumor necrosis to immune response. As you might imagine, most of this alkylamine research is in its infancy, so a lot remains to learn about these substances.
However, at the time of our research, there was insufficient clinical evidence available showing that alkylamines can boost metabolism, increase appetite, or improve weight gain.
Is CB-1 Weight Gainer Clinically Proven?
According to the CB-1 Weight Gainer website, "CB-1® was put to the test in an 8-week randomized, controlled clinical trial. Results show CB-1® users gain more weight on average than with diet alone."
In another area, it's noted, "In an 8 week clinical study, subjects gained an average of 3.0 pounds after taking CB-1 Weight Gainer for 4 weeks. During an additional 4 weeks of follow-up, after CB-1 was discontinued, subjects maintained the weight they had gained."
Interestingly, despite the credibility boost it would provide, CB-1's manufacturer doesn't link to this clinical study, or provide references to third-party websites who do. In our opinion, this means the study's results are either overblown or made up.
Also, CB-1's manufacturer notes, "Increasing your calorie intake is key to maximizing your weight gain while taking CB-1." But here's the catch: Increasing your calorie intake is also key to maximizing your weight gain without taking CB-1, so how would you be able differentiate between weight gained as a result of extra calories, and weight gained from taking CB-1?
Regardless, keep in mind that even if CB-1 Weight Gainer's ingredients actually do work, you might only gain 3 pounds over the course of 2 months (according to the company's own study), which may not be exactly what you'd consider satisfactory results.
CB-1 Weight Gainer Side Effects
Although CB-1 Weight Gainer's ingredients may not actually help you gain weight, they likely won't cause any harm either, with the most common side effect as nausea or upset stomach.
However, according to WebMD, "Echinacea is most likely to cause allergic reactions in children and adults who are allergic to ragweed, mums, marigolds, or daisies. If you have allergies, be sure to check with your healthcare provider before taking Echinacea."
Customer Feedback for CB-1 Weight Gainer
At the time of our research, there were 89 customer reviews for CB-1 Weight Gainer on Amazon.com, with an average rating of 3.1 stars (as of 7/13/15). There, with most reviews evenly split between 5 and 1 stars, the most common compliments cited improved weight gain, increased appetite, and slowed metabolism. On the other hand, the most common complaints revolved around failure to work and increased bloating/gassiness.
Important note: It's important to mention here that none of CB-1 Weight Gainer's positive reviews on Amazon were verified purchases (i.e. they weren't purchased through Amazon), and most came from accounts where this was their only review, or where all of their reviews were posted on the same day. Both of which are strong indications that they may be fake.
Since writing our original CB-1 Weight Gainer review, 1 HighYa reader has provided feedback about their experience and rated the supplement 1 star, claiming that they didn't experience any results.
From a company perspective, CB-1 Weight Gainer is manufactured by Supragenix based out of Orem, UT, although the company wasn't listed with the Better Business Bureau at the time of our research.
However, Supragenix was sent a letter from the National Advertising Division in October 2013, which is a division of the BBB. Here, the organization requested that the company "discontinue certain advertising claims for the company's "CB-1 Weight Gainer" dietary supplement, including claims that "CB-1 produces an actual increase in body mass that you keep when you stop taking it, not just temporary water weight." To date, it appears that Supragenix continues making essentially the same claim.
CB-1 Weight Gainer Pricing & Refund Policy
One bottle (90 capsules) of CB-1 Weight Gainer is priced at $49.98 plus $6.99 S&H.
With your order, you'll also receive the 24-page CB-1 Weight Gain Guidebook, which is claimed to cover "everything you need to know about reaching and maintaining your weight gain goal, from calories and supplements, to nutrition and exercise."
Important note: After placing your order, you'll also be enrolled in the company's autoship program, called the CB-1 Success Program, which means you'll continue receiving a new bottle of CB-1 Weight Gainer once per month, and your credit card will be billed $49.98 plus $6.99 S&H.
All CB-1 purchases come with a 30-day refund policy, less S&H charges. Keep in mind that the company's Empty Bottle Guarantee only applies to 1 bottle, while all others must be unopened.
In order to request a refund or to cancel your autoship enrollment, you'll need to contact customer service at (888) 528-5551.
Can CB-1 Weight Gainer Finally Help You Gain Weight?
After reading through all of the information above, you probably already know the answer to this. But just in case, considering the lack of clinical proof for the supplement's ingredients, as well as the manufacturer's failure to back up their claims with evidence, it's highly likely that CB-1 Weight Gainer will not help you reliably gain weight.
As such, instead of purchasing CB-1 Weight Gainer, we'd recommend speaking with your physician about more effective weight gaining options.
23 out 26 people found this review helpful

Do Not Waste Your Time Or Money

By Kay

,

New Jersey (NJ)

,

Sep 11, 2016
Verified Reviewer

Do not waste your money. I took this product for 2 months faithfully and had no results. And then couldn't even get one month of my money back because the product was a fail. So I'm warning people to stay away from this product and by all means take another route.

Bottom Line: No, I would not recommend this to a friend

---

15 out 29 people found this review helpful

Don't waste your 50 bucks on this.

By Anthony

,

Tampa, FL

,

Jul 3, 2015

Don't waste 50 bucks on this garbage. If you want to gain weigh, lift the weights to gain muscle which makes you gain weight. Eat protein such as eggs, stake, protein shakes, etc.

Bottom Line: Yes, I would recommend this to a friend

---

Advertisement

---

9 out 12 people found this review helpful

Unauthorized transactions

By Constance J.

,

Chicago, IL

,

May 17, 2019
Verified Reviewer

I ordered one bottle at full price, without my approval they charged my card for additional bottle that I never requested. This company is a rip-off! Don't bother to order. They claim they can't stop the pending charges or the order. Forcing you to ship back out your pocket for an order you never wanted! They are crooks!

Bottom Line: No, I would not recommend this to a friend

---

8 out 9 people found this review helpful

Waste of money, does not work

By Javonta M.

,

Oklahoma

,

Jul 25, 2019
Verified Reviewer

I thought that these weight gain pills were supposed to make me gain weight but I wasted $50 on these pills, they are a waste of money, they do not work. I'm never buying these again, I recommend buying something else.

Bottom Line: No, I would not recommend this to a friend

---

Advertisement

---

8 out 9 people found this review helpful

Waste of money

By Evelyn B.

,

Louisiana

,

Sep 3, 2019
Verified Reviewer

CB-1 does not work, it is a waste of time, money, and energy! Ya'll really need to stop selling people dreams! I purchased this mess and followed directions for about a month. It makes my stomach burn and gives me tons of gas! Guess what, I'm still eating normally, go figure.

Bottom Line: No, I would not recommend this to a friend

---

7 out 12 people found this review helpful

Increased my appetite immediately

By Saquon T.

,

Santa Ana, CA

,

Dec 8, 2018
Verified Reviewer

I have been trying to gain weight for a few months and I am eating everything I can, but it wasn't enough. So I started taking CB-1 Weight Gainer a few weeks ago and I have already put on 8 pounds. I can totally feel myself eating more.

I hope to gain about 7 more pounds while I work out at the gym in the next month. It has been really nice being hungry so I can get enough calories in each day. Sometimes my protein shake fills me up, but when I take CB-1 with it, I can still have a snack.

Overall I would highly recommend!

Bottom Line: Yes, I would recommend this to a friend

---

Advertisement

---