Copper Fit Energy Socks Reviews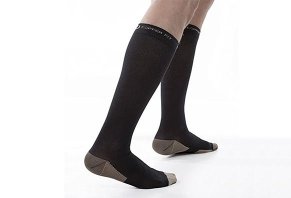 Summary
Copper Fit Energy Socks are designed to improve foot and leg comfort, performance, and endurance. While there is support for the benefits of lower extremity compression, copper does not seem to provide an added benefit.
Pros
Compression may relieve pain, swelling, and fatigue
Reasonably priced
Favorable return policy
Cons
The support for compression's ability to improve performance remains mixed
No evidence that copper provides any benefit
Compression may not address the underlying cause of your symptoms
Copper Fit Energy Socks Review - What You Should Know
What are Copper Fit Energy Socks?
Copper Fit Energy Socks combine compression and infused copper to help you improve pain and stiffness in your wrists, palms, and fingers.
According to their website, the following claims are made:
Reduce swelling
Add support
Improve foot and leg comfort
Enhance performance and endurance
Relieve Pain
Improve circulation
Relieve tired, achy feet
In this article, we'll help you determine if Copper Fit Energy Socks can provide these benefits by highlighting the current research for compression and copper.
Is There Any Scientific Support for Copper Fit Energy Socks?
Copper Fit claims that the combination of copper and compression will help you manage many lower extremity ailments related to pain, swelling, and circulation. In this section, we'll help you gain a better understanding of the benefits you can expect.
Will You Find Relief With Compression?
Compression has been used in medical management for centuries. The potential benefits of this method have been studied in multiple areas of the body, though we'll focus our review on compression socks here.
This review noted mixed results regarding compression's ability to enhance athletic performance, though there may be a use for the recovery period. The researches highlighted a need for studies to include the pressure exerted by the garment as this can vary considerably from brand to brand.
A recent review of 21 studies found that compression sock use during exercise may improve performance and muscle function, as well as perceived muscle soreness and fatigue during recovery. The researchers did highlight a need for studies of longer duration.
In marathon runners, the average run to exhaustion time increased after 2-weeks of wearing compression socks during recovery.
A systematic review of 51 studies concluded that compression could reduce pain and swelling in those with venous issues.
Compression may also benefit those with sedentary jobs. Wearing compression socks improved the subjective sensation of pain, fatigue, and swelling.
Compression has been extensively studied. While the performance-related benefits of compression remain mixed, much of the available research shows a benefit for pain, fatigue, and swelling.
Can Adding Copper Offer Additional Benefits?
The addition of copper to compression garments is common, though it has not been well-studied.
In a recent randomized study, copper impregnated compression socks did not improve symptoms in 16 patients with chronic vein disease. While patients did experience a reduced surface area of the affected veins, this study represents the only available research that examined the use of copper in compression socks.
Thus, support for any benefits related to pain, performance, and circulations is not currently supported. These findings fall in line with the relatively few studies that have studied the effects of copper in other areas of the body.
Are Copper Fit Energy Socks Safe?
Copper Fit Energy Socks are generally safe when used as directed, though unwanted effects are possible.
While compression socks may improve venous blood flow, there is a risk for the opposite effect if you have arterial issues. Also, compression can worsen nerve dysfunction.
If you have open or healing wounds, compression actually can prevent or delay healing. Ill-fitting compression garments may even break skin or cause pressure sores.
As compression can result in adverse effects, you should speak with your doctor before use to determine the safest means of managing your symptoms.
The Cost
You can order Copper Fit Energy Socks directly from the website.
Sizing is based on your shoe size. Men's sizes 6-9 should order a S/M, whereas men's sizes 9-12 should order an L/XL.
For 2 pairs, you'll pay $19.99 regardless of your size. Also, your orders ship free.
Copper FIt will back your purchase with a 30-day guarantee to give you ample time to try their product. Call 866-304-4199 or email ideavillage@customerstatus.com to process your return.
Available Alternatives
Compression socks are widely available both with and without copper.
At HighYa, we previously reviewed Tommie Copper, a line of compression garments. They carry no-show, ankle, and over the calf socks that are intended to provide targeted support at the arch, heel & Achilles tendon.
Ranging from $24.50 - $39.50, they are probably not worth the extra money given the lack of evidence supporting the purported benefits of copper.
Miracle Copper Anti-Fatigue Compression Socks are available at Amazon for $10.99. Keep in mind this is just for a single pair, so you won't save any money with this option.
You can also opt for one of the many standard compressions socks currently available. As copper has not demonstrated any additional benefits, you will likely achieve sufficient results with compression alone.
For example, you can pick up 3 pairs of CharmKing Compression socks for just $8.59.
The Bottom Line
Copper Fit Energy Socks may offer relief for pain, swelling, and fatigue, though the research for performance-related benefits is mixed. The positive effects are likely related to compression alone, however.
As Copper Fit Energy Socks are reasonably priced, they're still a viable option to enhance recovery despite the lack of support for copper. You can certainly find more cost-effect garments that don't include copper, however.
While typically safe when used as directed, there is a risk for skin irritation, bruising, and sores when compression socks are not properly fit.
Lastly, be aware that you may have an underlying condition that requires medical attention. In these instances, compression may provide relief for symptoms, though it will not address the root of the problem.
Thus, your condition may persist or worsen without working with your doctor to identify a safe and effective plan of care.
Customer Reviews
Posted on Feb 3, 2023
Scam
I have an 11 and 1/2 shoe size so I ordered XL. Couldn't get them past my toes. Gave them to a friend. He couldn't get them on his size 8 foot. This is false advertising.
Length of Use: Less than 3 months
Bottom Line: No, I would not recommend this to a friend
Pros and Cons
No "pros" were specified in this review
Sizing
Posted on May 26, 2022
Bad product
After 6 washings and air drying, every sock has a hole and the company will not take them back if they have been worn. Just not worth the money. Buy them on Amazon, they are the same product that is 1/4 the price.
Length of Use: 3–6 months
Bottom Line: No, I would not recommend this to a friend
Pros and Cons
No "pros" were specified in this review
Holes in every sock after 6 times using
Posted on Feb 1, 2022
Not easy on
Advertised that they are easy on, but to me, they are very hard to put on. A waste of money for me. I got the biggest size. I just don't have any strength to get them on. I am supposed to wear compression socks. I was very disappointed to find that these socks are not easy at all.
Length of Use: Less than 3 months
Bottom Line: No, I would not recommend this to a friend
Pros and Cons
No "pros" were specified in this review
Never used them, couldn't get them on
Posted on Oct 23, 2021
It is impossible to reach anyone in Customer Service about issues
I ordered the buy one, get one free compression socks. Only received one. I tried reaching out to them after searching for a valid phone number or email address. Found several numbers, only one was an existing number. Can't leave a message on the email site, but you can sure order more.
I left a message on the one working number, no response on any of the calls. Ever. It's not even about the money at this point, it's the non-existing customer service. I have cancer that has not been in remission after months of treatment. I don't have the time or energy to continue trying to reach them.
Just thought it might be in your best interest to try and reach them before you place an order.
Take care.
Length of Use: Less than 3 months
Bottom Line: No, I would not recommend this to a friend
Pros and Cons
No "pros" were specified in this review
Inability to actually reach customer service by email or phone number
Posted on Feb 5, 2021
Size Chart L/XL M:9-12 not accurate
Purchased 2 pairs. Tried to wear both pairs twice. Hoping they would stretch some. Size should say M: 9-10. Never stretched at all. Left deep prints in legs where too tight. Do not purchase if you wear Men size 11-12.
Length of Use: Less than 3 months
Bottom Line: No, I would not recommend this to a friend
Pros and Cons
No "pros" were specified in this review
Size on package inaccurate
Posted on Oct 10, 2020
Cheap materials
I bought 1 pair of these socks at Walmart and they worked fine, they reduced the water build-up in my legs, and made the legs feel better. I went and bought 5 more pairs and then the problem started. While pulling the socks up from the ankle my thumb went right through the sock. I am 5' 8" tall and weigh 145 lbs. I bought the Large XL size so they were not to tight for my skinny little legs, also my fingernails are kept trimmed and filed. As they wear out I will replace with another brand. Socks should last longer than one month, at $10.00 per pair.
Length of Use: Less than 3 months
Bottom Line: No, I would not recommend this to a friend
Pros and Cons
It made my legs feel better
It reduced fluid build-up
Cheap fabric
Not that easy to pull on
Not that easy to take off
Posted on Mar 1, 2020
Love these, I'm buying some more...
I am 70 years old. I've been having a problem with circulation in my legs and feet...and my feet stayed cold a lot. I saw these in a store, and thought...they have everything listed on the box that I have going on, why not give it a try. So I bought a pair and I've been wearing them for about 2 weeks. My legs and feet feel wonderful...no more circulation problem and no more cold feet. My legs feel energized and wonderful. I am going to buy some more...and I have told all my friends about them. Love these socks.
Bottom Line: Yes, I would recommend this to a friend
Posted on Jan 27, 2020
Disappointment with order for Copper Fit Energy Socks
I'd ordered the Copper Fit Energy socks on 1/6/20, in hopes of utilizing them for my upcoming airline flight.
My trip is coming up very soon, and I'm still awaiting receipt of my socks. Three weeks is much too long to have to wait for my order, considering there was no mention of backorder or waitlist. I'm very disappointed with this situation, and wish that I'd consulted the reviews, prior to ordering them. Go elsewhere to obtain your compression socks!
Bottom Line: No, I would not recommend this to a friend
Posted on Jan 7, 2020
Customer service
I ordered two pairs of socks on a Friday early in December 2019. I wanted to cancel the order on Saturday but they're closed and I had to wait until Monday, at which time they said they were shipped! They said I could return the product as long as it was not opened and I would write REFUSED on the package and they would credit me. The way their product is sent is through FedEx other than through the Post Office! What a system! It gets better...they sent me two different packages, a week or so apart, because they said they were out of stock. I contacted customer support and they have not received anything back from me so it could be the end of January or possibly February 2020 that I receive credit for the product. The best advice I can give is NEVER order anything from Copper Fit.
Bottom Line: No, I would not recommend this to a friend
Posted on Jan 7, 2020
Not a good product
I placed my order for Copper Fit compression socks on 12/4. Good thing I wasn't giving them as a Christmas gift because they didn't arrive until 12/31. I would think during the holiday season they would ship sooner to fill orders for Christmas? Not like they have to make them before shipping. They arrived with a 7-step instruction card on how to put on socks? Really? I am 6'0", 170lbs, average foot size 10 and 1/2. First off, they are so tight it's a challenge to get them on and off. After about an hour wearing them they are so tight they feel like they are cutting off the circulation. The best I felt was when I took them off, what a relief. I walk a lot for a living and thought they may help with tired legs. Not for me. My legs felt great after removing them, lol. Seems like quality material, just not for me.
Bottom Line: No, I would not recommend this to a friend
Posted on Dec 31, 2019
No easy slip on
I purchased two pairs of Copper Fit compression socks after seeing their ads for the easy on, easy off feature. I find these socks to be every bit as difficult to put on as well as take off as compared to the other major brand Futura. The compression function is the same as others but the claim of being easy to put on and take off I find to be false.
Bottom Line: No, I would not recommend this to a friend
Our Promise to You
In order to safeguard you and ensure helpfulness and relevance, our compliance team manually assess every customer review before it goes live.
We have a zero-tolerance policy for fake reviews, and companies cannot control or alter any reviews at any time.