Copper Fit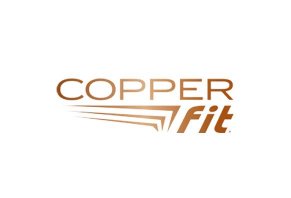 Summary
Copper Fit claims to use the powers of compression and copper to give you pain relief, help you recover faster, and reduce your risk of further health complications. However, the copper fibers might be more promotional hype than help.
Pros
Clinical evidence indicates compression clothing can lead to positive health benefits
Lower cost than many competitors
Cons
Little evidence of copper benefits in apparel
Customer reviews show quality concerns
Smaller copper percentage than many brands
Copper Fit Review: A Detailed Look
Copper Fit is a brand of compression clothing designed to ease your muscle aches and soreness while remaining comfortable and lightweight enough for use at any time.
The company claims that its copper-infused apparel is suitable for everyone from the average person to the elite athlete. Our analysis will help you decide if this is the right product for you.
Is There Any Scientific Support for Copper Fit Products?
The main idea behind Copper Fit compression clothing is that it works to stabilize and support your muscles by improving circulation and oxygenation for relief from pain, stiffness, and soreness, as well as improve mobility and aid faster recovery.
Though the specific characteristics of each item can vary slightly, most are made from a blend of 82% polyester, 14% spandex jersey, and a 4% copper iron fiber composition with which wicking capabilities.
Copper
This mineral's natural anti-microbial properties work to protect each garment from odor-causing bacteria. The company states it was long valued by ancient civilizations, has no risk of skin irritation, and is more effective than stainless steel or silver for repelling bacteria.
But beyond anti-microbial properties, Copper Fit doesn't seem to make any further medical claims about the benefits of copper. It's implied that copper might improve the compression aspect of this clothing, but the company doesn't go into detail.
Some people believe that wearing copper can ease arthritis pain because bits will rub off and get absorbed into the body. However, clinical studies have found this compound to be no more effective than a placebo for pain relief.
Compression
The other stated benefit of Copper Fit apparel is that it acts as compression clothing, which provides muscle and circulator support. This can be used to treat a variety of medical conditions, including varicose veins and low blood pressure, and to lower your risk of blood clots or blood pooling in your extremities.
There's also evidence that compression clothing can help athletes experience less pain, recover faster, and lower their risk of injury.
Key Takeaways:
Copper Fit compression clothing seems capable of supporting healthy blood flow and making a marginal difference in your recovery rate after exercise, but that's entirely due to the compression, not the copper.
How to Use Copper Fit Products
To benefit from Copper Fit, the company suggests wearing compression clothing any time you need pain relief or anticipate being active and performing repetitive movements. Doing so keeps your muscles warm and provides extra support to boost the healing process.
Most people should feel some level of pain relief within a few minutes of wearing Copper Fit, and they may lead to gradual improvements when worn over time.
Note that this apparel is only beneficial when you wear it correctly. If you take it off or wear the wrong size, these positive effects go away.
Product Line
Ice Knee Sleeve ($19.99): A compression sleeve that delivers the sensation of menthol and CoQ10 to relieve muscle and joint pain temporarily.
Compression Gloves ($19.99): Gloves that prevent stiffness and soreness in your wrist, palms, and fingers. (Read our full review)
Energy Socks (two pair for $19.99): High-performance compression socks that reduce swelling and provide support for foot and leg comfort. (Read our full review)
Compression Sleeves (two-pack for $19.99): High-performance fabric designed for improved circulation and less swelling.
Advanced Back Pro ($19.99): Compression back support in four built-in stabilizing supports to reduce lower back stress and improve posture.
Rapid Relief Wrap ($29.99): Delivers hot or cold therapy directly to your back for quick comfort and faster recovery.
Analysis of Customer Reviews
Copper Fit has 240+ reviews on our website, which average 2.2-stars out of five. Less than a third of users say they would recommend this brand to others.
Common Compliments:
Many people found arthritis relief from wearing Copper Fit gloves and socks
Reduced pain and swelling when worn
Some users had excellent customer service experiences, especially with sizing issues
Common Complaints:
Slow shipping times, some users never received their purchases
Instances of customer service problems, long hold times, no email responses
Low-quality products, uncomfortable to use
Gloves and socks were poor fitting, lost elastic quickly
Complaints of an unfair return policy
Shipping and Return Policy
Copper Fit orders should ship out within 30 days. Expect to pay at least a $3.99 processing fee per order.
Products are eligible for the company's 30-day return policy, which states that you can request a full refund for any reason within that timeframe.
Alternatives to Copper Fit
| | Copper Fit | Copper Compression | Tommie Copper Compression Wear |
| --- | --- | --- | --- |
| Compression Gloves | $19.99 | $25 | $29.50 |
| Back Brace | $19.99 | $35 | $59.99 |
| Compression Sleeves (knee/elbow) | Two-pack for $19.99 | $19.99 each | $39.99 each |
| Compression Socks | Two pair for $19.99 | $17/pair | $39.50/pair |
| Copper Percentage | 4% copper iron fiber | 85% copper-infused nylon | 56% copper-infused nylon yarn |
| Return Policy | 30-day refund | 30-day refund | 60-day money-back guarantee |
Copper Fit offers a relatively low-cost option for purchasing copper-infused compression clothing. The other brands can cost more than twice as much.
One thing you're getting for the extra money is a higher copper percentage, as both brands contain more than 50% copper-infused threads. But more (or any) copper isn't necessarily associated with better health outcomes. At best, you might be able to wear your clothing longer between washes.
That's why we recommend purchasing from the brand with the best reputation from a compression standpoint.
The Bottom Line
Copper Fit compression apparel promises to ease your arthritis pain, help you recover faster from athletic activities, and even lower your risk of certain health conditions. These products succeed in some of these categories, but that's primarily due to compression, not copper.
Wearing compression clothing can lead to positive health outcomes, but there are better brands to buy from. Many negative customer reviews for Copper Fit are related to the product's being poor quality and falling apart quickly.
Therefore, we recommend looking for a brand with a better reputation, one that focuses more on the compression angle, not the copper.
Customer Reviews
Posted on Jun 25, 2023
Arch support
Bought for arch support when not wearing my shoes at home. Wore one day and the arch was flat. Yes, they were only $15 but made-in-China garbage and complete false advertising in relief of anything.
Length of Use: Less than 3 months
Bottom Line: No, I would not recommend this to a friend
Posted on Jun 25, 2023
XL size isn't suitable for larger leg circumferences
Minor knee injury required support and protection, but the portion above my knee was so tight I had to remove it after two hours due to constriction of circulation, swelling, and numbness in my foot.
Length of Use: Less than 3 months
Bottom Line: No, I would not recommend this to a friend
Pros and Cons
Initial compression around the knee reduced pain in walking
Felt the support was protecting the knee from further injury
Width above the knee was far too constrictive and became painful
No sizes larger , when joint injuries are very common with larger weight
Benefit around the knee was negated by pain and circulation cut off above the knee with too narrow thigh space
Posted on May 1, 2023
Copper Fit massage gun
The product worked fine for 2 weeks, then the unit broke the tubular section that holds the massager in place. The head behind the the ball came loose and cracked, so it's no longer usable. We called the Copper Fit 1-800 number and told the operator what happened. She said that if you did not buy it online, you can't return it to them and hung up on us rudely. So I will never buy anything from Copper Fit again. We bought it at Walmart using a card, so at least we get our money back plus the warranty.
Length of Use: Less than 3 months
Bottom Line: No, I would not recommend this to a friend
Pros and Cons
The massage head action
The massage action runs out fast on speed 3
The shaft that holds the massage action cover came loos and cracked open so nits unusable
The price is too high $ 50.00 plus the warranty $10.00
The unit handle becomes hot when in for over 10 minutes, unsafe
Posted on Feb 4, 2023
Never delivered
I ordered a pair after seeing the commercial. Back in December of 2022. It's now January 31, 2023. The tracking number they gave me no longer work, I can not get a hold of anyone to see where it is or what's going on. I believe this is a scam. Buyer beware.
Bottom Line: No, I would not recommend this to a friend
Posted on Jan 10, 2023
Double charged and still waiting
I was charged twice on purchase and was given an invalid tracking number thru DHL. Upon contacting them given different tracking numbers thru USPS. Still waiting on the status of that. Not happy with CopperFit.
Bottom Line: No, I would not recommend this to a friend
Pros and Cons
No "pros" were specified in this review
Service
Delivery
Unable to reach/contact them
Posted on Jan 7, 2023
Their customer service sucks
Purchased a compression sleeve from them. It started to fall apart after a few uses. Had purchased other sleeves from them and they had been good. Newest one came with stripes. One fell off and the other one is coming off. I tried contacting them a few times with no response.
Length of Use: 6–12 months
Bottom Line: No, I would not recommend this to a friend
Pros and Cons
No "pros" were specified in this review
No customer support
Posted on Dec 12, 2022
Terrible product with bad warranty.
Bought them from a sporting goods store. Much more pricey than the ones from Amazon. Quality was the same as those cheap Amazon compression gloves for more than double the price. They started falling apart. Opening at seams. Rubber grip started falling off.
Length of Use: Less than 3 months
Bottom Line: No, I would not recommend this to a friend
Pros and Cons
No "pros" were specified in this review
Customer service
Warranty
Quality and durability
Posted on Feb 3, 2022
Constrictive
Hard to get on and they leave a really deep impression on my upper calf and it turns reddish and hurts. For returns, who keeps a mailing label? Not anyone I know of and it is stated in the return policy that you must return the mailing label with the return as it has information on it necessary to process the return. I think this is just a way to avoid paying returns.
Length of Use: Less than 3 months
Bottom Line: No, I would not recommend this to a friend
Pros and Cons
Price
You get what you pay for
If price is the main concern, these will do
They leave deep marks on my calves at the top
Posted on Jan 18, 2022
Not what I expected
I wore a Copper Fit knee sleeve for 8 hours at work. When I returned home I took it off and my leg was bruised around it on the top of my legs and it had tiny blistered. It is two weeks later and my leg is still bruised from it.
Length of Use: Less than 3 months
Bottom Line: No, I would not recommend this to a friend
Pros and Cons
Was easy to put on
Lightweight
Burnt me
Bruised me
Posted on Sep 24, 2021
Poor customer service
I can't tell you about the Copper Fit Back Pro I ordered because I've never received it.
A very rude, sniveling girl on the customer service line claimed she could find neither my telephone number nor the order number in the system even though they've long since taken the money from my bank account.
I would strongly advise not ordering from this company because they're obviously not a legitimate online business.
Bottom Line: No, I would not recommend this to a friend
Posted on Mar 9, 2021
Mask is of no value to an adult
After waiting weeks to receive the Never Lost masks we find them unusable for either my wife or myself. The mask itself is very small and the lanyard that controls the fit is so short that the mask can not be worn comfortably. They are of no value to an average size adult.
Length of Use: Less than 3 months
Bottom Line: No, I would not recommend this to a friend
Pros and Cons
The masks appear to be well made in China
Uncomfortable and unusable for an adult
Our Promise to You
In order to safeguard you and ensure helpfulness and relevance, our compliance team manually assess every customer review before it goes live.
We have a zero-tolerance policy for fake reviews, and companies cannot control or alter any reviews at any time.