Copper Fit Reviews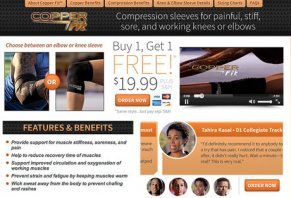 Copper Fit compression sleeves are claimed to help improve circulation, stabilize muscles, and boost recovery, as well as to provide anti-microbial protection.
About Copper Fit
Whether you're a professional athlete, a weekend warrior, or just enjoy gardening in your spare time, Copper Fit is a brand of knee and elbow compression sleeves claimed to help support painful, stiff, and sore muscles, and to prevent the buildup of bacteria.
In order to accomplish this, the compression provided by Copper Fit is claimed to stabilize and support muscles, improve muscle circulation and oxygenation, prevent muscle strain and fatigue, and to help reduce muscle recovery time. In addition, Copper Fit is claimed to be lightweight and comfortable, to wick sweat and prevent chafing, and to feature anti-static and anti-piling (prevents it from bunching) properties.
When compared to other compression sleeves though, Copper Fit's namesake is in its copper-infused fabric, which is claimed to help prevent the buildup of bacteria that can lead to the appearance of stains and odors, and that can accelerate fabric deterioration. While these copper ions only make up about 4% of Copper Fit's total materials, the company makes it seem like it's the greatest thing since sliced bread.
But is this really the case? In other words, can you really expect Copper Fit to works as advertised, and is it worth your hard-earned money? Consider the following:
What's Different About Copper Fit?
As we mentioned above, the primary selling point for Copper Fit is that these sleeves contain copper-infused fabric, which is claimed to help prevent the buildup of bacteria, as well as the stains, odors, and deterioration this can cause. We'll talk more about the effectiveness of this copper-infused fabric in a moment.
For now though, keep in mind that once you clear all the marketing hype away, there doesn't seem to be any significant difference between Copper Fit sleeves and a generic neoprene sleeve you'd find at your local pharmacy or sporting goods store.
Can Copper Fit's Compression Provide Any Benefits?
Prescription-only compression garments have been used in medicine for many decades, due to their ability to "prevent the occurrence of, and guard against further progression of venous disorders," prevent the formation of blood clots, improve blood flow, reduce inflammation, and more.
However, when compared to consumer-grade compression wear (like Copper Fit), medical-grade compression garments "use stronger elastics to create significant pressure." In other words, the amount of compression—and therefore the level of benefits you'll receive—is much higher with compression wear used in the medical community.
Are There Any Health Benefits Related to the Copper in Copper Fit?
Here's where you have to tread lightly. This is because the Copper Fit website uses some fuzzy language when it comes to copper's benefits, claiming it "is known to possess antimicrobial properties and enhancement benefits." Exactly what these "enhancement benefits" are isn't made clear. But what about copper's anti-microbial properties?
In short, the copper-infused fabric featured in Copper Fit may help reduce bacteria buildup, which can help prevent odor and stains. After all, you'll probably be fairly active in your Copper Fit sleeve, so it's perfectly reasonable that it will get dirty and sweaty.
Keep in mind though, that Copper Fit claims that their copper-infused fabric has been "tested to remain effective for numerous washes." In other words, after a long enough period of time has passed, all (or most) of the copper will no longer be present.
Are Customers Having Good Experiences with Copper Fit?
Based on 233 HighYa reader reviews for Copper Fit (as of August 2019), Copper Fit has an average rating of 2.3 stars, with common complaints citing:
Poor quality products that don't provide adequate compression.
Poor customer service (difficulty processing refunds, numerous upsells during calls).
Extremely long shipping times, often lasting 2+ months.
Copper Fit's manufacturer, Idea Village based out of Wayne, NJ, holds an A+ rating with the Better Business Bureau, despite holding more around 126 closed complaints. Most of these mirror the complaints noted above.
Copper Fit Pricing & Refund Policy
A single Copper Fit knee or elbow sleeve costs $19.99. Every single unit you order comes up the same identical one for free. Regardless of how many sleeves you order, you will have a one time $3.99 shipping & handling fee added on to your total.
As you're placing your order, you have the ability to select the number of knee slaves in three sizes: Medium, Large and X-Large. For elbow sleeves, you have the following size options: Medium and large.
Regardless of the size, each sleeve type is priced the same.
Copper Fit comes with a 30-day refund policy, less S&H charges. This means that if you decide to return your sleeves, you'll immediately lose nearly $3.99 in S&H charges, in addition to whatever it will cost to ship them back to the manufacturer.
With this said, in order to process a refund you'll need to contact customer service at 866-533-1182.
Will Copper Fit Provide Improved Mobility & Reduced Pain?
If you suffer from minor mobility problems or joint pain, the mild compression provided by Copper Fit sleeves may help provide some relief. However, other than perhaps providing some microbial protection, the copper contained in Copper Fit provides no health benefits whatsoever.
This means that, from a performance perspective, it's likely that Copper Fit will provide the same level of support as any generic neoprene sleeve from your local pharmacy. In fact, Copper Fit is available at a variety of retailers, so if you're dead-set on trying it out, this can help you save a ton of hassle if you need to return it, as well as saving a few dollars on shipping charges should you need to send it back directly to the company.
Compression gloves

By Clara B.

,

Mississippi

,

Feb 4, 2020
Verified Reviewer

I ordered the Copper Fit gloves for the pain in my hands but it has been almost two weeks and I still don't have them...this is ridiculous. I have never had to wait this long...crazy. Next time I will get something from somewhere else. I could have gotten something from China and it would have been here by now!

Bottom Line: No, I would not recommend this to a friend

---

Insoles are terrible

By Jon M.

,

Marseilles, IL

,

Jan 11, 2020
Verified Reviewer

I have never in my life had such an uncomfortable insole. I trimmed them to fit my shoe and within 1 hour my feet were hurting. They are terrible. I have no foot problems just thought they would be comfortable to wear in my shoes with the added support they would provide as advertised. They are simply put horrible! Will never recommend them to anyone.

Bottom Line: No, I would not recommend this to a friend

---

Advertisement

---

Poor performance on processing my order

By Clayton F.

,

Kansas City, KS

,

Dec 14, 2019
Verified Reviewer

Cannot rate quality yet, as it has been almost two weeks, and have not received my order of compression socks. If I didn't know better, I would swear the order was sent by telegraph, and is being delivered by pony express.

Bottom Line: No, I would not recommend this to a friend

---

Copper Fit Gloves

By Mark D.

,

Cumberland, MD

,

Dec 12, 2019
Verified Reviewer

I have pain in both my hands from arthritis. I saw your advertisement for Copper Fit gloves. While at my local CVS pharmacy in Downtown Cumberland, Maryland, I walked past a pair of Large size gloves sitting on the shelf. I purchased them. I started to wear them around the house and when I go to Planet Fitness gym. I have had these gloves for almost two weeks. I believe they are helping me.

I have a problem that I want to tell you about. The thread in the thumb and finger seams is coming out and the fingers are no longer staying together. Lucky for me I know how to sow and have been able to repair them. For $19 a pair I should not have to do this. For the most part, all I'm doing is wearing them.

I would have taken them back but the CVS only had one pair of large size gloves and I want to keep using them. I want you to review your manufacturing process and fix this issue so others don't have this problem.

Thanks.

Bottom Line: Yes, I would recommend this to a friend

---

Advertisement

---

Socks and gloves

By Herman F.

,

Michigan

,

Dec 12, 2019
Verified Reviewer

I ordered socks from Copper Fit a couple of months ago and I washed them several times and now the elastic in the socks have stretched. Also I just purchased a pair of the gloves that's good for arthritis and they are late coming. When talking to customer service they were rude, is this the way Copper Fit treat their customers?

Bottom Line: No, I would not recommend this to a friend

---

Terrible product, terrible shipping, terrible customer service

By Kevin G.

,

Chicago, IL

,

Nov 27, 2019
Verified Reviewer

I ordered the Copper Fit rapid relief Back Hot/Cold wrap from Dicks Sporting goods initially. It came opened and used. They sent another one, same thing. Apparently they were returns. I then made the horrendous mistake of ordering directly from Copper Fit. I waited 2 weeks for it to arrive for $5.99 in shipping. Once it finally came, I tried it for the first time. Immediately I noticed that the plastic mold to provide lumbar support was not aligned with the spine and offered zero support or relief. I called Copper Fit to try to get a refund. They will not cover return shipping. I refuse to pay return shipping on a product I waited 2 weeks to receive. I would never purchase anything from them again. Lousy product, and lousy customer service.

Bottom Line: No, I would not recommend this to a friend

---

Advanced Back Pro

By Janeice C.

,

Pelham, NC

,

Oct 28, 2019
Verified Reviewer

I placed an online order on 10/13/19. I have yet to receive my order. The so-called company cannot tell me anything about my order.

What kind of Customer Service is that? I entered the DHL tracking number and there is no record of it. Before I received that message, the system said there was a delay. Okay, they have my money, so where is my order.? I've never had to wait this long for an online order. Is this a SCAM?

Bottom Line: No, I would not recommend this to a friend

---

Yes, the glove and ankle support worked for me.

By Keith L.

,

Holland, MI

,

Oct 15, 2019
Verified Reviewer

I have rheumatoid arthritis in my ankle, feet, and hands. The pain is really hard to deal with. The Copper Fit foot and ankle support gave me a lot of relief. And the gloves gave a lot of relief to both hands.

Bottom Line: Yes, I would recommend this to a friend

---

Sizes

By Ethel A.

,

Houston, TX

,

Oct 15, 2019
Verified Reviewer

I have tried to locate items that are products of your company and unable to locate any. I have extra-large knees and have been unable to locate any. One size doesn't fit everyone. If you all have such confidence in your products why not make them for everyone. Thanks for reading this email.

Bottom Line: No, I would not recommend this to a friend

---

Compression gloves

By Marie E.

,

Massachusetts

,

Jul 23, 2019
Verified Reviewer

I bought two pairs of Copper Fit compression gloves size Small. Within the first week the strap started ripping from the scene, I couldn't even tighten it that much because then I would cut off the circulation so they're free loose, then the fingers started to fray. I bought another pair as I was so desperate for relief, gloves at $29 each, I'm on a fixed income so quite pricey for me. They did relieve some of the tingling and numbness and reduce swelling. I'm going home from Walgreens and Rite Aid and Walmart, I can't afford to keep buying, appears every two weeks, two a month, I only wear them to bed so they should not be wearing that quick and ripping at the seams. I have the same problems with every pair I've bought. I would like to be replaced or reimbursed as I went back to the stores. Because I had one of them they would not take them back, this is not fair, so where do I go to send these products back for my warranty and guarantee?

Bottom Line: No, I would not recommend this to a friend

---

Dissatisfied customer

By Michael H.

,

Groves, TX

,

May 16, 2019
Verified Reviewer

I ordered several items: Advanced Pro Back support, elbow and knee sleeves. It took a few weeks to get the back support, but after nine months and six follow up calls for status checks on the back-ordered items, they canceled my back-ordered items without contacting me. I was charged $45.96 and only received the back support (Made in China) that sells for $19.87 and three pairs (!?) of bonus order compression socks...!? Horrible customer service.

Bottom Line: No, I would not recommend this to a friend

---