Copper Fit Gloves Reviews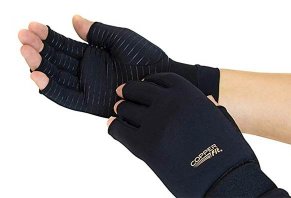 Copper Fit Compression Gloves are intended to improve pain, stiffness, swelling, and circulation. There is evidence that compression can offer these benefits, though the addition of copper is unlikely to be responsible.
Copper Fit Gloves Reviews - Are They Safe & Effective?
What Are Copper Fit Compression Gloves?
Copper Fit Compression Gloves allegedly help improve pain and stiffness in your wrists, palms, and fingers.
According to the website, the adjustable compression and open-finger design will help you improve circulation and reduce swelling while still allowing for total feel and control. Daily use should also help you reduce muscle and joint aches and pains.
As these can be nagging conditions, finding a simple method for relief would certainly be a bonus.
In this article, we'll help you determine if Copper Fit Compression Gloves can provide the alleged benefits by reviewing the available research for compression and copper.
Is There Any Science Behind Copper Fit Compression Gloves?
Copper Fit Compression Gloves are intended to provide relief by offering both compression and copper. Both have been investigated in the treatment of pain conditions involving different areas of the body.
Can Compression Relieve your Pain and Improve Function?
Compression has been a vital component of wound healing for centuries. This method of pain relief has been well-studied, though we'll focus on the research concerning gloves here.
In a 1979 study, patients with arthritis that used compression gloves improved stiffness, pain, throbbing, and the patients' perception of swelling.
In the early 90s, compression gloves improved pain and stiffness while improving swelling and motion in subjects with arthritis. Researchers also noted that compression worsened symptoms related to carpal tunnel syndrome.
This review of 8 studies drew similar conclusions. Pain, stiffness, and swelling improved with the use of compression gloves, though there was no impact on hand function.
Another review analyzed results from 4 randomized trials. Researchers concluded that the use of compression gloves in arthritis was inconclusive.
More recently, a randomized trial demonstrated that compression after wrist fracture surgery improved swelling and pain, while reducing the need for pain medication. Also, wrist range of motion and hand function were better with the use of compression.
Compression has been extensively studied in multiple areas of the body, including the hand and wrist. Most of the available research demonstrates a benefit for pain and swelling, while the evidence for function is somewhat mixed.
Does the Addition of Copper Offer Any Benefits?
While the use of copper in compression garments is popular, it has not been studied extensively and virtually no studies are examining the addition to gloves.
Copper compression did not offer any benefits when compared to traditional compression in 16 patients with chronic vein disease.
In 70 subjects with rheumatoid arthritis, copper bracelets did not improve pain, inflammation, function, disease severity, or the use of medication.
We don't have much research to draw from regarding the potential benefits of copper. While bracelets and compression in other areas of the body have been studied, the results are not promising.
Are Copper Fit Compression Gloves Safe?
While compression garments are typically safe to wear, they are not without risk.
Though beneficial for dysfunction in your veins, they can be dangerous if used with dysfunctional arteries. In this instance, compression would likely limit flow, not promote it.
Compression may worsen nerve dysfunction, or make it even more challenging to sense the presence of wounds.
If wounds are present, covering with restrictive materials can prevent or delay healing.
Even if you don't have one of these conditions, it is still safest to speak with a physician before using as you may be unaware of certain risk factors.
The Cost
Copper Fit Compression Gloves are available directly from the website.
For sizing, measure the width of your open hand just below your fingers. Small and medium range from 2.75-3.5in, while large and extra-large range from 3.75-4.5in.
Pricing is $19.00 regardless of your size, and all orders ship free.
A 30-day guarantee also backs your purchase. To process your refund, call 800-611-3931 or email ideavillage@customerstatus.com.
What Are the Alternatives to Copper Fit Compression Gloves?
Compression garments are not a new concept. Even the addition of copper is relatively commonplace.
At HighYa, we previously reviewed a line of copper compression garments. Tommie Copper carries both half and full-finger gloves that are similarly intended to support the muscles and joints of your wrists, palms, and fingers.
This is a less cost-effective option, however, as they are priced at around $30 + shipping.
CopperHands Arthritis Gloves represent yet another option. They similarly offer a half-finger model that is intended to relieve aching. At Amazon, CopperHands are less expensive than Copper Fit and priced at $14.99.
As these options are all relatively inexpensive, compression gloves may be a reasonable option if you are experiencing pain and stiffness. The addition of copper does not seem to be beneficial, however.
Thus, you may experience similar relief even with standard compression gloves.
Pros and Cons
Compression is proven to reduce pain and improve function
Competitively priced
Favorable return policy
The addition of copper is unlikely to add benefit
Compression does not address the underlying source of your symptoms
The Bottom Line
Copper Fit Compression Gloves may relieve pain, swelling, and stiffness, as well as improve motion. These benefits are likely unrelated to the addition of copper, however.
Nonetheless, Copper Fit gloves are reasonably priced, so you may not save much by opting for a compression glove that doesn't include copper.
These garments are typically safe, though you should avoid use if you have a lot of swelling, arterial issues, nerve dysfunction, open wounds, or bruising.
Keep in mind that compression does not address many of the underlying issues that may be the source of your symptoms. As these frequently require medical attention, symptoms may persist or worsen without treating the cause.
Speak with your doctor to determine the best plan of care.
---
Grip material

By Janet G.

,

Utah

,

Oct 28, 2019
Verified Reviewer

Overall Experience:

I have had my glove for approx 2 months and the material used for grip is falling apart. I had to modify the fingers due to the length vs. my finger length. I wear the glove often, and it does help with strength and pain due to swelling and arthritis.

Bottom Line: Yes, I would recommend this to a friend

---

Coming apart

By Gary M.

,

Michigan

,

Oct 10, 2019
Verified Reviewer

Overall Experience:

I've had my gloves for about 2 months, wear them except to sleep. The tread that holds thump to palm separated. Will not buy another pair.

P.S. I have a Copper Fit 3in1 back support and it's great, no problems at all.

Bottom Line: No, I would not recommend this to a friend

---

Advertisement

---

Tore within less than a week

By Travis O.

,

Plymouth, MA

,

Jul 31, 2019
Verified Reviewer

Overall Experience:

I bought these gloves because the recommended ones on Amazon were way too small. These ones took about 2 weeks to get to me, due to a shipping delay. Not their fault. I tried to rip the loose stand of fabric (which there are multiple of) and it caused a hole to form. This was on day two. The hole got worse, and is now almost the size of my whole thumb. This is getting returned.

Bottom Line: No, I would not recommend this to a friend

---

Would not recommend

By Pat K.

,

Pennsylvania

,

Jun 8, 2019
Verified Reviewer

Overall Experience:

I purchased a pair of Copper Fit Gloves to use at the gym. I am a 53-year-old woman so my workout is not that of a bodybuilder. Within the first month of using the gloves, the compression lessened as the gloves "worn in", the seams began to rip on various parts of the glove and the grips began to peel. I would not recommend purchasing these gloves as the quality is poor.

Bottom Line: No, I would not recommend this to a friend

---

Advertisement

---

Couldn't be happier

By Jeff H.

,

Toronto, Ontario, Canada

,

Mar 27, 2019
Verified Reviewer

Overall Experience:

I skeptically ordered the gloves on March 9, 2019, They arrived on March 21, 2019, which I thought was really good delivery time.

Needless to say, I was eager to try it since for years I have lived in pain 24/7. The doctors and the arthritis pills and potions can keep their useless products, of which I have tried most of them and threw out all of them after a week with no change.

The compression gloves are great, and after about 3-4 hours the pain was GONE! I now wear them 8-10 hours daily and can sleep well. I'm ordering 2 more.

Bottom Line: Yes, I would recommend this to a friend

---

Defective stitching

By Garry N.

,

Michigan

,

Feb 7, 2019
Verified Reviewer

Overall Experience:

I received my gloves 29 days after ordering. It has been four days now and the seems are spiting open between the fingers. The emblem fell off the left hand after two hours. The gripping rubber strips are falling off the fingers. I also ordered a pair for my wife and using the size chart, ordered hers. She said the circulation in her fingers are cut off after a half hour, she can't wear them. Very poor quality for $20.00.

Bottom Line: No, I would not recommend this to a friend

---

Advertisement

---