Copper Fit Gloves Reviews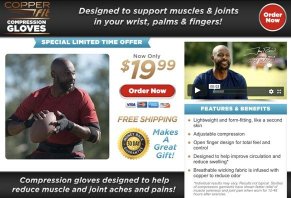 With their built-in compression and copper-infused fabric, Copper Fit Gloves claim to act like a second skin and help reduce inflammation-related discomfort in your hands.
About Copper Fit Gloves
Copper Fit Gloves promise to provide lightweight, form-fitting, adjustable compression that can help increase circulation, reduce swelling, and provide all-day support, relief, and recovery from muscle aches and pains.
Additional features include an open finger design for "total feel and control," built-in non-slip grip for sure hands no matter what you're doing, and a breathable, copper-infused wicking fabric to reduce moisture and odor.
If you're experiencing the sharp hand pains and cramping mentioned by the actors in Copper Fit Gloves' commercial, it's no wonder that you're searching for meaningful relief. But, is this what you'll experience, or should you consider options from the competition?
Keep reading, and we'll help you uncover some actionable information that you can immediately put to use.
A Quick Introduction to the Benefits of Compression
Medical-grade compression garments have been shown to squeeze the surrounding tissue and thereby boost oxygenation and circulation.
As a result, prescription compression garments are often given to post-surgical patients to help their wounds heal faster. They're also commonly recommended for addressing severe spider and varicose veins, as well as conditions like deep vein thrombosis.
Zooming in to Copper Fit's offering, WebMD explains that specialized compression gloves, also commonly referred to as arthritis gloves, "provide pressure on your aching fingers and hand joints." As a result, much like compression anywhere else on the body, they could help relieve inflammation, pain, and stiffness caused by rheumatoid arthritis.
And while they "aren't going to do much to help you regain the use of your hands," they explain that these gloves might also help "improve your grip," lightly support your hand, provide mild warmth, and may even "help you feel more relaxed and calm."
How Much Does Copper Fit Gloves Cost?
Available in small/medium (2 ¾" - 3 ¼") and large/XL (3 ¼" - 3 ¾") sizes, one pair of Copper Fit Gloves will cost you $19.99, plus free S&H.
All orders come with a 30-day money-back guarantee, less S&H charges, which you can request by calling Idea Village at 866-879-3813.
A brief note about arbitration: Arbitration means that, instead of settling a grievance with a company through the court system (i.e., a trial by jury, becoming part of a class action lawsuit, etc.), you agree to go through binding third-party arbitration.
While this is extraordinarily common in today's consumer marketplace, it's important to keep in mind that you'll agree to waive many of your inherent legal rights after placing an order for Copper Fit Gloves.
Are There Other Compression Gloves Competing With Copper Fit?
We already discussed in the 'Benefits' section that other compression and arthritis gloves exist, so it shouldn't come as much of a surprise that Copper Fit Gloves has some competition. However, you might be surprised during your search to learn just how much competition exists.
For example, after a few minutes searching online, we encountered hundreds of compression glove results—from long, ultra-thin medical models that stretched all the way to the elbow, to sheer models that looked more like driving gloves than something medical. And everything in between.
Even just narrowing our focus to only fingerless gloves that stop at the wrist, we found dozens of compression models in all different designs, with several that featured similar breathable, copper-infused fabric, adjustable straps, as well as non-slip palms. Prices typically ranged between $8 and $20.
What's the best first step toward choosing an appropriate option?
First, remember that pain is only a signal; not a diagnostic tool. To help figure out the underlying cause—and therefore the most appropriate solution—you'll need to start by talking with your doctor. Purchasing a product beforehand could cause you to spend money on something that won't deliver meaningful results.
For example, the compression provided by a pair of gloves like this might help boost circulation and reduce inflammation-related conditions like arthritis, although we didn't encounter any clinical evidence on sites like the National Institutes of Health's PubMed that they can reduce muscle soreness from overuse (as but one example).
However, we did encounter hundreds of relevant results related to the ability of other compression garments (sleeves, stockings, etc.) to help reduce exercise-induced soreness when worn during the activity, as well as shortly afterward.
While the company doesn't provide a citation, this is likely the root of the "Studies of compression garments have shown faster relief of muscle soreness and joint pain when worn for 12-48 hours after exercise" claim on the Copper Fit Gloves website.
Our Final Thoughts About Copper Fit Gloves
Copper Fit Glove's compression material, adjustable strap, and lightweight design really might "support the muscles and joints in your wrists, palms, and fingers," as claimed on the website.
However, will this necessarily result in the relief and recovery from aches and pains advertised by the manufacturer? Not to sound like a broken record, but this almost wholly depends on what's causing your discomfort, as diagnosed by your doctor.
In fact, WebMD emphasizes that using compression gloves if you have carpal tunnel syndrome could actually cause your symptoms to worsen.
If your doctor recommends a pair of compression or arthritis gloves, WebMD also offers the following suggestions:
It's all about fit – Make sure the gloves fit well, since "if they're too tight or too loose, there's less chance you'll get any benefits from wearing them." After all, you need the right amount of compression to boost circulation. Because of this important factor, ask your doctor or therapist for assistance, if necessary.

You need to wear them – Even if they fit properly, you need to wear your gloves for at least eight continuous hours during the day to experience any meaningful changes.
Applying all of these details to Copper Fit Gloves, with just two sizes available, we'd wonder if they'd provide sufficient compression to meaningfully boost circulation and deliver related benefits, much less match the "feels like second skin" claim advertised on the website.
And even if they do fit you perfectly and deliver immediate results from your discomfort, we feel it's important to maintain realistic expectations. After all, after watching Jerry Rice and Brett Favre endorse Copper Fit Gloves in the commercial, it might be easy to expect revolutionary results, such as immediately getting back into sports after years out of the game.
If you feel like giving them a try, though, Idea Village allows returns for 30 days after your purchase. Just keep in mind that you'll have to pay to ship them back if you're dissatisfied.
---
Defective stitching

By Garry N.

,

Michigan

,

Feb 7, 2019
Verified Reviewer

I received my gloves 29 days after ordering. It has been four days now and the seems are spiting open between the fingers. The emblem fell off the left hand after two hours. The gripping rubber strips are falling off the fingers. I also ordered a pair for my wife and using the size chart, ordered hers. She said the circulation in her fingers are cut off after a half hour, she can't wear them. Very poor quality for $20.00.

Bottom Line: No, I would not recommend this to a friend

---

Would not recommend

By Pat K.

,

Pennsylvania

,

Jun 8, 2019
Verified Reviewer

I purchased a pair of Copper Fit Gloves to use at the gym. I am a 53-year-old woman so my workout is not that of a bodybuilder. Within the first month of using the gloves, the compression lessened as the gloves "worn in", the seams began to rip on various parts of the glove and the grips began to peel. I would not recommend purchasing these gloves as the quality is poor.

Bottom Line: No, I would not recommend this to a friend

---

Advertisement

---

Tore within less than a week

By Travis O.

,

Plymouth, MA

,

Jul 31, 2019
Verified Reviewer

I bought these gloves because the recommended ones on Amazon were way too small. These ones took about 2 weeks to get to me, due to a shipping delay. Not their fault. I tried to rip the loose stand of fabric (which there are multiple of) and it caused a hole to form. This was on day two. The hole got worse, and is now almost the size of my whole thumb. This is getting returned.

Bottom Line: No, I would not recommend this to a friend

---

Coming apart

By Gary M.

,

Michigan

,

Oct 10, 2019
Verified Reviewer

I've had my gloves for about 2 months, wear them except to sleep. The tread that holds thump to palm separated. Will not buy another pair.

P.S. I have a Copper Fit 3in1 back support and it's great, no problems at all.

Bottom Line: No, I would not recommend this to a friend

---

Advertisement

---

Grip material

By Janet G.

,

Utah

,

Oct 28, 2019
Verified Reviewer

I have had my glove for approx 2 months and the material used for grip is falling apart. I had to modify the fingers due to the length vs. my finger length. I wear the glove often, and it does help with strength and pain due to swelling and arthritis.

Bottom Line: Yes, I would recommend this to a friend

---

Couldn't be happier

By Jeff H.

,

Toronto, Ontario, Canada

,

Mar 27, 2019
Verified Reviewer

I skeptically ordered the gloves on March 9, 2019, They arrived on March 21, 2019, which I thought was really good delivery time.

Needless to say, I was eager to try it since for years I have lived in pain 24/7. The doctors and the arthritis pills and potions can keep their useless products, of which I have tried most of them and threw out all of them after a week with no change.

The compression gloves are great, and after about 3-4 hours the pain was GONE! I now wear them 8-10 hours daily and can sleep well. I'm ordering 2 more.

Bottom Line: Yes, I would recommend this to a friend

---

Advertisement

---