Copper Fit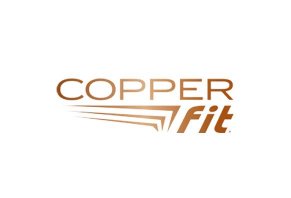 Summary
Copper Fit claims to use the powers of compression and copper to give you pain relief, help you recover faster, and reduce your risk of further health complications. However, the copper fibers might be more promotional hype than help.
Pros
Clinical evidence indicates compression clothing can lead to positive health benefits
Lower cost than many competitors
Cons
Little evidence of copper benefits in apparel
Customer reviews show quality concerns
Smaller copper percentage than many brands
Copper Fit Review: A Detailed Look
Copper Fit is a brand of compression clothing designed to ease your muscle aches and soreness while remaining comfortable and lightweight enough for use at any time.
The company claims that its copper-infused apparel is suitable for everyone from the average person to the elite athlete. Our analysis will help you decide if this is the right product for you.
Is There Any Scientific Support for Copper Fit Products?
The main idea behind Copper Fit compression clothing is that it works to stabilize and support your muscles by improving circulation and oxygenation for relief from pain, stiffness, and soreness, as well as improve mobility and aid faster recovery.
Though the specific characteristics of each item can vary slightly, most are made from a blend of 82% polyester, 14% spandex jersey, and a 4% copper iron fiber composition with which wicking capabilities.
Copper
This mineral's natural anti-microbial properties work to protect each garment from odor-causing bacteria. The company states it was long valued by ancient civilizations, has no risk of skin irritation, and is more effective than stainless steel or silver for repelling bacteria.
But beyond anti-microbial properties, Copper Fit doesn't seem to make any further medical claims about the benefits of copper. It's implied that copper might improve the compression aspect of this clothing, but the company doesn't go into detail.
Some people believe that wearing copper can ease arthritis pain because bits will rub off and get absorbed into the body. However, clinical studies have found this compound to be no more effective than a placebo for pain relief.
Compression
The other stated benefit of Copper Fit apparel is that it acts as compression clothing, which provides muscle and circulator support. This can be used to treat a variety of medical conditions, including varicose veins and low blood pressure, and to lower your risk of blood clots or blood pooling in your extremities.
There's also evidence that compression clothing can help athletes experience less pain, recover faster, and lower their risk of injury.
Key Takeaways:
Copper Fit compression clothing seems capable of supporting healthy blood flow and making a marginal difference in your recovery rate after exercise, but that's entirely due to the compression, not the copper.
How to Use Copper Fit Products
To benefit from Copper Fit, the company suggests wearing compression clothing any time you need pain relief or anticipate being active and performing repetitive movements. Doing so keeps your muscles warm and provides extra support to boost the healing process.
Most people should feel some level of pain relief within a few minutes of wearing Copper Fit, and they may lead to gradual improvements when worn over time.
Note that this apparel is only beneficial when you wear it correctly. If you take it off or wear the wrong size, these positive effects go away.
Product Line
Ice Knee Sleeve ($19.99): A compression sleeve that delivers the sensation of menthol and CoQ10 to relieve muscle and joint pain temporarily.
Compression Gloves ($19.99): Gloves that prevent stiffness and soreness in your wrist, palms, and fingers. (Read our full review)
Energy Socks (two pair for $19.99): High-performance compression socks that reduce swelling and provide support for foot and leg comfort. (Read our full review)
Compression Sleeves (two-pack for $19.99): High-performance fabric designed for improved circulation and less swelling.
Advanced Back Pro ($19.99): Compression back support in four built-in stabilizing supports to reduce lower back stress and improve posture.
Rapid Relief Wrap ($29.99): Delivers hot or cold therapy directly to your back for quick comfort and faster recovery.
Analysis of Customer Reviews
Copper Fit has 240+ reviews on our website, which average 2.2-stars out of five. Less than a third of users say they would recommend this brand to others.
Common Compliments:
Many people found arthritis relief from wearing Copper Fit gloves and socks
Reduced pain and swelling when worn
Some users had excellent customer service experiences, especially with sizing issues
Common Complaints:
Slow shipping times, some users never received their purchases
Instances of customer service problems, long hold times, no email responses
Low-quality products, uncomfortable to use
Gloves and socks were poor fitting, lost elastic quickly
Complaints of an unfair return policy
Shipping and Return Policy
Copper Fit orders should ship out within 30 days. Expect to pay at least a $3.99 processing fee per order.
Products are eligible for the company's 30-day return policy, which states that you can request a full refund for any reason within that timeframe.
Alternatives to Copper Fit
| | Copper Fit | Copper Compression | Tommie Copper Compression Wear |
| --- | --- | --- | --- |
| Compression Gloves | $19.99 | $25 | $29.50 |
| Back Brace | $19.99 | $35 | $59.99 |
| Compression Sleeves (knee/elbow) | Two-pack for $19.99 | $19.99 each | $39.99 each |
| Compression Socks | Two pair for $19.99 | $17/pair | $39.50/pair |
| Copper Percentage | 4% copper iron fiber | 85% copper-infused nylon | 56% copper-infused nylon yarn |
| Return Policy | 30-day refund | 30-day refund | 60-day money-back guarantee |
Copper Fit offers a relatively low-cost option for purchasing copper-infused compression clothing. The other brands can cost more than twice as much.
One thing you're getting for the extra money is a higher copper percentage, as both brands contain more than 50% copper-infused threads. But more (or any) copper isn't necessarily associated with better health outcomes. At best, you might be able to wear your clothing longer between washes.
That's why we recommend purchasing from the brand with the best reputation from a compression standpoint.
The Bottom Line
Copper Fit compression apparel promises to ease your arthritis pain, help you recover faster from athletic activities, and even lower your risk of certain health conditions. These products succeed in some of these categories, but that's primarily due to compression, not copper.
Wearing compression clothing can lead to positive health outcomes, but there are better brands to buy from. Many negative customer reviews for Copper Fit are related to the product's being poor quality and falling apart quickly.
Therefore, we recommend looking for a brand with a better reputation, one that focuses more on the compression angle, not the copper.
Customer Reviews
Posted on May 8, 2014
Copper Fit-Users Beware of Usury
I waited more than two weeks to have the product delivered via USPS in a lightweight package that could have been paid with the cost of two or three forever stamps. Although I ordered large sleeves, they fit uncomfortably tightly, providing intense compression to the point of strangulation. After much thought and the inconvenience of waiting such a long while for this product over-priced shipping and handling cost, I would have fared better wearing panty hoses, that would have done the same trick.
Bottom Line: No, I would not recommend this to a friend
Posted on Jun 30, 2015
Over price shipping and handling
Customer service is really bad, very rude, not very customer friendly.
Bottom Line: No, I would not recommend this to a friend
Posted on Aug 18, 2015
Do Not Buy This Product, unless you want to get ripped off
Well first of all, I Googled Tommie Copper but the Copper Fit website came up and I thought for some reason I was ordering from the Tommie Copper site but unfortunately it was not. Copper Fit is a site that sells fake Tommie Copper products.
When you order on the site they say you get "2 for 1" for 19.99 plus shipping. I thought it was cheap so I ordered 2 thinking it's going to be only around 50. They don't tell you the total price until they charge your credit card first by that time it's too late.
I tried calling to cancel my order and they said they already shipped it but that was a lie cause the next day I received an email saying they shipped it the same day I tried calling to cancel. Then I noticed they had my shipping address wrong. The apt unit number was wrong. I tried calling them to tell them and they said I must put in the wrong apartment number myself. I did not because when I ordered they gave me the confirmation number with the right address and when they shipped it they missed a number on my apartment unit.
So I tried telling them that and they did not care one bit. They kept telling me I put in the wrong billing address and I have to let the mailman figure it out. If they can't they'll send it back to them and they'll resend it. I could be waiting two months for this product. I did more research and you can get a genuine Tommie Copper for literally the same price or if not a little cheaper at those "As seen on TV" stores and you don't have to wait two months.
Bottom Line: No, I would not recommend this to a friend
Posted on Jun 30, 2015
Problem from the begining
There was already a problem when I made the order. They are charging me two instead of one, but I thought it's buy 1 get 1 free. It's hard to get costumer service and when I finally did and I was explained that I'm being charge for 2 pair which is 4 items (2 knee and 2 elbow, and what shocks me is the shipping and handling charge is per single item. That's about $34 and yet they are placed in one package, like 2 pairs of sock in a package. And if you're going to send it back to them, you are out $34. To make it worst the product suck. Not a good quality.
Bottom Line: No, I would not recommend this to a friend
Posted on May 27, 2014
The Copper Fit Scam
This will teach me to look up the reviews prior to ordering,
Once you place the order in the box there is no chance to get out of it. Once in the box, they slap on twice the postage and your card is charged and you are stuck. There is no review before it is processed. I ordered 2-items and expected to get an additional 2 for free. It ended up costing me $31.96 in postage for them to mail the four items which weighed less than one pair of ladies white socks (not the heavy socks) in one small package. This was no bargain. It was cheaper to buy Tommy Copper on Amazon and not only get the better product but it at a good price. By the way, on star is far too much.
Bottom Line: No, I would not recommend this to a friend
Posted on May 27, 2014
Unethical Business
I would not suggest to buy from this website. It is more of scam than anything else in my opinion. I placed an order to receive two elbow and two knee sleeves. After, I went to review my order but reviewing the order wasn't not an option. Instead, they doubled my order and doubled the cost of shipping.
When I called they said the order had been shipped but that wasn't true at all because there was no UPS tracking # nor did I get an email confirming my order.
Not to mention that the lady was extremely rude and would not let me speak at all. Satisfaction guaranteed is not an option for this company.
Bottom Line: No, I would not recommend this to a friend
Posted on May 29, 2014
Extraordinary Rip-Off
It seems that a pattern has evolved. I too placed an order with Copper Fit, and wanted to try one medium knee sleeve and one small, so I selected one of each.
After I entered all of my information, I clicked submit, assuming that I would have a chance to review my order and select shipping options, which is customary with almost all other internet orders. Not so with Copper Fit! They ran the order right away, without so much as providing me with a total before doing so. I emailed them IMMEDIATELY afterwards (within ten minutes), demanding that the order be canceled before payment was processed, and I received an email back the next day stating that the order had already been "processed for shipping."
I received an automatic notification the next day that my order had shipped. Processing and handling totaled $31.96, while the products themselves totaled $39.98. It took eight days for the sleeves to arrive. I opened the package, tried on one of the sleeves, and was disgusted with it. If the foot portion of a tube sock was cut off and the tube portion was worn over the knee, it would provide more support than this product.
I am sending the sleeves back today, fully aware that I am out the $31.96 as well as the return shipping costs. I am going to be contacting the Better Business Bureau with this story, and I recommend that everyone who posted here do the same. I am partially to blame, because I didn't read the fine print before providing my credit card information, but I am of the opinion that the practices of Copper Fit are intentionally deceptive.
Bottom Line: No, I would not recommend this to a friend
Posted on Jul 1, 2015
Deceptive and poor quality
I ordered two knee sleeves in different sizes. I would have preferred one of each but found out toward the end of the online order that it came in pairs only. To add insult to injury, I was charged S+H for each sleeve separately instead of for each PAIR. I live in Kinnelon, NJ which is three towns over from Wayne where the product is sent from. It took two weeks to arrive. People order these products because they are in pain. I was not able to review my order as all other online purchases are done and saw that the order was placed with a shipping charge of $31.96 for a $39.98 purchase. It was nothing more than a thick stocking for the knee that rolled when sitting down. I was also called the day after my purchase by a woman telling me I would receive a gas voucher and then would have to call to cancel at a later date. I told her not to send that. Then a man got on the phone and tried to push the same offer. I'm disgusted. What a waste of time and money.
Bottom Line: No, I would not recommend this to a friend
Posted on Jun 1, 2014
Buy 1 get 1 free scam
I too went on to order 1 only and it charged me for 2 and outrageous shipping costs. When I hit to update order it put the order through. I contacted customer service ASAP but was told order was already processed. They offered me $4.00 off - big deal. Now I'm out $79. Terrible company, lousy customer service.
Bottom Line: No, I would not recommend this to a friend
Posted on Jul 1, 2015
Deceptive scam
I will echo verbatim what the others have written, their website is fraudulent, doesn't follow acceptable Internet commerce norms. The shipping is extremely expensive for a cheap, light, bubble envelop sent via USPS. After ordering and realizing the scam of double charging, I kept receiving several calls per day from an 866 number, never a message. After several of these I called the number and found it was copper fit and they were continuing the scam by sending something else to me, free for two months, then I'd be charged unless I canceled. I screamed over the insistent telemarketer than I did not want it nor did they have my permission to send. Terrible company, should be shut down. Wish I read reviews first.
Bottom Line: No, I would not recommend this to a friend
Posted on Jun 4, 2014
Outrageous rip-off
Echoing others experience. Same product and shipping overcharge to rack up $75 for a $35 order. Tried to cancel by calling the number within seconds. Lady claimed computers are slow, they were not involved with the company and so on. No doubt trying to buy time, while they can say order processed.
Bottom Line: No, I would not recommend this to a friend
Our Promise to You
In order to safeguard you and ensure helpfulness and relevance, our compliance team manually assess every customer review before it goes live.
We have a zero-tolerance policy for fake reviews, and companies cannot control or alter any reviews at any time.