doTERRA Reviews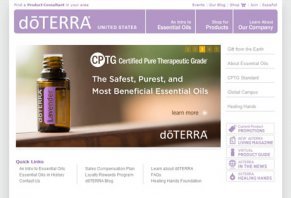 DoTERRA is a multi-level marketing company that offers therapeutic-grade essential oils and related products.
About doTERRA
Established in 2008 by several health industry and business professionals, doTERRA is a company that specializes in providing therapeutic-grade essential oils and related products to the world, with the goal of sharing their life-enhancing benefits.
Using a network of industry professionals, such as botanists, chemists, health scientists, and healthcare professionals, doTERRA claims to develop the highest quality essential oil products, which can be administered in one of three ways: Aromatic diffusion, topical application, or internal digestion via dietary supplements.
What Is the doTERRA Work at Home Business Opportunity?
DoTERRA oils can be purchased either directly through their website, or via an independent product consultant, which is what we'll be focusing on here.
Like many other product sales opportunities (e.g. Mary Kay, Tupperware, etc.), doTERRA provides their Independent Product Consultants with the ability to earn a commission from each sale they make. Here's how their earnings structure works:
First, after paying a one-time $35 fee, doTERRA Independent Product Consultants receive all products 25% below the full retail price, which will have to be purchased directly.
This then enables them to earn the difference between their wholesale price and the retail price for each product, and also the ability to pass savings along to a prospective customer in order to make a sale more enticing.
Second, Independent Sales Consultants have the ability to earn commission on the sales of other Consultants they have sponsored, and even on the sales of the consultants those consultants sponsor. In other words, this second option is essentially a multi-level marketing compensation plan.
In a nutshell, here's what you'll get after joining doTERRA as a consultant:
The ability to purchase products at 25% below retail prices.
The ability to earn free product purchases through the loyalty rewards program.
A business management website where you can refer prospective customers to learn more about the product. This is also where you can receive a commission on their sales, as well as on the sales of consultants you sponsor.
The ability to earn bonuses.
Are There Any Signs That doTERRA Is a Scam?
Overall, we don't see any strong indications that doTERRA is a scam. Here's why:
Most websites created to scam visitors have two primary characteristics: 1) They provide very little information about the product they're selling, and 2) they rely heavily on emotion in order to make the sale, using tactics such as creating a false sense of time sensitivity.
DoTERRA, on the other hand, seems to be very transparent about all the essential oils they sell, providing detailed information such as how the company was formed, how their extracts are manufactured, etc.
The company also encourages anyone thinking about joining to first meet with a local Independent Product Consultant, in order to ask questions and obtain as much information as you can.
Having said this, just like with other businesses we've reviewed, sales and multi-level marketing aren't for everyone. If you feel that selling isn't your strong suit, you may want to consider a different line of work.
However, if you have the time to put in, the available funds to purchase the product up-front, and the drive to succeed, doTERRA can be a viable means of earning a solid income.
0 out 2 people found this review helpful

Sloppy service

By Carol C.

,

Utah

,

Oct 21, 2019
Verified Reviewer

Ordered US products from Utah 12 days ago.

They split my order without telling me and one of my shipments is lost.

They are so ignorant that I have to keep telling them that it is their job to sort this out, not mine. I still don't have my products and they were for a client who was going away. They keep brushing me off and telling the same crap over and over.

VUSA will be reversing my payment if they don't smarten up. Pathetic MLM with useless sponsors.

Bottom Line: No, I would not recommend this to a friend

---

2 out 3 people found this review helpful

Proven track record of 5 years!

By Jan W.

,

Illinois

,

Jun 21, 2019
Verified Reviewer

I have been using doTERRA supplements and oils for 5 years - I do not and have not ever sold products retail. I am off of cholesterol meds (they didn't work anyway) and blood pressure meds (2 different ones and the bottom number was never lower than 90!) and sleep meds - read the side effects - scary! I am able to fight viruses when they attack (find a med for that!) and have had the best customer service in the world. When I get products shipped that have had the box damaged I get products replaced...even though it was the post office or UPS fault! This has been a life-changer for my family - if for no other reason - my dad's doctor said he would be dead in 6 months - he lived another 5 years with the quality of life and was able to get off oxygen!

Bottom Line: Yes, I would recommend this to a friend

---

Advertisement

---

12 out 14 people found this review helpful

Return policy

By Erin G.

,

Sydney, Australia

,

Jan 5, 2019
Verified Reviewer

I obtained some oils as part of a wellness program. I decided not to use them and wanted to return them unopened and in a timely manner. It took me one month and eleven emails just to get a return number. The excuses mounted from the "representative." Finally, I mailed the oils back and still no response and no email. Seriously, very very unprofessional corporate behavior.

Bottom Line: No, I would not recommend this to a friend

---

13 out 13 people found this review helpful

Horrible customer service

By Iryna P.

,

New York

,

Dec 17, 2018
Verified Reviewer

Extremely disappointing customer service after I've spent thousands of dollars on their website in the past year. After I moved, they shipped my order to the wrong (non-existing) address due to the bug on their own website form. To my immediate request to edit the address, they said it was too late. I had to wait three weeks (!!) for the order to ship across the country twice and return to them before they even considered returning my money. They never ever followed up with me, so I had to constantly email them checking on status. Just terrible!

After three weeks of me bugging them, they finally initiated a partial return, and I am still waiting for the rest of the money. I am absolutely speechless and disgusted by their lack of professionalism. There was no admitting of their fault, no apology, no follow up, no escalation of a case and no survey about my customer service experience. In our day and age, this is just unacceptable.

Bottom Line: No, I would not recommend this to a friend

---

Advertisement

---

15 out 21 people found this review helpful

Too bad zero isn't an option

By Alice W.

,

Placitas, NM

,

Sep 7, 2018
Verified Reviewer

Do NOT do business with this company. You can buy good quality essential oils at Sprouts! For half of the price! I have used essential oils for 20 years, buy good quality oils cheaper AuraCacia you can trust.

So a representative told my husband that their Copaiba was more effective than CBD cream prescribed by his doctor and approved by the State Health Dept. He thought he would try it...so it was low on stock, but IF he bought a $275 kit, he could have it.

The representative couldn't cancel the order, he had too. But she couldn't give him the phone number...?

So, I called this unethical, immoral and probably illegal operation.

They stopped the order, scamming old men is terrible. They refunded the money and now there's a termination of a contract to sign. WHAT? Real companies just sell products and let you return them.

This company seems to think that there's an unknown legal contract, complete with a policy manual, if you buy from them. Do not buy their oils; the prices are double and triple normal prices.

Bottom Line: No, I would not recommend this to a friend

---

11 out 13 people found this review helpful

Best MLM ever, seriously.

I have been with doTERRA for a little over a year now, and I have had ZERO complaints about the company. I live out of state from where they ship things from so I have to wait for the product to get to me. I have encountered multiple items ruined in transit, but doTERRA has always been more than happy to re-send me the broken item.

Please consider this company if you ever decide to join an MLM. They are fair, friendly, and generous in every aspect.

Bottom Line: Yes, I would recommend this to a friend

---

20 out 28 people found this review helpful

Deep Blue supplements

By Pam Shalda

,

Spokane, WA

,

Sep 13, 2017
Verified Reviewer

I have rheumatoid arthritis, and someone gave me a bottle of Deep Blue dietary supplements. They made my muscles tense up so so so bad that it was hard to move. It felt like my muscles were being eaten away by something. I wanted to make sure it was this supplement, so I tested it. I stopped taking them, and I finally felt better after three days, then I took them again and sure enough, I experienced more pain than I have ever felt in my life.

Please DO NOT take oils internally. doTerra says it is ok, but it NOT. They are way too concentrated to take internally. My girlfriend was taking Frankincense and On Guard internally the correct way, and she had to have her spleen removed. This is not ok doTerra. You suck, and I hate you. I think maybe you should stick telling people to use oils externally.

Bottom Line: No, I would not recommend this to a friend

---

5 out 8 people found this review helpful

Amazing products, amazing customer support!

By Robbie

,

California

,

Feb 27, 2017
Verified Reviewer

I learned about doTERRA from a home party where I attended and found out about their lifelong vitality supplements and how they might give me some relief from my inflammation in my back from arthritis.

I decided to become a distributor to purchase the products at wholesale prices, and purchased a starter kit that had the vitamins in them. I took their vitamins for six weeks and realized around that time that my back pain was completely gone. I take these supplements every day and I have found that if I skip a day or two the pain comes on fiercely. Many people that I know and love are using the supplements and have excellent results with them. And those that are suffering from fibromyalgia pain, Reynards disease, and other miserable pain situations have had relief from these supplements.

The ingredients are amazing, and the price is not that bad. If you tried to purchase individual ingredients of what is in these, it would cost you hundreds of dollars (which I used to do), and I never had any results in controlling my back pain other than using narcotics. I highly encourage this site to review the lifelong vitality supplements; you will find that they are a very fair price for a high-quality nutritional supplement.

Bottom Line: Yes, I would recommend this to a friend

---

5 out 8 people found this review helpful

Better health

A year ago I attended a class on essential oils and bought a starter kit from Doterra. I have since added to my collection of essential oils as I began studying the different uses for the different ailments. Since using their On Guard I have not become ill with the colds and flu, using their blends of In Tune has helped my focus. My sister used Doterra oils and made a bug repellant that was not toxic, smelled wonderful, and very effective. I had no bug bite after a hike in the woods. l would definitely recommend these oils.

Bottom Line: Yes, I would recommend this to a friend

---

19 out 24 people found this review helpful

Worst customer service, EVER.

By Anonymous

,

Feb 7, 2016

DoTerra has the worst customer service ever compared to other direct selling MLM companies. After two days of getting the run around regarding a defective item, my issue was not resolved and I was informed that it was my problem. Stay away from this company.

Bottom Line: No, I would not recommend this to a friend

---

20 out 37 people found this review helpful

Watch out for this company

By Terri

,

Jacksonville, FL

,

Dec 8, 2014

If you order from this company one month they send it the next month without confirmation that you want the product and deduct it from your account. This is a dishonest practice and I would not recommend joining.

Bottom Line: No, I would not recommend this to a friend

---