Dr. Marty Feline Prime
This company has claimed this profile, is getting alerted on any new customer reviews entering this page, and may engage in dialogue with its customers to address their matters.

Companies cannot pay money or provide goods in order to remove or alter customer reviews.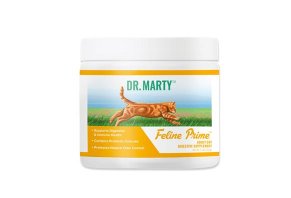 Summary
Dr. Marty Feline Prime powdered supplement uses an all-breed mix of digestive enzymes, probiotics, and a few other ingredients to help your cat recover from digestive issues.
Dr. Marty Feline Prime Review: Is It Right for Your Cat?
Dr. Marty Feline Prime is a powdered supplement containing ingredients that boost your cat's digestive health.
Digestive issues like constipation, parasites, food allergies and hairballs are common among felines. As a cat owner, it can be really hard for you to watch your cat struggle through discomfort. You want to help them feel better as soon as possible. Dr. Marty Feline Prime claims to do that.
The "Dr. Marty" behind this supplement brand is Dr. Martin Goldstein, a veterinarian of more than 40 years. His company's product line includes freeze-dried dog and cat food, dog and cat treats, joint supplements, supplements for shiny coats and digestive supplements.
Our review explores the supplement's ingredients and the science behind them to find out if Dr. Marty Feline Prime is the solution for your cat's digestive problems.
Benefits
When you begin to give this supplement to your cat, you'll want to mix it into his or her food thoroughly.
The first benefit you should notice is that your cat will poop more frequently due to the probiotics and enzymes in the supplement.
This improvement in digestion should boost your cat's mood and lead to overall better health.
One jar of powder will supplement your cat's diet for 30 days. Dr. Marty says the supplement powder will work for all cat breeds
Ingredients: Scientific Efficacy and Side Effects
The supplement has the following ingredients:
Seven digestive enzymes
2 billion CFU's of five probiotic strains that help digestion
Two types of fiber
Champignon mushroom extract
Kelp
Thallus powder
Bovine bone broth
We talked with Dr. Sara Ochoa, DVM, a small animal and exotic vet in Texas and a veterinary consultant for DogLab.com, to find out what positive outcomes these ingredients give your cats.
Enzymes
Ochoa said the enzymes do help with digestion. Expect them to work best when your cat has diarrhea.
That being said, Tufts University's Cummings Veterinary Medical Center encourages you not to expect miracles from these enzymes, as your cat already produces them in their pancreas. Therefore, your cat will most likely benefit more from the probiotics in this supplement powder than the enzymes.
Probiotics
Ochoa said that probiotics like the ones in Dr. Marty Feline Prime are effective in relieving diarrhea and vomiting.
"Probiotics contain good bacteria normally found the GI tract. When your cat is having diarrhea or vomiting, there is an unbalance of bacteria in the gut," she said. "Probiotics will help correct these problems."
The vets at Tufts University agree here, noting that probiotics are most helpful for cats' digestion but aren't a way to increase your cat's overall health.
Furthermore, there's a high enough concentration ("colony forming units," or "CFUs) of probiotics to be effective.
Bovine Bone Broth
Bone broth is an ingredient championed by holistic pet care proponents. It's a traditional remedy thought to help your cat's joints and digestive tract.
While the ingredient has its believers, the majority of the research we looked at indicates that probiotics are far more effective in boosting your cat's digestive health.
Mushroom Extract, Kelp and Thallus Powder
These remaining ingredients will help firm up your cat's stool, Ochoa said.
Based on the opinions of the experts we corresponded with and whose work we read, there is a strong likelihood your cat will see benefits from this supplement powder if they're battling diarrhea and/or other gut issues.
Side Effects
As for side effects, you may see your cat dealing with some digestive discomfort at the beginning of their supplement regiment. Common symptoms include bloating, gas, diarrhea, and constipation.
Pricing and Return Policy
You can buy Dr. Marty Feline Prime in one, three or six jar bundles:
One jar: $69.95
Three jars: $188.85
Six jars: $356.70
If you buy three jars you'll save 10%, whereas buying six saves you 15%. Shipping of all quantities is free.
Any purchase you make comes with a 90-day money-back guarantee. This 90-day deadline starts the day your order ships from the Dr. Marty fulfillment center. To start your return, you'll need to call Dr. Marty customer service at 1(800)670-1839.
Dr. Marty Company's Reputation
Dr. Marty has an excellent reputation here on HighYa. The company's Nature's Blend dog food gets an average of 4.6 stars from more than 550 customers.
Readers said their pets love the food and were excited to eat it. Several pet owners noted that the food helped cure various ailments including itchy skin and low energy.
Multiple reviewers said the dog food was so helpful that they bought Dr. Marty cat food, too, and that their cats loved it.
As a cat owner, this tells you that Dr. Marty's ingredients and flavors are of good enough quality that pets enjoy it and look forward to it.
Furthermore, the numerous stories of customers whose pets experience health benefits bode well for your cat.
Price Comparison of Dr. Marty Feline Prime vs. Dinovite for Cats
If you find yourself drawn to Dr. Marty but hesitant about the price, we'd like to compare Dr. Marty Feline Prime to Dinovite for cats.
Dinovite for Cats will cost you $29.99 for a 90-day supply, which is about $10 per month, whereas Dr. Marty will cost you around $59 to $69.99 per month depending on how many jars you buy at once.
The two supplements share the same three enzymes and some of the same probiotics. However, Dr. Marty has twice the CFUs that Dinovite for Cats does.
If money is tight for you, it may be worth it to try Dinovite even though it has a lower concentration of probiotics and fewer enzymes. If you try it and don't see any benefits, Dr. Marty Feline Prime's higher probiotic concentration may be the better fit.
The Bottom Line
This supplement's probiotics have the scientific backing you want when you're shopping for a cat probiotic. There's a good chance the ingredients will help your cat's digestive system to get back on track.
You can give your cat the supplement every day or only use it when you notice digestive distress: lack of bowel movements, gas or diarrhea.
If you own a Sphynx, Rex or ragdoll, consider implementing a supplement like this into your cat's diet. These three breeds are known for having digestive problems. Using Dr. Marty Feline Prime can help temper bouts of diarrhea, as well as soothe digestive irritation.
Customer Reviews
Posted on Jan 7, 2022
Happy cats, happy mother
I received my order within days of placing it. My five fur babies enjoy the food and snacks. Most of all no stomach problems. Thank you.
Length of Use: 3–6 months
Bottom Line: Yes, I would recommend this to a friend
Posted on Dec 13, 2021
Cats are adjusting beautifully!
My now 2 cats are settling into a new life and new routine. My neighbor was a committed critter rescuer and these 2 kitties were part of her "pack." She had 6 cats, having moved 12 from New Jersey to New Mexico at the insistence of her daughter who lives down our gravel road to her home and family. My elderly neighbor was stricken and died within days, about 5 weeks ago, leaving her kitties homeless.
I stepped up, having been an animal lover and owner for decades, and adopted Panther, a gorgeously black neutered male with clearly Siamese genes that fuels his constant chatter. And we adopted his buddy, an absolutely adorable dainty tortoise female who was terribly shy at first and continued her practice of hiding as she did with our neighbor's cat pack, but now is just beginning to explore her new digs, and spends the nights sleeping with her people and on my chest.
These two presented me with the perfect opportunity to try to feed them "right," and along with the multiple bags of Dr. Marty's freeze-dried excellent feed came 6 small containers of Feline Prime. I am slow to introduce Dr. Marty's freeze-dried food but leaped at the opportunity to introduce the kitties to Feline Prime. Fed twice a day and kept them on what they were used to, Fancy Feast, but "doctored" it with Feline Prime.
The cats are blooming, and Panther has settled in as if he'd lived here all along. The biggest adjustment was NOT letting him outside. I am a rabid caretaker of my critters here in the west and will not let him outside to be bait for coyotes, bobcats, mountain lions, bears, or our splendid aerial predators, owls, and hawks. He is adjusting very well to that reality, and both cats are becoming OUR cats living in a home that is their home, too, now, and I am convinced that Feline Prime is supporting this massive adjustment beautifully and healthily!
I am a convinced and dedicated user now of Feline Prime and will gently begin the adjustment away from the commercial cat foods to Dr. Marty's Freeze-Dried Raw Food.
Length of Use: Less than 3 months
Bottom Line: Yes, I would recommend this to a friend
Pros and Cons
This company brings science of feline healthy diet needs and support based on veterinary care of many years
The ease of use
That the freeze-dried food and Feline Prime are based on Dr. Goldstein's many years of feline veterinary practice and study
No "cons" were specified in this review
Posted on Dec 3, 2021
Everything positive (coat, behavior, etc.) has happened
Amazing. My two cats, littermates, have been on this since they were kittens. They are now 7 and everything Doctor M. said would happen has. They are more loving, more playful, have a beautiful coat, etc. But the formula has changed. Smells like cow pasture. One eats it, one will not, so between 1 to 10 happy, I'm only a 5.
Length of Use: 2+ years
Bottom Line: Yes, I would recommend this to a friend
Pros and Cons
The ingredients
Freeze-dried
Ease of product reconstitution
Smell
Cost
Posted on Nov 29, 2021
Perfect
We had constant ear problems with Toby and since using Dr. Marty's Feline Prime with his Hare Today food he has no more problems. He also loves the taste of it.
Length of Use: Less than 3 months
Bottom Line: Yes, I would recommend this to a friend
Our Promise to You
In order to safeguard you and ensure helpfulness and relevance, our compliance team manually assess every customer review before it goes live.
We have a zero-tolerance policy for fake reviews, and companies cannot control or alter any reviews at any time.