FixMeStick Reviews
Claimed This company has claimed this profile, is getting alerted on any new customer reviews entering this page, and may engage in dialogue with its customers to address their matters.

Companies cannot pay money or provide goods in order to remove or alter customer reviews.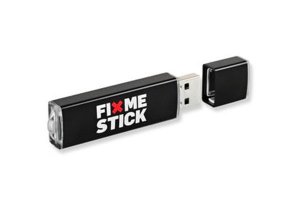 After plugging in to your PC's USB port, FixMeStick uses top-tier anti-virus software to quickly and easily scan your computer and remove viruses and malware.
About FixMeStick
The FixMeStick is a bootable USB device that can quickly scan your computer, identify any viruses or malware, and then effectively remove them. Despite its power, it's simple for any user to install, ready to go right out of the box, and works over four steps:
Plug it into any USB port.
FixMeStick will reboot your computer and scan it for viruses using three of the best anti-virus engines in the world.
The software will then automatically connect to your Wi-Fi network, download information about all the latest threats, report back anything it finds, and automatically remove them (the entire process might take anywhere between 30 minutes and a couple of hours).
Unplug FixMeStick from the USB port and you're good to go!
Compared to other anti-virus solutions, FixMeStick contains its own Linux-based operating system and works while your computer's sleeping, so viruses already on your PC can't actively hide their presence or resist their removal, since they're not actively running.
You've got to admit that FixMeStick sounds appealing, especially if you're not exactly a computer whiz. But there are a lot of scams in this industry, so is FixMeStick among them, or is it the real deal?
Let's answer all your most important questions by starting with some background information.
Antivirus Basics
Wikipedia provides a concise definition of a computer virus:
"A computer virus is a malware program that, when executed, replicates by inserting copies of itself (possibly modified) into other computer programs, data files, or the boot sector of the hard drive; when this replication succeeds, the affected areas are then said to be "infected". Viruses often perform some type of harmful activity on infected hosts, such as stealing hard disk space or CPU time, accessing private information, corrupting data, displaying political or humorous messages on the user's screen, spamming their contacts, logging their keystrokes, or even rendering the computer useless."
In layman's terms, once your computer is infected by malicious software, it could run poorly and even hand your personal and financial information over to would-be scammers. But how can antivirus software help protect against viruses, and how does FixMeStick set itself apart from the competition?
How Anti-Virus Software Works: FixMeStick vs. the Competition
How Do Most Anti-Virus Software Works? Just like any other type of computer program, each piece of anti-virus software will work a little differently and implement a variety of features.
But according to How To Geek, in general, anti-virus software runs in the background (you're usually not aware that it's doing its thing) and scans every file you open. When you do this, it quickly compares the program to "known viruses, worms, and other types of malware," and then alerts you as soon as a threat is detected.
In addition to comparing files individually, most anti-virus software can also perform full-system scans in order to detect threats that might otherwise remain for months (or even years, if it's a program you rarely use).
Is FixMeStick Different?
Comparatively, the company advertises there are a couple of key distinctions with FixMeStick:
First, it leverages the power of 10 different antivirus programs at once: it's built upon three leading antivirus programs (McAfee, Avira, and Sophos), and accesses seven other online programs when in use, to provide "the broadest and fastest response to the latest threats."
Second, FixMeStick is a plug-in USB device that scans your computer before it boots, and before the infections start running, which they emphasize is the best approach, and one that the U.S. Computer Emergency Readiness Team recommends. Here's another concise summary provided by Wikipedia:
"The best and most reliable method for operating-system-level rootkit detection is to shut down the computer suspected of infection, and then to check its storage by booting from an alternative trusted medium (e.g. a "rescue" CD-ROM or USB flash drive).[70] The technique is effective because a rootkit cannot actively hide its presence if it is not running."
FixMeStick's Pro version "connects to the McAfee GTI and OPSWAT Metadefender file reputation servers to achieve up-to-the-second threat detection."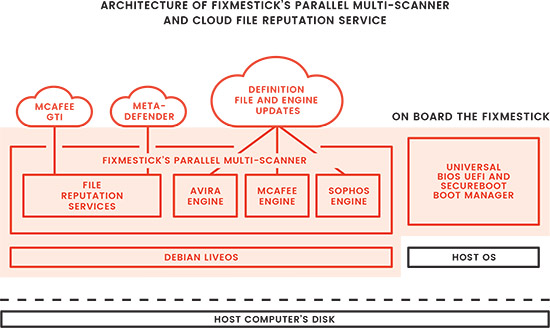 FixMeStick contains multiple scanners on the stick, and use more scanners in the cloud, which can help identify threats in advance. Credit: FixMeStick Technologies Inc
Is FixMeStick Just Another Registry Cleaner?
Whether you've been exploring different anti-virus solutions for a while, or just started researching all your options a couple weeks ago, you've probably encountered at least one scam disguised as a registry cleaner, which just ends up making your PC's performance worse—or that installs more viruses and malware.
However, FixMeStick is not a registry cleaner—and we definitely don't think it's a scam. Why? Let's take a look at a sampling of industry and customer feedback.
Online Customer Reviews For FixMeStick
FixMeStick has thousands of professional and customer reviews available online, most of which appear to be positive.
For example, PC Mag gave FixMeStick a four-star (excellent) rating, and liked that the device is bootable, easy to use, features three different scanning engines, and gives you the ability to undo in case you run into any problems.
On Amazon, FixMeStick had more than 1,800 reviews customer reviews and a 3.7-star average rating. There, customers liked that it was easy to use, provided effective results, and that the product is backed up by great support. On the other hand, some found that FixMeStick didn't work properly (whether it didn't identify known viruses or malware, and/or didn't effectively remove them), and didn't improve PC performance.
FixMeStick also received high ratings on HSN.com (341 reviews, 4.3-star rating) and Walmart.com (139 reviews, 3.7-star rating), with many of the same compliments and complaints noted on Amazon.
The anti-virus software is manufactured by FixMeStick Technologies based out of Montreal, QC.
How much will FixMeStick's software cost you?
How Much Does FixMeStick Cost & Where Can You Buy It?
FixMeStick is available in three different options:
A 30-day trial for $9.95 plus S&H, which allows you to install the software on up to three computers. Then, once 30 days have passed, you'll be billed the remaining $44.99 for a 1-year subscription.
One- year subscription for $59.99.
FixMeStick PRO, which allows you to install the software on as many computers as you like, for $299.99 per year.
Note: FixMeStick can also be found at a wide variety third-party retailers, such as Amazon, Walmart, Best Buy, Office Depot, HSN.com, and Fry's Electronics. To find one near you, visit the company's Store Locator page.
If purchased directly through the company, FixMeStick comes with a 45-day refund policy. And you don't even have to ship it back to the company. You'll also receive a virus removal guarantee, which states: "If your FixMeStick didn't remove your virus, let us know and we'll remove it manually for free."
If needed, FixMeStick also comes with unlimited free email, phone, and chat support, which you can initiate by contacting customer service at support@fixmestick.com, or calling 888-530-6125.
We've covered a whole lot of ground already, so let's go ahead and wrap things up.
Is FixMeStick a Good Anti-Virus Solution?
Remember the anti-virus article we mentioned at the beginning? Comparing FixMeStick to any of the free programs we discussed in it isn't really fair. Why?
Because FixMeStick is intended to work in tandem with them—or any other anti-virus program. Kind of like of like how a hammer and a nail are two separate things, but generally work better when used together.
So, if you haven't already, we'd recommend reading through the article and starting with some quality anti-virus software. However, if you are having a hard time cleaning an infected PC, based on their competitive pricing, length of time in business, ease of use and mostly positive online customer—and professional—feedback, you might consider adding the FixMeStick to your arsenal.
But keep in mind that if you're technically-minded, you can download each of the anti-virus programs the include yourself, create your own bootable device (this is actually the case with most anti-virus vendors) for free, and accomplish much of the same thing.
This company is actively collecting reviews from its customers. All reviews submitted are subject to moderation and approval to ensure they meet our

Review Guidelines

.

FixMeStick product and customer service

By Greg K.

,

Arizona

,

Mar 23, 2020
Verified Reviewer

FixMeStick customer service was always prompt and helpful. I wasn't sure FixMeStick would work with my laptop because I had Windows 7. Customer service assured me that it would and it did work. It cleaned five malware/viruses from my laptop.

Bottom Line: Yes, I would recommend this to a friend

---

Great online chat support

By Kevin L.

,

Calgary, Alberta, Canada

,

Mar 23, 2020
Verified Reviewer

I was reluctant to run my FixMeStick but it performed perfectly and cleared 57 potential threats! Support was always there if I got hung up but never needed them. Highly recommend FixMeStick as a piece of mind and clearing out unwanted threats.

Thank you.

Bottom Line: Yes, I would recommend this to a friend

---

Advertisement

---

Best computer product.

By Gary B.

,

Newfoundland and Labrador, Canada

,

Mar 20, 2020
Verified Reviewer

I*ve used this product now for years and it has found many viruses that I didn't know I had over the years, great product, and well worth the money. This product can find hidden viruses that can cause problems with the way you use your computer on a daily basis.

Bottom Line: Yes, I would recommend this to a friend

---

Got excellent responses with some need for more detail.

By James B.

,

Westmoreland, KS

,

Mar 20, 2020
Verified Reviewer

I had several items identified to be deleted. I am a MAC user and needed to go into Spotlight to get them deleted. I could have used a bit more detail, but overall the support was great. The product is very good, also.

Bottom Line: Yes, I would recommend this to a friend

---

Advertisement

---

FixMeStick not working.

By Fred A.

,

Bathurst, New Brunswick, Canada

,

Mar 18, 2020
Verified Reviewer

The FixMeStick seems to work fine on my other computers (2 regular PCs). But on my own PC it gives me black screens. I did the software update as demanded. Tried every option, always to end up with a black screen and a flashing cursor and a locked-up PC that requires a hard shutdown and reboot.

Bottom Line: No, I would not recommend this to a friend

Mar 19, 2020

Hi Fred,

It's possible you may need to use one of FixMeStick's alternate boot options to get it started on this computer (option 2 on your instructions). If you need assistance, please send us an email at support@fixmestick.com or chat with us on our website at https://www.fixmestick.com and we'd be more than happy to walk you through it!

Looking forward to hearing from you.

Best,

The FixMeStick Team

---

If this one works as well as my last one

By Thomas F.

,

Westmeath, Ontario, Canada

,

Mar 14, 2020
Verified Reviewer

I haven't got to using it as of yet but if it is as good as the last one I used, then I will be more than happy with it. Because of some mix up last summer, I did not receive my new stick. But this company went well beyond what I expected from them. This is a company that I would suggest anyone use if they are having computer problems.

Bottom Line: Yes, I would recommend this to a friend

---

Great product, great service

By Frank T.

,

Toronto, Ontario, Canada

,

Mar 11, 2020
Verified Reviewer

I am very pleased with FixMeStick. It is a good product and gets the job done. I scan regularly and on several occasions it has picked up viruses. On a couple occasions I had to contact their customer service department and was totally satisfied with the results. Keep up the good work.

Bottom Line: Yes, I would recommend this to a friend

---

FixMeStick

By Marie M.

,

Nova Scotia, Canada

,

Mar 10, 2020
Verified Reviewer

I received excellent service when I requested assistance this past week. The technician followed up on several occasions to endure I was successful in fixing my problem.

I certainly recommend this product and the technician service.

Bottom Line: Yes, I would recommend this to a friend

---

Outstanding product and great customer support!

By Hansel R P.

,

Georgia

,

Mar 10, 2020
Verified Reviewer

I've been a FixMeStick customer for many years now. I admit I was a little skeptical at first at using something that resembled a thumb drive. How could something like this update each time I plugged it into my USB Port without me doing anything? I admit, after the first few times of using it I was hooked on it. I told my friends about it who had been with another company for a while. I told them if you don't like it you can get a full refund before 45 days were up. Well, needless to say, they tried it. They called me and said "Rickey" this "FixMeStick found things on my computer that the program I've been using for years never found." And another thing, my computer is running faster than ever. I said are you going to keep it, you bet I am. Great!

Bottom Line: Yes, I would recommend this to a friend

---

Very satisfied

By Ginette B.

,

Montréal, Québec, Canada

,

Mar 7, 2020
Verified Reviewer

I have now used FixMeStick twice on my laptop and twice on my husband's laptop. Both were easy and worked great. I strongly recommend to use it overnight as it takes several hours. I recommend FixMeStick, it works really well.

Bottom Line: Yes, I would recommend this to a friend

---

Saved by professionals

By Charles G.

,

Wayne, NJ

,

Mar 7, 2020
Verified Reviewer

I have had FixMeStixk for several years and could not be more pleased.

The system works as they said it should and gives me peace of mind.

We recently moved and our computer crashed, everything was lost.

I contacted FixMeStick customer support (Laura), the response was timely, courteous, and resolved my problem.

I would recommend them and their product to all.

Bottom Line: Yes, I would recommend this to a friend

---