Gainful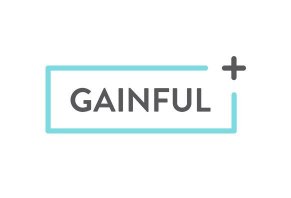 Summary
Gainful is a subscription protein powder company that promises to deliver you a personalized blend made from nutritious ingredients that's designed to help you meet your health goals.
Gainful Review: Is It Really Worth It?
Gainful is a subscription-based brand of protein powder that promises to deliver personalized blends based on your health and fitness goals.
The company offers a range of flavors and ingredients for customizing each blend, including whey-based, soy-free, vegan, gluten-free, and vegetarian protein options.
It's their stated goal to give customers complete transparency about the ingredients and benefits of every product, and they also offer access to a registered dietician to direct your questions as they come up.
Is Gainful's protein smoothie customization all gimmick, or is the company worth considering? In this article, we'll go through the facts so you can make the best decision for your situation.
How Does Gainful Work?
The first thing you do to receive Gainful is take a short online quiz. You'll start by disclosing your gender, height, weight and goal weight, exercise frequency, and favorite types of exercise.
The quiz then asks you to specify why you want to take protein powder from options like "lose weight," "build muscle," "recover after workouts," "improve sports performance" and more.
You'll next share how many meals you eat each day and whether you have any dietary restrictions. After you specify your average sleep level, you'll share your current and goal body types and when you plan to take protein powder.
Once the quiz is submitted, you'll receive information about the ingredients, nutrition facts, and instructions for your personal blend.
When I took the quiz, my blend contained the following:
79.9% whey protein isolate
8% maltodextrin
7.4% flavor stick
4.6% dextrose
Nutritionally, one full scoop (30 grams) contained 110 calories, 23 grams of protein, 5 grams carbohydrates, and 2 grams of sugar. Your information may differ.
The company specifies that each protein powder bag comes unflavored and that customers can select up to four "Flavor Stick" flavors per order of 28 servings (seven single-serving sticks per flavor). These include chocolate fudge, cookies & cream, French vanilla, strawberry milkshake, peanut butter cup, and caffe mocha.
Clicking on each flavor reveals its full ingredients list and nutrition information. You can contact your dedicated Registered Dietician for further details by sending an email to RD@gainful.com.
As for how to take the protein powder, the company recommends pouring 4 to 12 ounces of a liquid (they suggest milk) into a Gainful BlenderBottle and adding one to two scoops of protein powder and one to two Flavor Sticks before shaking to combine. Gainful recommends taking up two servings per day.
Regarding storage, the company suggests keeping your protein powder in a cool, dark place and preventing it from getting wet. Sealed packages should have a two-year shelf life.
What Ingredients Are in Gainful?
The ingredients in Gainful smoothies will vary based on your personalized blend. We'll comment on the company's most common protein ingredients and sweeteners. Note that your unique blend won't contain everything on this list.
Whey protein: Considered by Gainful to be the most popular dairy-based protein source, whey is the liquid that separates from milk in the cheesemaking process. It's typically filtered, dried, and powdered as a protein supplement

Sunflower lecithin: Per WebMD, lecithin is a naturally occurring fat that's often used as a food additive to keep ingredients from separating. It's considered safe in standard doses.

Pea protein and organic brown rice protein: Gainful combines these two protein sources in their vegan-friendly protein powders to provide a nutritionally complete amino acid profile.

Oat powder: According to Livestrong, organic oat powder is often added to protein shakes to boost the levels of iron, zinc, vitamin B, phosphorus, and other critical nutrients.

Tapioca maltodextrin: This starchy powder is used as a thickening agent and preservative. Medical News Today reports that it is generally considered safe, though the products that tend to contain it include highly processed foods that aren't safe to eat in excessive amounts.

Green tea extract: Green tea extract contains a catechin called EGCG that can work to promote weight loss by boosting your metabolism.
It's also important to note that Gainful protein powder blends are sugar-free. The company states that they only use organic stevia leaf and monk fruit extract, both of which are all-natural, and low-calorie.
If you prefer to not have any sweeteners or flavors, you can opt out of combining the Flavor Sticks with the powder.
Likewise, if you want a more concentrated flavor, they suggest combining your protein powder with less liquid, adding an extra flavor stick, or incorporating your own sweeteners like honey, fruit, agave, or maple syrup.
What Goals Does Gainful Promise to Help You Achieve?
Gainful's goal is to improve your health by increasing your protein intake. Will this make a difference for your health? We spoke with Lisa Richards, a nutritionist and creator of the Anti-Candida Diet, to get her take on the importance of protein.
"Protein is an essential macronutrient that your body needs to create hormones and enzymes, repair tissue, and build muscle," she said.
Richards told us that taking protein supplements like Gainful is a viable way to improve your health.
"The benefits of taking a good protein powder are similar to the benefits of eating high-protein foods," she told us. "[Protein powder] can also help you to maintain healthy energy levels, stabilize your blood sugar, and even lose weight."
One of Gainful's biggest selling points is that their personalized blends are formulated around your current health and long-term goals. Richards told us that's a positive, especially for those who might struggle to take in enough protein naturally.

"If you're not getting much protein from your diet, a protein powder can help to keep your energy levels up, build muscle, and maintain overall health. For vegetarians and vegans, a good protein powder is a very useful way to fill gaps in their diet."
But regarding Gainful's claims that their protein blends can help you lose or gain weight, build muscle, or recover faster from workouts, Richards challenges whether they will help you achieve them with the precision they promise.
"There is not enough evidence to accurately tailor protein powders to individuals. [For example], there are no studies that tell us which people will do better on a specific type of protein powder."
What Is The Cost?
Gainful is sold through a subscription-based model only.
The company offers four, six or eight-week subscription plans, and each order includes a 28-serving bag of protein powder, 28 flavor sticks, and one plastic scooper. It's possible to adjust, pause, or cancel your subscription at any time.
The price per serving depends on your subscription frequency. Below was the pricing per serving at the time of writing:
| Subscription Frequency | Price | Price Per Serving |
| --- | --- | --- |
| Four-week | $49 | $1.75 |
| Six-week | $51.80 | $1.85 |
| Eight-week | $55.72 | $1.99 |
If you're looking for a higher delivery frequency or more servings per shipment you can message the company at hello@gainful.com.
Priority shipping is listed as free for all orders. You also have the option to purchase a $5 Gainful BlenderBottle (otherwise priced at $14) when you start your subscription.
Our Bottom Line: Should You Invest in Gainful?
Gainful lets you adjust every ingredient within your blend so that the resulting powder matches your dietary preferences.
Saying that, there's less evidence that Gainful's personalized protein blends will deliver the targeted results they promise. We read several customer reviews that called the company's customization quiz a sale's gimmick, and the nutritionist with whom we spoke doesn't think there's conclusive research on the accuracy of tailoring protein powder to individual needs.
Even so, customer reviews for Gainful are overwhelmingly positive and many people reported that they preferred the flavor and texture of this protein powder over the competition.
That's why we think that Gainful makes sense so long as you keep your expectations realistic. If you value having control over the ingredients in your protein powder and you don't mind receiving it on a subscription basis, then this brand is for you.
If, in contrast, you have more flexibility on flavors and protein sources, we think you can find another brand of protein powder that delivers similar health results for a lower cost per serving.
One thing to keep in mind is that all protein powders are technically processed foods, which is something best taken in moderation.
Customer Reviews