Gundry MD Prebiothrive
Claimed This company has claimed this profile, is getting alerted on any new customer reviews entering this page, and may engage in dialogue with its customers to address their matters.

Companies cannot pay money or provide goods in order to remove or alter customer reviews.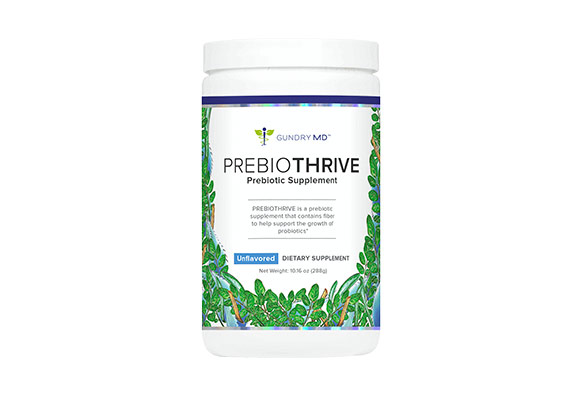 Gundry MD Prebiothrive is a once-daily supplement that allegedly feeds good bacteria in your gut and limit bad bacteria, thereby increasing digestive health and energy. However, some information is lacking to make further conclusions on the supplement's efficacy.
---
This company is actively collecting reviews from its customers. All reviews submitted are subject to moderation and approval to ensure they meet our

Review Guidelines

.

One month taking prebiotic

By Nancy Z.

,

Salem, OR

,

Jun 20, 2019
Verified Reviewer

Overall Experience:

Very easy to drink.

My idea of making it better - it has chunks, time-consuming to mix with water, and my schedule is usually a rush. I mix and I have to drink it with chunks, sometimes I gag.

Bottom Line: Yes, I would recommend this to a friend

---

I love this product

By James C.

,

Brockton, MA

,

Jun 20, 2019
Verified Reviewer

Overall Experience:

I love the "Prebiothrive" because it works. I got to tell you, I was a bit skeptical at first but then I received the package and unwrapped it right away, I mixed a scoop of the "Prebiothrive" in a 4-6 oz. of water and omg, it was a wow moment after I drank it all down, I started feeling it right away.

Bottom Line: Yes, I would recommend this to a friend

---

Advertisement

---

Good

By Heather T.

,

Dry Ridge, KY

,

Jun 19, 2019
Verified Reviewer

Overall Experience:

It has been good, and there is no taste. I have IBS so my tummy takes time to adapt to new things. With stomach issues it is hard to try new things and have my body adapt quickly and stick to it. I am not perfect at following the diet because I work in a small town and have limited resources.

Bottom Line: Yes, I would recommend this to a friend

---

Positive effects

By Thomas C.

,

Happy Valley, OR

,

Jun 19, 2019
Verified Reviewer

Overall Experience:

So far so good...I have been taking the product for a couple of weeks and although I am not noticing anything dramatic, I am noticing an overall feeling of well being. I feel the biggest difference is that my digestion seems to be better.

I work diligently on health and then I can only say I felt great before taking the product and I feel even better now. Gut health is ignored by so many and I really wish that I could convince everyone I know to purchase a little much-needed insurance with this daily dose of "good."

Bottom Line: Yes, I would recommend this to a friend

---

Advertisement

---

More results to come?

By Terri M.

,

Spokane, WA

,

Jun 19, 2019
Verified Reviewer

Overall Experience:

I've been taking this for about a month now. I strongly feel it has made my bloat and full feeling go away. I've lost a few pounds while taking it but was hoping for more weight loss. I usually only eat once a day. Maybe a healthy snack mid-day, then a light healthy dinner. But not much weight loss. I will continue with the next two bottles I have left and see what happens. It feels nice getting rid of all the bloat I had though!

Bottom Line: Yes, I would recommend this to a friend

---

Surprised at several improvements in my well-being.

By Richard M.

,

Pittsburgh, PA

,

Jun 19, 2019
Verified Reviewer

Overall Experience:

I started using Prebio on June 3rd. The first week I experienced my bowel system was normal and REGULAR, which was my normal condition all my life until several months ago. What a pleasure!

Another surprise and bonus I experienced was my lower blood sugar readings. I take my readings every morning before eating. I monitor my diet carefully watching my carb intake and general sugar awareness. My sugar readings dropped from the 160+ range to the low 140's every day the first week. Even after pasta dinners and potatoes or rice. Is this an expected result that will continue? I started using a mixing spoon but got lumps and residue on the bottom.

Switching to a small shaker solved that problem. I don't think my first container will last 30 days. Should the scoop be solid full and leveled off?

Bottom Line: Yes, I would recommend this to a friend

---

Off to a good start

By Brenda C.

,

Florida

,

Jun 18, 2019
Verified Reviewer

Overall Experience:

I started it a month ago. After just 2 days I no longer had the bloated feeling. My abdomen wasn't pooched out like I had eaten Thanksgiving dinner. I take it first thing in the morning. I have noticed I am not hungry for at least a couple of hours after that. So it has taken a bit of adjustment to get my eating times realigned, but I am ok with that. I haven't noticed any significant weight loss but I am committed to a couple of months before making any final judgments.

Bottom Line: Yes, I would recommend this to a friend

---

Love it

By Sara L.

,

Georgia

,

Jun 18, 2019
Verified Reviewer

Overall Experience:

I love it but it does not dissolve very well, but that is not a deal breaker. I feel better, more alert, and that is great for an old lady. I am looking forward to reversing some illness that I have.

Bottom Line: Yes, I would recommend this to a friend

---

Prebiothrive

By Sylvia R.

,

York, PA

,

Jun 17, 2019
Verified Reviewer

Overall Experience:

I decided to try Prebiothrive due to the many issues having with my gut. I had issues with bloating, terrible gas, craving on a daily basis, which weren't getting any better, with things I have tried. So decided to give this a try. Ok, so I hit my one month, or 30 days, using this product. A lot of my cravings for most sweets have disappeared, and gut issues have improved, for the better, so I have ordered 3 extra bottles at a reduced rate. This will take me through another 3 months. So even if you don't get 3 extra bottles, you should try using the product to see what great results you get. If it can relieve a lot of your problems, why not give it a try today? What do you have to lose, you'd feel better, and get healthier? They also have several other products to use for different purposes.

Bottom Line: Yes, I would recommend this to a friend

---

Best product I've ever taken for gut and overall health.

By Anthony S.

,

Texas

,

Jun 17, 2019
Verified Reviewer

Overall Experience:

Prior to ordering this product I was taking probiotics only. I've always been an advocate of gut health. I've had colon cleanses as well as periodical fasting. After listening about repopulating your gut with its own good bugs, I pulled the trigger on this product. I immediately saw a change in the frequency of bowel movements. I'm still anticipating the sugar cravings to cease. I've seen my bloating decrease. After reading about some foods to avoid, I eliminated from my diet i.e. lentils, cashews, grains, tomatoes. I travel a lot to other countries on mission trips so I'm quite cognizant of what I eat thanks to Dr. Gundry's knowledge. I take this product faithfully every day.

Bottom Line: Yes, I would recommend this to a friend

---

Average

By Connie D.

,

Kansas

,

Jun 17, 2019
Verified Reviewer

Overall Experience:

I used this product for 3 months, do not see any change...thought would help with constipation...nope, no change at all.

I have finished 2 and 1/2 containers, I think that is enough.

I am going to stop the product before I get any more...

Bottom Line: No, I would not recommend this to a friend

Jun 18, 2019

Connie, I'm very sorry to read that PrebioThrive was not the right fit for you. Please email me at aria@gundrymd.com and I'd be more than happy to get the refund process started for you immediately.

---