Gundry MD Primal Plants Reviews
Claimed This company has claimed this profile, is getting alerted on any new customer reviews entering this page, and may engage in dialogue with its customers to address their matters.

Companies cannot pay money or provide goods in order to remove or alter customer reviews.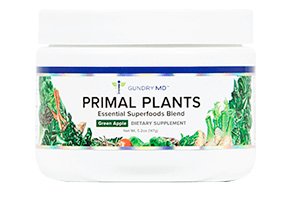 The Gundry MD Primal Plants supplement can be added to any drink, and if taken daily, promises to solve your facial redness, other skin problems, and more.
---
This company is actively collecting reviews from its customers. All reviews submitted are subject to moderation and approval to ensure they meet our

Review Guidelines

.

Primal Plants

By Dan

,

Hawaii

,

Jan 29, 2017
Verified Reviewer

Overall Experience:

I use a scoop every morning in my smoothie, and I feel energized at work all morning!

Bottom Line: Yes, I would recommend this to a friend

---

Primal Plants

By Ken Lindsay

,

Fort Lauderdale, FL

,

Jan 30, 2017
Verified Reviewer

Overall Experience:

This product awakened every fiber of my being. I felt more alive and more energetic than I have in years.

Bottom Line: Yes, I would recommend this to a friend

---

Advertisement

---

Awesome stuff

Indianapolis, IN

,

Jan 31, 2017
Verified Reviewer

Overall Experience:

My soul purpose for trying Primal Plants was due to me having acne in my mid 50's. As a skeptical African American female, I told myself I had nothing to lose but a lot to gain. With the 100% guarantee or your money back, I decided to try it.

So guess what? After drinking Primal Plant for only fifteen days now I have not experienced any acne breakouts. I also enjoy the taste. Thank you, Dr. Gundry, you have given me my self-confidence back. Thank you, thank you, thank you!

Bottom Line: Yes, I would recommend this to a friend

---

Overall Experience:

I have just recently purchased Vital Reds and Primal Plants. I was not expecting a miracle, but that's what I have received. I saw the add for the products on Facebook and watched the video. I thought "what the heck, I'll order it and try it".

Back story: I had been experiencing chest pains for some time and did not want to undergo another heart cath. My diet is fairly innocuous, and I don't eat fried foods, don't frequent fast food chains, and don't smoke or drink. I eat red meat rarely since I'm more of a vegetable person. I also don't exercise. I do take a fair amount of supplements.

Long story short, I have been using the Vital Reds and Primal Plants for about a month now. My energy level has increased, and wonders of wonders, my chest pain has disappeared! It disappeared right from the start and has not come back. I will be using these products from now on.

Bottom Line: Yes, I would recommend this to a friend

---

Advertisement

---

Overall Experience:

The Primal Greens I drink in the mornings and Vital Reds in the afternoon. Both seem to give an extra boost and a fresh feeling. I have just started using the Prebiothrive and mixing this with Vital Reds and all seems good. I am very happy with the results.

Bottom Line: Yes, I would recommend this to a friend

---

Overall Experience:

I am enjoying my Primal Plants powder mix. I was puzzled when I broke the seal on the first jar. The ingredients listed no fruit, but it smelled like either apples or bananas. I am allergic to fruit, but I have had no allergic reaction. The taste is great, and it gives me more energy. Good job.

Bottom Line: Yes, I would recommend this to a friend

---

Primal Plants

By Sarah Aubrey

,

Cynthiana, KY

,

Feb 4, 2017
Verified Reviewer

Overall Experience:

Since taking this product, I have seen a big improvement in my digestion. I have always had problems with my bowels, and since taking this constipation has greatly improved. I have to say that the taste took some getting used to, but after a few days it's not bad. The benefits are worth having to get used to the taste.

Bottom Line: Yes, I would recommend this to a friend

---

Best greens I've ever tasted!

By Paula

,

Los Angeles, CA

,

Feb 4, 2017
Verified Reviewer

Overall Experience:

I have been an Anthony Robbins fan for many years. He got me drinking green drinks years ago before it was "in Vogue." So, when I read that Dr. Gundry was his doctor, I was sold! Of course, his credentials were also a huge reason I signed on. So far, I've only been drinking it for one week, but I am looking forward to having less joint pain and more energy soon. This is also the very BEST tasting green drink I've ever had. Thank you.

Bottom Line: Yes, I would recommend this to a friend

---

Overall Experience:

I ordered and began taking Primal Plants for a number of reasons.

1. Dr. Gundry has an impeccable reputation in the medical community. For him to attach that reputation to a product speaks volumes.

2. I have represented two of the major nutraceutical manufacturers that only sold to physicians. Due to this, I have an extensive understanding of botanicals and how they work. I immediately recognized the quality of Primal Plants.

3. Due to my busy schedule and lack of interest in cooking, Primal Plants allowed me to receive all the benefits of its ingredients in a good tasting, easy to take formula.

Bottom Line: Yes, I would recommend this to a friend

---

Overall Experience:

I just wanted to share a short review of a recent purchase I made. The supplement is very good and tastes perfect for my palette. The delivery was longer due to my location, and unfortunately, I had to pay a customs duty of 79 pounds sterling ($98.95), which will make future purchases impossible.

That being said, my experience from the team at Gundry MD was second to none, and I look forward to feeling the benefits of using the Primal Plants already purchased. Thank you very much.

Bottom Line: Yes, I would recommend this to a friend

---

So far so good

By Catherine

,

Knowlton, Quebec, Canada

,

Feb 10, 2017
Verified Reviewer

Overall Experience:

It's been seven days since I started using Primal Plants. First, it smells good. Second, it tastes good. Third, I'm peeing like crazy.

Bottom Line: Yes, I would recommend this to a friend

---