Hubble Contacts Reviews
Claimed This company has claimed this profile, is getting alerted on any new customer reviews entering this page, and may engage in dialogue with its customers to address their matters.

Companies cannot pay money or provide goods in order to remove or alter customer reviews.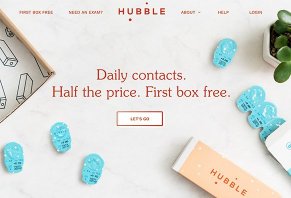 In business since 2016, Hubble Contacts specializes in manufacturing their own high-quality lenses and selling them direct to consumers, helping you to save more money.
About Hubble Contacts
By avoiding steep industry markups that can cause you to pay way more than you should, Hubble Contacts promises to deliver high-quality daily contact lenses right to your door, at half the prices of the other guys.
In fact, the company allows all patients with a valid prescription to receive 12 pairs of lenses for free upon signing up for a subscription. Then, you'll pay about $1 per day after that.
To sign up for a Hubble account, you'll only need to enter your left and right eye power, your doctor's state and name (you can also search by address and business name), and your name and email address, and then check out. If you need an eye exam, they'll also help you schedule a doctor's visit in your area.
For many of us, contact lenses are an essential part of everyday life. In other words, our quality of life could be severely impacted if we didn't have them. They're also expensive and not always convenient to pick up, which is where Hubble Contacts claims to help.
Are they necessarily your best, or least expensive, option? Are there any considerations to keep in mind before signing up for a subscription? Find some answers here by reading about what we learned during our research.
Looking For More About Hubble's Contacts Lenses?
The Hubble website tells us their lenses are manufactured using state-of-the-art injection molding by Taipei-based St. Shine Optical Co., from a "high-grade methafilcon-A hydrogel material with 55% water content, UV protection, and a thin edge."
We're told they have been approved by the FDA for sale in the US for more than 14 years and are "designed for easy insertion, all-day comfort, and crystal clear vision." Through an independent University of Houston College of Optometry double-masked study, they were even verified to be as comfortable and sharp and popular U.S. brands.
Powers range from -0.50 to -12.00, and +0.5 to +6.00, with a base curve of 8.6 and a diameter of 14.2.
As noted earlier, all Hubble Contacts orders require a valid prescription from a doctor, including:
Your name
Prescription expiration date
Prescriber's name
Power, base curve, manufacturer, diameter, and contact lens material
Important note: Hubble's contact lenses are only designed for individuals with no or mild astigmatism (less than -1.00 cylinder). If you have a more significant diagnosis, the company's site indicates they're planning to offer toric lenses (those specially designed for astigmatism) soon.
Finally, while they currently only sell daily lenses, Hubble tells us that they're also investigating bi-weekly and monthly lenses, although they'll need to meet the same safety and comfort standards as their dailies.
For more detailed specifications, we'd strongly recommend reading through Hubble's Wearers Guide.
Exactly what price will you pay?
How Much Does Hubble Contacts Cost & Are They Covered by Insurance?
Even with Hubble' initial free offer, keep in mind that you'll still pay $3 S&H, which will take about 5-10 business days to arrive in a 100% recyclable box. The service is currently only available to residents of the United States, certain U.S. territories, and U.S. Military locations.
14 days after your initial two-week free trial, you'll pay $30 per month, plus $3 S&H, for 30 pairs of lenses. You can change how frequently you receive shipments and Hubble will always reach out to you before contacting your doctor to re-verify your prescription.
The contats provider doesn't deal directly with insurance providers, although you can use your emailed receipt to apply for reimbursement through your carrier. You can pay using your FSA or HAS account, as long as it's associated with a major credit card.
All orders come with a 30-refund policy, but this only applies to those where the outer shipping box remains unopened. If your prescription changes, you can ship your old strength back and they'll re-send the correct pair.
If you have questions, Hubble's support department can be reached at 844-334-1640 or help@hubblecontacts.com
What Can We Learn From Hubble Contacts Customer Reviews?
StarterNoise found Hubble's sign up process super simple and the shipping much faster than it would have taken to get an appointment with their doctor, place the order, and drive to pick them up. Not to mention the much lower price.
Their first impression was that the lenses were incredibly comfortable. Although they found them a little difficult to take out, resulting in some red, irritated eyes for a couple of minutes afterward.
Similarly, Bre Payton at The Federalist writes that her Hubble Contacts were very soft and flexible, didn't cause dry eye, and were very competitively priced. "The guys over at Hubble should really be paying me to be their spokesperson, because I have yet to shut up about them," she concluded.
A handful of readers also left their firsthand feedback on a Reddit thread. As might be expected, some noted they were comfortable and didn't feel the lenses at all, while another noted they weren't as comfortable as their current Acuvue lenses.
One doctor chimed in noting that, in their experience, lenses that use the same methafilcon A material (55% water) and feature a DK value of 18 as Hubble's lenses "are not very popular."
From a company perspective, Hubble Contacts was co-founded in May 2016 by Ben Cogan and Jesse Horwitz.
Ben earned his degree in Philosophy from Princeton and previously worked as a Senior Customer Insights Associate for Harry's Grooming and an Associate at The Boston Consulting Group. Jesse graduated from Harvard Law School and held positions as Founder of Gadfly Capital and Investment Analyst at Columbia Investment Management Company.
Vision Path Inc. (aka Hubble Contacts) wasn't rated with the Better Business Bureau as of 5/16/17, although they did have four closed complaints. Only one of these provided details, which referenced difficulty obtaining proof of purchase.
Hubble vs. LensDirect, 1800Contacts, & Lens.com
Type the phrase "discount 1-day contact lenses" into any search engine, and you'll be met with hundreds of relevant results, including national brands like Acuvue from big hitters like 1800contacts, Lens.com, and LensDirect, to name just a few.
Many of these companies claim to offer 70% (or more) off name brand contact lenses, but how do their prices compare to Hubble? Here's a quick sampling of some of the prices we encountered at the time of our research:
| Company | Lens Model | Price/Quantity | Details |
| --- | --- | --- | --- |
| Hubble Contacts | 1-Day Contact Lenses | $30, 60 lenses | Methafilcon-A, 55% water content |
| LensDirect | 1 Day Acuvue Moist 30 Pack | $30.58, 30 lenses | 42% etafilcon A, 58% water content |
| Lens.com | 1 Day Acuvue TruEye | $54.94, 90 lenses | 54% narafilcon A, 46% water content |
| 1800Contacts | 1-Day Acuvue Define | $94, 90 lenses | Etafilcon A, 58% water content |
According to Everyday Health, 90 percent of contact lens wearers use soft options, the same as Hubble. And while daily disposable lenses might offer the lowest maintenance, they also tend to cost more, but they might be ideal for those with allergies.
Pro tip: All About Vision emphasizes that, while daily disposables might cost more than their longer-term brethren, this could be offset by the money saved on care products.
The American Optometric Association also notes that daily disposable contact lenses can work great for those with active lifestyles and often involve a very short adaptation period, but they're not available for all vision problems and may not offer the same level of crispness as longer-wear models.
The best way to decide? Talk with your doctor who can recommend options based on your specific diagnosis, needs, and preferences.
Our Final Thoughts About Hubble Contacts
As we can see from the table above, the cost of Hubble's lenses comes in right at $1 per day, which is about half the cost of a similar daily from Acuvue through LensDirect and 1800Contacts.
Coming in a little closer, Lens.com's 1 Day Acuvue TruEye was priced at about $1.22 per day, while the Acuvue Oasys 1-Day with Hydraluxe was slightly higher at $1.45 per day.
Bottom line? It seems that Hubble has found itself a niche in the marketplace by manufacturing their own high-quality contact lenses and shipping them directly, thereby providing prices that are anywhere from 20 to 50 percent less expensive..
Perhaps the only downside is that, like any other contact lens retailer, you can't return your Hubble Contacts if they don't match your preferences. However, all new subscriptions come with a free two-week trial (less $3 S&H), which should be more than enough time to figure out if they work for you before receiving your next shipment.
Did Hubble's contacts help you see better at a lower price, or did they not meet your needs? Whatever happened, tell us all about it by writing a review below.
This company is actively collecting reviews from its customers. All reviews submitted are subject to moderation and approval to ensure they meet our

Review Guidelines

.

Charged before finishing trial

By Dan B.

,

Denver, CO

,

Mar 31, 2020
Verified Reviewer

Tried Hubble Contacts and was charged for subscription 16 days after order when they gave me 15 pairs of contacts. They do not allow time for shipping of the contacts and enough days to use the contacts. I did not have time to use the full trial before I was charged. Called customer service and they said they could not do anything. Feel like I was forced to purchase something I do not want.

Bottom Line: No, I would not recommend this to a friend

Mar 31, 2020

Hi, Dan,

Thank you for taking the time to write your review and share your experience. I am sorry to hear that you are unsatisfied with our subscription model. Your second box is shipped out 16 days after you place the initial free order. This is to ensure that you do not run out of lenses before your next shipment arrives. You are able to view and edit your delivery schedule by logging into your Hubble account. We try to make this clear throughout the ordering process. Please make sure to call our cancellation line at 1-844-334-1640‬ between 9 AM and 5 PM EST, Monday through Friday, or 1PM to 5PM EST, Saturdays excluding federal holidays. Thank you!

Best,

Sophia

---

Great price

By Abigail Y.

,

Summerville, SC

,

Mar 23, 2020
Verified Reviewer

Love that I don't have to remember to reorder every month, they are right on time! I like the automatic payment method and it truly is worry-free. I would recommend these contacts to everyone.

Bottom Line: Yes, I would recommend this to a friend

Mar 25, 2020

Hi, Abigail,

Thank you for your lovely review! I'm so happy to hear that you're loving the Hubble Contacts service and that the subscription is working out perfectly for you! It's great to have you in the Hubble family :)

Best,

Sophia

---

Advertisement

---

Can't cancel when I wanted to

By Shailey G.

,

Bedfordshire, England

,

Mar 21, 2020
Verified Reviewer

I have tried to cancel on more than one occasion because I don't need any more contacts. Very difficult to do so. I would have appreciated more help from the customer service team. Would not recommend to friends as I have not found the service to be very good with half of the last order of contact lenses also being split and unusable.

Bottom Line: No, I would not recommend this to a friend

Mar 25, 2020

Hi, Shailey,

Thank you for taking the time to leave this review. I'm sorry to hear that you have had some trouble canceling your subscription. I've sent you a private message to help you resolve this! Thank you!

Best,

Sophia

---

Upset customer

By Jennifer R.

,

Liverpool, England

,

Mar 21, 2020
Verified Reviewer

I had a Hubble subscription for a relatively long time, I tried to change my prescription and was met with an email. I expressed I didn't understand so I sent a copy of the script in but then to receive a rude unsatisfactory email response. I gave up and canceled, taking my business elsewhere.

Bottom Line: No, I would not recommend this to a friend

Mar 25, 2020

Hi, Jennifer,

Thank you for taking the time to leave this review. I'm sorry you had such an unpleasant encounter with one of our associates. I'd like to find out more about what happened. I've reached out privately so we can discuss your account details from there. Thank you!

Best,

Sophia

---

Advertisement

---

Horrible product, worst customer service

By Bailey A.

,

Campbell River, British Columbia, Canada

,

Mar 10, 2020
Verified Reviewer

I canceled my subscription back in December 2019 because I didn't like the contacts. After canceling I was still charged. It took nearly a month to receive a refund. Now, March 2020, and this RIP off of a company is STILL charging my bank account and I just noticed. I am beyond angry, and they are completely unsympathetic or apologetic. Worst company ever.

Bottom Line: No, I would not recommend this to a friend

Mar 12, 2020

Hi, Balley,

Thank you for taking the time to leave this review. I am sorry to hear that this has happened. I would like to look into what happened so I sent you a private message.

Best,

Sophia

---

Very disappointed

By Laura J.

,

St. Louis, MO

,

Mar 6, 2020
Verified Reviewer

I am really disappointed in this company. I ordered the trial pairs, assuming that I had 30 days to try them before I would be charged for the next shipment. However, the fine print is that you have 16 days from the ORDER date (not when you receive them and I received mine a full week after the order date) to make your decision to cancel or not. Because I was currently wearing monthly contacts and was almost done with the month, I chose to wait before I tried them - a HUGE mistake because by the time I tried them, Hubble already charged my account and sent out a month's supply. When I contacted Hubble about this matter and inquired why I did not receive a preliminary email before charging and sending as I do with every other subscription service I have, they said that they don't have a system put in place yet. To me, that is not good enough. It makes me feel like I have been scammed, and they are hiding behind their "fine print." They are quick to highlight the fine print to make sure that you know you are "wrong." While extremely annoying, this is not the biggest deal.

The biggest deal is that these contacts don't work! My vision is extremely blurry with the Hubble contacts, despite having the correct prescription. I do not have astigmatism or any other abnormality that would suggest that these contacts would not fit/be the right strength/etc.

When I contacted Hubble, they referred to all the fine print provided on the website, refused to give me a refund, and refused to accept the shipment back, even though the package was never opened - citing health regulations. So, now I'm out $39 and the landfill has 30 pairs of contacts that can't be used. What a waste!

Bottom Line: No, I would not recommend this to a friend

Mar 12, 2020

Hi, Laura,

Thank you for taking the time to leave this review. I'm sorry to hear that these lenses were not comfortable for and you are unsatisfied with our subscription model. I would like to look into this for you, so I sent you a private message asking for more details.

Best,

Sophia

---

I found them very uncomfortable

By Jennifer G.

,

British Columbia, Canada

,

Feb 29, 2020
Verified Reviewer

I was surprised to see people said these were comfortable. I find them very uncomfortable within an hour or 2 of wearing. Even sometimes when I first put them in they are uncomfortable. I found other brands much more comfortable for all-day wear.

I also found the cancelation process to be difficult. You should not have to make a phone call to cancel. Logging into your profile and canceling should be all it takes. If a company has a good product they don't need to make the cancellation process so difficult. Just sayin'.

Bottom Line: No, I would not recommend this to a friend

Mar 12, 2020

Hi, Jennifer,

Thank you for taking the time to leave this review. I am sorry to hear that you are unhappy with our cancellation policy and that the lenses are not comfortable for you. I can see that your subscription is still ACTIVE. I would like to personally help you with canceling, but we currently do not have a way to cancel on this forum. However, rest assured that the cancellation call is usually completed within 3-5 minutes of your time. Please be sure to cancel your subscription to avoid upcoming charges and deliveries. To cancel, just give our cancellation line a call at +1 647 557 7765, between the hours of 9 AM and 5 PM EST, MONDAYS - FRIDAYS excluding Federal Holidays. Also, I have skipped your 2 shipments so you have enough time to call us and cancel your subscription.

If you have any questions, please do not hesitate to let me know, by sending an email to help@hubblecontacts.com with the subject line "ATTN: HighYa" and I'll be glad to provide answers and help, however I can. Thank you!

Warm regards,

Sophia

---

Affordable and easy

By Kyllie S.

,

Kent, United Kingdom

,

Feb 22, 2020
Verified Reviewer

Hubble Contacts are easy to order, affordable, and hassle-free. You get your order every month for as long as you wish. They are extremely comfortable to wear and cause no aggravation. On the odd occasion I forget to take them out, they do not affect my eyes adversely. I'm extremely happy that I can avoid all the extra stress that comes from having to go to the optician to get an eye test to receive my repeat order on eyes that haven't changed prescription in 10 plus years. I am also disabled so getting to an eye exam is a lot of pain and aggravation, Hubble lets me avoid all of that.

Bottom Line: Yes, I would recommend this to a friend

Mar 9, 2020

Hi, Kylie,

Thank you for your review! I'm glad you find Hubble extremely comfortable to wear, hassle-free and that our affordable prices working out so well! It's great to have you on board.

Best,

Sophia

---

Comfiest lenses I've tried

By Angela D.

,

Scotland, United Kingdom

,

Feb 21, 2020
Verified Reviewer

I've been using Hubble lenses for over a year now and they are by far the best lenses I've used so far! I used to pay £45 a month for lenses from Specsavers that I could only wear a maximum of a few hours a day and that was the best they had to offer me. I now pay £27 a month to Hubble and I wear my lenses all day every day and never have any issues!

Bottom Line: Yes, I would recommend this to a friend

Mar 9, 2020

Hi, Angela,

Thanks for your lovely review and for sticking with us for so long! Glad to hear you're enjoying our affordable prices and convenient service. :)

Best,

Sophia

---

Quick, convenient, and comfortable!

By Pamela S.

,

Oxon, England

,

Feb 21, 2020
Verified Reviewer

I've been using Hubble contact lenses for around 18 months now and I'm really pleased with them. Initially, when I took the trial box I thought they'd be uncomfortable and that I'd be removing them before the end of the day but I was pleasantly surprised with the quality.

The best thing about having your lenses on a subscription like this is that you can suspend the supply for a month or so if you've built up a surplus. This facility came in really handy over Christmas, as you can imagine.

I wouldn't hesitate to recommend Hubble to others, although if your prescription is more complex, with astigmatism, for example, then you'd be better off with tailor-made lenses for regular wear.

All in all, it's a great service with very helpful customer service and high-quality products.

Bottom Line: Yes, I would recommend this to a friend

Mar 9, 2020

Hi, Pamela,

Thank you for writing your review! We're so grateful you've been a long time Hubble customer! It's great to know we were able to provide helpful customer service and the subscription is working out perfectly for you! Happy to have you in the Hubble family :)

Best,

Sophia

---

Buyer beware! I tried to ask for a FAIR refund as they sent AUTO charge contacts to an address I no longer live at!

By Patricia P.

,

Missouri

,

Feb 9, 2020
Verified Reviewer

I am an older elderly woman, and I am not familiar with these online sites, but don't fall for the one from HubbleContacts.com scam, because mainly it is another one of those clickbait sites, which promises false advertising, you will be a victim of a highway robbery attempt. I mean attempt because while most of us are slaves here in America, we work from bright in the morning and until sun down all day, the very last thing we want to do or have time for is canceling a service which we were so kind to try out. The customer is always right, but is the customer always treated ETHICALLY? Well, in this case, this company promises contacts all month for only $1. Which this is the deal and they hold up to it, now the game is, they are expecting you will forget that your debit info is in their hands and after this trial period, THEY WILL CHARGE you silently without asking for as many times as they can. They maybe want you to overdraft, but I was purchasing this as a gift for my son, which he only used one set and all of them were lousy and when he would put them in they were already bag or torn.

So, what happened is I have paid for several months' supplies of these boxes of contacts which I never wanted or paid for ordering. When I asked them to refund me, they actually told me it is too late, and the problem with this is I don't even have any of those boxes as I don't live at these addresses anymore. So even worse I am paying for products I am not receiving, but even if I was, I WAS NOT EVER AWARE THAT I WAS PAYING for this. If they are an honest and ethical company they would give a refund for every single order. As I never asked or my son never asked to be on their mailing list. They will constantly attempt to charge your charge, they are very hard up for your money, so much so they know they are a con artist operation, it is sad that in this day in age there are companies still being dishonest like this. They know exactly what they are doing, that you trust them with your debit information and that you won't be charged over and over again for something you don't want, never received, was not a full product as advertised/torn, it isn't anything we wanted and never agreed to constant repeat purchases.

I canceled but I want my money back, so I am leaving a ZERO STAR review. I wish I could say it was a good experience. The true truth is that a GOOD ethical honest company will call or email and ask if you liked the services and if you will want to reorder. They won't do this because they never would stay in business, again making this a sneaky scam and they pull off getting your wallet numbers, by one thing known as TRICKERY. Promise something for free or really super cheap, they don't commit to being honest or offering a quality product. I suggest going with the real-deal people such as 1-800 Contacts or someone that is being honest, and charges you outright and would refund you if they didn't deliver what they advertise and tell you that you are getting.

So, the other thing is I can't reach them as I work non-stop and pay bills just like every other hard-working slave in this country. So I will forward this to my son, who is a huge network marketer and reaching millions of people, and tell him to put a blog together and put Hubble on the DO NOT TRUST LIST, or "do not fall for this scam article" blog. He will most likely do a video on this, the sad part is he really liked the idea and the approach Hubble took, and now we are very disappointed to see it was yet another 7-day or 30 days UP AND WE ARE CHARGING YOU SCAM. These are the evilest and wicked of scams, as you also can't get your money back. These sort of companies are like mosquitos or parasitic players in the game that when you pass over them, you think they are a benefit at first, but then you realize they are more harm than good, they will suck you dry, one mosquito at a time, they all add up, and a big bill happens, while you have other bills or even an overdraft now. There is NO effective communication with these type of people either, they really don't care about it, you passed over their booby trap and their motive is that they shrug it off and say "Oh well, too bad, well we will skip a month and wait for you to call us to cancel." Well, guess what Scam Artist, I have ZERO DAYS OFF and I work religiously, at least I work for an honest company, can you say the same? How can you look in the mirror and know that you are an archon who has only made it this far to be a HIDEOUS dishonest slave, at least the company I work for is HONEST and ETHICAL and hard-working? Go work for a real company that doesn't make their profits by ripping off people.

I will post this on Ripoff Report, Scam Report, Trustpilot, and any others such as Google Review, etc., Facebook, or whatever. I hate to do it, but I needed an extra $60-$90 which was not there due to this site's deceptive trail to the trial version BS. I know there are MILLIONS of these operation pyramids, well, just so anyone wanting to know if this one is legit, then NO, just go somewhere else where they will choose to be honest and do the RIGHT THING when no one is looking and do the right thing the FIRST TIME. No one is perfect but I can assure this sort of company will be out of business very soon, and probably after this review reaches millions. Everyone knows what I am talking about, don't support them, unless you want disappointment, they aren't even good contact. You want fuzzy and hurting eyes? I don't either. Both I and my son didn't either. Go with a real brand, if you care about your eyes and quality services and representative. Had it been quality, we wouldn't even have minded purchasing many times, however, that quality would have been asking for our repeat purchase, and asking us what we thought about the product. Then you could perfect or PROfect your products and services and then come out on the top because everyone would pay high dollar for your lousy products. This is not right. You should send me 6 boxes of contacts and all my money back, for doing this to someone, because I just gave you the best lesson and free advice that you should really apply to your company's image and presence.

This was my first message to them.

"Hello, this is very unethical of you guys to charge me for however many months you have/I WANT MY MONEY BACK. I will send any extra stuff back. This isn't what I asked for, please be honest and give me my money back. This is highway robbery.

I have a commerce bank account, it shows everything. How could you charge someone without first asking from them personally?"

BUY BEWARE. I tried to ask for a FAIR refund as they sent AUTO charge contacts to an ADDRESS I NO LONGER LIVE AT.

Bottom Line: No, I would not recommend this to a friend

Mar 9, 2020

Hi, Patricia,

Thank you for taking the time to leave this review. I'm sorry to hear the subscription charge came as a surprise to you, as we try to make this clear throughout the ordering process. Your subscription will begin 16 days after you complete your free box order. The monthly charge is authorized when you place the order, and can be adjusted at the request of the customer, and can be canceled via a simple phone call with our customer service team during our business hours, as stated on our site. However, I've had a chance to look into your account and would like to chat more about the orders you never receive. I've reached out privately, here on HighYa, and look forward to hearing back from you!

Best,

Sophia

---