Invigor8 Reviews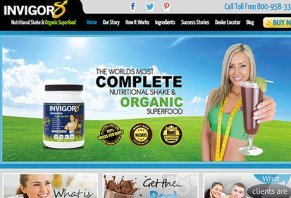 Invigor8 is a superfood-based meal-replacement shake that claims to help you lose weight, increase muscle tone, boost energy, and balance your nutrition.
About Invigor8
By supporting whole body health and maximum performance, Invigor8 is a nutritional meal-replacement shake that claims to help you "drink yourself skinny." This 100% natural, organic, superfood-based shake is also claimed to support whole body health and to boost performance, all in an easy-to-use package.
But is Invifor8 really the world's most complete nutritional shake and organic superfood, and does it represent a good use of your hard-earned money? To answer these questions and more we did some research, and here's what we learned.
How Invigor8 Works
By adding 1-1.5 cups of Invigor8 to water or your favorite beverage, this meal replacement shake claims to be chock full of superfoods that can help you reduce body fat, increase muscle tone, and boost vitality. As a result, the manufacturer claims that you'll feel healthier, happier, and more active throughout the day, while also helping you to lose weight and achieve your fitness goals. In fact, Invigor8 is claimed to be the easiest, and most delicious way to support whole body health and maximum performance on the go.
To accomplish this, Invigor8 is claimed to include the following ingredients:
Calcium 168mg
Iron 3.1mg
Vitamin A 47IU
Vitamin C 1.8mg
Pure Protein Complex 20g – Includes 100% grass-fed whey protein. Claimed to help promote lean muscle, increased strength, a boosted metabolism, and decreased recovery times.
Essential Fatty Acid Complex 2g – Includes flaxseed powder, chia seed oil extract, and coconut oil. Claimed to help satiate your appetite, balance your blood sugar, improve heart health, and strengthen your immune system.
Green Veggie Complex 2,500mg – Includes chlorella, alfalfa, spinach, broccoli, and kale. Claimed to help remove harmful toxins, boost energy, lower cholesterol, and reduce inflammation.
Immunity Booster Complex 500mg – Includes bovine colostrum, which is claimed to help balance hormonal levels and boost immune response and digestion.
Probiotic Complex 1.2 billion CFU – Includes Lactobacillus acidophilus and bifidobacterium bifiidum. Claimed to help improve digestion, improve lactose tolerance, and boost your immune system.
Prebiotic Fiber Complex 3g – Includes chicory root extract, which is claimed to help make you feel fuller and lower your cholesterol.
Digestive Enzyme Complex 653mg – Includes amylase, lactase, neutral protease, lipase, bromelain, and papain. Claimed to improve digestion of protein, carbohydrates, fats, fiber, and milk sugars.
Cognitive Enhancers 205mg – Includes Vinpocetine, L, Theanine, and Bacopa, which are claimed to help increase oxygenation to the brain, improve memory, and increase cognitive performance.
According to the Invigor8 website, this meal replacement shake is 100% natural and organic, and is free of gluten, soy, antibiotics, and hormones, as well as preservatives, artificial sweeteners, refined sugar, and dyes.
However, keep in mind that Invigor8 is not suitable for vegetarians and that it also contains Stevia, which some individuals may be sensitive to.
Invigor8 Pricing & Refund Policy
Invigor8 is available in Triple Chocolate Brownie and Vanilla flavors, and in the following packages:
1 Bottle: $59.95
2 Bottles: $99.90
4 Bottles: $179.90
If you choose the 2 or 4-bottle options, you'll be automatically enrolled in the Invigor8 Loyalty programs, although there isn't any additional information about this on the Invigor8 website. Both of these options also include free shipping, while you'll pay $9.95 Express shipping for the single bottle option.
Invigor8 comes with a 90-day money back guarantee, less shipping and handling charges. However, there wasn't any text shown on the Returns page during the time of our research. As such, you may want to contact customer service at 800-382-3410 in order to inquire about the Loyalty program and return policy.
What's the Bottom Line About Invigor8?
With all of this in mind, can Invigor8 really help you "drink yourself skinny," or should you spend your money on another meal replacement shake? Consider the following:
Clinical Evidence
First, while the Invigor8 website does a good job of providing a list of ingredients and a product label, there isn't any clinical evidence provided showing that their formulation provides any of the claimed benefits. For more about this, as well as a complete overview of what you should look for when purchasing a meal replacement shake (or any other nutritional supplement), be sure to read through HighYa's Nutritional Supplements Buyer's Guide.
Customer Reviews
With this in mind, while the vast majority of customer reviews are found on Amazon.com, Invigor8 appears to have a primarily positive online reputation. So positive in fact, that 1) it either works extremely well, or 2) many of the reviews aren't legitimate. Keep in mind that we're not claiming any wrongdoing here; only that such an overwhelming number of 5-star reviews is relatively rare, and some less-than-reputable supplements manufacturers have been known to post fake reviews.
However, some of the most common customer complaints related to Invigor8 cited high price and a taste that leaves a little bit to be desired, which might be improved by adding it to a more flavorful beverage such as orange juice or adding it to a fruit smoothie.
Autoship Program
Next, if you choose to purchase anything other than a single bottle, you'll be enrolled in Invigor8's autoship program, which means you'll continue receiving a regular supply of their shakes and your credit card will be charged accordingly. There isn't any information about this program provided on the Invigor8 website, so we would strongly recommend contacting the company prior to placing your order.
High Price
Finally, although Invigor8 claims to provide you with highly nutritious superfoods in a quick to-go package, it comes at a relatively high price. In fact, even if you choose the 4-bottle option, you'll be paying about $4 per serving, which can add up quickly. With this said, other superfood packets such as Aloha Green Juice are priced about the same.
Bottom line: With the exception of clinical support, the Invigor8 website provides a detailed overview of their meal replacement shakes, in addition to an ingredients list and label. And with mostly positive online customer reviews, it appears to be a favorable product. Just keep in mind that this nutrition may come with a high price tag.
Pros:
A 100% natural, organic, superfood-based shake that claims to support whole body health and to boost performance, all in an easy-to-use package.
Numerous highly positive online reviews.
90-day money back guarantee.
Cons:
No clinical evidence showing Invigor8 provides the claimed benefits.
Autoship program for 2 and 4-bottle options.
Most common consumer complaints referenced high price and less-than-stellar taste.
42 out 49 people found this review helpful

Invigor8 review

By Cathy

,

Vero Beach, Fl

,

Mar 25, 2016
Verified Reviewer

I found an article on Invigor8 in a Clean Eating Mag and decided to try it. I have tried everything from Shaklee to GNC, etc., when it comes to protein and nutritional drinks. Invigor8 I honestly feel lives up to its reputation and reviews. I don't mind paying a little more because I would rather pay for tasty nutrition than spend money at the doctors office because I have a health issue. I mix it with unsweetened chocolate almond milk and it is incredibly tasty. Best product for nutrition and protein that I have encountered. My son who is a nutritionist and body builder approves as well and thinks it is great. I am a fan. Will use it for a long, long time.

Bottom Line: Yes, I would recommend this to a friend

---

22 out 28 people found this review helpful

Invigor Chocolate

By Grace Wille

,

Cold Lake, Alberta, Canada

,

Aug 22, 2016
Verified Reviewer

I love this product. The taste is very chocolaty so if I'm craving something sweet this does it for me. Also, it keeps the appetite down. It's a little pricey as is most things that have value.

Bottom Line: Yes, I would recommend this to a friend

---

Advertisement

---