Neo40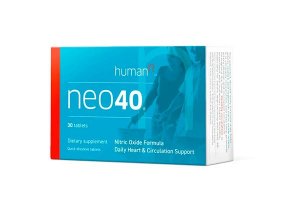 Summary
Neo40 is a nutritional supplement form HumanN that allegedly promotes a healthy blood pressure and helps improve healthy circulation and artery health.
Neo40 Review - Can It Provide Health Benefits?
What is Neo40?
HumanN claims that daily use of Neo40 will support your heart and circulation.
More specifically, HumanN believes that by allowing one tablet to dissolve on your tongue each day, Neo40 will help:
Support healthy blood pressure levels already in the normal range
Support cardiovascular and heart health
Support healthy blood circulation
Promote the widening of arteries for healthy blood flow
How can a single tablet offer all of these benefits? According to HumanN, these results are possible because each Ne040 tablet contains ingredients that may boost Nitric Oxide (NO).
NO is a molecule that plays a significant role in cardiovascular health. It is heavily involved in pathways that optimize blood pressure, circulation, blood vessel health, and exercise performance.
As NO often declines with age, taking steps to ensure levels are adequate may limit the risk for adverse health effects like hypertension and blood clots.
But can Neo40 really boost your NO levels?
In this article, we'll review the active ingredients and any available support for their proposed benefits.
The Ingredients: Do They Work?
While Neo40 contains Vitamins C and B12, the real benefit of this supplement may be possible by HumanN's proprietary NO Blend.
In this section, we'll focus on the proposed NO-boosting ingredients to help you determine if there is any science to back HumanN's claims.
First, let's quickly touch on the ingredients not included in their blend.
Vitamin C - 100mg
Vitamin C is well known for its role as an antioxidant that can fight off harmful substances known as free radicals.
These actions were demonstrated in a randomized trial; the combination of 3g of vitamin C and 2g of vitamin D prevented oxidative stress associated with sunburn.
It may also support immune function; treatment with 60mg/Kg body weight of vitamin C elevated white blood cell levels in 55 patients.
Vitamin B12 - 50mcg
B12 is vital for red blood cells function; low levels are associated with a specific type of anemia.
Both of these vitamins are commonly deficient. Neo40 offers vitamins C and B12 at 167% and 833% of their recommended daily value, respectively.
Up next, we'll take a closer look at the ingredients with proposed NO-boosting effects.
Proprietary Nitric Oxide Blend - 420mg
The first thing to note here is that, like many proprietary blends, Neo40 provides only the total amount. We, therefore, do not have details regarding the amount of each individual ingredient.
Without this information, we have nothing to compare to the doses used in the available research that examined these ingredients individually.
Nonetheless, we'll highlight what we found in our literature review.
Beet Root Powder
Beets are naturally low calorie and nutrient-dense vegetables packed with fiber, vitamins, and minerals. These traits may be responsible for the positive effect beets can have on blood pressure.
In patients with high blood pressure (hypertension), 250ml of raw beet juice and 250g of cooked beets both decreased inflammation and improved blood vessel function. However, raw beet juice had greater anti-hypertensive benefits.
The potential benefits were made even more evident in a recent review of 22 randomized trials. They found that 70-500mL of beetroot juice daily was associated with an average systolic blood pressure (SBP) reduction of 9mmHg when compared to a placebo.
To put this in perspective:
In a reading of 120/80mmHG, your SBP is the top number. The findings in the review were comparable to what is typical in treatment with a single blood pressure medication or by sticking to the dietary approach to stop the hyper-tension (DASH) diet.
Hawthorn Berry Extract
Hawthorn berries grow on shrubs and trees classified as Crataegus, a genus consisting of hundreds of species found all over the world. This fruit has been used in natural medicine by many cultures for multiple centuries.
In addition to offering antioxidant and anti-inflammatory effects, hawthorn berries may also lower blood pressure.
Currently, the available research seems to be mixed, with the majority of the positive results coming from laboratory and animal models.
Hawthorn berry extract relaxed blood vessels in rat arteries in a mechanism that involved NO. This was confirmed in a laboratory setting; hawthorn berry extract induced an NO-mediated relaxation of blood vessels in human arteries.
In hypertensive patients, treatment with 500mg daily of hawthorn berry over10-weeks did not differ from those that received magnesium, or placebo.
L-Citrulline
L-Citrulline is a non-essential amino acid, meaning you can produce it naturally in your body. It is involved in a pathway that results in the formation of NO.
Because of its role in this pathway, it is often tested in relation to erectile dysfunction (ED). In men with mild ED, 1.5g/day of L-Citrulline for 1-month improved factors associated with erection and the frequency of sex when compared to placebo.
In terms of its effects on blood pressure, a recent review of 5 human trials did not find any benefit. However, 3g per day for 2-months did improve the heart's ability to pump in patients with heart failure.
While L-Citrulline seems to offer benefit for those with ED, its role in cardiovascular health remains less clear.
Sodium Nitrite
This inorganic salt is commonly used as a food preservative. Sodium Nitrite is also involved in pathways leading to the formation of NO and, therefore, may play a role in the relaxation of blood vessels.
In rats with high blood pressure, sodium nitrite demonstrated anti-hypertensive effects by blocking the reduction of NO. These effects were corroborated in another rat study.
Positive effects on blood flow have been found in humans subjects.
One study found that infusing healthy subjects with 36 and 0.36 micromol/min for 5-minutes significantly increased forearm blood flow at rest and during exercise.
Another demonstrated that both 744 and 1488mmol doses of nitrate reduced blood pressure in healthy volunteers, though these effects were dose-dependent.
The available research in both animal and human studies seems promising, though more long-term research is needed.
Neo40 Randomized Trial
Neo40 has also been studied as a stand-alone product.
In 29 healthy subjects, those that took a single Neo40 tablet twice daily for 30-days improved both their blood pressure, and their performance in the 6-minute walk test when compared to placebo.
While the details of this study are provided on HumanN's site, we were unable to locate evidence that it was published in a peer-reviewed medical journal.
Also, the results seem to demonstrate blood-pressure-lowering effects in those with blood pressure in a normal range.
While lifestyle changes that promote the maintenance of healthy blood pressure are beneficial for all, supplements and medication to lower blood pressure are not warranted in those with regular reading.
Is It Safe?
The ingredients included in this supplement are generally safe for use.
Again, HumanN only offers the total amount of their proprietary blend in its entirety, so we are unable to compare the specific amount to those included in the studies.
Beet root powder has been safely studied in doses that are likely much higher than what Neo40 contains.
Stomach discomfort and headaches have been reported in doses ranging from 70-500mL. Consuming beets or extracts commonly turn the urine and/or stool pink. Although commonly reported, it's harmless. Nonetheless, insufficient long-term studies are indicating the safety of this ingredient.
Both hawthorn berry and L-Citrulline were safe even at doses far beyond what is likely included in Neo40, while sodium nitrite was safe even when infused.
Neo40 was well tolerated when tested in healthy subjects, though this was just a 30-day study. We don't have information detailing the safety of the individual ingredients, or the supplement itself in the long-term.
As Neo40 and its active ingredients have been shown to affect blood pressure, using in conjunction with blood pressure and ED medications can cause unsafe drops in your blood pressure.
For these reasons, your blood pressure is something that should be managed under the care of a medical professional. If you think yours is high, speak with your doctor.
The Cost
You can visit HumanN's website to pick up your Neo40 - they offer multiple purchasing options, and shipping is always free.
For one-time purchases:
1-month supply (30 tablets) - $39.95
3-month supply - $119.85
6-month supply - $239.70
They also offer a subscription service:
1 box every 30 days - $37.95
3 boxes every 90 days - $107.85
6 boxes every 180 days - $203.70
They back each purchase with a 90 Day Satisfaction Guarantee:
"HumanN® offers a 90-day money-back guarantee. We want you to be fully satisfied. If you are not satisfied, you may return the item within 90 days from the order date for a full refund of the purchase price, minus the shipping and handling charge. Please note that the free shipping offer applies to Continental U.S. only."
For additional questions, you can call 855-636-4040 or email info@HumanN.com for customer support.
Are There Any Alternatives?
Due to the many reported benefits of NO, NO-boosting products have gained popularity over the last 10-years.
While Neo40's ingredients are available individually, some vendors offer supplements with similar blends.
Total Nitric Oxide from ONNIT is one option. A 20 serving tub of this powder includes beetroot and L-Citrulline, among other ingredients.
At $39.99 for only 20 servings, you won't save any money, but you will get way more of the 2 ingredients also offered in Neo40. As the desired effects seem to be dose-dependent, this may be a better option.
You can also get a nitrate, which is another substance used to create NO, from a variety of foods. Uncooked, green, leafy vegetables, beets, garlic, and dark chocolate are some examples.
Lastly, regular exercise can boost NO levels. So make sure you're staying active.
The Bottom Line
While research has backed many of the claims made by HumanN, there are a few concerns.
HumanN does not detail the specific amounts of their proprietary blend, so comparisons can't be made to available research. In any event, as the total blend is only 420mg, you are likely getting far less than what was found successful in scientific studies.
While this makes safety more likely, you may not be getting enough for the desired effects.
Neo40 was also investigated as a stand-alone product in a randomized trial, though our review did not produce evidence that this was published in a peer reviewed medical journal. Again, use was found to be safe.
However, Neo40 was shown to lower blood pressure in individuals with normal pressures. While maintenance is ideal if you're in a healthy range, there would be no reason to use medication or supplements to lower your blood pressure further.
The individual ingredients were often tested in hypertensive animals and humans - it's odd that HumanN tested this specific effect in those with normal pressures.
Despite there being evidence to support HumanN's claims, I would not recommend using Neo40 without medical guidance. Blood pressure should not be managed on your own.
Diet, exercise, medications, and medical conditions all affect your blood pressure and adding a supplement like Neo40 to the mix can be dangerous.
Customer Reviews
Posted on Jan 26, 2019
I tried it but then they changed the recipe?
I first bought it several years ago and I was VERY pleasantly surprised at my renewed energy levels. My daughters even complained about how much housework we were doing if I took one on Saturday morning (so they noticed too).
After a couple of years (and several re-orders), I noticed I did not feel as energetic. I called the company and they stated that they had changed their recipe to a different vitamin B (I think). I asked them why they would mess with "outstanding" product? To save a few bucks? I am going to order it one more time, and see. It STILL gave me an energy boost, but not as dramatic.
Bottom Line: Yes, I would recommend this to a friend
Posted on Jan 23, 2018
Relieved chest pains
Following my heart attack (minor, if there is such a thing), my cardiologist attempted to prescribe statins, and I refused them. Instead, I decided to change my diet the past seven years and have been taking Neo40 as well daily. It was noticeable to me that the occasional pressure in my chest was rapidly subsiding after the first three months. Thereafter, I continued taking Neo40 for two years. Today, six months after stopping the Neo40, I feel no pressure of any kind and am satisfied there was a substantial improvement in my condition. I now walk three to four miles, three times a week. In my case, I would give Neo40 (HumanN) a thumbs up.
Bottom Line: Yes, I would recommend this to a friend
Posted on Feb 20, 2016
Ineffective
I tried this product, and it produced no noticeable effects to my Nitric Oxide levels (using the proprietary strips provided). In short, it doesn't perform as advertised.
Bottom Line: No, I would not recommend this to a friend
Our Promise to You
In order to safeguard you and ensure helpfulness and relevance, our compliance team manually assess every customer review before it goes live.
We have a zero-tolerance policy for fake reviews, and companies cannot control or alter any reviews at any time.