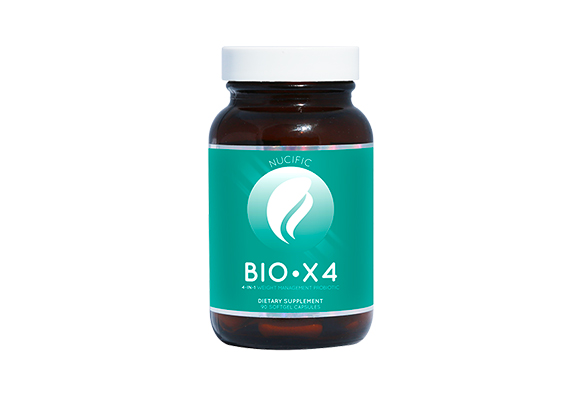 Nucific BIO X4 is a probiotic-based nutritional supplement that's claimed to help improve digestion, suppress appetite, and support your weight loss efforts.
About Nucific BIO X4
Billed as a 4-in-1 weight management probiotic, Nucific BIO X4 claims to be a "revolutionary new compound" containing 4 proven nutrients that provide digestive support, suppress appetite, and support weight loss management. This includes:
39 billion colony-forming units (CFUs) of a proprietary Digestive Enzyme Blend that helps your body easily digest carbs, fats, and proteins,
Green tea to boost your metabolism, and
Caralluma Fimbriata to suppress cravings.
Despite these benefits, Nucific's BIO X4 is claimed to cause no known side effects, contains only 100% pure ingredients, and is made without lactose, gluten, or fillers.
According to the manufacturer, you should take one capsule of BIOX4 with each meal (3 capsules daily), and as long as you exercise regular and don't eat too many carbs or sweets, you'll begin experiencing results within 1-2 months.
Whether you're just starting with a weight loss regimen or have been at it for years, can Nucific BIO X4 provide the digestion support you need to break through your barriers? Consider the following:
Is BIO X4's Ingredients Effective for Weight Loss?
According to BIO X4's product label, the supplement contains:
Probiotic Blend: 4 billion CFU per capsule – Lactobacillus acidophilus, L. rhamnosus, L. plantarum, Bifidobacterium lactis, B. animalis.
Digestive Enzyme Blend: 88mg – Amylase (from Aspergilus Oryzae), Bromelain, Lipase (from Rhizopus Oryzae).
Weight Management Blend: 100mg – Green Tea Extract (50% EGCG)
Craving Control Blend: 166mg – Caralluma Fimbriata Extract
As we detailed in our Probiotics Buyer's Guide, probiotics have been used for decades for the treatment of irritable bowel syndrome, allergic response, H. Pylori infection, boosting immune response, and more, and have reams of clinical data proving them to be effective.
Note: Although BIO X4's website claims that it contains 39 billion CFUs, each capsule only contains 13 billion. In other words, by taking 3 capsules per day, you'll cumulatively be ingesting 39 billion CFUs. This is important because some consumers shop for probiotics specifically based on the number of actual CFUs each dose provides, and Nucific's claim might be a bit confusing.
Amylase is "an enzyme that catalyses the hydrolysis of starch into sugars," and bromelain "is an enzyme found in pineapple juice and in the pineapple stem" that's used for "reducing swelling (inflammation), especially of the nose and sinuses, after surgery or injury," and more. Finally, lipase "is an enzyme that catalyzes the hydrolysis of fats (lipids)."
While there are multiple studies related to the oral administration of amylase, clinical support for many of BIO X4's claims appears to be on the slim side. Likewise, except for treating osteoarthritis and preventing muscle soreness after exercise, there isn't enough clinical evidence showing that bromelain can provide other benefits.
And other than treating digestive problems related to pancreatic disorders, there is insufficient clinical evidence showing that lipase can provide any other benefits. Similarly, there isn't enough clinical evidence showing that caralluma can provide any benefits, either.
Finally, epigallocatechin gallate (EGCG), the main ingredient in green tea, is often touted as providing a wide range of benefits, although there is insufficient evidence supporting any of them.
BIO X4 Side Effects
As with most nutritional supplements, even though many of BIO X4's ingredients may not provide the benefits claimed by the manufacturer, they should be well tolerated by most individuals.
However, the probiotics in BIO X4 may cause a temporary increase in bloating or gassiness, although this side effect should resolve itself over the course of a couple days. Caralluma might also lead to gas, constipation, or stomach pain, which should subside after a week of use.
Green tea extract generally contains at least some caffeine, depending on how it's processed, so this might be relevant for users who are sensitive to stimulants.
What's the Customer Buzz about Nucific BIO X4?
BIO X4 was a very new product at the time of our research (Nucific's URL was registered in April 2015 and the company's trademark was filed in June of 2015), so there weren't any online reviews available.
Since Nucific is such a new company, they also weren't listed with the Better Business Bureau.
Nucific BIO X4 Pricing & Refund Policy
The BIO X4 supplement is priced as follows:
1 Bottle (30-day supply): $49
3 Bottles: $129
6 Bottles: $240
According to the product's website, all orders over $50 come with free shipping.
All Nucific products come with a 90-day refund policy. Although no further details were provided, you'll need to contact Nucific's customer service department at 888-679-5520 or support@nucific.com in order to request a refund.
Can Nucific BIO X4 Support Digestion & Weight Management?
While BIO X4's probiotics will likely provide some level of digestion support (e.g. reducing some types of inflammation, boosting immune response, etc.), unless your intestinal flora is severely out of whack, any benefits you'll achieve will likely be minor. On top of this, all of the supplement's other ingredients have insufficient evidence to back up Nucific's claims.
Considering this, it's our opinion that BIO X4's price isn't in line with any benefits you can realistically expect to achieve from using the supplement.
Editor's Note: It is our understanding that this company has been asking its customers to leave feedback on HighYa. We assure you that each of these reviews has still been subjected to the same verification & vetting process that all submitted reviews go through. Learn More Here

81 out 122 people found this review helpful

Nucific

By

Dani D

,

Chicago

,

Aug 1, 2015
Verified Reviewer

I have been using the Nucific probiotic bio x4 and I'm loving it so far. I feel so much better already. The customer service is awesome and shipping is super fast. The video makes 100% pure sense! I kept nodding through the whole thing and I usually do not like videos like this. I highly recommend!

Bottom Line: Yes, I would recommend this to a friend

View all 5 comments

Hide comments

Aug 31, 2015

Hi, how long have you taken this? Are you losing weight, how much? $50 is a lot if money for me but I may try it if I find it to be working for others.

Aug 31, 2015

How long have you been using this? Any side effects? How much weight have you lost?

Sep 17, 2015

I watched the Video for Bio X 4 and it sounded amazing! I ordered a 90 day supply and was excited to try this product. Although I had no bloating or digestive problems I need the extra energy and weight loss it said I would get. I do workout approximately 3 days per week doing cardio and strength training. I have taken this product for 6 weeks. I don't have any more energy and no increase in weight lose. I spoke with customer service today to get my guaranteed money back and she talks me into trying this product 20 minutes before meals with a full glass of water. I will try this for one more month. If no results I want a refund. I can't tell I've taken a thing! If anyone has had this same issue, please let me know how long it took to see the promised results.

Thank you.

Sep 17, 2015

I have been taking it for almost two months now. I have lost 11 lbs, and I don't have much more to lose. It tremendously helps suppress my appetite and gives me energy. I still absolutely love it and I hope they never stop making it.

Dec 2, 2015

Hey Dani, this is Naomi again! I noticed that you also left a great review along with your comment to the review above. I just wanted to thank you once more, and remind you to contact me at naomi.benson@nucific.com if you ever need anything. Take care.

---

9 out 9 people found this review helpful

I would recommend to all my friends.

I lost 8 lbs in one month. I love the product. First, it is natural. Second, it controlled my digestion. I feel very healthy and very energetic. I'm very happy and I will be recommending to everybody. Thank you for having Bio X4 on the market, I love it. It's a great product.

Bottom Line: Yes, I would recommend this to a friend

View all 2 comments

Hide comments

Dec 18, 2015

Hey there Silva, my name is Naomi, here with Nucific. Thank you so much for leaving feedback about your experience with Bio X4! We really love hearing what our customers have to say. I would love to hear more about your journey to weight loss with Bio X4. Please email me at your earliest convenience with an update at naomi.benson@nucific.com. I look forward to hearing from you!

Jan 17, 2016

I take a lot of vitamins and supplements. Will I need to keep taking those also with Bio X4?

---

Advertisement

---

18 out 18 people found this review helpful

Great Product!

By

Beth

,

SA, Florida

,

Dec 17, 2015
Verified Reviewer

I am a complete skeptic when it comes to supplements. I have tried more than my fair share over the years without much success. If BIO 4X was not working for me, I would not publish this review.

I am now on my second bottle and have noticed real changes. I was waking up every morning with stomach and bowel issues to the point where it was difficult for me to eat anything. I am so elated to admit those symptoms have diminished.

I also have arthritis and experience joint pain daily, noticing a big change there also, getting much needed relief. I am still waiting for the weight loss but I will give that some time. I will continue with BIO 4X because I firmly believe things are only going to get better. Why stop a good thing?

Bottom Line: Yes, I would recommend this to a friend

View all 3 comments

Hide comments

Dec 18, 2015

Hey there Beth, my name is Naomi and I am the Customer Care Manager here at Nucific. Thank you so much for your detailed review of how Bio X4 has helped change your life. We really appreciate our customers here at Nucific and want to thank you for being a part of our family! It is amazing that not only has Bio X4 elated your digestive issues, but also your arthritis and joint pain. I am extremely happy for you. Please contact me at naomi.benson@nucific.com if you ever have any questions or concerns. Take care.

Jan 21, 2016

What are the four ingredients? Sometimes it says 5-HPT, some websites sell it with a root. Perhaps there is a third I can't recall. Since the company only started in April of 2015, how many formulations are there? It's such short a time?

Jan 28, 2016

Hi Jean, Naomi here with Nucific. Thank you for your question, I understand your concern. We have a new and improved formula that now contains a craving control blend called Slimaluma (Caralluma Fimbriata Extract). Here at Nucific, we are always improving to provide the best possible products to our customers. I apologize for this confusion, and please do not hesitate to contact me at naomi.benson@nucific.com if you have any other questions.

---

15 out 15 people found this review helpful

Amazing Product

I feel better no more bloating, sleep better, and my body does not feel tired all the time. I have already referred my sister and my niece and they are both taking BIO X4. Thanks for your product, it is really amazing! I haven't felt this good in years.

Bottom Line: Yes, I would recommend this to a friend

View all 9 comments

Hide comments

Dec 22, 2015

Hey there Evette, this is Naomi, Customer Care Manager here at Nucific. Wow! I am so happy to hear that you are feeling so great while taking Bio X4. Thank you for recommending our product to your family, we love to hear that. Please feel free to email me at naomi.benson@nucific.com if you ever have any questions or concerns. Thanks!

Dec 29, 2015

I want to order the BIO X4 but we are moving next week, so don't want to miss my order after we have moved. So I was wondering if you can buy it in a store like GNC?

Dec 30, 2015

Here is my order ID 252331511. Please cancel this order.

Dec 31, 2015

Hey there Gloria, my name is Naomi and I am the Customer Care Manager here at Nucific. Thank you so much for your inquiry about our product! Unfortunately, we do not currently sell Bio X4 at any retail locations. However, please feel free to order it online as soon as you settle into your new place. You are welcome to contact me with any further questions or concerns at naomi.benson@nucific.com. Take care!

Dec 31, 2015

Hey there Lawrence, my name is Naomi and I am the Customer Care Manager here at Nucific. I am glad to hear that our Customer Service Team called you today about your order. If you have any further questions about Nucific, please contact me at naomi.benson@nucific.com. Take care!

Jan 1, 2016

I can't wait to see the effects.

Jan 13, 2016

Feb 1, 2016

I want to return this product. I have taken them for about two weeks and it made me really nervous and anxious.

Feb 15, 2016

Joyce, sorry to hear that you're not enjoying the benefits of Biox4. This product has changed my life. I can eat and not feel full all the time.

---

Advertisement

---

22 out 22 people found this review helpful

Very simple and honest

I have had colitis for almost a year. I am on a strong medication to heal it. I didn't feel as though it was getting any better. After just a couple days of Nucific BIO X4, I felt better inside and out of the bathroom. I now feel like I am healing. I will see my doctor after Christmas.

Bottom Line: Yes, I would recommend this to a friend

View all 5 comments

Hide comments

Dec 31, 2015

Hey there Cindy, Naomi here with Nucific. I am so glad to hear that Bio X4 is helping you feel so much better! I hope that your doctors appointment went well! I would love for you to update me on your progress with Bio X4. Please feel free to email me at naomi.benson@nucific.com. Thank you.

Jan 9, 2016

Jan 17, 2016

I ordered the BIO X4 product on my iPhone and accidentally tripled the order! I called right away, the orders were canceled and the original order is on its way. I'm looking forward to receiving and trying this product but so far this company gets an A+ for customer service!

Jan 18, 2016

I was very surprised, I showed a 20lb drop.

Jan 21, 2016

Hello Lee, my name is Naomi with Nucific. I am happy to hear from our Customer Service Department that we were able to get in contact with you and issue you a full refund. I hope that we solved any issue you may have had in a timely and convenient fashion. Please feel free to email me at naomi.benson@nucific.com if you ever have any further questions or concerns. Take care!

---

17 out 18 people found this review helpful

Great Product!

New York

,

Jan 17, 2016
Verified Reviewer

I love this product! It helps to regulate my IBS and gives me added energy throughout my day.

Bottom Line: Yes, I would recommend this to a friend

---

8 out 8 people found this review helpful

60 years of doing it wrong

By

Diane Ayers

,

Tampa, Florida

,

Feb 8, 2016
Verified Reviewer

When Coke came out with a diet soda, I learned to like it. No calories is a wonderful gift I thought. I could drink soda and not gain more weight. That was the beginning of my 60 or so years of diet products. I have tried and spent thousands of dollars on all the best weight loss programs only to gain it all back again. The spiral to miserable started as a teen, continued till Bio X4. By the time I found Nucific I was close to being frantic. I wanted to feel better in the worst way. My energy levels were pathetic, weight gain out of control, heading for 300 pounds. The threat of diabetes always on the horizon. Then the other aspects of my declining health were getting more difficult to manage. The diarrhea was out of control, always so hungry, even with a full stomach. Food cravings all the time, frustration rampant. Feeling bloated and full of gas never ending. I was searching for a plausible answer. I found Nucific. Having tried so many other avenues searching for an answer, I tried one more. Within 2 weeks I knew this was different. I was not running for the bathroom, the gassy feeling was gone, I did not need a nap at 1pm everyday, and oh yes I was not always hungry. I could eat what I wanted and was loosing some pounds, fantastic. Hope returned.

In the 2 months I have been on the Bio X4 I have dropped 15 pounds. For me that is significant, since I have felt so much better along the way. Have not had a diet product since I started the product and miss them not. I was a diet soda junkie, Splenda and all the other artificial sweeteners were my everything all day. When I read the information about Bio X4, it fit all of my symptoms, I had to try just one more possible "cure". It was and is one of the best things to enter my life in many years. About 60 years of crazy eating got me into this mess. Bio X4 started my return to health within 2 weeks. I am so thankful.

Bottom Line: Yes, I would recommend this to a friend

View all 1 comments

Hide comments

Feb 11, 2016

Hello Diane, Naomi here. I am the Customer Care Manager for Nucific. It truely makes me happy to hear of your story. We appreciate such great stories from our Bio X4 users. I can assure you that our Highya readers appreciate it as well! Please feel free to contact me directly at naomi.benson@nucific.com if you ever have any questions or concerns for me. Thank you!

---

1 out 1 people found this review helpful

Don't want to be without it!

Bio X4 has helped me lose four pounds without dieting. I have less cravings and more energy. I absolutely cannot live without this product!

Bottom Line: Yes, I would recommend this to a friend

View all 2 comments

Hide comments

Feb 11, 2016

Hello Barbara, Naomi here with Nucific. I am so happy to hear that you are loosing weight and feeling more energetic with Bio X4. I hope that you continue to see these awesome benefits for months to come! Please feel free to contact me at naomi.benson@nucific.com with any future questions you may have. Thank you.

Jul 26, 2017

Confusing purchase procedure. I found myself in a loop, I wanted one bottle but I got stuck with seven with not the best price. There was nothing I could do about it, short of returning the product after I get it. These sharp business practices left a very bad taste in my mouth and undermined my newfound confidence in the product and Dr. Lee. It was also very hard to paste this comment.

---

5 out 6 people found this review helpful

No more gastrointestinal pain & discomfort.

By

Priscilla

,

Phoenix, AZ

,

Feb 9, 2016
Verified Reviewer

I have had many allergy symptoms from foods, especially in the last 10 years or so. I am gluten & lactose sensitive and have always endured constipation, gas & bloating.

I read about Nucific Bio X4 on Facebook & was compelled to try it after reading a very information-packed message from a doctor. That convinced me to at least give it a try.

I was pleasantly surprised after starting the capsules how my stomach issues were just gone.

Bottom Line: Yes, I would recommend this to a friend

View all 1 comments

Hide comments

Feb 11, 2016

Hello Priscilla, my name is Naomi and I am the Customer Care Manager here at Nucific. Thank you for your honest feedback. I am thrilled to hear that your food allergy symptoms have finally subsided with Bio X4. Please do not hesitate to contact me directly at naomi.benson@nucific.com with any future questions or comments you may have.

---

14 out 14 people found this review helpful

Very Pleased So Far

I have been taking it for 6 days. No weight loss yet to report but I have not craved food of any kind or sweets.

Bottom Line: Yes, I would recommend this to a friend

---

13 out 13 people found this review helpful

Healthy weight loss

By

Deborah

,

Gravette, AR

,

Feb 17, 2016
Verified Reviewer

I am enjoying a slow healthy weight loss. My waist line is getting smaller. I can also say the reason why I bought this product is mainly because it states it helps to decrease flatus (gas), which I had more than my share. I still have some flatus but nothing compared to what I used to have.

Bottom Line: Yes, I would recommend this to a friend

---