Nucific BIO X4
Claimed This company has claimed this profile, is getting alerted on any new customer reviews entering this page, and may engage in dialogue with its customers to address their matters.

Companies cannot pay money or provide goods in order to remove or alter customer reviews.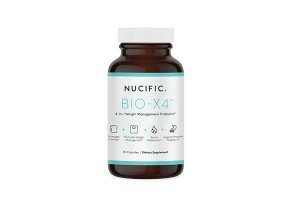 Nucific BIO X4 is a probiotic-based nutritional supplement that's claimed to help improve digestion, suppress appetite, and support your weight loss efforts.
---
This company is actively collecting reviews from its customers. All reviews submitted are subject to moderation and approval to ensure they meet our

Review Guidelines

.

Ordered 3 bottles and only received 1!

By Ray T.

,

Vaughan, Ontario, Canada

,

Jan 24, 2020
Verified Reviewer

Overall Experience:

It took almost a month for my package to arrive. I was anxiously awaiting for it since this was only my second order (first order had no problem). I was very disappointed to first be charged customs on it (over $20 Canadian) and then to open the package and only find one bottle instead of the three I re-ordered!

Bottom Line: No, I would not recommend this to a friend

Jan 27, 2020

Hi Ray, I'm very sorry for the error in your order. I've gone ahead and escalated your issue to our Customer Service team. Please expect an email confirmation within the next 1-2 business days. Again, I want to apologize for the inconvenience and if there are any outstanding issues, please email me at naomi.benson@nucific.com and I'd be more than happy to assist you.

---

Feels too good to be true, when ordering it feels like a scam...

By Bob B.

,

Washington

,

Jan 22, 2020
Verified Reviewer

Overall Experience:

This stuff better work. The preso seems to make sense, but! Feels too good to be true, and when ordering it feels like a scam...how many freaking times do you have to say "NO I don't want more, just send me what I ordered, PLEASE." Cheez.

Bottom Line: No, I would not recommend this to a friend

Jan 23, 2020

Bob, thank you for giving Bio X4 a try! We hope you enjoy the product but please note that if at any point you decide it is not the right fit, please email me at naomi.benson@nucific.com and I'd be more than happy to fully refund your order. Thank you!

---

Advertisement

---

Bad

By Antineka W.

,

Baton Rouge, LA

,

Jan 21, 2020
Verified Reviewer

Overall Experience:

I have had this product since December 2, 2019 and I have been taking 6 pills a day and I haven't seen any results, and I eat healthily and exercise 5-6 times a week.

Bottom Line: No, I would not recommend this to a friend

Jan 22, 2020

Hello, thank you for giving the product a try. I'm sorry you haven't seen the results you were expecting. I have gone ahead and initiated a refund for your order; please expect a confirmation email within the next 1-2 business days. If you have any other questions, please don't hesitate to reach out to me at naomi.benson@nucific.com.

---

System scam

By Sally D.

,

St. George, UT

,

Jan 13, 2020
Verified Reviewer

Overall Experience:

I am very unhappy with Nucific's online business practice. You order on their system and it constantly offers more discounts but keeps stacking each order without dropping the prior order. It is a terrible scam. Prior to even trying the product, you are already feeling like it's fraud. I sent them a message immediately advising I only authorized one order at the price of $138. But they sent all orders and charged for each order. They sent them after I notified them and canceled them. This is definitely not good business practice and I am surprised that a doctor would get involved with this type of business.

Bottom Line: No, I would not recommend this to a friend

Jan 13, 2020

Hi Sally, I'm very sorry to read that this is your perception of our company. I want to start by saying that we would never authorize false or additional charges on your credit card. It sounds like you may have accidentally added products that we offer at a discounted price to your cart. These products do not replace the items in your cart, but instead, are add-ons. I want to apologize for the confusion and inconvenience. Please email me at naomi.benson@nucific.om and I'd be more than happy to assist you with a full refund and hear more about your checkout experience.

---

Advertisement

---

Keeps things flowing

By Sharon C.

,

Texas

,

Jan 12, 2020
Verified Reviewer

Overall Experience:

I bought a large quantity of BIO X4 and am just about to reorder. I do not take it every day, but use it mostly to keep things flowing when life gets weird. If I'm going to have a large heavy meal, I will take BIO X4 beforehand. It helps to keep me from getting constipated. I do not travel without it, because for some unknown reason, when I am anywhere but on my own throne, such as on a vacation, I will tend to "not go". With BIO X4, that is not a problem. Don't ask me why - it just works for me in this manner.

Bottom Line: Yes, I would recommend this to a friend

---

Didn't work for us

By David H.

,

Rosemead, CA

,

Dec 4, 2019
Verified Reviewer

Overall Experience:

Purchased the 6 bottles deal for the wife and I to try with high hopes. We started mid-Sept and we both have not seen any results. Makes me horribly gassy. Thought it was just a phase and it will pass. It has only gotten worse. The only weight loss was from the constant diarrhea I got, and still have. Again, thought it was a phase and would pass...it didn't. I still eat a lot and have cravings. My wife is gassier now too but is ashamed to admit it. Said she doesn't feel a difference from before and after starting.

I emailed customer support to initiate the "90-day money-back guarantee, no questioned asked" but I was told:

"We are happy to honor our 90 day Money Back Guarantee, however, we do require all purchased items (empty/used bottles) to be returned back to us in order to receive your refund.

If you do not have all your items to return, you may not receive a full refund. Once we do receive your return, and our receiving team physically inspects your package, we will issue you the appropriate refund within 3-5 business days."

WHO KEEPS EMPTY BOTTLES! That's some BS.

Buyer beware, their 90 days, no questions asked guarantee is very misleading.

Bottom Line: No, I would not recommend this to a friend

Dec 5, 2019

Hi David, thank you for taking the time to share your feedback. As it is industry standard, we do ask that you return the products if requesting a full refund, as to ensure that you gave the product a fair trial. As an extra convenience, we offer a 40% refund to customers who do not decide to send back the product containers. I am so sorry for the confusion. I will personally ensure you get a full refund; please email at naomi.benson@nucific.com and I will begin the refund process, no need to send anything back. As for the efficacy of the product, we understand that everybody is different so Bio-X4 may work for some but not others. This is why we will always honor our 90-day money-back guarantee. I look forward to your email to make this right! Apologies for any inconvenience or confusion we may have caused.

---

Very disappointed

By Ken W.

,

Midland, TX

,

Dec 3, 2019
Verified Reviewer

Overall Experience:

I've stuck with this product for several months. Tried to get a refund but was told to double my dosage and see if that helps. They've victimized me with the 90-day refund and I'm considering small claims. This appears to be a scam and although as said, I continue to take 3 per day and it hasn't done anything.

Bottom Line: No, I would not recommend this to a friend

Dec 4, 2019

Hi Ken, I'm sorry Bio X4 did not work for you. We will always stand by our 90-day money-back guarantee so I'm sorry your experience with our refund policy did not reflect this. Please email me personally at naomi.benson@nucific.com and I'd be more than happy to issue you a full refund.

---

Product made me ill

By Christine T.

,

West Haven, UT

,

Oct 11, 2019
Verified Reviewer

Overall Experience:

I have taken the product for about 2 weeks. With each day I have become more and nauseated until finally full-blown vomiting for hours. I called customer service and they recommended I try it longer. Not happening.

Bottom Line: No, I would not recommend this to a friend

Oct 14, 2019

Christine, I'm very sorry that this was your experience with Bio X4. That is not a typical side effect of the product and as always, we ask that our customers consult their physician prior to starting any new supplement. If you have yet to stop taking the product, please stop immediately. Please email me at naomi.benson@nucific.com so I can fully refund your order.

---

3 lbs off in 24 hours!

By Shar M.

,

Toronto, Ontario, Canada

,

Sep 22, 2019
Verified Reviewer

Overall Experience:

Losing 3 lbs in the first 24 hours of taking BIO X4 is unexpected and unbelievable! So impressed.

Zero side effects, zero snack cravings, a decreased appetite and a boost in energy.

I take 2 capsules at breakfast, 2 capsules at lunch and I sleep well overnight. Zero caffeine-related or coronary problems.

At this rate of success, I'll be back to my usual size 3-6 in no time!

Bottom Line: Yes, I would recommend this to a friend

---

Did not work

By Sarah C.

,

Atoka, TN

,

Sep 15, 2019
Verified Reviewer

Overall Experience:

First of all, when I ordered, the system messes up, kept on adding more to my cart, would not let me out the system. When I call the company, first stated they would take it off. Well, needless to say, that did not happen and the product was me to the wrong house, which the rep customer said she had fixed. When I called back after not getting the product, it took forever and I had to track down the product due to it shipped to the wrong address. After trying the product, it does not work and bloated and gassed me up. It really messed my stomach completely up. The product did not work for me, I am stuck with more product and I was charged for more products. I do not recommend this product. System is jacked up.

Bottom Line: No, I would not recommend this to a friend

Sep 16, 2019

Hi Sarah, I'm Naomi from Nucific. I'm really sorry to hear about your frustrating experience. Our customer's experience is our #1 priority so I do apologize that your experience was not a reflection of this. I would like to look into this right away to ensure that this does not happen again. I would also like to issue you a full refund for everything. Please e-mail me at Naomi.Benson@nucific.com and I'll begin the refund process. Thank you so much for bringing this all to my attention, as we are always looking for ways to improve our processes. I look forward to hearing from you and making this right.

---

Really haven't noticed any changes

By Stephanie A.

,

Plainfield, IL

,

Sep 12, 2019
Verified Reviewer

Overall Experience:

I have been taking BIO X4 for just about a month now and did what was recommended. I am eating healthier and have been going on walks with my kids but haven't noticed any changes with my digestion issues and I feel more bloated since I've started taking this product. I was so excited to try it out and thought this would be all I needed and I would finally have my body back to how it was before having kids. And have the energy boost I need to keep active throughout the day and be able to run around with my kids but since starting BIO X4 my energy levels have stayed the same.

Bottom Line: No, I would not recommend this to a friend

Sep 16, 2019

Hi Stephanie, I'm Naomi from Nucific. I'm so sorry to hear that you are not experiencing the results you had expected since using Bio-X4. As with all products, we do understand that they may work well for some and not for others but this is why we honor our 90-Day Money-Back Guarantee. I also wanted to mention that because Bio-X4 does contain various strains of probiotics, it is common to experience Die-Off symptoms that can sometimes include bloating. If you would like to return your order of Bio-X4, just e-mail me at Naomi.Benson@nucific.com and I'll begin the refund process right away. Thank you so much for your honest review and I look forward to making this right!

---